Several times a week, Sunshine asks me, "Mommy, can we do a craft?"
Most of the time, my response is to cringe. I know I should encourage her creativity, but all I can see is the mess—and the paper or cardboard creation that is going to clutter up her room or toy box until I nab it one day when she's not watching and bury it in the garbage. (Yes, I'm that mom.)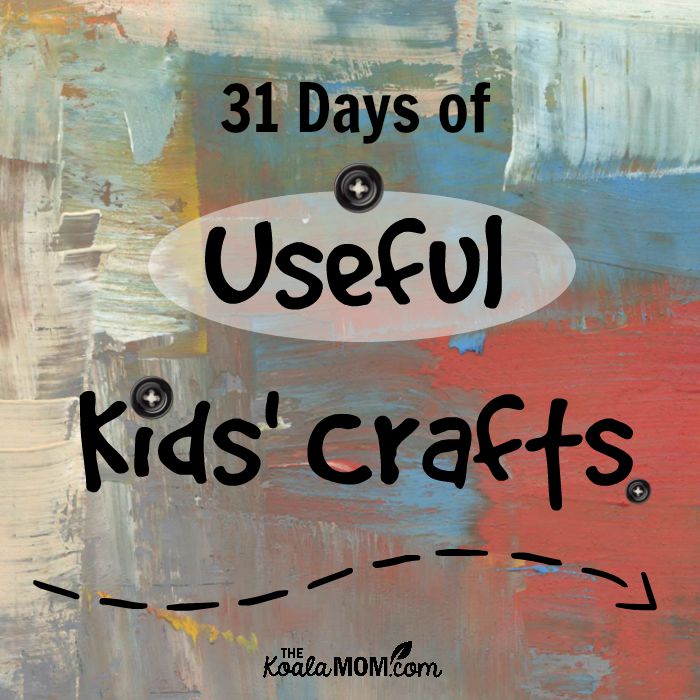 Lately, I've been looking for crafts and projects that are easy enough for her to do, but don't create extra clutter or garbage around the house. As I thought about the Nester's 31 Day Challenge and what I wanted to write about this year, I decided to tackle this topic.
This month, I'm bringing you 31 Days of Useful Kids Crafts — things your kids can create and then use or give away with pride.
All of these ideas are tried and tested by Sunshine (age 7), Lily (5) and sometimes even Jade (2). I share exactly what supplies you need for each craft, along with an approximate budget and difficulty level.
If you're a reluctant crafter like me, I hope these useful kids crafts can help inspire you. And with Christmas coming just around the corner, maybe these ideas can help you with stockings or packages under the tree.
29 Useful Kids Crafts
Here are all 29 crafts from this series, organized by type of craft. Browse for the sort of craft you feel like you can tackle, or for a craft that suits the supplies you have on hand. I've also included links in most posts if you wish to order supplies via Amazon.
Sewing Crafts
Sew Clothes for Dolls — doll clothes are a small, easy project to introduce your child to sewing
Sew a Felt Kitten — your child can make their own small stuffie with felt!
Sew a Felt Notebook Case — make a small bag to practice sewing
Weave Potholders — use a loom and elastic bands to learn how to weave
Painting Crafts
Make Plant Markers for the Garden or Plant Pots — use popsicle sticks and wood shapes to make plant markers
Decorate a Tote Bag — paint a canvas tote bag to take to the library or swimming pool!
Paint a Mug — paint a mug for a grandparent!
Make Salt Dough Magnets or Ornaments — get creative with modeling and painting magnets
Make a Personalized Plaque — decorate a plaque or a door or wall
Paint a Plant Pot — give your favourite house plants a fancy pot!
Paper Crafts
Make Cards for Any Occasion — tips and ideas for creating personalized cards or recycling old cards into new
Make a Reusable Calendar with Kids' Artwork — help your kids save their favourite artwork by making a calendar with it!
Make a Notebook — make a small personalized notebook with cardboard and lined paper
Create an Art Box for Your Child's Artwork — help your child organize their artwork in a designated, decorated box!
Make Guardian Angel Prayer Cards — celebrate the Feast of the Guardian Angels or help your child memorize the Guardian Angel prayer with this craft
Decorating Crafts
Add Some Sparkle to Hairbrushes, Sunglasses, etc. — decorate almost anything your daughter owns with sequins and sparkles!
Decorate a Set of Coasters or Trivets — protect the furniture with this easy activity
Decorate a Tin Can — turn any old tin can into a pretty, useful storage container
Decorate a Picture Frame — have your child personalize their picture!
Make a Popsicle Stick Picture Frame — make a picture frame to send a picture to grandparents
Nature Crafts
Create a Pine Cone Wreath — if your child enjoys collecting pine cones, turn their collection into something pretty!
Make Scented Pine Cones — pine cones make great ornaments for the Christmas tree!
Decorate a Fall Vase — enjoy fall beauty year-round with this craft!
Make a Moss Garden or Fairy Garden — make a small, easy-to-maintain garden to inspire your child's imagination
Build a Popsicle Stick Bird Feeder — attract and feed local birds
Crafts to Give Away
Make Bath Salts — bath salts are easy to make!
Bake Dog Treats — make a treat for your favourite furry friend
Beaded Crafts
Make a Rosary — your child can make their own rosary for a special occasion
Make a Beaded Name Keychain — keep track of your keys with this personalized keychain!
Wanna browse all the crafts? Just click this button at the bottom of any post: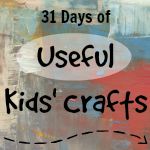 If you do any of these crafts, I'd love to see YOUR creations—feel free to share them on social media and tag me or post your pictures on my Facebook page.
What are your favourite useful kids crafts? Do you have any suggestions for us to try?