Over twelve years of growing babies, I've written a lot on the subject. Often, I've had a mom reach out to me on the blog or in real life for my tips on pregnancy, birth, and more. It got to be a bit cumbersome to send lists of links to those moms, so I decided to put all my tips and thoughts together into a book. It was fun to walk through memory lane, from my thoughts on my earliest pregnancies to my last, and do some extra research and refine all that into a book about pregnancy, birth and beyond that other moms would find helpful.
I also reached out to my good friend Anna Eastland about contributing to my book. We had two of our babies at the same time, often chat about pregnancy, and collaborated a few years ago on Love Rebel: Reclaiming Motherhood. She added a few chapters on important topics that I have no experience with, such as baby loss and mastitis. We also enjoyed collaborating together, discussing our birth experiences and what advice we really wanted to share with other moms.
I'm excited to announce that Beginner's Guide to Growing Baby: Tips to Help You Through all Four Trimesters is now available on Amazon!!!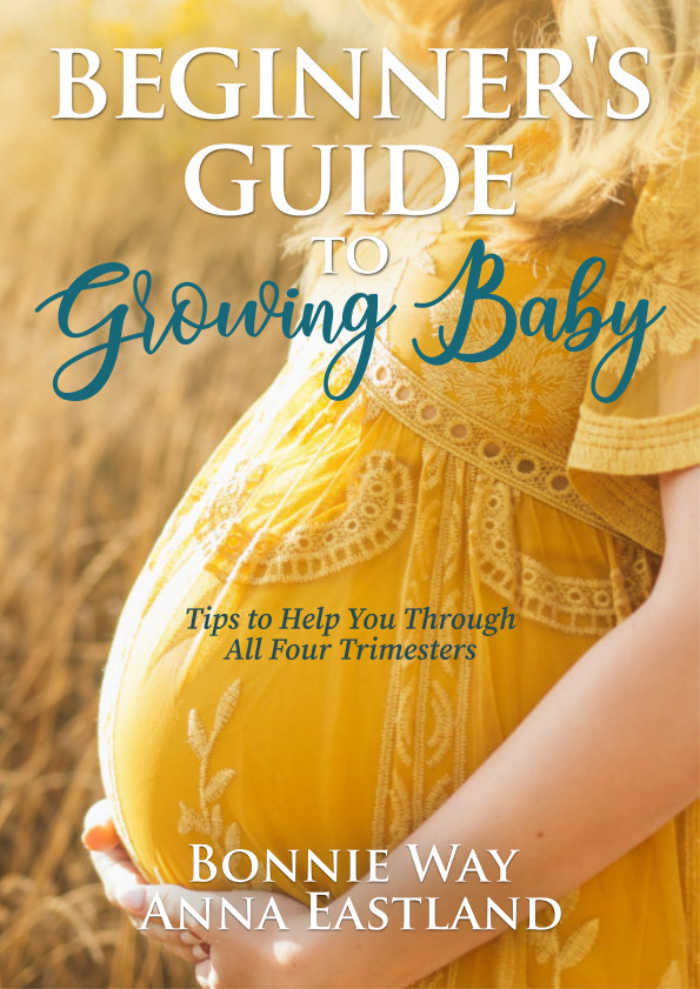 Beginner's Guide to Growing Baby is a friendly, conversational book about pregnancy, birth, and your first three months as a new mom. With respect and honesty, authors Bonnie Way (mom of 5) and Anna Eastland (mom of 9) share their experiences, walking expectant moms through some of the questions and concerns they may experience from conception to colic. This book includes tips on dealing with first trimester exhaustion, dressing your baby bump without breaking the bank, choosing the best care provider for your pregnancy, whether or not to write a birth plan, dealing with pain during labour, taking care of yourself and baby after birth, and more. If Bonnie and Anna could sit down with you to have coffee and chat about pregnancy and new babies, this is what they'd like to tell you – mom to mom.
More about Beginner's Guide to Growing Baby
Beginner's Guide to Growing Baby includes some of my most popular posts on pregnancy, as well as extra chapters I've never shared on the blog. We share tips and advice for each trimester of pregnancy and the first three months after baby's birth. There are also five beautiful poems by Anna about pregnancy and motherhood. We've also included our birth stories, as examples of natural childbirth and to show how each birth is different.
Chapters include tips on:
morning sickness
first-trimester exhaustion
miscarriage
hemmorhoids
backaches
insomnia
birthing emotions
preventing tearing
handling labour pain
colicky babies
breastfeeding
sibling jealousy
postpartum depression
and more!
Our book was "conceived" in March 2017, when I first began compiling my pregnancy and birth posts to create a book. It was "born" this spring, on the same day as Anna's ninth baby. (I didn't know, when I hit "publish" on Amazon, that she was at the hospital waiting for labour to begin!). As Anna wrote, "More than one thing has been gestating during the past year of isolation at my place… and I'm excited to tell you that on the same day my son was born last week, my new book also made its way into the world, thanks to my friend and co-author Bonnie Way."
Praise for Beginner's Guide to Growing Baby
"What a gift this book is! Refreshing, informative and down to earth! After 7 children of my own, how I wish I had been able to read this book! I highly encourage people to give this book as a gift to couples planning a family and to friends and family expecting their first, second, third… Thank you Bonnie and Anna for a well thought out book!" ~ Laurence, Amazon review
"Two Catholic women from Canada, Bonnie Way and Anna Eastland, have combined forces to write a guide to pregnancy and birth that is both informative and friendly. Reading Beginner's Guide to Growing Baby: Tips to Help You through All Four Trimesters is like speaking with two good friends who have your best interests at heart. They are not medical professionals, but between them they have experienced birth fourteen times and have a great deal of wisdom to share. Even if you are not a first-time mom, you might still glean some useful information in these pages as they offer advice on taking care of older siblings and managing a family while pregnant and with a newborn." ~ Patrice Fagnant-MacArthur, author and Amazon reviewer
More about the Authors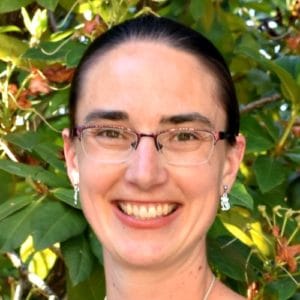 Bonnie Way is a stay-at-home mom with five children ages 13 to 3. Her first two babies were born in hospitals in Alberta and her last three at home in BC with midwives. Friends first pointed Bonnie towards natural childbirth with her first pregnancy, and she spent too much time researching birthing ideas during her next few pregnancies. She's a huge fan of Ina May Gaskin and Sheila Kitzinger. Bonnie has a B.A. in English and a B.A. in Writing. She is the author of North American Martyrs Kids Activity Book and Canadian Saints Kids Activity Book.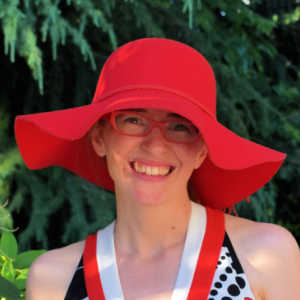 Anna Eastland is a stay-at-home mom with nine children ages 14 to newborn (including one in heaven). Her children have been born in hospital in BC with both a midwife and an OB assisting. Since losing a daughter during labour, Anna often reaches out to other moms facing loss with hugs, kind words, and practical gift baskets. She also homeschools her children and blogs about life as a mom at Just East of Crazyland (eastofcrazyland.com). She's the author of unexpected blossoming: a journey of grief and hope, a book of poetry about stillbirth and baby loss. She is working on her second poetry book.
We hope Beginner's Guide to Growing Baby will bless and inspire you in your journey as a mom!