I'm so excited to announce that my second kids saint activity book, Canadian Saints Kids Activity Book, is now available on Amazon!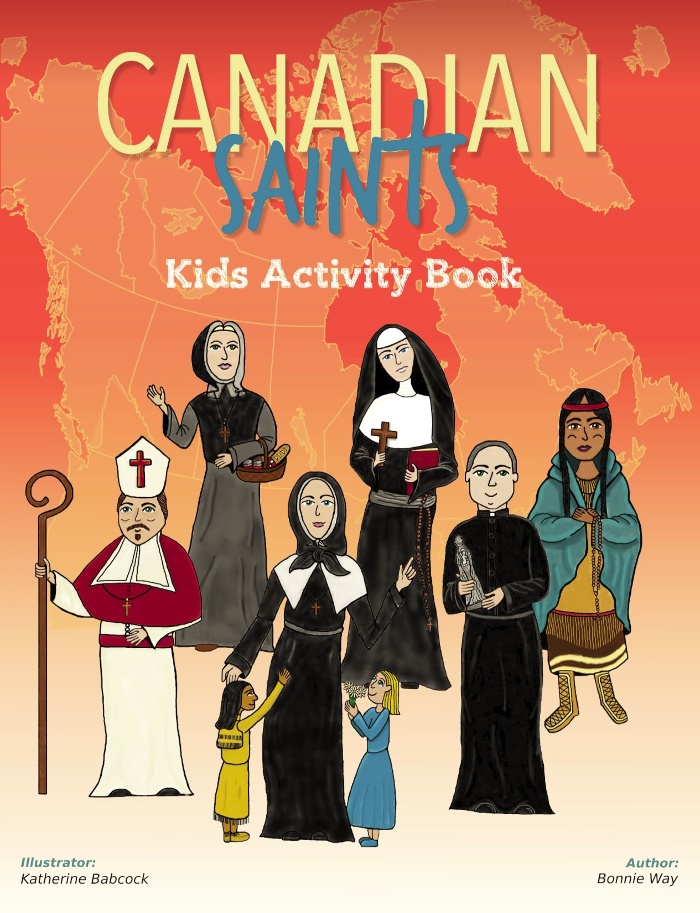 BUY NOW!

This kids saint activity book features 6 Canadian saints:
Canadian Saints Kids Activity Book includes a two-page biography of each saint to draw your child into their lives. Colouring pages by Katherine Babcock help kids picture each of the saints. Children will further engage in reflecting on these saints and their legacy through word puzzles, quotes, drawing and writing prompts, reflection questions, mazes, and other hands-on activities.
While learning about the lives of these saints, children will also learn about
Catholic mystics
sacramentals
spiritual communion
Rule of Life
corporal works of mercy
and more!
Six Canadian Saints
St. Marie of the Incarnation was an Ursuline nun and mystic who came to New France in the 1600s to teach the French and Huron girls. St. Marguerite Bourgeoys also came to New France to teach, but founded an uncloistered order of nuns who supported themselves to offer free education to the children of Montreal. St. Francois de Laval was Canada's first bishop who also founded the first seminary in Quebec. These are the founding saints, who knew each other and worked together (mostly) to serve God in New France.
St. Kateri Tekakwitha was a Mohawk convert who lived a life of deep piety and holiness, and is the first North American saint canonized. St. Marguerite d'Youville attended St. Marie's school just after that saint's death, and then took over the General Hospital in Montreal and founded the Grey Nuns. St. Andre Bessette was a religious brother known for his trust in St. Joseph that led to many miracles of healing granted to those who came to seek his prayer and advice. These are the saints who grew up in the legacy of the North American Martyrs and the three saints above.
Together with North American Martyrs Kids Activity Book, these two books will teach kids about all fourteen Canadian saints. They will also learn about the deep faith of those who founded Canada in the 1600s, and the impact of that faith into the 1700s and even the 1800s and 1900s.
Canadian Saints Kids Activity Book can be used
as a unit study in your homeschool
in a kids' church club
for All Saints' Day party activities
and more!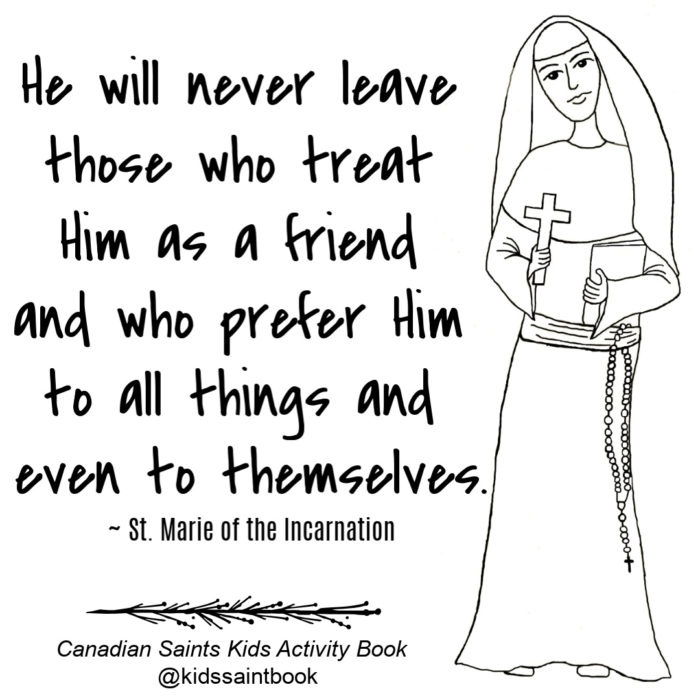 Praise for Canadian Saints Kids Activity Book
Bonnie Way is a remarkable writer for children. She expresses complex theological concepts in a clear kid-friendly way, which is such an important and undervalued art. Canadian Saints Kids Activity Book will truly build knowledge and foster relationships with the saints. The sheer abundance of materials and activities and the spiritual depth of the stories make me wish I had had this book available when my kids were young. ~ Christine Vincent, Books for Catholic Kids
When I heard there was a second edition coming out, I wondered how this edition would stand out, other than simply mimicking the original with different saints. I really feel like she's created a unique version in this second book, that brings with it all the best of the first and includes new and exciting elements of its own in the second. Again, a must for any parent, teacher or catechism program that is looking to make the saints come alive for our children and to create a fun and enriching learning environment to present the beauty of the saints! ~ Courtney Vallejo, A Mom Revolution
This fun and educational activity book is a valuable resource for Catholic families. This book can easily be used as part of a homeschool curriculum, as a summer unit study, or a religion supplement for a catechism class. I plan on using it this summer with my almost 8 year old. I think 8-14 is the ideal audience, though of course every child is different! ~ Brittney Inzeo, Good Books for Catholic Kids
My children have loved many of the activities. One of their favorites was designing their own coat of arms. And they loved learning about these saints, many of whom lived and served near where we live. Over 100 pages of fun for the whole family. This is a wonderful second volume in the Saints for Kids Series and we look forward to the next installment. ~ Steve McEvoy, Book Reviews & More
Way's short biographies of these saints are very informative. Canadian Saints Kids Activity Book is a treasure-trove of information and fun! ~ Patrice MacArthur, Today's Catholic Homeschooling
Canadian Saints Kids Activity Book is a fun-loving book for kids, and they get to learn about new saints! My kids love mazes – so those activities were the ones the kids liked the best. If your kids are not old enough to read (or read at this level), you can make this an evening bed-time story and then have the kids do the activities the next morning! Older kids may enjoy reading on their own! ~ Julie Larsen, CatholicMom.com

Stay in Touch!
Follow @kidssaintbook on Instagram for quotes, images, and inspiration. Tag any photos of your family or children with their activity book with #cansaintskidsbook to be featured on the channel!