Bonnie Way is the author of North American Martyrs Kids Activity Book, a 135-page book filled with stories and hands-on activities about 8 great saints. The North American Martyrs served among the First Nations people of eastern Canada and the United States in the 1600s. Their lives are an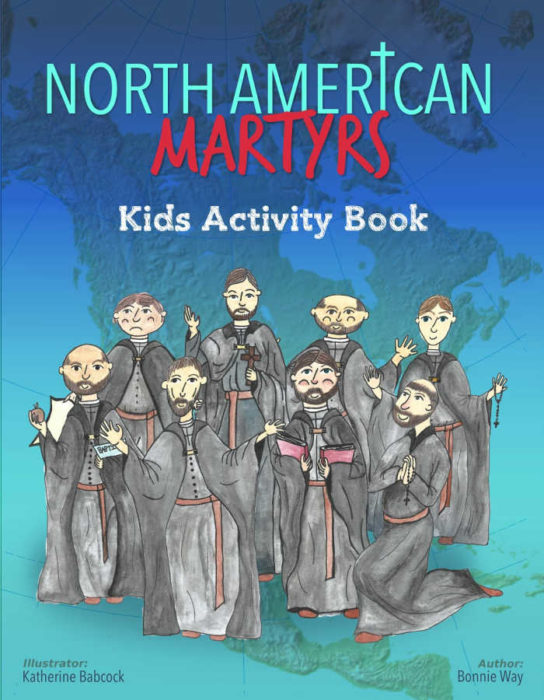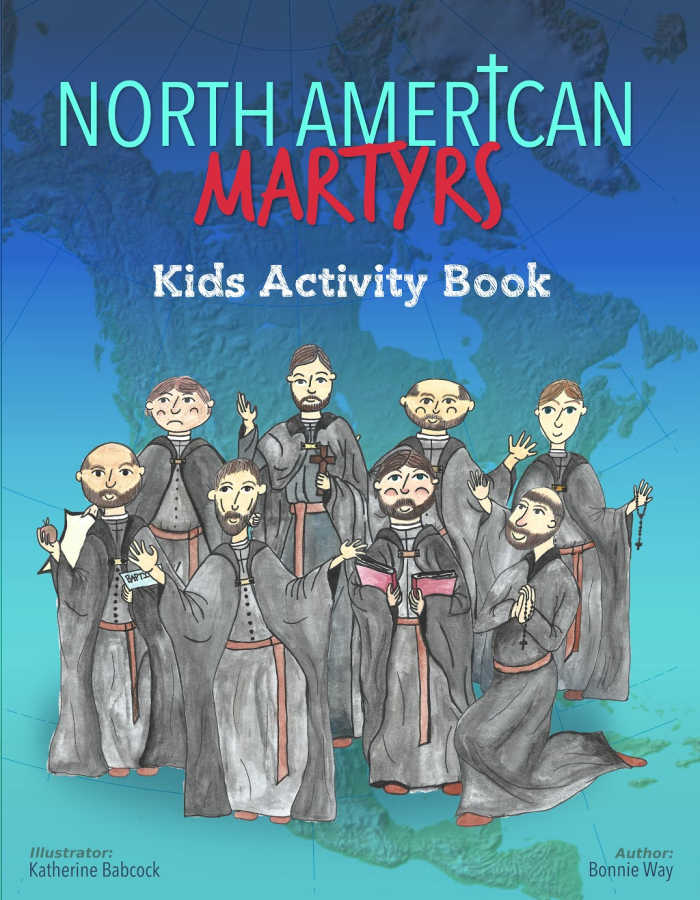 amazing testimony to their love for God and for their fellow men. The North American Martyrs Kids' Activity Book will bring the lives of these holy men alive for your children and inspire their faith!
The North American Martyrs Kids' Activity Book includes:
short biography of each saint
colouring pages
crossword puzzles
word searches
reflection questions for kids
activity suggestions to apply what they've learned from the saint
mazes
quotes from the saints
further reading and online resources
and more!
Kids ages 7-13 will learn about St. Isaac Jogues, St. Jean de Brebeuf, St. Antoine Daniel, St. Charles Garnier, St. Noel Chabanel, St. Rene Goupil, St. Gabriel Lalemant, St. Jean de Lalande and their friends and be inspired in their faith!
To order a copy, go to Amazon.
Praise for North American Martyrs Kids Activity Book:
I had the opportunity to read through it prior to its release, and was so impressed, both as a former teacher and now as a mom myself. ~ Colleen Pressprich
This is an excellent resource for children, and at almost 50 I really enjoyed going through the book. A fantastic resource for the family. ~ Steven McEvoy
…a fantastic resource to help children to deepen their faith and understanding of God's love and the saints' love for God. ~ Helen
Bonnie Way is also a contributor to…
Love Rebel: Reclaiming Motherhood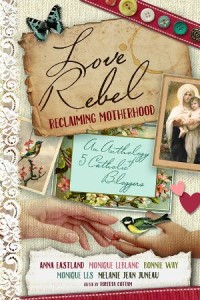 Love Rebel: Reclaiming Motherhood is an anthology that aspires to encourage today's moms in their vocation of motherhood. From beautiful poetry to practical tips, essays that capture the small moments of motherhood and reflections on mothering in today's world, this slender anthology brings together a wealth of wisdom from five ordinary yet inspiring moms.
To order a copy, go to Amazon.
Praise for Love Rebel:
"Full of earnest and joyful contributions that inspire and affirm, this exuberant anthology resonates with love and authenticity. It serves as an earthy and affectionate antidote to a world that suggests that motherhood should be considered an afterthought instead of a priority." ~ Dymphny Dronyk, Editor/Publisher at blue skies poetry
"Pope Francis challenges moms and dads to dream about their children… and this little book is a great beginning. I'm a big believer in affirming what is good and in this short work, five spiritually alive mothers make the case brilliantly." ~ Father Julio Lagos
"There are no cultural boundaries when it comes to love, faith and motherhood. Echoed with laughs and tears, I got inspired by each love rebel's own experiences, honest reflections and ordinary yet spirit-lifting deeds!" ~ Odilia Lee, monthly columnist of S.U.C.C.E.S.S. Evergreen News
Inscribed: 30 Years of Inspiring Writing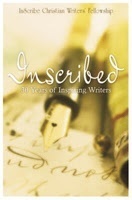 Inscribed: 30 Years of Inspiring Writing is Inscribe Christian Writer's Fellowship's 30th anniversary anthology. Produced by ICWF and Forever Books, this anthology contains poetry, short stories, devotionals, and nonfiction by Inscribe writers (including "Girl, I Lost You" by Bonnie Way).
I spent a few weeks this summer reading and editing the submissions for this book, along with two other Inscribers. It was a delight to see the vast talent among this group of writers that I've come to know in the past ten years. I laughed, I cried, I wanted to read more.
To order a copy, drop by the ICWF website.
Praise for Inscribed:
"In [this anthology] you will find stories that inspire, comfort, and entertain. You will read of faith and family, joy and hope, laughter and sorrow. Like my mother's porridge, this book will stick to your ribs throughout the day." ~ Phil Callaway, bestselling author and speaker
"Inscribe has a special place in my heart. … this was where I got my start as a writer. I found writing help, fellowship, and friendships that have lasted. It is with great pride, therefore, that I encourage you to read these stories by my friends. I know you will enjoy them." ~ Linda Hall, author of 17 novels of mystery and suspense.
"InScribe is a place where writers, no matter the genre, encourage and teach each other, sharing the gifts God has given them. I have had the privilege of being blessed and stimulated and challenged by this varied and talented group of writers. I am sure this book will do the same for you." ~ Carolyne Aarsen, author of over 25 novels