The North American Martyrs (also known as the Canadian Martyrs) served among the First Nations people of eastern Canada and the United States in the 1600s. Their lives are an amazing testimony to their love for God and for their fellow men. They are giants of the faith, yet they were also ordinary men who struggled with everyday problems like poor health, depression, unfaithful friends, spiritual dryness, and more. Though they lived centuries ago, their lives can still inspire us in our faith.
The North American Martyrs Kids Activity Book brings the lives of these holy men alive for your children. Brief bios tell the stories of each of the saints. Colouring pages by Katherine Babcock help children picture the martyrs. There are also quotes from the saints, hands-on activities, and suggestions for applying what kids have learned from each saint to their own lives.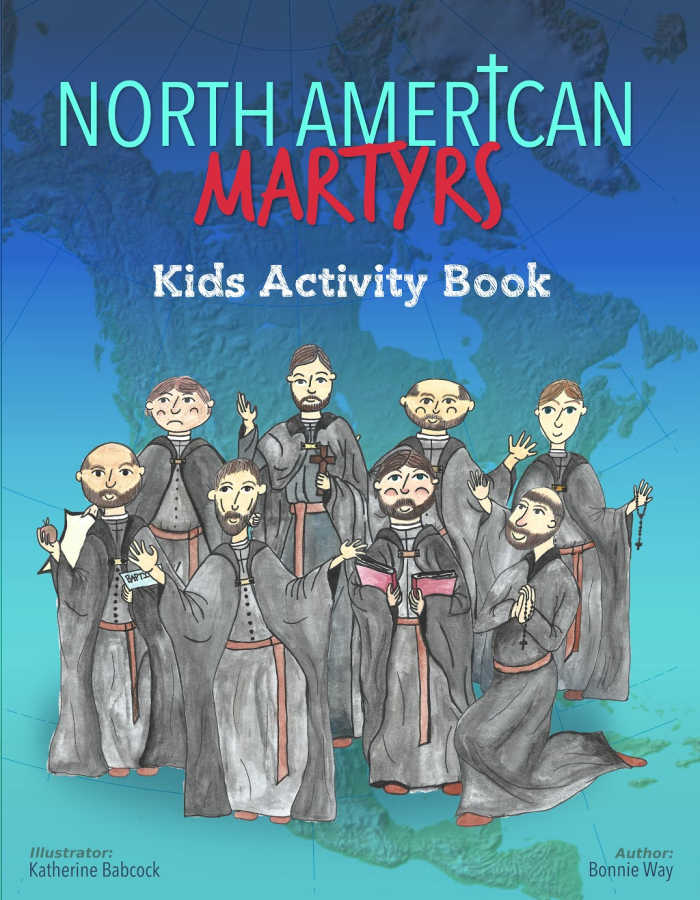 BUY NOW!
What's in the North American Martyrs Kids Activity Book?
Kids ages 7-13 will learn about St. Isaac Jogues, St. Jean de Brebeuf, St. Antoine Daniel, St. Charles Garnier, St. Noel Chabanel, St. Rene Goupil, St. Gabriel Lalemant, St. Jean de Lalande and their friends and be inspired in their faith!
The North American Martyrs Kids' Activity Book includes:
short biography of each saint
colouring pages
crossword puzzles
word searches
reflection questions for kids
activity suggestions to apply what they've learned from the saint
mazes
quotes from the saints
further reading and online resources
and more!
The North American Martyrs Kids' Activity Book can be used
as a unit study in your homeschool
in a kids' church club
for All Saints' Day party activities
and more!
The North American martyrs did not work on their own. They were supported by other priests and Huron converts who are not (yet) canonized. The remarkable stories of a few of these men, including the Huron warrior who inspired St. Antoine to become a missionary, are also included in this book.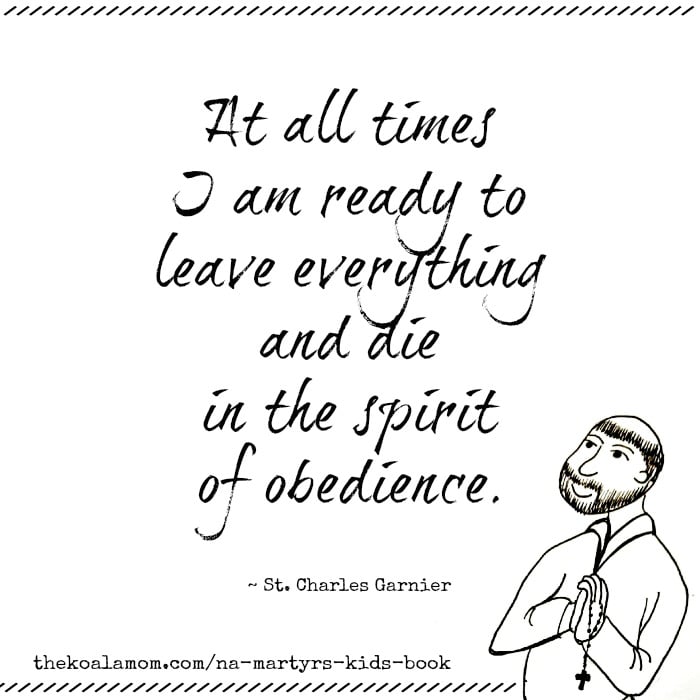 Book Trailer
Praise for North American Martyrs Kids Activity Book
While my childhood ended long ago, [North Americam Martyrs Kids Activity Book] seems like a good way for me to get acquainted with this group. I know Bonnie through her blog posts as a joyful, engaged mom and writer, and I'm looking forward to relaxing and learning with this title. ~ Melanie Rigney, author of Sisterhood of Saints

My long time friend, fondly known in our parts as "the other Bonnie," has done a remarkable thing! She's recently written a fabulous children's activity book on the North American Martyrs.  Darling that she is, she sent me a copy and, not only was I BLOWN AWAY, but I was totally blown away. ~ Bonnie Landry, homeschooling mom, author and speaker

Homeschooling mommas and teachers alike, check out this amazing new workbook on the North American Martyrs. I had the opportunity to read through it prior to its release, and was so impressed, both as a former teacher and now as a mom myself. The activities are engaging, and the content is rich. Such a worthwhile addition to any curriculum. ~ Colleen Pressprich, Montessori teacher and mom

My daughters love coloring, and in this they have a treasure trove of beautiful pictures and activities, and I don't have to scour the web trying to find them. The book has many activities. Favorites of ours include the word searches and make your own bookmarks. It also gives great background on the saints. This book is loved by both my first grader as well as her older sisters. ~ Amanda Knapp, Catholic mom and blogger

I particularly enjoyed the Litany to the North American martyrs and have added it to my daily prayers. This is an excellent resource for children, and at almost 50 I really enjoyed going through the book. I have shared it with my children and plan to get a few copies for teachers in my children's school. A fantastic resource for the family. ~ Steven McEvoy

Although my children are too young at the moment, I'm looking forward to sharing this with them in a few years' time. I think it's a fantastic resource to help children to deepen their faith and understanding of God's love and the saints' love for God. ~ Helen, Catholic mom

I was thrilled to be able to include a resource like this into our homeschool curriculum. The martyrs of North America all engaged in worthy pursuits in their task of evangelism, which is why I feel that this is a great aid to helping understand what evangelization looked like for these early explorers.  ~ Jane Korvemaker, mom and former youth ministry coordinator

Even my 3-year-old's attention is captured during the readings and activities. I particularly like the quotes she has picked out from each saint. This book is one for the bookshelf! ~ Maripaz Rouleau, homeschool mom and former teacher

Usually these books are tricky for me because I have a 5-year age gap between my oldest and youngest. A 12-year-old and a 7-year-old have such different abilities that I often have to purchase two levels to work with their individual abilities. This book includes activities for all ages! Even sheets like the summary sheet can be used in an age appropriate manner for each child. ~ Courtney Vallejo, Catholicmom.com contributor and AMomRevolution.com cofounder
Why I wrote this Kids Saint Book
Last fall, when we held a Canadian All Saints' Day Party, I looked for resources about the Canadian martyrs to use at our party. I found nothing. There were no kids' books about the martyrs, other than a few chapter books about St. Isaac Jogues and St. Jean de Brebeuf. There weren't any printables or activities about their lives to help me teach our kids. And so I created my own resources for the party, and the idea for The North American Martyrs Kids' Activity Book was born.
As a Catholic convert a decade ago, I fell in love with the lives of the saints. They are holy men and women, yet they are also ordinary men and women who struggled with everyday problems, just like me. In researching and writing about the lives of the North American martyrs, I've learned so much. I hope their lives will inspire you as much as they've inspired me as I've worked on The North American Martyrs Kids Activity Book.
While I enjoy writing, my art skills are sorely lacking. I wanted to include colouring pages in this activity book, but wasn't sure how to do that. Then I saw Katherine's drawings on Facebook and reached out to ask for her help. I'm deeply grateful for her help in turning my notes about each martyr into beautiful drawings to help give kids an image of each saint.
It's Now Available!
After a year in the works, North American Martyrs Kids Activity Book is now available on Amazon!
Plus follow @kidssaintbook on Instagram for quotes, images, and inspiration. Tag any photos of your family or children with their activity book with #namartyrskidsbook to be featured on the channel!
You can also find North American Martyrs Kids Activity Book at:
If you like this book, you may also be interested in Canadian Saints Kids Activity Book, about the other six Canadian saints!