For some students, September and the start of school is an exciting time. For others, school is an ordeal to be endured. When I was an elementary and secondary student, school was something to be completed so I could do something I liked better. As a university student, I loved my studies.
Now, as a homeschool mom, I'm trying to instill in my daughters a love of learning. Thankfully, there are a host of saints to help me. If you're looking for inspiration, perhaps these patron saints of students and schools can inspire or uplift you as well.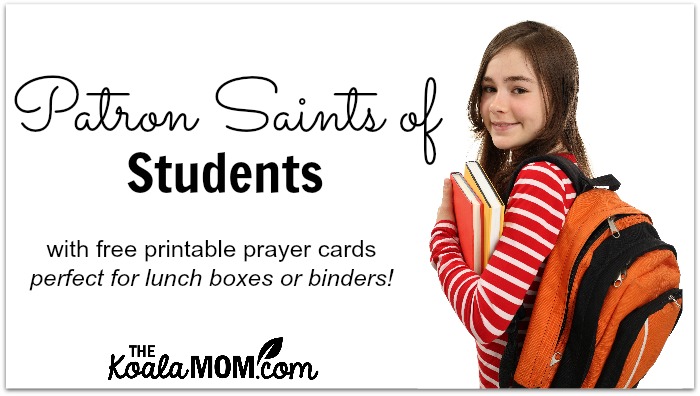 This post contains affiliate links; as an Amazon Associate, I earn from qualifying purchases.
Patron Saints of Students
St. Catherine of Alexandria
Catherine of Alexandria was born of a noble family in the time of the Roman persecution of Christians. She attempted to persuade Emperor Maxentius to stop persecuting Christians. He called upon his scholars to debate with her and prove her wrong, but instead, Catherine converted all of them. The emperor then had her executed. Her feast day is November 25. She is the patron saint of female students.
The details of our faith can be difficult to explain to non-Catholics. Catherine's example shows us the value of grounding ourselves in Church teachings so that we can explain our positions and defend the faith to others. ~ Melanie Rigney, Sisterhood of Saints: Daily Guidance and Inspiration
St. Thomas Aquinas
Thomas Aquinas lived in Italy in the 1200s, the youngest son of well-off parents. He joined the Dominicans, with whom he studied and taught extensively. He tutored his own sisters and was a scholar of Aristotle. He is a Doctor of the Church and had an immense impact upon western philosophy. His feast day is January 28. He is the patron saint of schools, universities, and students.
St. Scholastica and St. Benedict
Scholastica and Benedict were twins who lived in the 500s. While he founded an order of monks, she founded an order of nuns. They often conferred together about spiritual matters. Both died in 543. His feast day is July 11 and her is February 10. They are patron saints of students.
We are the most ourselves—good and bad, lecturing and petulant—around our siblings, perhaps because we revert to childhood behavior. But there's also a simple honesty among brothers and sisters. We share a common history and stories. And because of (or in spite of) them, we also love unreservedly. ~ Melanie Rigney, Sisterhood of Saints: Daily Guidance and Inspiration
St. Albert the Great
Albert the Great studied and taught at some of the great universities of Europe in the 1200s. He was considered an expert in biology, chemistry, physics, astronomy, geography, metaphysics, and mathematics, as well as Biblical studies and theology. He was one of St. Thomas of Aquinas' teachers. He is a Doctor of the Church and the patron saint of scientists and students.

St. Elizabeth Ann Seton
Elizabeth Ann Seton founded the first free Catholic school in America. She grew up in New York in the late 1700s, married a businessman and had 5 children (whom she homeschooled). After  her husband's death, she converted to the Catholic Church. At her bishop's urging, she started a girls' school and an order of nuns. Known lovingly as Mother Seton, she died in 1821 and was canonized in 1975. Her feast day is January 4. She is the patron saint of Catholic schools.
A life-altering tragedy led Elizabeth Seton to make a profound spiritual decision that left a lasting impact on her Church and her country. She advises us, 'Faith lifts the staggering soul on one side, Hope supports it on the other. Experience says it must be, and Love says let it be.' ~ Sarah Gallick, The Big Book of Women Saints
St. Gemma Galgani
Gemma Galgani lived in the late 1800s, one of eight siblings. She was a conscientious student, although illness forced her to stop her studies early. She was miraculously cured of meningitis during her life. A mystic, she received the stigmata, knew her guardian angel personally, and had many ecstasies. She died of tuberculosis at age twenty-five. Her feast day is April 11. She is the patron saint of students.
A Passionist priest encouraged [St. Gemma] to keep a journal describing her mystical experiences. In it she wrote: 'Praise to the unbounded love of Jesus, who, moved to pity by my misery, offers me every means of coming to His Love.' ~ Sarah Gallick, The Big Book of Women Saints
St. John Bosco
John Bosco was a priest and social worker in the 1800s. He was himself an excellent student who started his studies late due to poverty, yet soon caught up to his peers. As a priest, he mentored and encouraged boys, helping them find good work and homes, and stay out of prison. He worked with local employers to apprentice boys and insisted upon good working conditions for them. His feast day is January 31. He is the patron saint of schoolchildren, juvenile delinquents, and apprentices.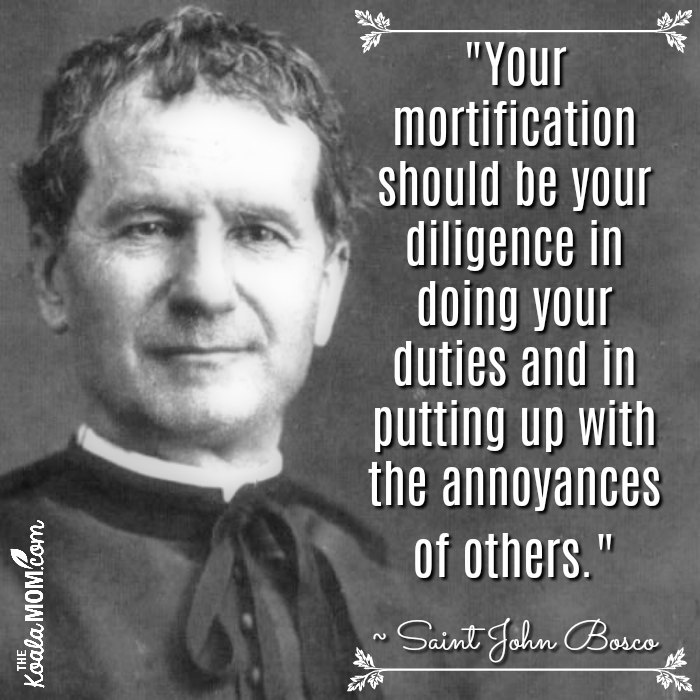 What patron saints of students have inspired you?
Thinking about the right patron saint for your children? Check out Choosing Your Child's Patron Saint by Ginny Kochis, a helpful toolkit that will guide you as you consider the right saint for your child's interests, temperament, and talents!
FREE Printables to Inspire Students!

Subscribe to my email newsletter to receive FREE prayer cards for students! This set includes 12 square lunchbox notes with quotes by St. Elizabeth Anne Seton, 14 larger black & white notes (which could also be used to make notecards) with quotes by St. Elizabeth Anne Seton, a St. Gemma prayer card, and a St. Thomas Aquinas bookmark.