On the way to the park is a large pine tree that regularly drops pine cones. All fall, the girls have been collecting "treasures" on the way home from our park. I've been eyeing their growing stack of pine cones and trying to figure out what we can do with them. When I found this idea for scented pine cones in Ann Ball's book Catholic Traditions in the Home & Classroom, I knew we had to do it.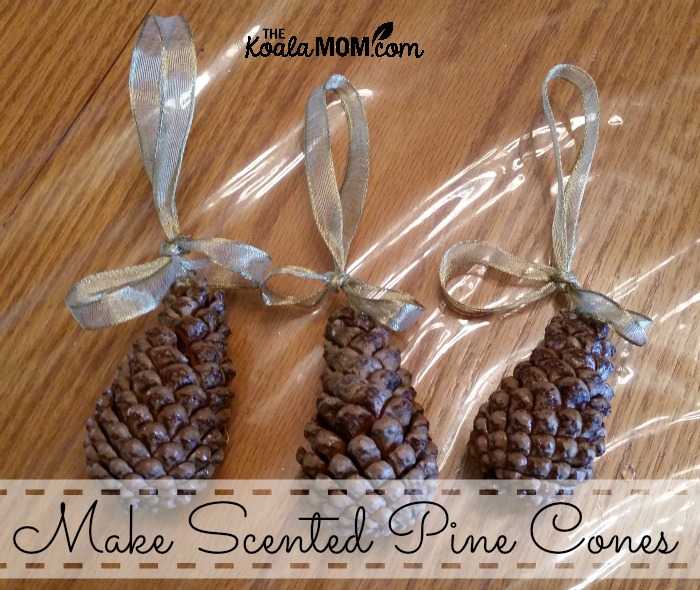 Preparing Your Supplies
Supplies needed (affiliate links):
Wash pine cones with water (if necessary). You may have to wait a few days for them to dry, as they close up tightly after being washed.
Add the Ribbon
If you are going to hang the scented pine cones up or use them as ornaments, glue about a foot of ribbon to the top of the pine cone. I used a hot glue gun for this; place a dab of glue in the top, centre of the pine cone and wrap the ribbon several times around the glue and pine cone. Let the glue dry.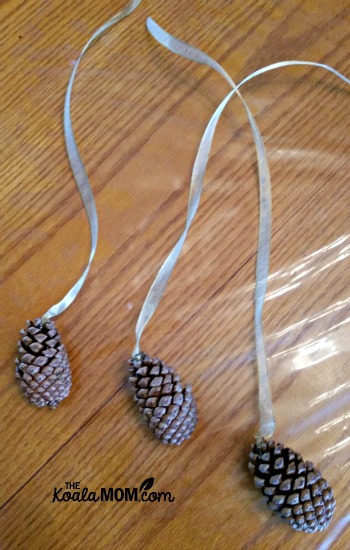 Add the Scent
To add the scent to the pine cones, splash about a quarter cup of almond oil in a bowl. Add a few drops of essential oil or fragrance and mix. I didn't really measure this part, just kinda guessed how much scent was needed. This might change depending on what essential oils or fragrance you use for your pine cones as well. We used peppermint, as it's a scent that my girls like. I think cinnamon or frankincense would be lovely as well.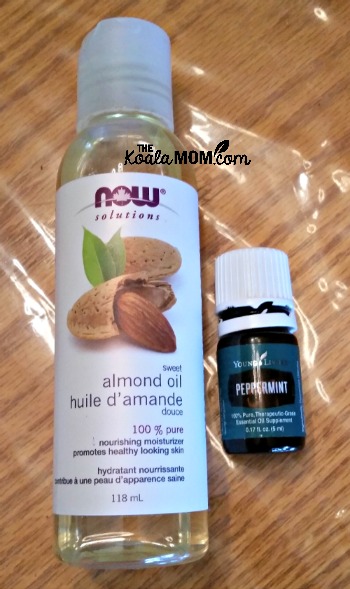 Warning: use caution with the essential oils. Peppermint is fine for hands… until a child wipes their face with their pepperminty hands. I gave the girls several warnings about keeping their hands away from their faces and out of the oil, and kept a wash cloth close by, but Sunshine still got some in her eyes.
The girls held the pine cones by their ribbons and used an eyedropper to drip oil on it. For the pine cones without ribbons, I held the cones while the girls added the oil. If you don't have an eyedropper, you could use a drinking straw or a small spoon. Keep the pine cones over a bowl to catch the excess oil.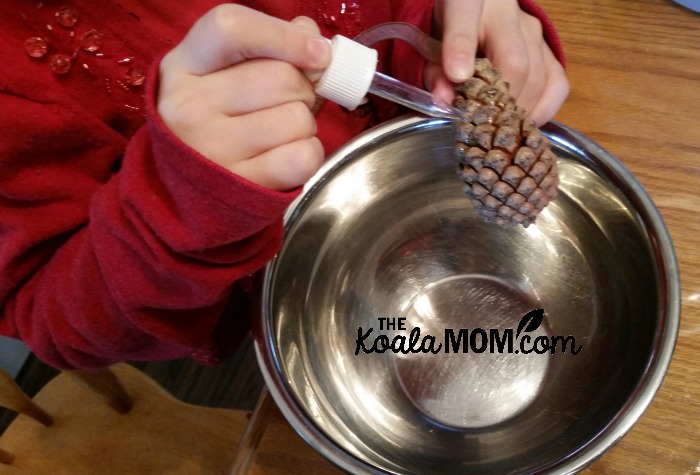 We piled the scented pine cones without ribbons in a vase to create a fall centre piece for the table.
I left the ribboned pine cones in a bowl to let the oil drip off for a little bit.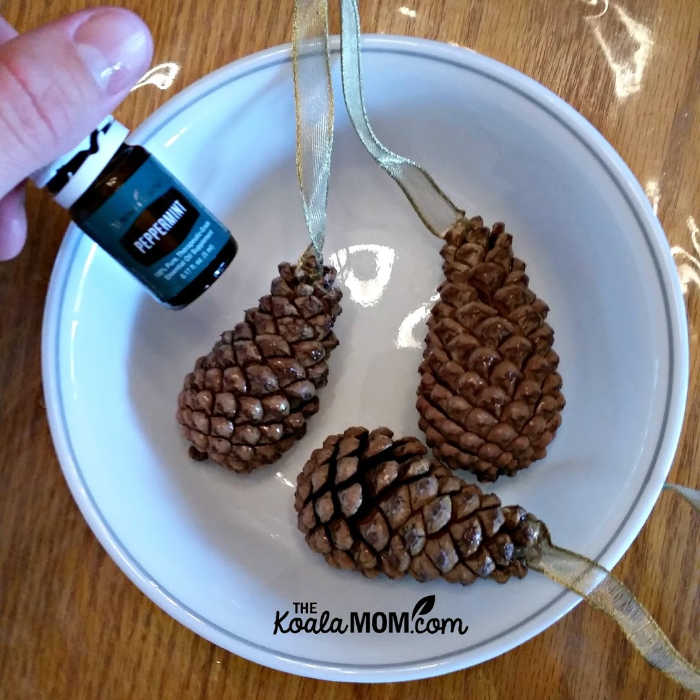 Finish the Scented Pine Cones
Then I tied a loop and a bow in the ribbon on the scented pine cones. They are now ready to hang up as air fresheners! You could put them in a room, closet or vehicle to scent the area or hang them on the Christmas tree. (If you have an artificial Christmas tree, this could be a great way to get that spruce or pine scent into the house!)
Cost: $5-10
Difficulty: intermediate (suitable for ages 5+)