PAW Patrol is one of the girls' favourite TV shows. It's also one of few kids' shows I don't mind listening to. The #1 show on Nick Jr features six heroic puppies—Chase, Marshall, Rocky, Rubble, Zuma and Skye—and their pal 10-year-old Rider as they solve problems and make rescues. If your child is also a fan of these pups, then he or she will love these PAW Patrol learning activities for preschoolers!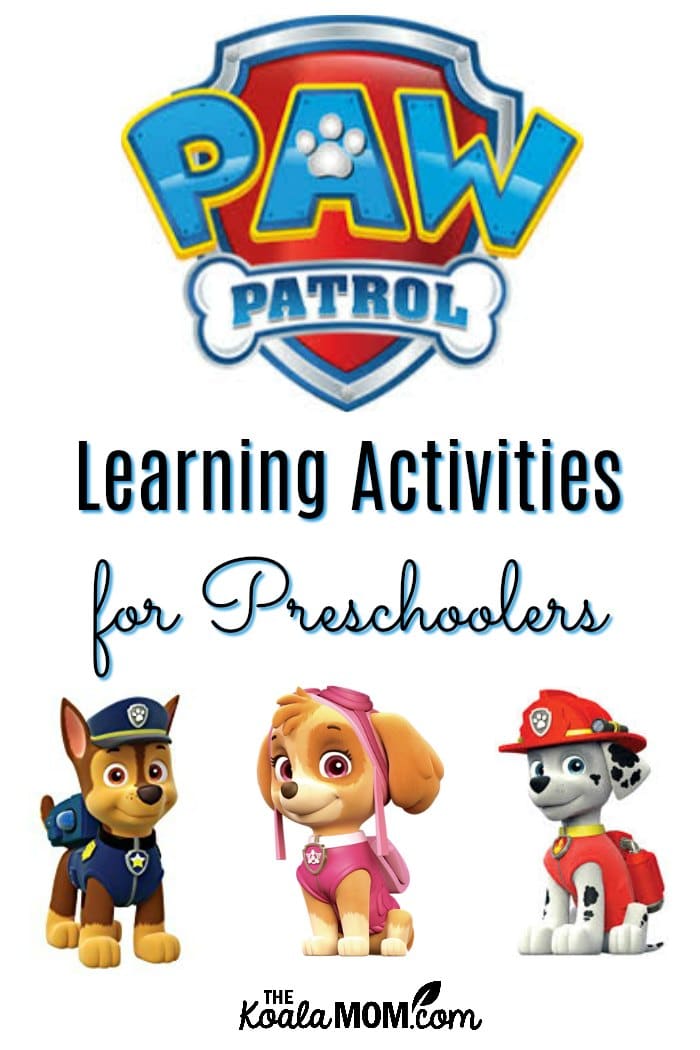 PAW Patrol Winter Rescues
I received this DVD for review courtesy of the publicist; all opinions expressed are my own. This post contains affiliate links.

PAW Patrol: Winter Rescues features six fun episodes and daring rescues! When it arrived at our place, all Sunshine could talk about was watching "the puppy movie." I made her wait until Lily came home from preschool and so they were very excited to sit down and watch it together.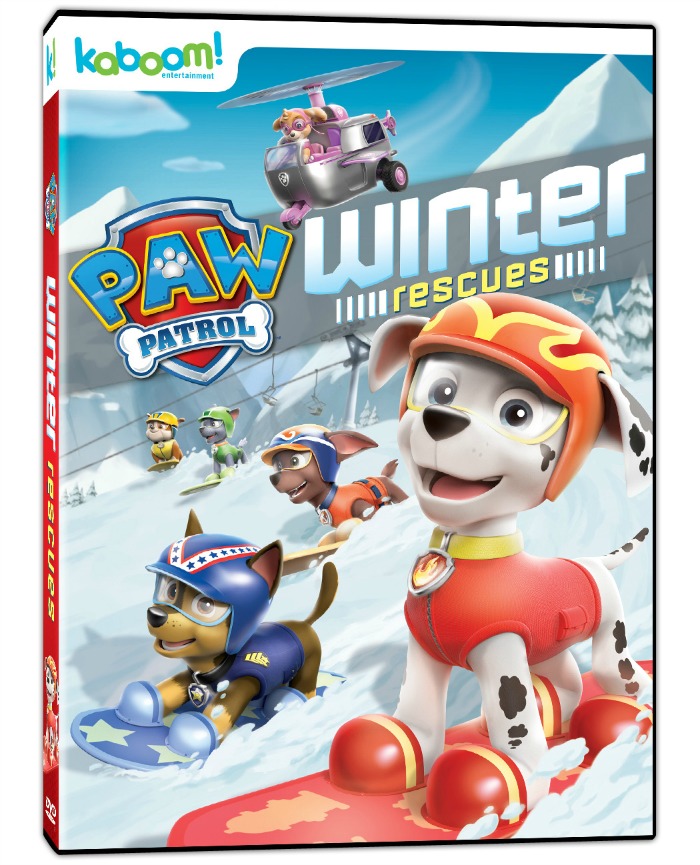 Even Jade was pretty pumped about the movie—she LOVES dogs and cats, so she was "woofing" at the movie when she saw the animals on screen, and getting very worried about a particular kitty that was floating out in the ocean needing a rescue. I had to reassure her that the kitty was okay because the puppies would rescue her.
I love the way the puppies have to work together and come up with creative solutions in each episode. Each of the puppies is different, with unique talents, yet all of them are needed for each rescue. I hope that my girls absorb that message—we are all unique, all talented, and all important in each other's lives. And of course… the message repeated throughout the show is that…
"No job is too big, no pup is too small!"
Plan a Paw Patrol Birthday Party!
We threw a Paw Patrol birthday party for Jade's 4th birthday. After watching her sisters' parties, she was very excited about her own party. We had a lot of fun planning and pulling off her Paw Patrol birthday party. Nickleodeon made it easy for parents with plenty of printables and ideas on their website!

Kids Activities Blog also has 20 PAW Patrol Birthday Party Ideas for you.
PAW Patrol Activities for Preschoolers
Add some learning to your child's fun with these PAW Patrol activities for preschoolers! Remember that homeschool preschool should be fun. Using your child's favourite TV show to bridge into some educational activities is a great way to keep the learning light and exciting. Here's some ideas to get you started.
Drop by the PAW Patrol Official Website for videos, games, and printable colouring sheets. You can also sign up for PAW Parents, the official newsletter, to get secret sales, event info, and PAW Patrol learning activities sent right to your inbox.
Use the PAW Patrol shows as a way to connect with and learn about your child. Ask him who his favourite pup is and why. If she could be any of the pups, which one would she want to be? Have any of the pups learned something in a certain episode that your child needs to learn as well? For example, one PAW Patrol episode was about facing fears. What scares your child? Why? How could they overcome or face this fear as the pups did?
Make sugar cookies with your preschooler. They can help stir the cookies or turn the mixer on and off. You could also get them to help count for you; e.g., two eggs or two cups of flour. After you roll out the dough, your child can help cut out the cookies with a dog bone cookie cutter. Or use a large circle and a small circle to make paw prints with the cookies.
Use your child's favourite PAW Patrol characters to teach the Letters of the Alphabet for Preschoolers. Give your child some PAW Patrol stickers to add to their letter notebooks, or print a colouring page for a specific pup to go with each letter. PAW Patrol characters can help you with these letters:
C is for Chase
E is for Everest
M is for Marshall
P is for PAW Patrol
R is for Rubble, Rocky or Rider
S is for Skye
Z is for Zuma
Momtastic has three easy educational activities you can do with your preschooler. Work at cutting, sorting, and painting with their favourite PAW Patrol characters!
Blooming Brilliant has Preschool Learning Activity Pack you can download and print for your child. This pack includes tracing, matching, stamping, cutting, pasting, and more. (Jade would have loved this a few years ago! I printed so many preschool activities like this for her!)
The Forever Teacher has a hands-on Learning Activity printable. This includes alphabet and number cards that kids can use for counting and word-making practice. I love her idea of laminating the pages and then using dry erase markers so you can reuse the pages. (Save some trees!)
Crafts on Sea has some great ideas for a PAW Patrol sensory tub. This would be a great way to keep a preschooler entertained inside when the weather isn't so great outside.
Kids Activities Blog has an easy, no-sew Marshall costume you can make for your child who loves dressing up.
If printing activity pages for your child isn't convenient or possible, order activity books via Amazon. Check out these (affiliate links):
PAW Patrol Snacks
Amaze your preschooler with these PAW Patrol snacks! (Or just encourage a picky eater to actually have a snack…)
What child wouldn't love scooping their hummus onto a homemade dog bone shaped tortilla chip? These are super easy to make (hint: all you need is a dog bone cookie cutter!).
Use a dog bone cookie cutter to cut meat and cheese slices into a fun shape. Serve with crackers or bone shaped tortilla chips.
What PAW Patrol learning activities for preschoolers would you suggest? Which pup is your child's favourite?