Both Sunshine and Lily have, at various times, asked for a calendar for their room. A few weeks ago, the idea hit me that I could use some of their old artwork to create reusable calendars for them. So that's just what we did. I've even got a free, printable blank calendar for you to use in making a calendar from your child's artwork!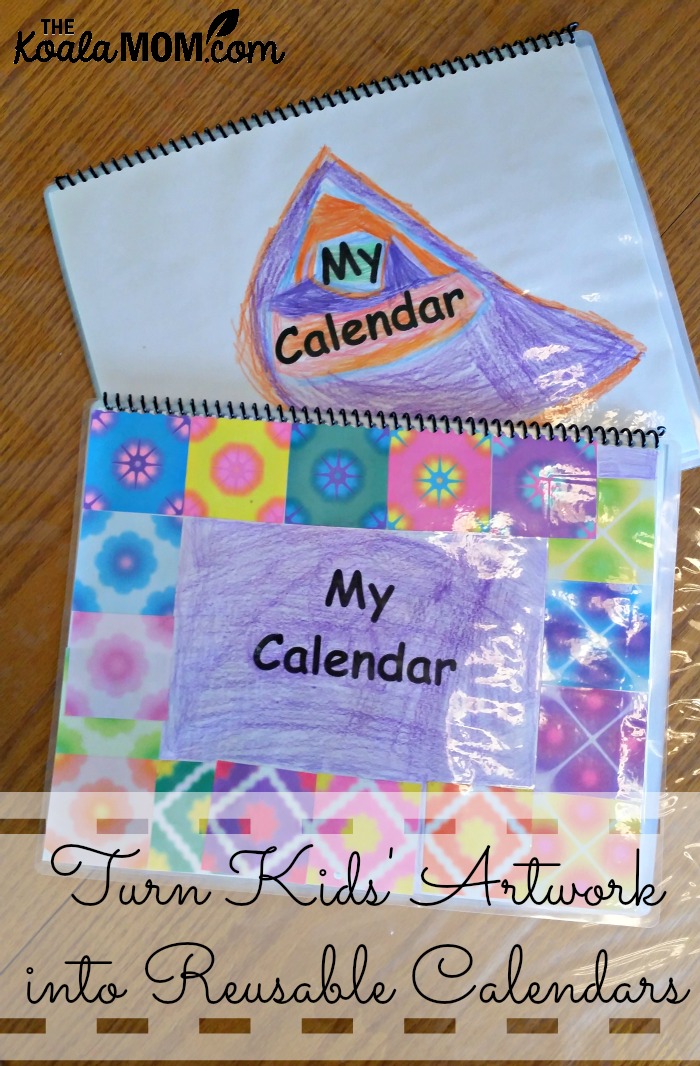 This post contains affiliate links; as an Amazon Associate, I earn from qualifying purchases.
Supplies needed:
How to Create Your Reusable Calendars
We started by choosing 12 pictures that the girls wanted to use in their reusable calendars. (Part of me actually wished I hadn't just thrown out a bunch of art that had been on the fridge for the last month!) They both had some recent pictures from art class and other endeavors, and for the rest of the pictures, we dug through their art boxes for drawings and paintings they had created in Kindergarten and preschool.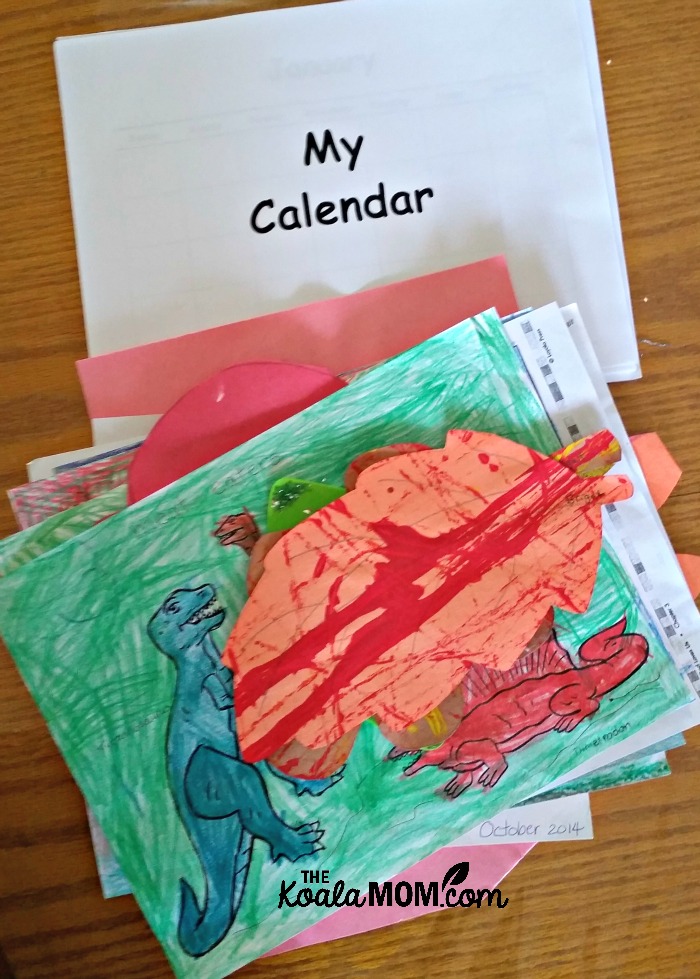 I ended up trimming some larger pictures slightly to fit the 8.5 x 11 calendar. We also did a collage for one of Lily's pictures, using two leaves she'd made out of construction paper. I printed a blank calendar for each of the girls and had them decorate their covers. You could also have your child decorate each month, if they want.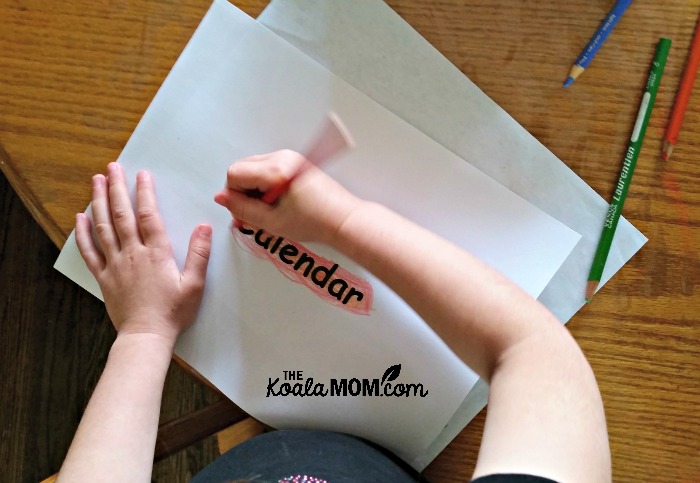 Then we put the reusable calendars in order. I laid the calendar pages on the table and flipped each one up as if I was opening a calendar, then placed the appropriate picture on the blank side of the page. The girls each had several seasonal pictures so we had fun assigning each picture to a suitable month.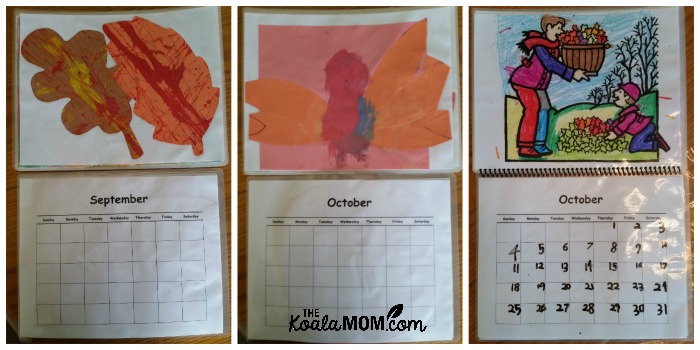 Once we had the pictures in the order we wanted, I laminated each page. Sunshine was able to help a bit with her calendar but I'm pretty cautious about the girls around the laminator.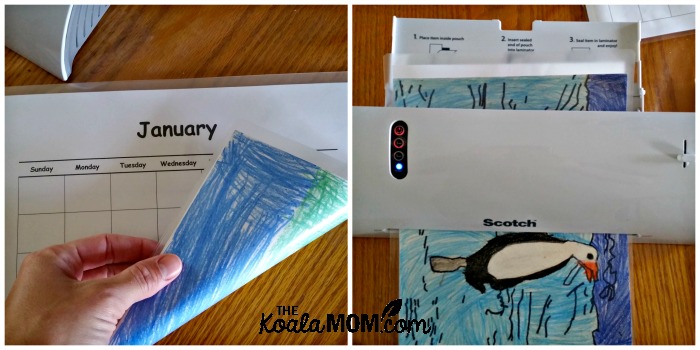 After all the pages were laminated, we took them into our local Staples to get them coil bound. I actually ran out of laminating pouches and had the store laminate the last page of Sunshine's calendar while they were binding it.
The girls couldn't wait to get their reusable calendars home and start using them. They added the dates to each month with dry erase markers. They can also use the markers to add special dates, cross off days, or count down to a special event (like Christmas or a grandparents' visit).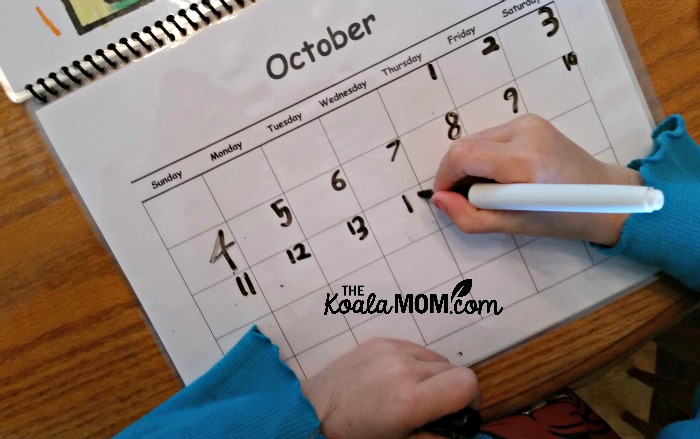 Cost: $10-15, depending on how you laminate and coil bind the calendars (it was about $10 per calendar binding at Staples here in Canada)
Difficulty: intermediate (suitable for ages 5+ to choose pictures, decorate calendar pages and collate; parent will have to get laminating and coil binding done)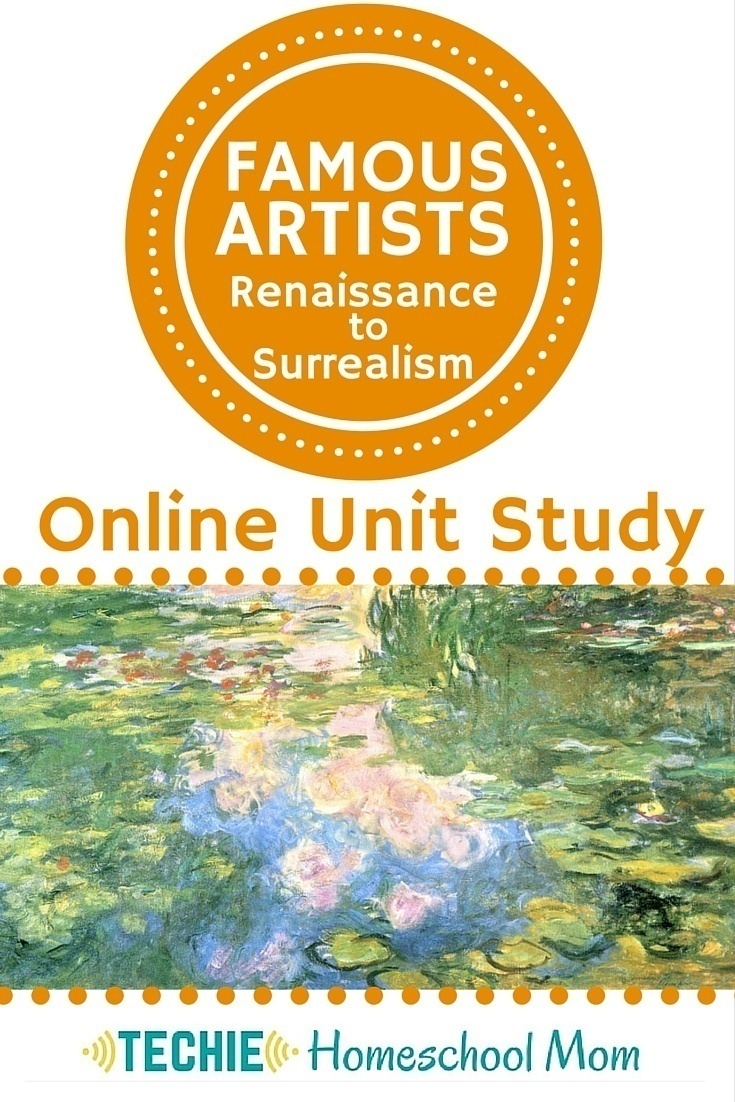 More options:
Print some family pictures and have your child create a collage for each month; they could also write dates or a brief description of what is happening in each picture
Choose a "saint of the month" for your child to colour and add to their calendar. See websites such as Happy Saints and Holy Heroes for printable colouring pages.