As a mom of multiple avid readers, I'm constantly looking for good books for my kids. I love reading reviews and seeing what other families are reading together. Just in case you're also trying to find great books for your voracious readers, I decided to create some lists of books—all recommended by fellow homeschooling families. This month, I'm featuring fantastic books for kids in Kindergarten to Grade 2. Come back next month for another great list of books!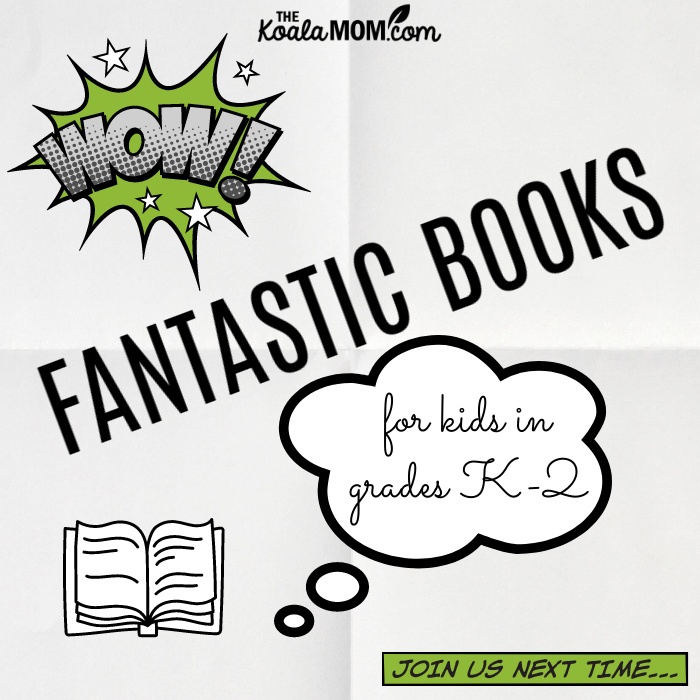 This post contains affiliate links; as an Amazon associate, I earn from qualifying purchases.
Nonfiction Books for Kids grades K – 2
My girls love reading our Weird but True! books from National Geographic Kids. I'll often find them giggling over the pictures or facts, or bursting to share their latest weird information with the rest of us. These books have full colour, glossy pages with beautiful illustrations and eye-popping facts. About 6 inches square, the books are easy to read for kids—or easy to carry along for fun reading on-the-go. Each book has 350 outrageous facts about people, places, animals, nature, outer space, and more.
Chris Ferrie's series Everyday Science Academy seeks to answer the big science questions that children have. Let's Fly a Plane is no exception to that goal. Red Kangeroo asks the question that begs to be answered: "How can something so big stay in the sky when I cannot?" Dr. Chris comes to answer the question. Using accurate language over colour filled pages, Dr. Chris helps his readers understand terms like thrust, drag, friction, life and airflow.
Media Enhanced Books
Using print, audio, and visuals, media enhanced books from Weigl Publishers come alive for young readers! These books help draw beginner or reluctant readers into the wonderful world of books. Kids can read along with the story and access additional features, such as more information and video content related to what they've just read.
Build Your Own History Museum is a Lonely Planet Kids book.  It has 5 amazing pop-ups for kids to make and display (or 24 pages filled with interactive elements covering 9 periods in history). This book will encourage the architectural skills of your children, in lower elementary, as they build pop-up display while engaging in history. It closes with two sections called "Where in the world?" (map showing different images from the time periods and testing if you recall what time period) and "Rise and Fall" (how civilizations come and go).
My Golden Ticket: A Journey into Willy Wonka's Chocolate Factory
Roald Dahl's novel Charlie and the Chocolate Factory has enchanted children for generations. Everyone loves the "rags to riches" story of the little boy who gets the golden ticket. Now, thanks to My Golden Ticket, you can give your child their very own golden ticket to Willy Wonka's Chocolate Factory! This book is a journal of your child's adventure with their golden ticket. You (or your child) can choose who will be "Grandpa Joe" and accompany the child on their journey through the chocolate factory.
Iceland: The Puffin Explorers series
Imagine visiting a country that gets more than 2.3 million visitors a year, more than the whole country has as it's population, and falling in love with a "flying football." That's what kids will experience in Iceland: The Puffin Explorers by RA Anderson. There are three books thus far in this series extolling the virtues of puffins and the land they live in. Each book centres around a young puffin, Arni, and his friend, Birta. As they look for various things, they also learn a lot about Iceland.
No Reading Allowed!
This picture book is geared to children 4-8, but honestly… I think anyone could enjoy this book.  You'll find that it's a fun romp playing with words. The illustrations fit really well with the words and how cleverly words can be written to show different things EVEN THOUGH they sound exactly the same.
Do you have a child wanting to learn to write? Check out Sara Varan's book, My Pencil and Me. Clever prose, a helpful pup, and a talkative pencil provide three elements for a highly successful story. Which as it progresses, becomes an even better story as certain necessary elements for the story fall into place. Although it's geared to elementary students, honestly.. anyone struggling to write could find good value here. Simple language and spot-on illustrations show how letting your imagination run, can bring a story out you didn't even know was there!
Tiny Bird: A Hummingbird's Amazing Journey
Tiny Bird is the story of one little hummingbird's migration journey.  Let's travel with him from the northern part of the USA to the Gulf of Mexico. This book is beautifully illustrated with a treasure trove of information about hummingbirds. Tiny Bird opens with facts about hummingbirds along with a map showing the journey that tiny bird will be taking. You will learn so much about this smallest of birds travelling over 1500 miles.  Many of these birds don't make it, but in Tiny Bird we celebrate the ones that do!
Inspire Your Child's Faith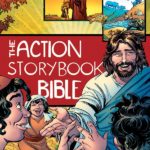 Action Storybook Bible
Another great way to engage beginner readers in books is with lots of pictures. All my girls have enjoyed looking at graphic novels even before they can read. The Action Storybook Bible will captivate kids under 8 and help them recognize how God is moving through each story. 15 episodes highlight key milestones in God's story, while amazing illustrations draw kids into the events being described.
Molly McBride and the Purple Habit
Molly McBride and the Purple Habit is a lovely way to raise children's awareness of religious vocations, and to begin the process of teaching children about the significance of Holy Communion. Molly McBride wants to be a nun, just like her friends, the Children of Mary Sisters. That's why she hasn't taken off her purple nun's habit ever since her mom made it for her. But now, everyone is saying she needs to wear a scratchy new dress for her older sister Terry's Big Event. Will Molly and her wolf-pet, Francis, find a way to keep wearing her purple habit? Join Molly and Francis as they learn all about nuns, habits, and being close to Jesus.
The Princess Parables
The Princess Parables are the stories of five sisters—Princesses Charity, Faith, Joy, Grace and Hope. Their stories are retellings of various parables from the Bible, so that girls learn about faith along with the sisters. For example, Princess Charity shares the story of the Good Samaritan when she helps a neighbour prince who gets hurt near her father's land. Girls who love these Level 1 readers will also appreciate the sticker and activity books to accompany them.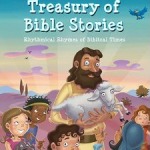 Treasury of Bible Stories: Rhythmical Rhymes
This fun kids' Bible sets Bible stories to rhyme. The stories include detailed, fun pictures that held the girls' attention. Treasury of Bible Stories is broken into easy chapters which covers various stories of the Bible. For example, the first chapter is "Tricked by a Snake," which moves from creation ("God made Adam a beautiful place to call home") to getting kicked out of the garden ("They should have been doing what God said to do, but instead they were tricked by a snake!)".
Beginner Historical Fiction
Gospel Time Trekkers series
These six novels are about three siblings who travel back to Jesus' time and experience first-hand the events of the Gospels. The Gospel Time Trekkers series is geared toward early readers (ages 6 to 9). The books have short chapters and beautiful black-and-white illustrations to accompany the stories. Sister Maria Grace Dateno writes an action-packed, Biblically accurate story. I enjoyed the siblings' interactions with each other and the descriptions of Biblical places and cultures.
The Little Catholic Clubhouse
The Little Catholic Clubhouse begins with a problem for Pete  – his mother tells him he needs to think about the "true meaning of Christmas." Unfortunately, Pete has no idea what his mother is talking about, so the children gather in the clubhouse and ask Father Q to help them out. Well it seems that Father Q has special abilities – he transports the children back to Bethlehem where they witness the events of the first Christmas. The children learn that Jesus was born on Christmas day, and that we celebrate Jesus birthday by giving presents just like the wise men did.
Who doesn't love a good pirate story? Four to eight year-olds will delight in the story of Nell aboard a pirate ship. She's a sweet, determined character whose light is not dimmed by the nay-sayers in her life. It's a good read for both adult and child, the font big enough to read with a group of children, and illustrations varied enough to provide lots of talking points with them as well.
Great Fiction for Kids K – 2
Little Robot is a charming book that challenges the stereotypes around girls. One day, a little robot falls off a delivery truck. That same day, a little girl who lives in a trailer park goes exploring. Soon she and the Little Robot are learning to be friends. However, a big robot from the factory is hunting for the missing robot… and the girl and the robot will have to work together, with a few other friends, to protect each other. This story is told mostly with pictures and very few words, making it perfect for beginner readers.
Cannonball
Cannonball takes the goal of one young person and helps us look forward to all that summer has to offer. Take a multi-generational family, add summer heat and a swimming pool. Then over the course of 40 pages, children aged 4-8 will be amused as one child learns to soar.
The Mess Detectives and the Case of the Lost Temper
The Mess Detectives and the Case of the Lost Temper features Bob and Larry as two detectives trying to figure out who the door slammer is. Bob has a plan, but Larry's bumbling attempts to follow the plan leave Bob turning more red with every page. Narrated by Larry, the book has the classic VeggieTales understated humour and great illustrations. This book is a Beginning Reading 1 level.
Little Red Sleigh
Can a little red sleigh attain her dreams? This is an adorable book that will make you smile at the end, and hopefully have a child say, "Again, read it again!"  With friendship, dreams, and help along the way, Little Red Sleigh a delightful holiday tale. You and your children will love the determination of this young sleigh.  She knows what she wants and won't let anyone tell her no… including the weather!
A Place Inside of Me
A Place Inside of Me gives us a poem to heal the heart of young people of colour. In this sensitive picture book, we see a young skateboarder's response to living before and after a community member is wounded by the police. This is not a book of simple rhyming poetry, but a poem filled with emotion from deep inside of a young man, enjoying his summer, until damage happens. Then pain and anger flow out. This book is an excellent bridge to help children be sensitive to the feelings of those around them.
The Adventures of Sophie Mouse
In the first book of a charming series about a little mouse and her forest friends, Sophie Mouse must convince her classmates—and herself—that a new student is nothing to fear. Even if he is a snake! With easy-to-read language and illustrations on almost every page, the Adventures of Sophie Mouse chapter books are perfect for beginning readers. Jade (my reluctant reader) has been enjoying this series and telling us about Sophie and her friends.
Fancy Nancy's Ultimate Chapter Book Quartet
Kids who grew up with Jane O'Connor's Fancy Nancy picture books can spend some quality time with their BFF because Nancy Clancy is now starring in her own chapter books! Whether she's solving mysteries, playing matchmaker, or predicting the future, Nancy Clancy's always fancy and full of fun! Black and white drawings accompany the story. Despite Fancy Nancy's big words, this set is a great way to transition girls from picture books to chapter books.
What books did your kids enjoy reading while they were in Kindergarten to Grade 2?
Check out my other book lists for the whole family: