We often hear the terms "extrovert" and "introvert" tossed around. We may have some idea about what these words mean, and which category we fall into. I think it's important we help our children to understand this part of their personality and how it affects their interactions with those around them. I have some kids who are introverts and some who are extroverts. At times it's difficult to balance their needs for people and for silence, and to recognize when a kid is grumpy due to too much of one or the other.
How to Party Like a Snail is a beautiful kids book that can help parents have this discussion with their children. This book shows that some people like silence and some people like noise and that's okay.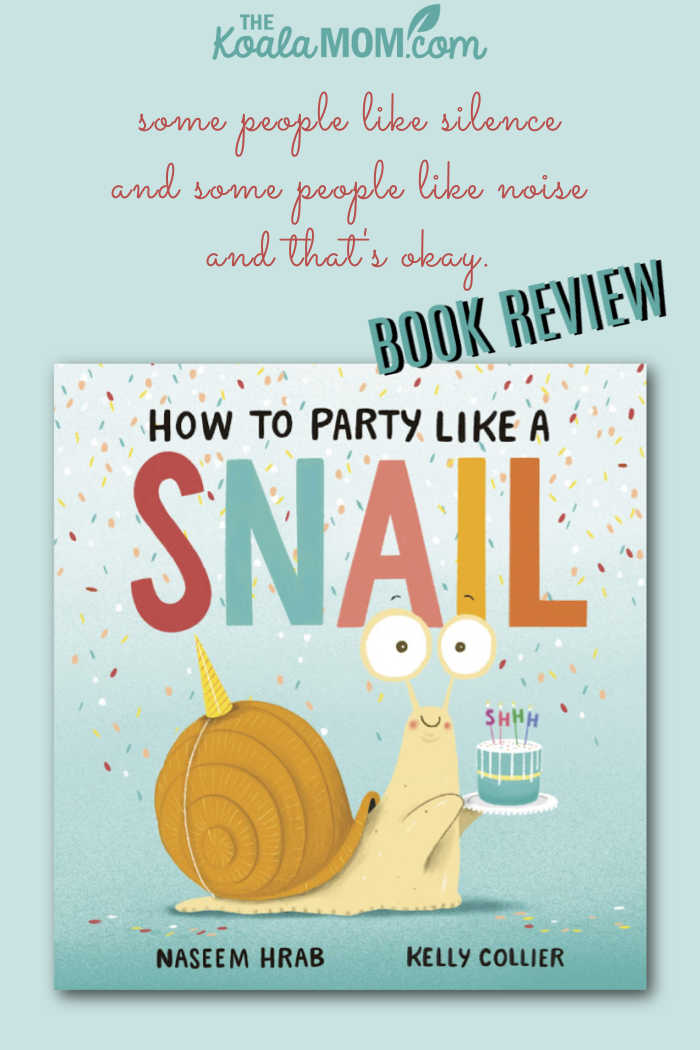 I received this book courtesy of the publicist; all opinions expressed are my own. This post contains affiliate links; as an Amazon associate, I earn from qualifying purchases.
How to Party Like a Snail plot summary
"Snail is a party animal. Well… kind of."
This story opens by introducing readers to Snail and all the things he likes about parties. However, there are some things Snail doesn't like about parties. And sometimes, Snail's friends don't seem to understand this. Snail is left feeling lonely as he stops getting invited to parties.
Then one day, Snail has a great idea. He'll throw his own party, with his favourite things. Snail is having a great time at his own party… but something seems to be missing. Snail can't figure out what the party is missing, until Stump (who's been watching the party all along), has a suggestion.
What I Love about this Book
Everyone loves a party. Whether my kids are planning their own parties or getting invited to a friend's party, they are always excited. However, I think all of us have things we love about parties and things we don't love about parties. For example, my kids absolutely love balloons. It wouldn't be a party at our place without balloons involved. But other kids don't love balloons so much.
How to Party Like a Snail shows how different forest animals like to party. Snail likes certain things about parties. Bear, Rabbit, Skunk and Fox like other things. Unfortunately, Snail's friends don't seem willing to listen to his likes and dislikes. There's also another character How to Party Like a Snail whose wishes get overlooked.
This is a book in which the pictures say as much as the words. I really had to pause when reading it aloud to give myself time to take in the pictures and what's going on there that's not said. I was halfway through How to Party Like a Snail when I noticed something in the pictures, and had to flip back to the beginning and take a closer look. Take some time to talk about the pictures with your kids, because kids do notice these things too.
Turn the Book into a Lesson
While How to Party Like a Snail has adorable illustrations and a feel-good story with a happy ending, I think it also gives us the opportunity to talk more with our kids about the theme of the book. Most kids have felt left out in their group of friends, like Snail.
How can we encourage our kids to acknowledge their own likes and dislikes and be okay with that side of their personality? How can we encourage our kids to express those needs and interests to their friends? And how can we encourage our kids to listen to their friends and to be more attentive to what their friends like, instead of imposing their own likes on their friends, as Snail's friends do?
The author has a downloadable discussion guide and colouring pages available to kids and parents. Gradeonederful has some other great ideas for follow-up activities to accompany How to Party Like a Snail.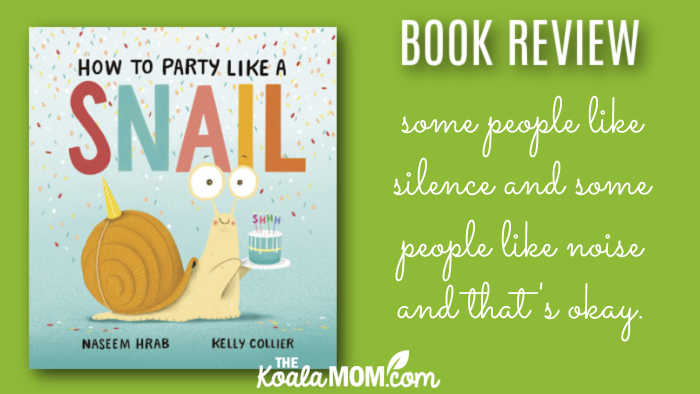 What Others Say about How to Party Like a Snail
As an introvert and a parent of children with sensory sensitivities, I think this book does an excellent job of showing how the need for quiet is important to some people…and snails. It could help readers to accept the differences in those around them. ~ Jean, Goodreads review
As the parent of a child with sensory processing disorder, this book is PERFECT! My son doesn't like loud and/or busy places. He gets very anxious at parties that are noisy with a lot of people. This is a great way to show children with sensory processing disorder, or kids that just like quiet settings. that they are not alone. That there are other people in the world – just like them! This is a great story for folks that like it loud AND people that like it quiet. ~ Kelly, Goodreads review
How to Party Like a Snail is a very charming book with the sweetest illustrations. It would be perfect to use in the classroom when teaching about friendship, understanding and empathy for others. Introverted children will feel seen and realize that they're not the only ones who are uncomfortable around the wild, the crazy and the noisy! ~ Gradeonederful
More about the Author and Illustrator
Author Naseem Hrab is a Toronto-based writer and storyteller. She is also the author of Ira Crumb Makes a Pretty Good Friend and Ira Crumb Feels the Feelings. Her picture book Weekend Dad was a finalist for the 2020 Governor General's Literary Prize. She worked as a librarian for a time and currently works in children's publishing. She lives in Toronto, Ontario.
Kelly Collier is a Toronto artist and illustrator. She is the author-illustrator of two picture books, A Horse Named Steve and Team Steve, and the illustrator of Sloth and Squirrel in a Pickle.
Looking for more great book ideas for your kids? Check out my list of Fantastic Books for Kids in K-2. (I just added How to Party Like a Snail to that list!)