As the mom of three little girls, I'm well aware of the stereotypes that surround girls. Things like their love of pink and princesses and glitter. The hair accessories we find all over the house. The fact that on any given day, probably two out of three of them are wearing a dress.
I love it when they challenge those stereotypes. Like when Lily wants a Jake and the Never Land Pirates birthday party. Or when they all spend a week playing with their new Hot Wheels. Or when one of Jade's favourite toys is her wooden train set.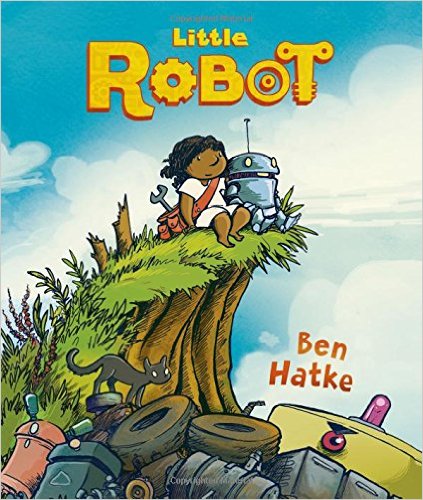 Ben Hatke's new graphic novel Little Robot is a charming book that challenges the stereotypes around girls. One day, a little robot falls off a delivery truck. That same day, a little girl who lives in a trailer park goes exploring. She finds a tool pouch at the local dump, then ends up by the river when the robot's box goes floating past.
Soon she and the Little Robot are learning to be friends. However, a big robot from the factory is hunting for the missing robot… and the girl and the robot will have to work together, with a few other friends, to protect each other.
One of the things I liked about this novel is how much of the story is told without words. As a writer, I love words, but I'm also fascinated by what can be conveyed simply with images. Ben does an excellent job of telling the story with pictures, with just a little bit of dialogue from the little girl. This story reminded me in some ways of Wall-E—both are about adorable little robots with anthropomorphic qualities and very few words.
This book also encourages creativity, friendship, and adventure. The little girl discovers a tool pouch, but is also very handy with tools, as she fixes the robot (several times) and also uses her tools to get herself out of several tight scrapes. Even when she and the robot argue with each other, she's willing to march into danger to rescue him. And she discovers him in the first place because she's out exploring and asking questions.
Oh, and the girls loved the book too. They barely let me finish reading it before they were demanding a turn to read. I had fun listening to Sunshine attempt to make all the robot noises in the book. Because it's mostly pictures, it was also easy for Lily (just starting to learn to read) to read by herself. I think graphic novels are a great way to encourage early readers because they have lots of pictures and few words, yet still teach kids about following the story and the excitement of books.
Ben Hatke is the author of the Zita the Spacegirl trilogy and the picture book Julia's House for Lost Creatures. He's also dad to four little girls, one of whom helped pose as reference for the little girl in Little Robot. In addition to writing and drawing comics, Ben also paints in the naturalist tradition
and, occasionally, performs one-man fire shows. He's a lively and engaging person and is
considered to be a "rockstar" children's book author in the US. You can find out more about him by dropping by his blog.
PLUS, Ben is coming to Vancouver on Monday, September 28th, 2015, for two events! You can catch him at the Capilano Library at 4 pm or at Kidsbooks at 7 pm for a talk followed by Q&A and book signing. Tickets to each event are $5 but can be redeemed toward the cost of the book. Both are expected to be popular events so grab your tickets fast if you want to attend! You can find out more details on the KidsBooks website.
I received this book for review courtesy of Raincoast Books; all opinions expressed are my own. This post contains affiliate links; as an Amazon Associate, I earn from qualifying purchases.