My childhood copy of The Picture Bible is a bit worn at the edges. The red binding is coming off, and a few pages are dog-eared or folded. This illustrated Bible was one of my first introductions to reading the Bible itself. Now, as my daughters are starting to read and explore their own faith, I'm excited to introduce them to an updated picture Bible — The Action Storybook Bible: An Interactive Adventure through God's Redemptive Story.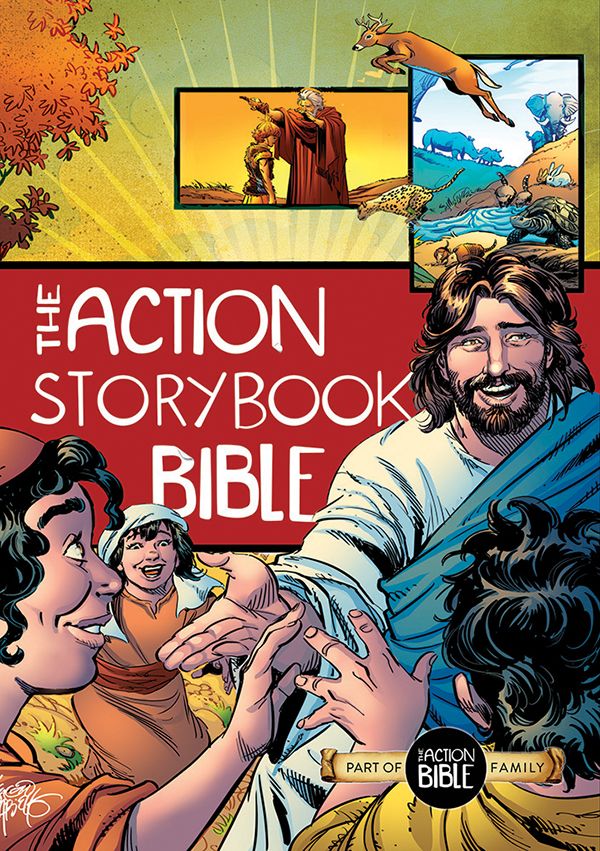 I received a copy of The Action Storybook Bible for this review; all opinions expressed are my own. This post contains affiliate links; as an Amazon Associate, I earn from qualifying purchases.
Discover your family's place in God's incredible story and together put your faith into action. Explore God's redemptive story together with your children ages 8 and under in the 15 episodes highlighting key milestones in God's story. Master-artist Sergio Cariello created more than 350 brand-new illustrations to captivate your family and help you recognize how God is moving through each story.
If your children are anything like mine, they love pictures. My husband has a huge collection of graphic novels, and most of my girls started "reading" these before they could read, by flipping through the pages looking at the pictures. Like a graphic novel, The Action Storybook Bible makes the Bible accessible for kids by putting favourite Bible stories into pictures. It's a bridge between the simple storybooks we give to our toddlers, and the tissue-paper-paged Bibles we read ourselves.
When our copy arrived, Lily sat down to read it to Jade. Over the next several weeks, they diligently read together every day. I loved listening to the stories as Lily read to her little sister. How many children ages 4 or 7 can say they've read the Bible cover to cover? Sure, it's a shortened condensed version of the Bible, but it covered the important stories. Both of them thoroughly enjoyed the stories together and often talked about what they'd read later.
Interactive features include:
Fifteen episodes loaded with over 350 brand-new illustrations from master-artist Sergio Cariello
Short and easy reading for all ages. Take turns telling God's redemptive story!
The Life, Faith, Action! feature wraps up each episode and helps your family recognize how God is moving through each story, discover how that relates to your daily lives, and feel inspired to put your faith into action.
Heroes Hall of Fame index, where you can look up your favorite Bible characters and discover their stories!
Catherine has written more than twenty-five books for children, including the bestselling Adventure Bible Storybook. As publisher of children's resources at David C Cook, she leads product development for The Action Bible® collection, which has sold more than a million copies. Catherine lives with her husband, their three children, and their big furry dog in the Colorado forest.
Brazilian-born Sergio Cariello has been an accomplished artist since childhood, drawing a regular comic strip for his city's newspaper at age 11. He spent many childhood hours poring over The Picture Bible (Portuguese edition), never dreaming he would illustrate an updated edition (The Action Bible) decades later. Sergio has worked for Marvel Comics and DC comics and has illustrated Batman, Spiderman, Superman, Iron-Man, Wonder Woman, Fantastic-Four, and dozens more comic book characters.
Find out more about Catherine and Sergio at the Action Storybook Bible website.
I received a copy of The Action Storybook Bible for this review; all opinions expressed are my own.