I love watching my tweens read. This is such a fun stage for young readers because they are past (usually) the awkward learning-to-read stage and starting to develop their own taste in books. They want chapter books that are interesting and exciting, but they aren't yet reading the two-inch-thick tomes that their older siblings might be packing home from the library. At this stage, it might still be easy to read along with your child or to nudge their reading tastes towards books that you know and like. So here's a list of fantastic books for kids in grades 3 – 5.
If you have younger readers, check out my list of Fantastic Books for Kids in Kindergarten to Grade 2! Many of those books will still be enjoyed by tweens too.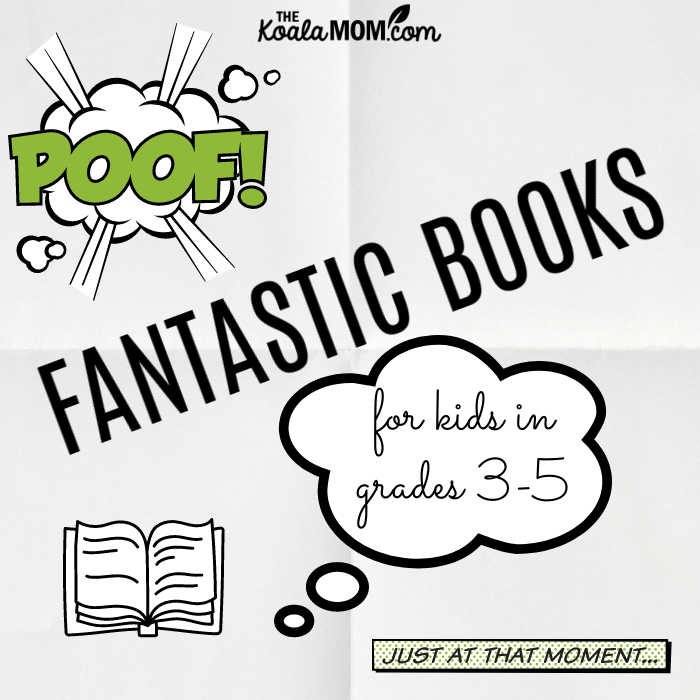 This books contains affiliate links. As an Amazon associate, I earn from qualifying purchases.
Historical Fiction for Kids in Grades 3 – 5
This middle grade historical novel tells the story of Miriam, an Israelite girl taken captive by the Syrians. Living in a foreign land, Miriam has a choice between becoming bitter and angry about what has happened, or opening her heart to how God can use her in her new circumstances. The Heart Changer caught my attention because it brings alive the life of a minor character in a small Bible story. Naaman's wife and her handmaid aren't even named in the Bible. Yet Naaman's miraculous healing would have never happened without the small suggestion from Miriam. This is a powerful story not only about faith, but also about how God can use each one of us in amazing ways.
Rosa Bernardi, an only child living with her Italian immigrant parents in 1960s Chicago, often feels alone, or sola, as her parents would say. But after she holds her best friend AnnaMaria's baby brother for the first time, Rosa is sure that if she prays hard enough, God will send her a brother of her own. When Rosa's prayers for a sibling are answered, she is overjoyed—until tragedy strikes. Rosa is left feeling more sola than ever, and wondering if her broken family will ever be whole again. Rosa, Sola is a Booklist Top Ten First Novel for Youth.
Night of the Cossack is a compelling historical fiction adventure about a teenager who is forced to grow up quickly. Nathan Hertzfield is kidnapped by a Cossack of the Russian Army. He faces many life or death situations during his saga. Join Nathan on his suspenseful coming of age journey through parts of Russia and Europe during the early 1900's. Both my daughters and I thoroughly enjoyed this story and are awaiting the sequel.
Chime Travelers
When Patrick has to work on his church's cleaning team on a Saturday, he thinks his weekend fun is ruined. But when the old church bells start chiming, Patrick and his pet frog, Francis, are suddenly taken back through time to ancient Ireland. Will the strange shepherd he meets be able to help him get home, or will Patrick be stuck taking care of sheep in the rain and mud forever? Find out in The Secret of the Shamrock. Book 1 in the Chime Travelers series, exciting new chapter books ideal for children in grades 2-5.
Elizabeth Prentiss lived during the 1800s and wrote many hymns still well-beloved today. Both her father and her husband were pastors. She endured several childhood illnesses as well as chronic insomnia throughout her life. She also faced intense suffering in the loss of two of her children. Instead of becoming bitter about her suffering, she allowed it to draw her closer to Jesus, and thus became a light for those around her as well. She was a teacher, wife and mother, and a writer. Elizabeth Prentiss: More Love is a slender, easy-to-read chapter book about this amazing woman.
Other Fiction for Tween Readers
Owen & The Old Willow Tree Owl
He has not left the safety of his willow tree in 10 years. But a young owl needs his help! Will the Old Willow Tree Owl brave the outside world to save a life? This First Chapter Book For Kids is designed to be an exciting and approachable start to reading chapter books for your kids. Large font, simple sentences, short paragraphs, and easy vocabulary help you and your child "focus on the fun!" Cut out the included bookmark to help your child get excited about flying through the chapters. Plus, there are free activities and educational printouts to go along with the story so you can extend the fun!
Mrs. B Has Cancer is told by Tristan, a twelve-year-old boy whose tutor gets ovarian cancer. Tristan's innocence and curiosity propel the story forward as he tries to learn more about what Mrs. B is facing and how he can help her. Mrs. B explains her treatments and disease in ways that Tristan can understand, but he's still upset when those treatments prevent him from seeing her. Along with his friends, Tristan pulls together a fundraising event and party for Mrs. B.
Will Wilder #1: The Relic of Perilous Falls
Fans of Rick Riordan's Percy Jackson and the Olympians and Peter Lerangis's Seven Wonders series will embrace this epic adventure in a rollicking new series by a New York Times bestselling author.
Will Wilder didn't mean to unlock his otherworldly gift. But that is exactly what happens when Will "borrows" a sacred relic believed to protect the town of Perilous Falls for nearly a century. Even though his intentions are good, the impulsive twelve-year-old unwittingly awakens an ancient evil endangering all of Perilous Falls. I found The Relic of Perilous Falls at our local library and thoroughly enjoyed it.
The Destiny of Sunshine Ranch tells the story of Benedict, a foster child whose destiny is about to change. Benedict has been shuffled from one home to another during his ten short years. When he and his foster sister Melanie arrive at Sunshine Ranch, he doesn't expect to stay here. He leaves his bags packed, ready to get kicked out, but there's something different about this place. The parents, David and Martha, seem genuinely happy to have the kids here. And there's a lot of kids—ten, to be exact. Written for tweens, this story highlights the plight of foster children.
Archangela's Horse
If your tween is horse-crazy, check out Archangela's Horse! Original watercolor illustrations capture the beauty of Archangela's journey as the young girl strives to find God's will for her life, accompanied each step of the way by her faithful friend, Santo the horse.
They Didn't Teach THIS in Worm School!
A buddy comedy featuring a worm and a chicken-like bird that will have readers wriggling with laughter. Marcus is a worm. Laurence is a bird that looks like a chicken. Laurence wants to gobble up Marcus for breakfast, but the worm surprises him with "Good morning!" Marcus tries to keep the conversation going, and it goes in a very unexpected direction: Laurence seems to think he's a flamingo (he's definitely NOT), and Marcus soon finds himself on a journey to Africa, where Laurence believes he can finally be happy. A tale of high adventure, wily tricks and unlikely friendship, beloved comic artist Simone Lia has created a comedy classic that will have readers wriggling with laughter.
The Sisters of the Last Straw
The Sisters of the Last Straw and the Case of the Haunted Chapel is the first in a series of children's books that convey the fun-filled story of a group of misfit nuns. These sisters and their madcap adventures teach the importance of tolerance and forgiveness. Each book focuses on the virtues of Gospel living and the frailties of human nature. While children delight in the humor and fast-paced exploits of this special group of nuns, they learn the need to be forgiving of the faults of others and to look for the good in all people. Children are enchanted and entertained with the humorous escapades of the characters while learning the importance of basic Christian values, growth, and love.
Nonfiction for Kids in Grades 3 – 5
Be Yourself! journals
Packed with beautiful artwork, quizzes, journaling questions, inspirational quotes from seven female saints, and passages from the Catechism of the Catholic Church and Scripture, the Be Yourself! journals by Amy Brooks help your children become the men and women God created them to be. Ages 9 and up.
Be Yourself! a journal for Catholic girls will help your daughter reflect on her gifts, goals, self-image, and mission; and it will encourage prayer.
Be Yourself: A Journal for Catholic Boys was designed your son to understand his identity and individuality, with the help of his Catholic faith.
My Mixed Emotions
Our feelings can be complicated, confusing, and hard to handle. This is true for adults and even more true for kids. My Mixed Emotions has been a great way to talk about emotions (when we're not super emotional!) with my kids. Knowing some strategies for dealing with anger, fear, and sadness before we encounter these emotions has been helpful. If you're looking for ways to help your kids handle their feelings, check out this book!
The Gospel Story Bible by Marty Machowski is a beautiful, hardcover book with thick, glossy pages intended to help children discover Jesus in the Old and New Testaments. Funky, colourful pictures accompany each of the 156 stories and "Let's Talk About It!" questions help parents dig deeper into the story with their children. It's a great devotional Bible for a grade schooler who is starting to explore his or her faith.
Canadian Saints Kids Activity Book
Canadian Saints Kids Activity Book includes a two-page biography of each saint to draw your child into their lives. Colouring pages by Katherine Babcock help kids picture each of the saints. Children will further engage in reflecting on these saints and their legacy through word puzzles, quotes, drawing and writing prompts, reflection questions, mazes, and other hands-on activities. While learning about the lives of these saints, children will also learn about Catholic mystics, sacramentals, spiritual communion, Rule of Life, corporal works of mercy, and more!
North American Martyrs Kids Activity Book
The North American Martyrs (also known as the Canadian Martyrs) served among the First Nations people of eastern Canada and the United States in the 1600s. Their lives are an amazing testimony to their love for God and for their fellow men. The North American Martyrs Kids Activity Book brings the lives of these holy men alive for your children. Brief bios tell the stories of each of the saints. Colouring pages by Katherine Babcock help children picture the martyrs. There are also quotes from the saints, hands-on activities, and suggestions for applying what kids have learned from each saint to their own lives.
What are your favourite books for kids in grades 3 – 5?
Check out my other book lists for the whole family: