Roald Dahl's novel Charlie and the Chocolate Factory has enchanted children for generations. Everyone loves the "rags to riches" story of the little boy who gets the golden ticket. Now, thanks to Wonderbly
's latest personalized book, you can give your child their very own golden ticket to Willy Wonka's Chocolate Factory!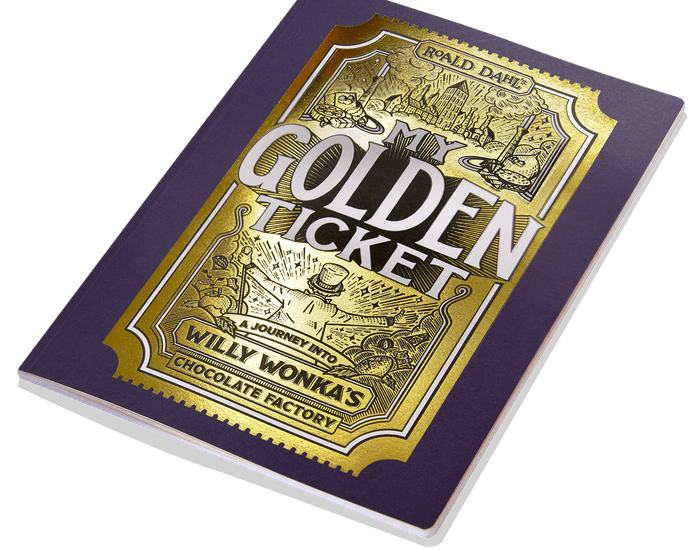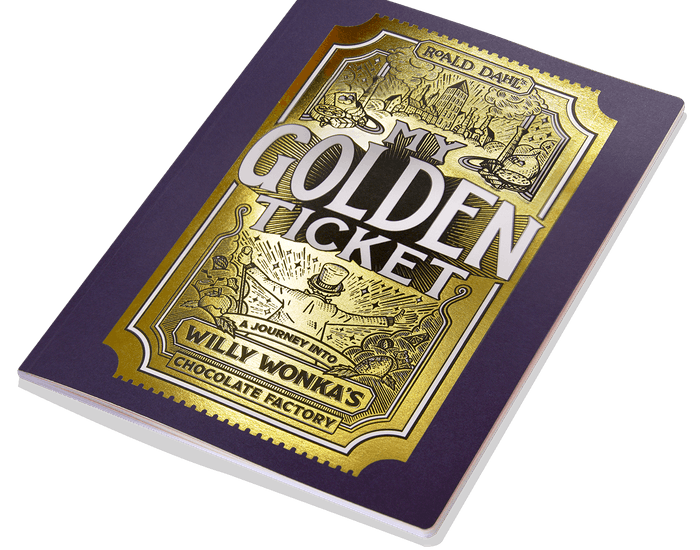 My Golden Ticket: A Journey into Willy Wonka's Chocolate Factory is a journal of your child's adventure with their golden ticket. You (or your child) can choose who will be "Grandpa Joe" and accompany the child on their journey through the chocolate factory. Should it be Mommy or Daddy? a best friend? a favourite grandparent?
Then let your child's magical journey begin! No child will have the same adventure in Willy Wonka's Chocolate Factory, because their adventure is based on their name. I've had fun reading each of the girl's books with them and seeing how each adventure is different! Of course, a visit to a chocolate factory wouldn't be complete without tasting some candy—but we all know that Willy Wonka's candy has, errrm, special effects. Each of the girls had a different result from their candy tasting; Jade began to levitate, while Pearl turned invisible!!!
Each child also gets a personalized chocolate bar in the book, based on the letters of their name. This was both Sunshine's and Lily's favourite part of the book. Near the end of the book is a full-page ad of their chocolate bar, with their name on it. Each, of course, has a different flavour, with a different "warning" attached to it.
I thought the scrapbook-style illustrations in the books were fun. There are magazine clippings, ticket stubs, candy wrappers, posters, drawings, etc. The pages have a "retro" look, fitting with the original era of Roald Dahl's novel. The text included marvelous descriptions and bouncy Oompa-Loompa rhymes, just like Roald Dahl's original novel.
I've read Charlie and the Chocolate Factory to both Sunshine and Lily. They were very excited about My Golden Ticket when the books arrived, and instantly recognized what the golden ticket was from. For Jade and Pearl, My Golden Ticket was just a fun picture book. I'm sure in a few years, when they discover there's a whole novel about the chocolate factory, they'll enjoy this introduction to the wonderful world of Willy Wonka.
Lily says My Golden Ticket was "fun" and liked the chocolate bar made by her name. Sunshine liked that their books had the actual golden ticket in them. Actually, when she started flipping through her book again to find her favourite part, I think she mentioned nearly every chapter…
If you or your children are fans of Charlie and the Chocolate Factory too, check out My Golden Ticket. Available in hardcover or softcover, this book is sure to delight children of every age. Customizing your book takes only a minute and will leave you drooling until the mail man arrives to drop it off!
I received four copies of My Golden Ticket for the purposes of this review; all opinions expressed are my own. This post contains affiliate links; as an Amazon Associate, I earn from qualifying purchases.