I've been a fan of VeggieTales since the kids I babysat first popped Where's God When I'm S-Scared? into their VHS player. I added two of the cassette tapes to my collection, and I still sing "Keep walking!" when I'm out on a hike or "God is bigger than the bogeyman!" to my girls when they don't want to fall asleep at night because there might be a giant octopus in the closet.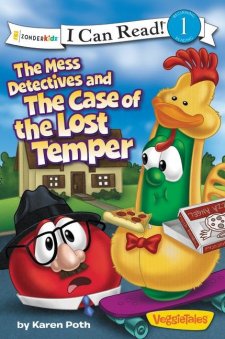 With Sunshine on the verge of reading this school year, I was excited to see that Zonderkids has some new VeggieTales titles in their I Can Read! series. The Mess Detectives and the Case of the Lost Temper features Bob and Larry as two detectives trying to figure out who the door slammer is. Bob has a plan, but Larry's bumbling attempts to follow the plan leave Bob turning more red with every page.
Narrated by Larry, the book has the classic VeggieTales understated humour and great illustrations. This book is a Beginning Reading 1 level, but I had to help Sunshine with some big words (like detective, partner, mysteries). She was very excited to find out what happened, however, so didn't get as discouraged by the words she didn't know. Having a story about some of her favourite characters helped motivate her to read more.
I also liked the fact that while it's a funny story, it also teaches a lesson, as any VeggieTales video does. When the story finished, I talked with the girls about why Bob got angry at Larry and what they could have each done instead.
If your children like this book, there are more I Can Read! VeggieTales titles, including All Is Fair When We Share, Sheerluck Holmes and the Case of the Missing Friend, and Princess Petunia and the Good Knight. Karen Poth is the author of these and more VeggieTales books.
I received this book for review as part of the BookLook Bloggers program; all opinions are my own. This post contains affiliate links; as an Amazon Associate, I earn from qualifying purchases.