Did you know that Alberta is considered the hail capital of the world?
Did you know that a Canadian invented the green ink used to print US money?
Did you know that Canada has more doughnut shops per person than any other country?
These are just a few of the fun facts we learned from National Geographic Kids' Weird But True! Canada: 300 outrageous facts about The True North. We've been having fun sharing—and laughing at—weird but true facts since receiving a reviewer kit from National Geographic Kids. These books have been a fun and fascinating way to learn more about Canada, the world, and more!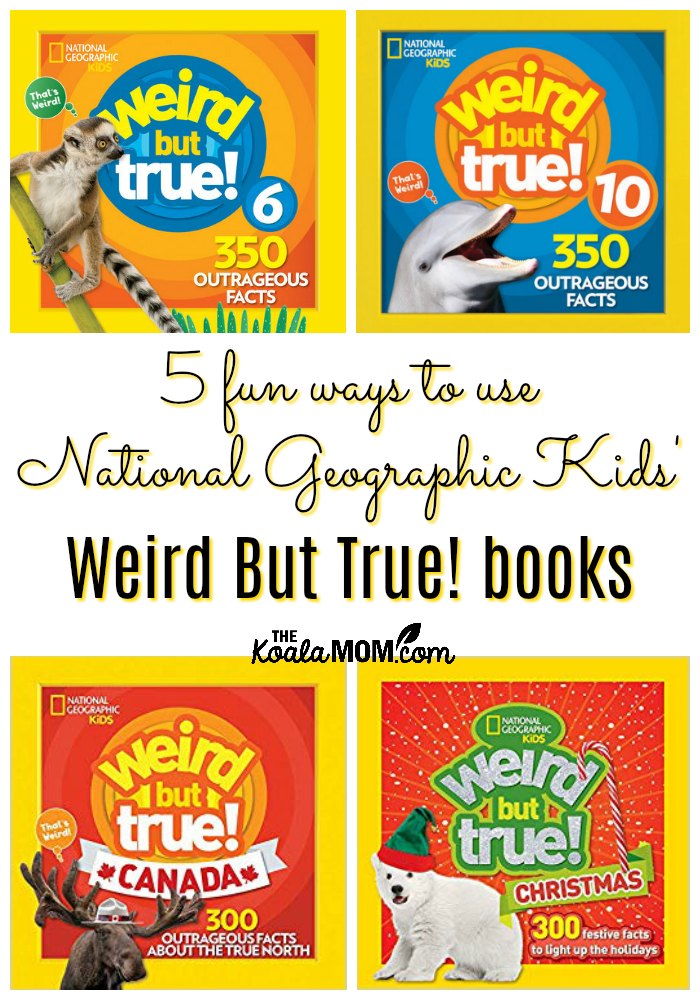 I received these books for free from Moms Meet to use and post my honest opinions. Compensation for this post was provided. This post contains affiliate links.

10 Years of Weird But True! books
This year is the 10th anniversary of the original Weird But True! series. National Geographic Kids has released a special 10-volume collection of recently updated Weird But True! books. If you collect all 10, the spines form a fun picture of various animals from the books!
These books have full colour, glossy pages with beautiful illustrations and eye-popping facts. About 6 inches square, the books are easy to read for kids—or easy to carry along for fun reading on-the-go. Each book has 350 outrageous facts about people, places, animals, nature, outer space, and more.
Weird But True!: It took 10 researchers about 1,525 hours to find the 3,500 facts in the weird but true series. ~ Vol. 10
We've had fun flipping through these books as a family. Many of the facts have generated laughter or discussion as we've read. Weird But True! is a great way to spark a child's curiosity. While some facts are simply funny or interesting, other facts spark more questions and even some research. We've learned more about animals and places we'd never heard about before reading these series.
Each book includes a Factfinder index at the back, so you can look up your favourite facts. See if your hometown is included in the book or find that fabulous fact you need to share with someone.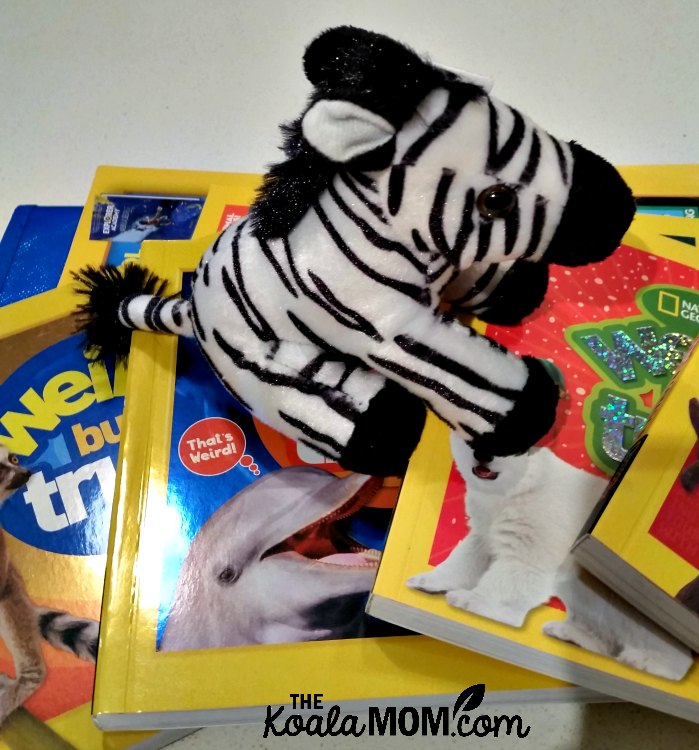 Weird But True! Canada
My favourite book is Weird But True! Canada. I read most of this book in one sitting. It was fascinating to learn more about our country. I had fun recognizing various places mentioned in the book, and finding out about others I'd love to visit. For example, I learned about Canadians' love of dougnuts, slurpees, and maple syrup.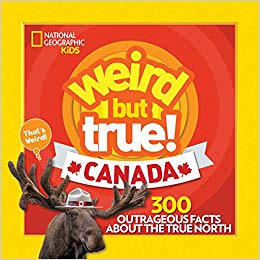 When I was in Australia, I mentioned to a Japanese girl at one hostel that I was from Canada. Immediately she gushed, "Ooooh, maple syrup! I love maple syrup!" Coming from Alberta, the comment surprised me. Maple syrup wasn't something I associated with my home country. I didn't know then that "Quebec produces more than 70 percent of the world's supply of maple syrup."
Weird But True! Canada contains fun facts about Canadian animals, Canadian inventions, Canadian places, Canadian people, and more.
Weird But True! Canada Contest
Kids ages 6-14 are invited to enter the Weird But True! Canada contest! Submit your own verifiable, weird facts about their hometown, province, or country at natgeokids.com/wbtcanada. Contest closes March 1, 2019.
Weird But True! Christmas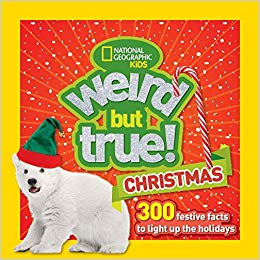 Learn more about the holiday season with Weird But True! Christmas: 300 festive facts to light up the holidays. You'll be surprised, amazed, and maybe even grossed-out by some of the things in this book! Weird But True! Christmas features facts about how the holidays are celebrated around the world, what Christmas-themed records have been set, and more. For example…
The world's largest Christmas pudding weighed more than a hippo.

In Ukraine, people decorate their Christmas trees with fake spiders and webs.

The amount of ribbon used to wrap gifts each Christmas is enough to tie a bow around the entire planet.
You may be inspired to start a new Christmas tradition this year! Or maybe some of the eye-opening facts in this book will make you consider doing something to make a difference this year. (Suggestion: use reusable gift bags on Christmas Day to reduce waste!)
10 Facts about Weird But True!
Nat Geo Kids has published more than 15,000 Weird But True! facts and counting!
Weird But True! started in National Geographic Kids magazine in 2004, and it's been the most popular feature ever since.
A former magazine editor's 60-year-old mom came up with the idea!
The Weird But True! series is up to 32 books with more than 7 million copies in print around the world!
Weird But True! radio co-host Becky Baines's dog, Bob Barker, has been featured in more than a dozen Nat Geo Kids books!
Celebrities including Julia Roberts have been caught on camera carrying Weird But True! books for their kids!
Canada was the first country to get its own Weird But True! book (March 2018). Can the U.S. be far behind? (Hint, hint.)
More than a third of all Weird But True! facts are about animals.
Kids can read Weird But True! books in 14 languages, including Chinese, Turkish, Thai, and Arabic!
One of our first and favorite Weird But True! facts: 99 percent of people can't lick their elbows. But 90 perfect of people who read this will try!
5 Fun Ways to Use the Weird But True! books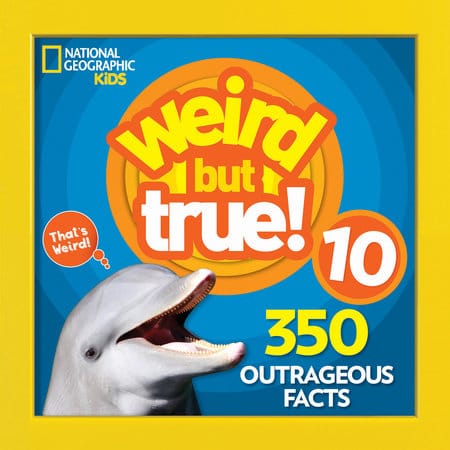 Encourage a reluctant reader. With beautiful pictures and just a few sentences per page, these books are a great way to help early readers enjoy some success (and progress into reading bigger words).
Inspire further research. Use Weird But True! Canada to inspire further research about Canada. Use other books to encourage kids' interest in science, technology, history, and other topics.
Impress your friends. Recite strange and interesting facts to impress your friends with your knowledge!
Start conversations. Keep the books on your coffee table when company is visiting, or use them for dinner discussions as a family. A picture of a chiweenie (chihuahua cross dachshund) sparked a long discussion about dog breeds and what sort of dog we'd (hypothetically) like to get (someday). 
Pass the time on a road trip. Traveling over the holidays? Take along some Weird But True books for light reading. If you're driving as a family, you could turn the books into a trivia game. What two animals can laugh? What can you add to a pineapple to make it taste sweeter? What colour was Oscar the Grouch before he was green? (See Vol. 10 for answers!)
Where to Find More Weird But True! facts
If your kids like the Weird But True! books, they may also like the National Geographic Kids magazines. They can also explore the National Geographic Kids website for games, videos, homework help, a cool interactive world map, and more. Kids can also watch Weird But True! videos on YouTube.
Have you read the Weird But True! books? Would your family have fun with this series?