We're huge fans of books, audio books, and movies around here. So I was super excited when I heard about media enhanced books, which combine all three of these. The girls and I have been enjoying Glaciers, A Lion's World, and There Once Was a Cowpoke Who Swallowed an Ant from Weigl Publishers this month. Using print, audio, and visuals, these media enhanced books really come alive for young readers!
There Once Was a Cowpoke Who Swallowed an Ant
There Once Was a Cowpoke Who Swallowed an Ant is a fun, fictional story by Helen Ketteman. The girls immediately recognized that this story is based on the classic story about an old lady who swallowed a fly, but they had fun with the new version. The artwork by Will Terry is just as hilarious as the story.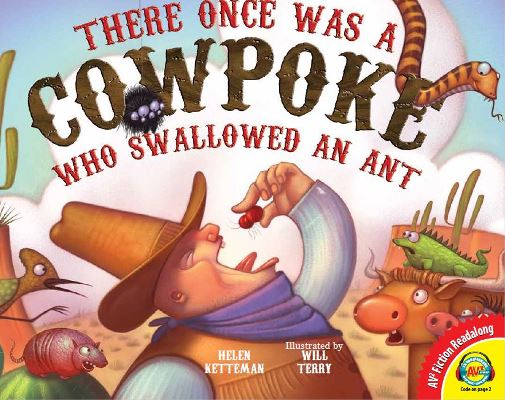 I read this digital book to Jade while the older girls were doing their schoolwork. She liked it so much that we had to check out the extra content right away. On the AV2 website, we entered our code and listened to professional actors read the story. All three girls were laughing over the antics of the cowboy.
There Once Was a Cowpoke Who Swallowed an Ant is part of the AV2 fiction collection. This collection includes 100 media enhanced books—classic children's stories accompanied by an online read along. If you're homeschooling a reluctant reader, these books offer a fun way to draw them into the story.
A Lion's World
A Lion's World is part of the EyeDiscover imprint, which provides exceptional interactive online content to engage 3 to 7 years old children (K–2 grades). Full-screen videos accompany each 2-page spread online as the text is read aloud.  Jade really got into this book and wanted more. We watched it on my tablet together, but she had fun "turning the pages" herself.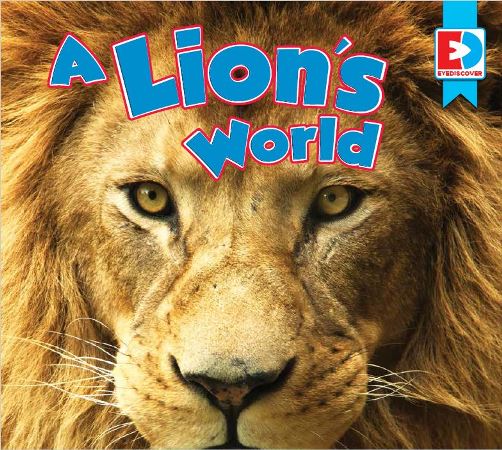 Jade's favourite part of A Lion's World was learning that the females go hunting while the male lion watches the cubs. This goes against the human stereotypes we tend to put on lions. The video of six lionesses stalking towards the hunt definitely presents a powerful image! This book shows how much we can learn from the animal world.
To preview A Lion's World and see how the print book and enhanced book works, check out this video:
Glaciers
Glaciers integrates online resources (including text, audio, video, and many more digital features) to provide students with a fresh, dynamic approach to science. Sunshine and Lily had a lot of fun with this book, which is intended for students from grades 3 to 6. They easily spent an hour exploring Glaciers and all its resources, and when they finished, Sunshine wanted more about glaciers.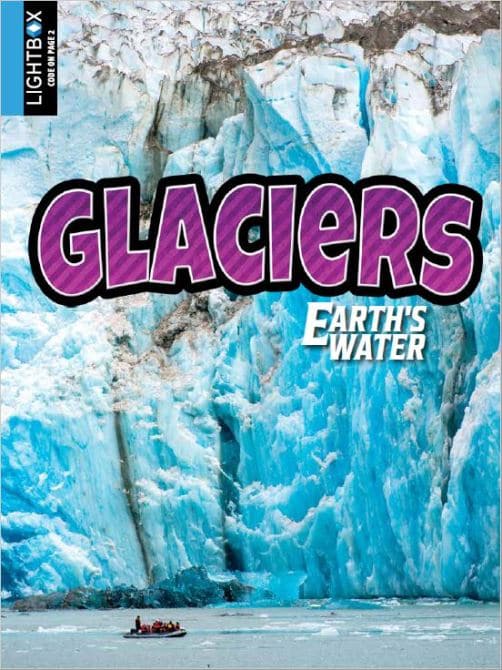 The extra videos in this digital book definitely added a lot to the girls' understanding of glaciers. Pictures of glaciers calving, for example, just aren't the same as a video of it happening. My husband and I watched a glacier calving in Glacier National Park on our honeymoon, so I enjoyed watching this video with the girls. It made me want to return to Glacier National Park with them to show them the wonders of glaciers in person.
We tried to read this media enhanced book on my tablet, but I found that the type was a bit small and the extras didn't seem to be working very well. When we looked at it on our computer, it was much easier for the girls to navigate. Reading it on our computer also let Sunshine and Lily read together and discuss what they were reading or viewing. Glaciers turned into an excellent science unit study for us.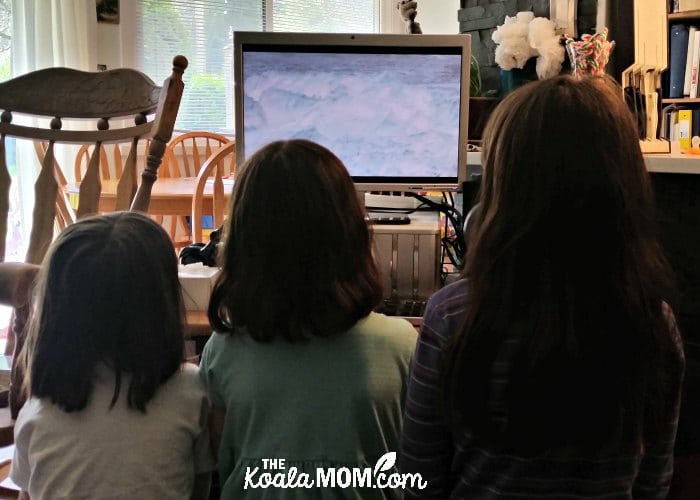 Final Thoughts on Media Enhanced Books
While our family loves books and reads a lot, the girls are also starting to use the computer more and more. Sunshine especially loves anything tech-related. All three of them really enjoyed the extra video and audio that came with the media enhanced books.
I found it a bit of a hassle to access the books. We were reviewing PDF copies of the book, so I had to open the book on my tablet or computer, then go to the website, then go back to the book for the code to enter it on the website (repeat several times because I can't remember a string of numbers that long), then flip back to the book to find the answer to the secret question, then finally get to read the book. This might be easier if you had the print book sitting in front of you, but for the first two titles, I'd rather just read the book to my kids.
Glaciers had a lot more for the girls to explore, so it was worth accessing the online book. I would consider getting more of the media enhanced books for the upper age levels, to use as unit studies with the girls. It was an easy way to let them follow their curiosity (child-led learning for the win!).
These digital books are supposed to be optimized for iPads, but we had some bugs in viewing them on my Samsung tablet. It was definitely easier to view the books on the computer.
If you have reluctant readers, I can see that these books would help draw them into the story. There Once Was a Cowpoke Who Swallowed an Ant made me think of how I used to plug a tape into my old Fisher Price tape player and then follow along in my storybook. (Anyone else remember that?) This is the higher-tech version of that, which requires some adult help to "plug in the tape" (unless your preschooler is a lot more techy than mine!).

Have you and your children tried media enhanced books?
Check out my Big List of Homeschool Science Resources for more ideas to support your homeschool learning!