Summer is right around the corner and there's plenty of fun to have right here in Vancouver. I've compiled a summer bucket list for Vancouver families. Some of these are our favourite places and some are still on our list to do!
Plus, I've got a fun printable for you to download and help your child record his or her summer memories (whether or not you live in Vancouver!).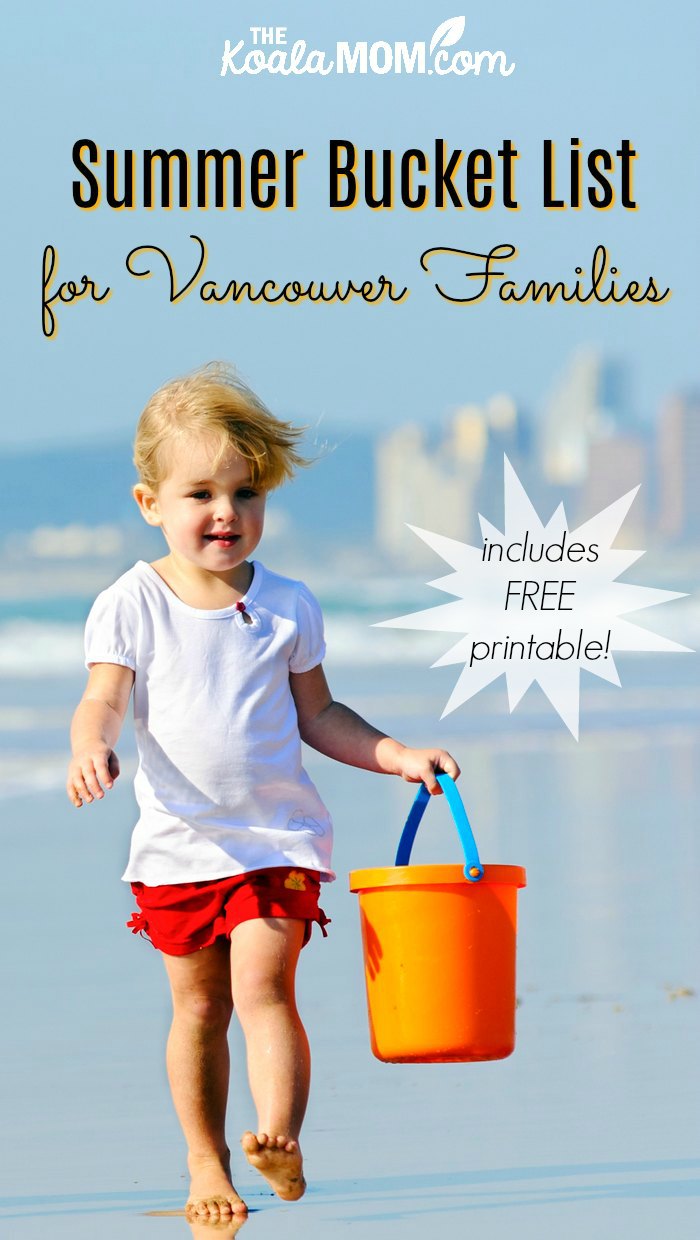 Summer Bucket List for Vancouver Families
These ideas are listed in no particular order. After each idea, I've indicated whether it's a FREE or paid ($$) event and whether it's indoors (if you need to get out of the rain or sun) or outdoors.
1. Tour the puppet exhibit at UBC's Museum of Anthopology. (IN/$$)
2. Catch Will Stroet singing "Rocks and Roots" in concert at a summer festival. (OUT/FREE)
3. Go on a family hike. (OUT/FREE)
4. Splash into the fun at Cultus Lake Waterpark! (OUT/$$$)
5. Pick apples or berries at a local farm. (OUT/$)
6. Create some sidewalk chalk art together or make a chalk background for a family photo. (OUT/FREE)
7. Climb the walls at Project Climbing (Cloverdale) or Climb Base 5 (Coquitlam). (IN/$$)
8. Build a sandcastle at a local beach. (OUT/FREE)
9. Milk a cow at the Eco-Dairy in Abbotsford. (IN/$)
10. Play disc (Frisbee) golf at Mundy Park. (OUT/FREE)
11. Ride the Sea to Sky Gondola and hike Alpine Alley. (OUT/$$$)
12. Fly a kite at the park or the beach. (OUT/FREE)
13. See Great Bear Rainforest: Land of the Spirit Bear on the Imax screen at Telus World of Science. (IN/$$)
14. Explore a free learning program together. (IN/FREE)
15. Make and eat Popsicles together. (IN/FREE)
16. Visit the Honeybee Centre to learn more about bees and find a sweet treat. (IN/$)
17. Buy a new pair of sunglasses for everyone in the family (and wear them this summer!). (IN/$)
18. Experience BOOM! at the Britannia Mine Museum and ride the train into the mine. (IN/$$)
19. Catch bugs in your yard or garden and learn more about them. (OUT/FREE)
20. Try a new sport together. (IN/$)
21. Bike the Stanley Park Seawall or the Shoreline Trail at Rocky Point Park. (OUT/FREE)
22. Smell the flowers at Queen Elizabeth Park. (OUT/FREE)
23. Go swimming at one of the outdoor pools in Vancouver. (OUT/$)
24. Take a picnic to the park. (OUT/$)
25. Make giant bubbles or millions of mini bubbles to chase. (OUT/$)
26. Ride the elevator up the Vancouver Lookout for a bird's-eye view of the city. (IN/$$)
27. Have a water fight (at home or at your local splash park). (OUT/FREE)
28. Jump on the rides at Playland. (OUT/$$$)
29. Camp in your backyard or a local campground. (OUT/FREE/$)
30. Get on the water in a sailboat, kayak, or stand-up paddle board! (OUT/$$)
31. Join the summer reading program at your local library. (IN/FREE)
32. Go for ice cream at Rocky Point Park or another ice cream shop. (OUT/$)
33. Feed the ducks at Maplewood Farm. (OUT/$)
34. Take the kids bowling with the Kids Bowl Free program. (IN/$)
35. Go back in time at Burnaby Village Museum. (IN/OUT/FREE)
36. Explore a new playground. (OUT/FREE)
37. Try fishing with your small fry at Rice Lake, Como Lake, or Deer Lake. (OUT/FREE)
38. Make s'mores (over a campfire if possible or in the oven or microwave). (IN/OUT/$)
39. Volunteer to participate in a shoreline cleanup (or organize one yourself). (OUT/FREE)
---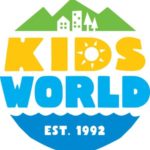 Pssst! A Kidworld Summer Pass makes it easy to check many of these ideas and more off your summer bucket list for Vancouver!!! Grab your pass today and get ready for summer fun!
Kidsworld passes are only $60 per child and include admission for child and parent to a different attraction around Vancouver each day of the summer. There are TWO great passes to pick from this year. The GREEN and YELLOW passes offer slightly different attractions.
---
Subscribe to my email newsletter for a FREE 8-page summer printable! This includes a list of summer activities (not specific to Vancouver) that you can check off as you do them, plus space to write your own ideas. There's also a calendar for July and August, summer word search, book list to record the books your child reads this summer, and two "about me" pages.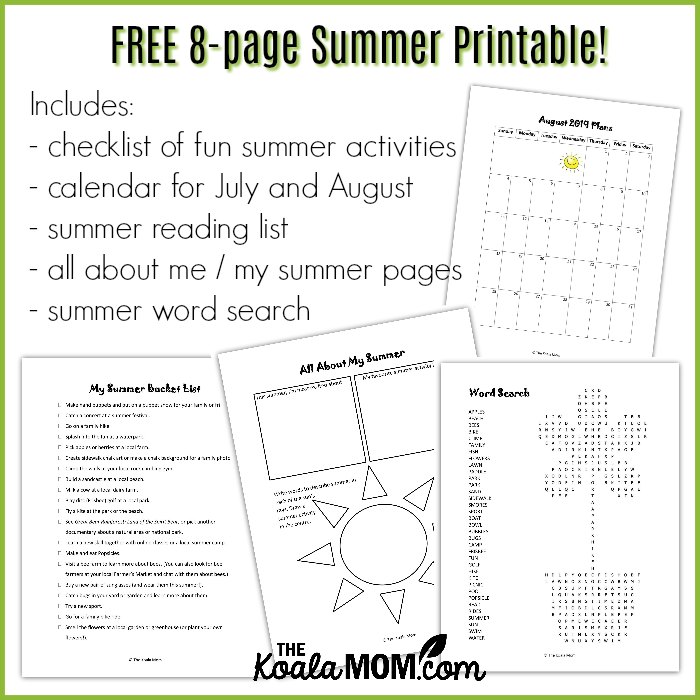 If your favourite Vancouver summer place or activity isn't on this list, leave me a comment so we can check it out and include it!!!
What's on your summer bucket list for Vancouver?