One of the hardest subjects to teach as a homeschool mom is a second language. I am not myself bilingual, so I've struggled with helping my children learn to speak anything other than English. We've tried using apps, but as someone who learned German in a university classroom, I can easily see what's lacking in those apps. Sometimes it's hard to find local language classes at a time convenient to us, or classes in the language my children want to learn. That's why I was very excited to discover Homeschool Spanish Academy, which offers online language lessons to students of all ages.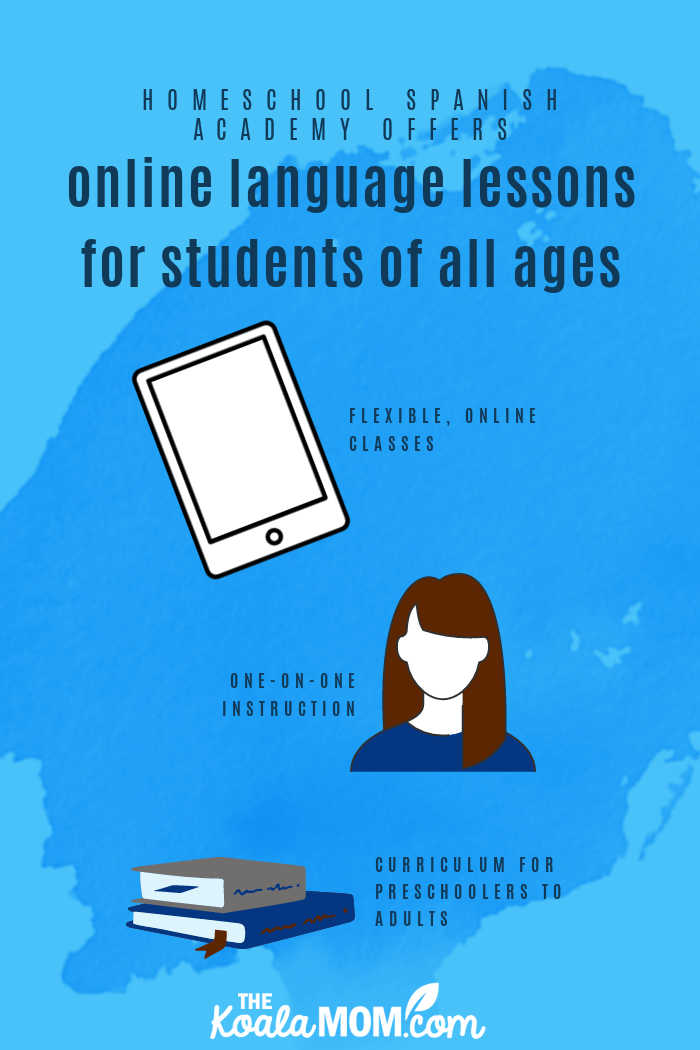 I received compensation for this post; all opinions expressed remain my own. This post contains affiliate links; as an affiliate, I earn from qualifying purchases.
Homeschool Spanish Lessons
Jade is in Grade 3 this year and has watched her older sisters learn a second language for several years. When I asked her if she wanted to learn Spanish, she was excited about the opportunity. As a third child, she doesn't always want to copy what her sisters are doing, so Spanish offered her the chance to learn something that's just hers. And since I do know a few Spanish speakers (including my cousin), I figured I could help her find someone to talk to once she knew enough Spanish to do so.
Spanish is the second most spoken language in the world, with about 460 million native speakers (according to the HSA blog). It is the third most used language on the Internet and the second most used language for scientific texts. In the United States alone, Spanish is the second most used language (likely thanks to the US's border with Mexico and other Spanish-speaking countries further south). Learning Spanish could open up some cool travel and job opportunities for Jade in the future.
Learning Spanish opens your eyes to a diverse world, and encourages conversations around diversity, culture, and respecting others. ~ HSA blog
Living here in Vancouver, we have quite a few friends whose families are from another country. While we often take for granted the effort made by our friends (or their parents) in coming to Canada, I think it's good to be aware of immigration. Immigrants help create a richer, stronger Canada as they bring their unique strengths, talents and ideas to us. Learning a second language can be one way to appreciate them and to understand some of what they had to learn in moving here.
And so, with numerous great reasons to support Jade's desire to learn Spanish, we jumped into online language lessons with the Homeschool Spanish Academy!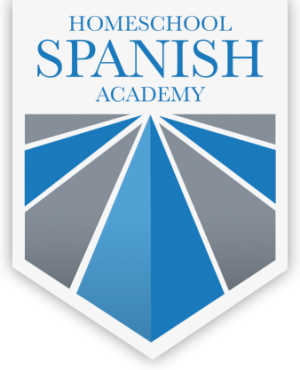 Booking Online Language Lessons
Setting up Jade's online language lessons was easy. I simply logged into Homeschool Spanish Academy and selected a teacher from the list. A bio is provided for each teacher, so you can see if they have experience teaching children or adults and would be a good fit for your student. I figured Jade would relate best to a female teacher, as she tends to be a bit shy, so I picked Karla. Then I checked Karla's availability. I was able to book Jade's lessons from now until the end of the year, so I put them all on our calendar.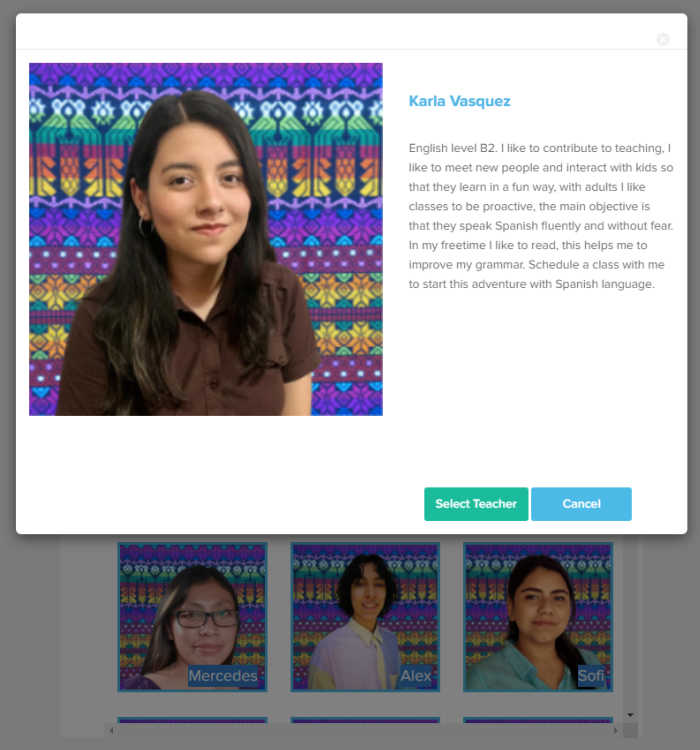 Homeschool Spanish Academy offers online language lessons for students from preschool through elementary and high school and even for adults. You could learn along with your child or pick up a second language as an adult (perhaps if you want to travel!). You get one-on-one access to a teacher, so you can move at your own pace through the lessons. Homeschool Spanish Academy also has a curriculum tailored to different ages and interest levels.
Jade's online language lessons happen on Google Hangouts. I was emailed a link to join the lesson 36 hours before the lesson and then again an hour before the lesson. This makes it easy to open my email, click the link, and jump into the lesson for Jade. She's been using our tablet for her lessons, which also helps because then her lessons can happen in whichever room of the house is currently the quietest.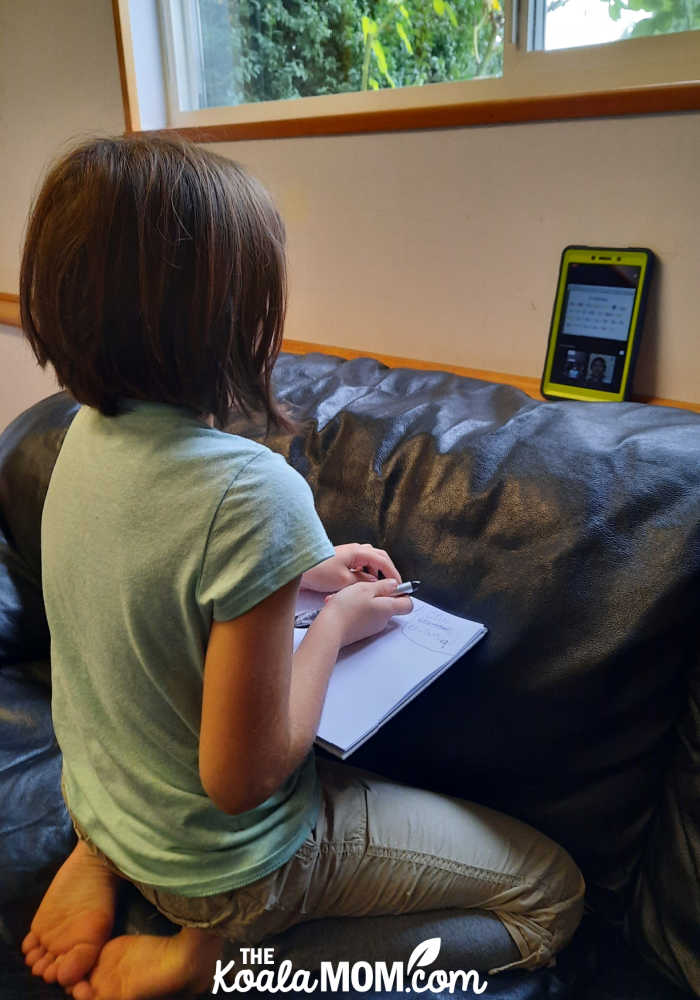 Jade's First Spanish Lesson
At our first lesson, Karla took some time to get to know Jade and her Spanish background (none, unless you count a few words picked up from Dora the Explorer!). Then Karla introduced Jade to the Spanish alphabet. She patiently went over how to say each letter of the alphabet, while Jade worked on repeating them. I remember attempting to learn the German alphabet (which is closer to Spanish than to English) way back in university, so I was impressed at how quickly Jade picked this up.
After Jade's online language lesson, we found a printable for her that showed how to pronounce each of the letters of the alphabet so she could practice. She spent all week walking around with her piece of paper, saying the alphabet in Spanish to herself. Her older sisters were actually a bit jealous, because although they are studying French and German, neither of them can say the alphabet in their second language! (Did I mention the downside of language learning apps?)
In my HSA dashboard, I can also download the lesson for Jade each week. This way she has a copy of what Karla has discussed with her at her lesson. This is very helpful, because often one of my kids has said, "I can't remember what I learned in my lesson yesterday!" With the lesson pages to review, Jade can keep practicing during the week and be ready for her next lesson. After learning the alphabet, Karla and Jade also practiced spelling some words in Spanish.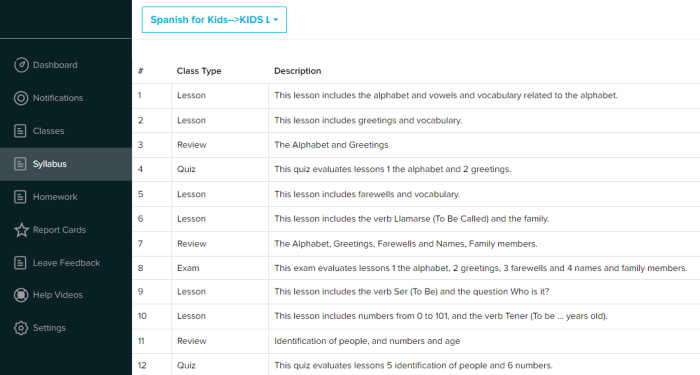 More Fun on the HSA Blog
The HSA blog offers a wealth of information to help your Spanish-learner dive into the language. Jade is actually learning about Peru (a Spanish-speaking country!) this month in social studies. The HSA blog has numerous articles about South and Central American countries and landmarks, such as the Great Pyramid of Cholula in Mexico or Ancient Mayan sites in Guatemala. Exploring some of these topics can really help you or your child become more interested in Spanish.
I was already browsing the Spanish section at our local library, for some books Jade can read once she has a bit more vocabulary. The HSA blog also has a number of book recommendations, for both kids and adults, including bi-lingual books for kids. Every child loves stories, so reading a story together can be a great way to practice and learn while doing online language lessons.
Whether you're interested in history, travel, food, or literature, there's something fun on the HSA blog to explore. Take a look with your child and see what topics interest them as they embark on their Spanish-language journey. (If Joey were learning Spanish, he'd be all about the construction vocabulary! He really loves helping me with el martillo and los alicates!)
Sign Up for a Free Lesson Today!
If you've been looking for online language lessons for your homeschool child, I recommend checking out Homeschool Spanish Academy. It was super easy to set up Jade's online classes and she's been enjoying her lessons each week. Already I can see that she'll learn much more through HSA than she would through an app. Karla provides the personalized instruction to help Jade learn Spanish and have a chance to practice it with a real person.
Drop by the Homeschool Spanish Academy website to sign up for a free Spanish lesson today and check it out for yourself!
Has your child tried online language lessons? What has helped them learn a second language?