Canadian musician Will Stroet of Will's Jams celebrates 10 years of making music this month with the release of his tenth album, Rocks & Roots. This upbeat album features Will's signature witty wordplay and catchy choruses, with a variety of rock, blues and folk tunes that will have kids of all ages clapping and singing.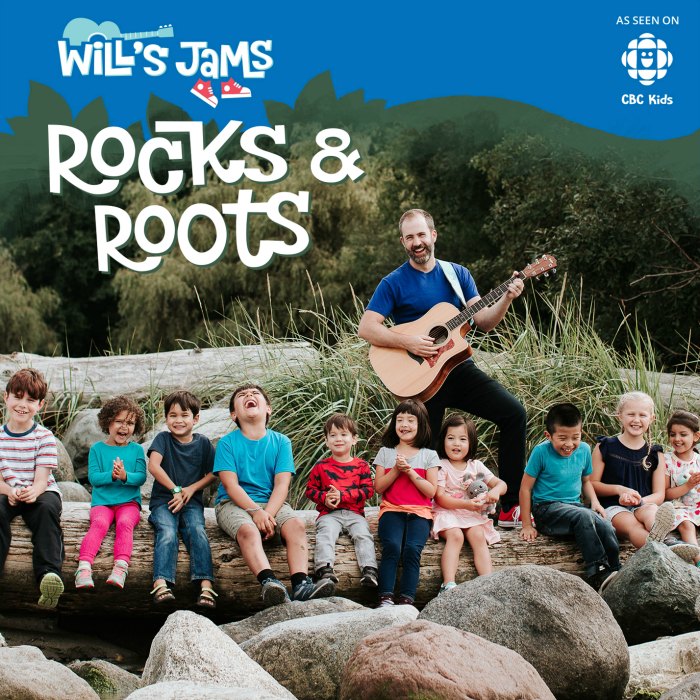 Rocks & Roots CD
We've had fun listening to Rocks & Roots while driving around town. I keep most of our CDs in the van, as it keeps the kids quiet and happy while we're on our way to activities. It's always great to have a new CD to add to our collection—especially an educational CD like Will's!
Rocks & Roots has all the fun tunes and lyrics I expect from a Will Stroet CD. You'll want to listen closely, as there's always something to learn. Will's background as a teacher shines through in his music, which is one of the best ways to teach kids.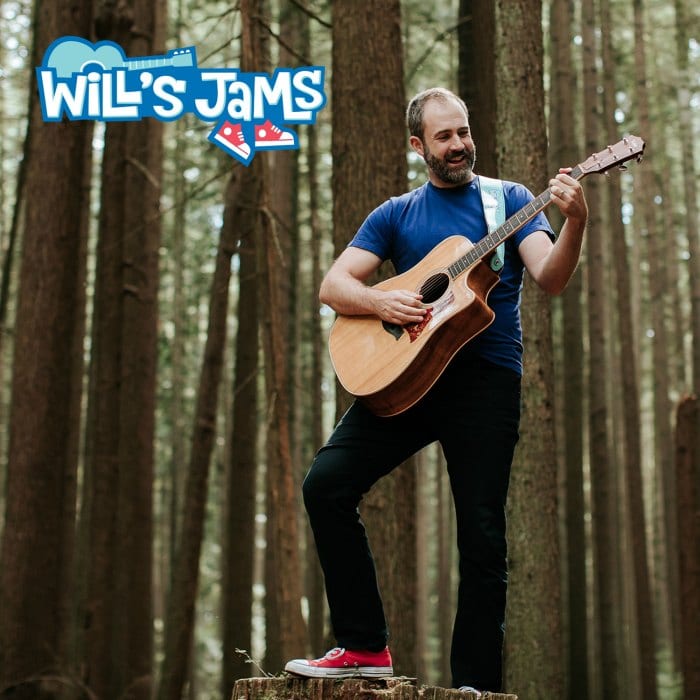 My favourite song is the title track, "Rocks and Roots." As soon as Will crooned the opening words, I was transported to a trail windy through a shady forest on the west coast. I could feel my boots on my feet and the rocks under my boots.
I wanted to point the van for the closest trail instead of the grocery store. If you hear this song while you're hiking around Vancouver this summer, it might just be us coming down the trail…
Hike in the mountains, or by the sea
There's no TV, I'd rather climb a tree
Look for an eagle, or even a squirrel
Lots of fun for every boy and girl
Will is joined by some of Canada's most seasoned musicians for Rocks & Roots. Canadian ukulele prodigy James Hill is featured in Stroet's uke song, "Flying High" (an inspiration for any child learning ukele!). Marcus Mosely and Will Sanders from The Sojourners provide backing vocals on the album, along with Vancouver soul singer-songwriter Krystle Dos Santos.
"Grandma on the Move" features Canadian gem and children's singer Charlotte Diamond. This song was actually commissioned by the City of Vancouver after the lead safety engineer's daughter introduced her to Will's music. Like "Walk n Roll" and "Bike Safety Boogie," "Grandma on the Move" helps kids (and seniors) learn about safety while out and about.
Need someone to walk with, I'll hold your hand
Need a ride to the doctor's, we'll pick you up in our van
I'd love to go together, You can go with us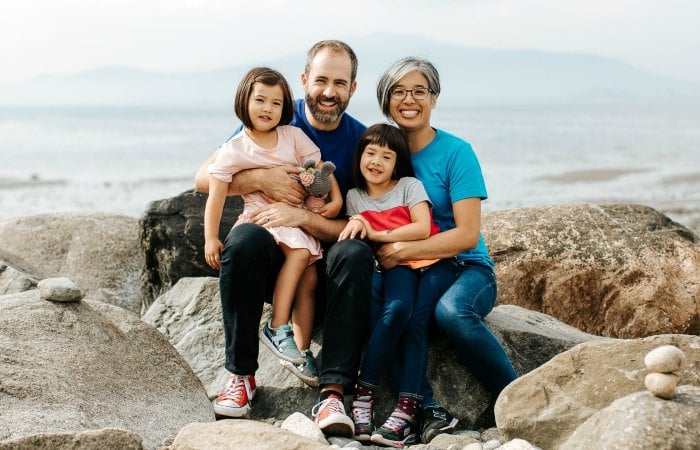 Will's family plays a huge part in his music. His wife Kim Thé is his music manager and publicist. Will and Kim appeared on Breakfast Television this month to chat about making music as a family.
Will's daughters frequently appear in his music videos. His oldest daughter, Ella, even sings background in some of the tracks on Rocks & Roots. "Hot Air Balloon with June" is a song about exploring with his younger daughter.
Stroet wrote the soft, melodic "Smell the Flowers" for Kim, as an affectionate hint to slow down and take a break from their often crazy life as entrepreneurs. As a work-at-home-mom, I appreciated the reminder too. Right now, Joey loves getting outside and often stops to pick the flowers and give them to me. Too often, I'd stay at my computer and miss those small moments.
We've got to stop! Smell the flowers
Just for a minute now and smell the flowers
Life's so full you only get so many hours
Rocks & Roots includes two French songs. Will is bilingual and also has several French albums for kids. I need to pull these out to help Sunshine with her French lessons!
Listen to Rocks and Roots
You can hear the title track of Rocks & Roots on your favourite music streaming service now. Order the album at www.willsjams.com/store.
To learn more about Will's Jams or Rocks & Roots, visit his website. Watch Will's Jams, Will's World and French lyric videos and more on Will's YouTube channel.
More about Will Stroet and Kim Thé
Will Stroet's TV series Will's Jams airs on CBC Kids, Universal Kids' Get Up and Move, and Kidoodle TV. He has performed nearly 2,000 shows for children in Canada and China. In 2015, UBC's Faculty of Education honoured Stroet in their top 100 Alumni awards. Rocks & Roots is his tenth album.
His nine albums in English and French have garnered national recognition, including a 2017 JUNO nomination for "Wordplay," six Western Canadian Music Award nominations, two from the Canadian Folk Music Awards and two from the Sirius XM Indies.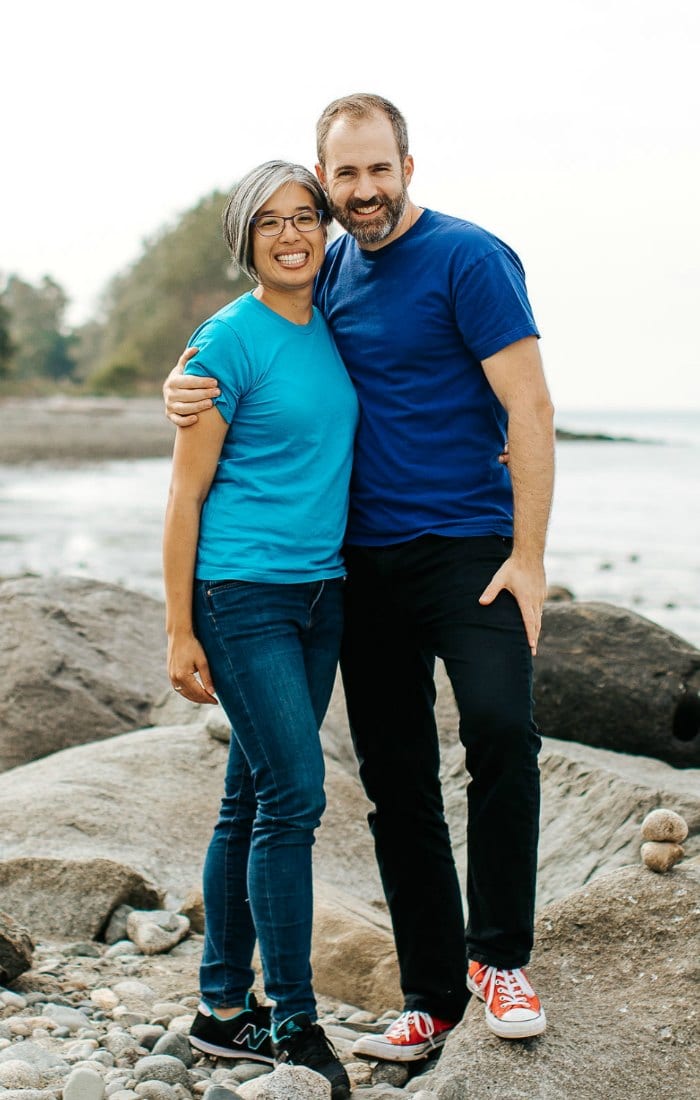 Kim Thé is the co-founder of Pebble Star Productions and founder and principal of Pebble Star Artists, a booking agency for young audience performers. Often described as a dynamo, she brings unbridled passion, energy and more than a decade of artist management and booking experience through her work with her husband.
What's your favourite Will Stroet song?
I received Will'sRocks & Roots CD for review courtesy of Will Stroet; all opinions expressed are my own. Photos by Carla Elaine Photography.