With a few pieces of sidewalk chalk and a big imagination, children can have hours of summer fun! From drawing pictures to playing educational games, sidewalk chalk is an easy way to entertain your toddlers. Here are my favourite sidewalk chalk games and activities for preschoolers.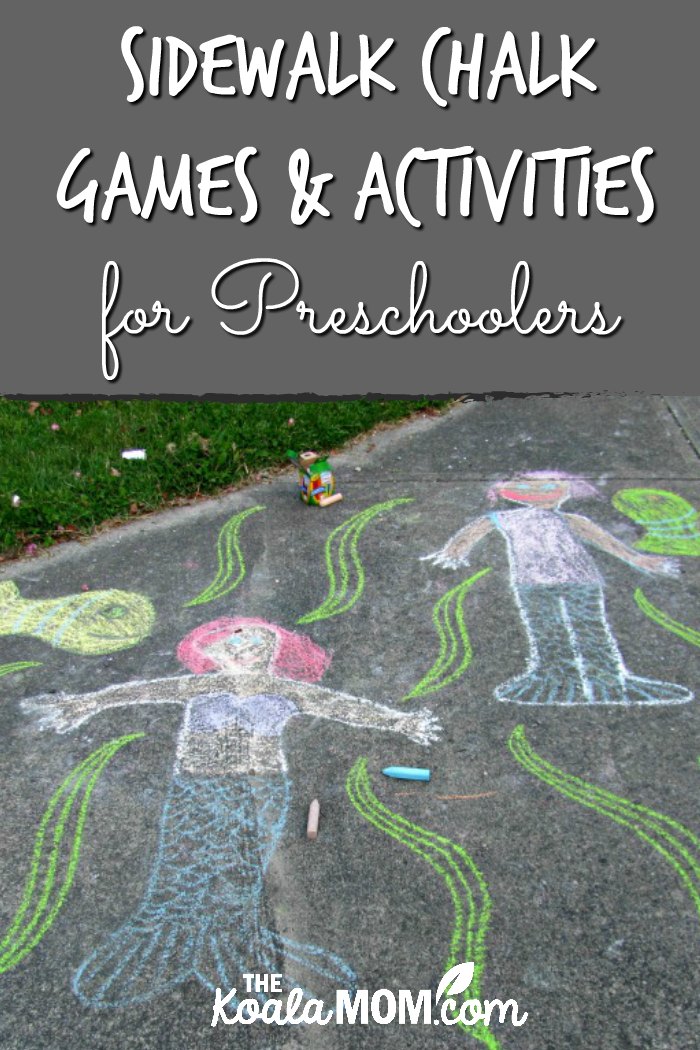 Draw Chalk Pictures
With a big art space (aka your sidewalk or driveway), children can draw big pictures! My daughters have loved creating artwork as big as themselves with their sidewalk chalk. We've made houses for them to play in, entire oceans of mermaids and fish, and more.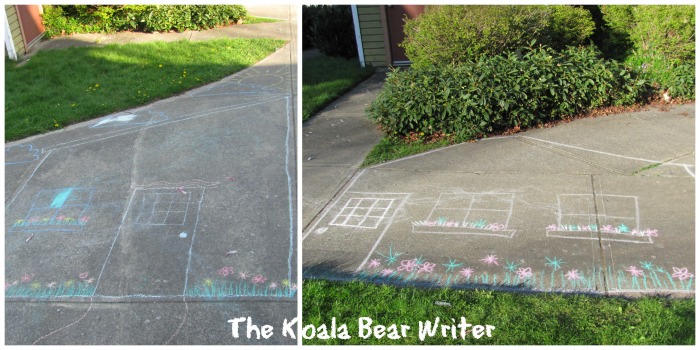 DIY Sidewalk Chalk Paint
Don't have any sidewalk chalk in the house for a perfectly sunny day? That's okay—you can make your own! Sidewalk chalk paint is super easy to mix up with ingredients you already have around your kitcchen.
If your kids are anything like mine, they'll have fun creating their own colours to paint with. Plus, if they have a tendency to put everything in their mouths, you know exactly what's in this paint (hint: it's safe to eat!).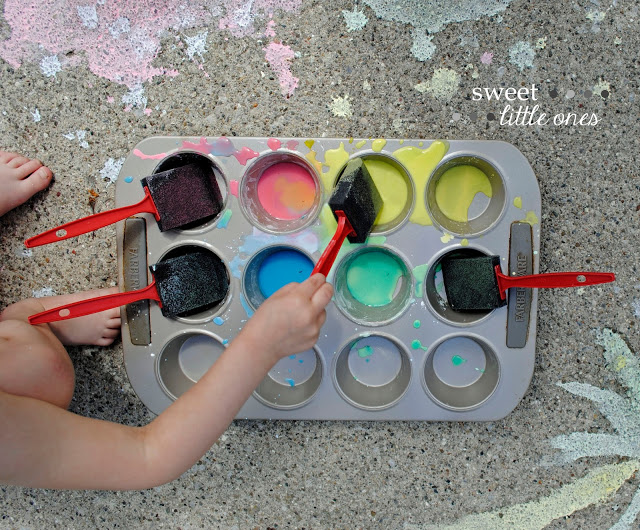 You can also make homemade sidewalk chalk. Try pouring your sidewalk chalk into empty egg cartons or other moulds to make fun shapes to draw with.
Get Active
Use your sidewalk chalk games to encourage your preschoolers to get active!!! (Or, if your kids don't need any encouragement to get active, use it to keep them in one space while they're running around!) Here are some ideas:
hopscotch
start or finish lines for a race
maze or obstacle course (draw a line for them to follow)
Make a Race Track
Make a race track or road map for your child's Hotwheels or toy cars using spray chalk. Preschoolers will have hours of fun racing their cars down the track like Lightning McQueen. Girls may prefer just to drive their cars around a city. Be sure to draw a few houses and garages for them too!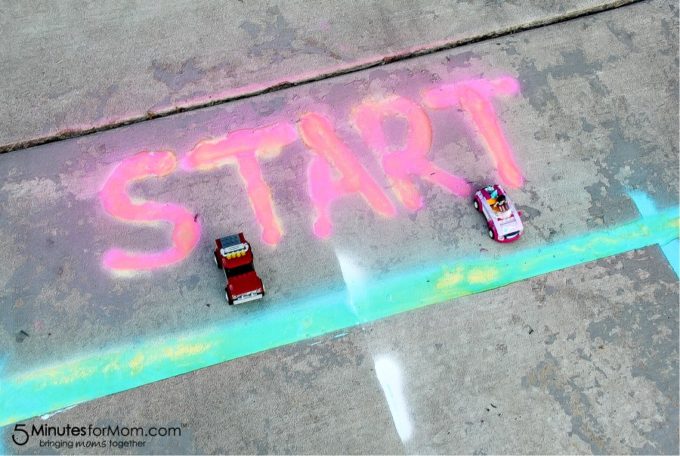 If your kids have scooters, runner bikes, Little Tykes cars, or other ride-on toys, draw a bigger "map" or trace track for them to follow. One child could also be the traffic director who says "red light, green light" or "stop and go" for the other kids.
For a reluctant cyclist, this can be a good way to help them learn to ride a bike.
Alphabet Games
Sidewalk chalk games are a great way to practice the letters of the alphabet for preschoolers. I can't draw very well, but I love calligraphy, so I make a fancy alphabet for the girls. Then they can skip along the letters singing their ABCs.
To play alphabet hop, call a letter of the alphabet and your preschooler can hop to that letter.
Your child can also use another colour of chalk to trace the letters for letter-writing practice.
Summer Birthday Parties
Sidewalk chalk is great for summer birthday parties! Draw messages on the sidewalk for your arriving guests, such as "welcome" or "party this way." For example, if the party is happening in the backyard, draw arrows around the house to show guests where to go.
Use sidewalk chalk games for the birthday party itself to keep guests entertained.
Create a sidewalk chalk photo booth for fun memories of your child's party and friends (see below for more ideas).
Add a few pieces of sidewalk chalk to the goodie bags for a party favour.
Bean Bag Toss
Draw a target or circles/squares with different numbers in them for a bean bag toss. Kids will have fun trying to get their bean bags on the target.
To make this sidewalk chalk game more educational, put letters in the circles and call a letter each round for them to try to hit.
Put numbers in the circles and have your child add the numbers together when their bean bags land on them. For example, number three circles 1 – 2 – 3 and give your child three bean bags. Tossing all three bean bags in or close to the 1 circle would get them three points. Tossing one bean bag in each circle would get them six points. Move to bigger numbers as they get better.
Sidewalk Chalk Board Games
Create a giant sidewalk chalk board game for your child! Use traditional dice or create your own with a box or online printable. Then hop and step through the game together.
Capture Cute Photos
You can also use sidewalk chalk to get some fun pictures of your kids! Draw a scene around them and have them lay on the ground. Then use a selfie stick or ladder to snap a picture. Chalk photography is a fun idea for annual photo calendars, special summer occasions, back-to-school pictures, and more!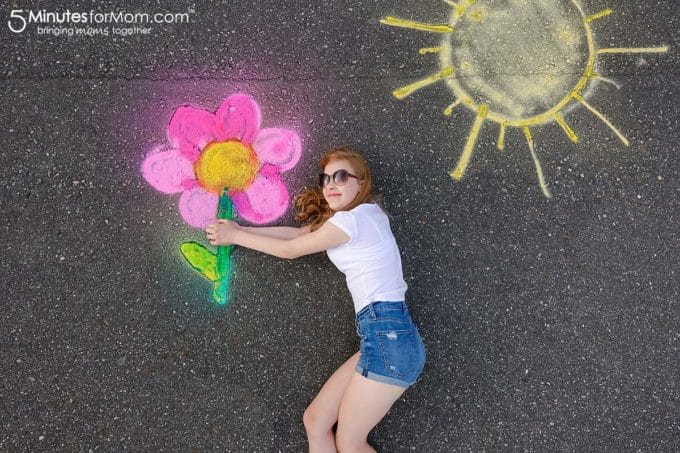 Sidewalk Chalk Maze
Draw a maze for kids to follow! With several different colours of chalk, draw twisty lines crossing and intersecting each other. Have your child follow the line to find the end.
Variations on this sidewalk chalk game include having your child draw the maze for you to follow, or going through the maze different ways. For example, follow the blue line forwards but follow the red line backwards, or hop on one foot.
Clean up the Chalk Art
If you live in a condo or townhouse complex like we do, your neighbours may not appreciate the artwork all over the sidewalks. Have your kids help clean up the artwork when they are done! They can do this with the hose or with sponges and a bucket of water. Or simply do chalk art on a day when rain is in the forecast, and let the rainwater wash away your child's drawings.
If your child gets upset about this, take some pictures for them before erasing the artwork. I also tell the girls that this means we can draw new pictures tomorrow!
Sidewalk Chalk Supplies
Need some sidewalk chalk or other supplies? Check out the links below to get started. (These are affiliate links; as an Amazon associate, I earn from qualifying purchases.)
Do your kids enjoy playing with sidewalk chalk in the summer?