As rainy days return to Vancouver, I want to hibernate in the house with a book and a cup of tea. With four active kids, however, that doesn't exactly work. When they start climbing the walls, I know exactly where to take them — Project Climbing Cloverdale in Surrey, BC! This kid-friendly bouldering gym offers tons of safe, active fun for my little monkeys when the weather isn't so great outside.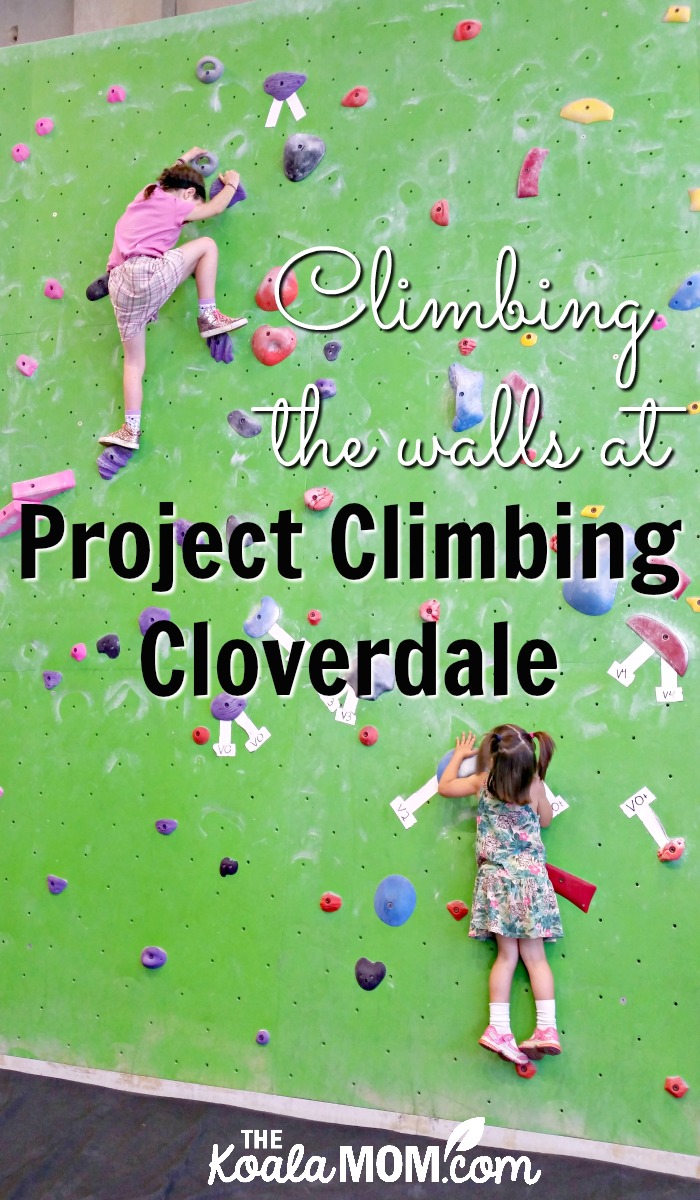 Rock climbing is a fun sport that involves the whole body, plus some brain work as you figure out the best way to climb a wall. I first got into it several years ago when we moved to the Island and I was able to go rock climbing with my cousins. Once a week, I'd join them at the gym and push myself to my limits on the walls. When I heard about Project Climbing Cloverdale, I was very excited to introduce the girls to bouldering and climbing.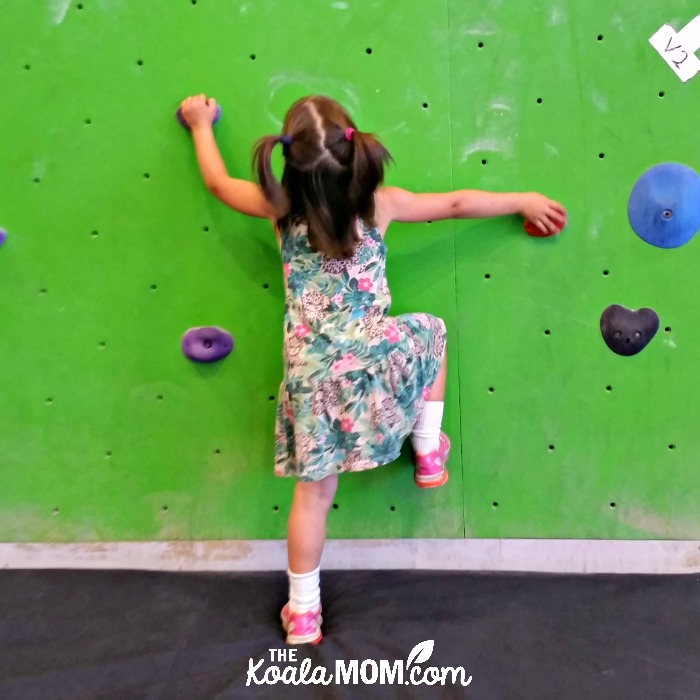 Project Climbing Cloverdale is an 8000 square foot bouldering gym that offers something for every ability. There are three auto-belays on one wall, but most of the gym is devoted to bouldering — climbing without a harness on a shorter wall. That doesn't mean bouldering is easier than climbing!
Bouldering can be just as challenging — or more so! — than rock climbing, but offers the advantage that you don't need someone to belay you (hold your rope). It's also a great activity for kids, as they can scramble up and down the walls without having to be in a harness or follow a rope.
When we arrived at Project Climbing Cloverdale, we were given an orientation to the facility. A staff member demonstrated to the girls how to jump off the walls and roll onto their backs on the mats when they landed. They explained the rules to help keep everyone safe while rock climbing. A staff member was also around to make sure that the kids listened to the rules. I had to keep reminding the girls to look up and make sure there was no one on the wall above them.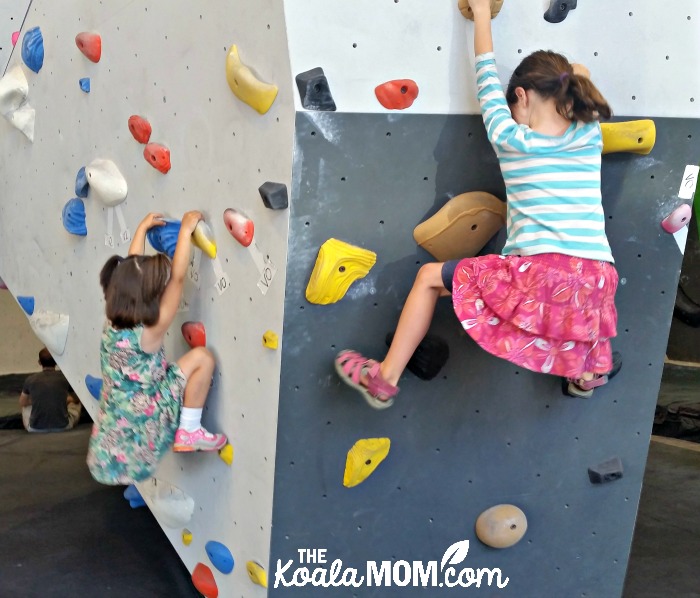 Each of the girls soon scattered to various walls to see how high they could climb.
Sunshine (age 9) soon mastered the easiest route and moved onto the next wall. She's my adventuresome girl who likes a challenge. The next thing I knew, she was in line for a harness at the auto-belays. I wasn't surprised — she also likes tech. Project Climbing had lots of kid-sized harnesses and the three roped routes were popular. After Sunshine had successfully reached the top of each of the routes, I suggested she go back to bouldering so that some of the other kids could try rock climbing.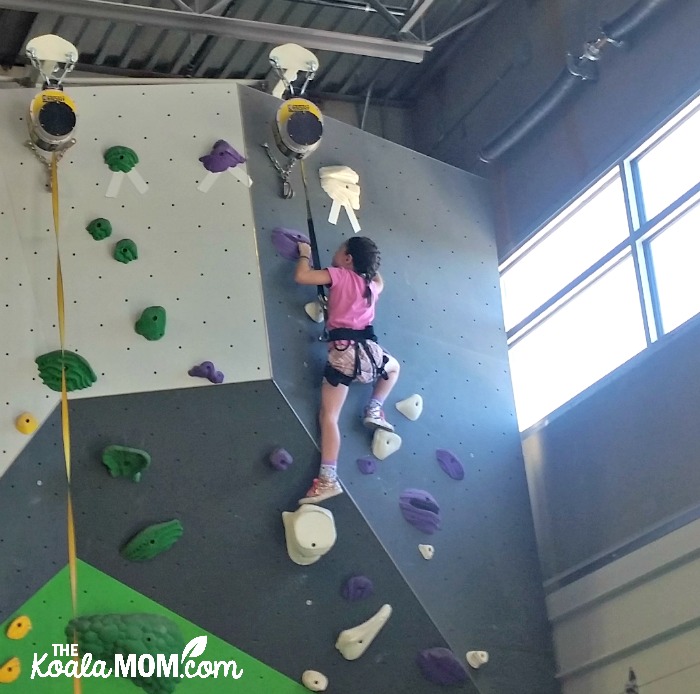 Lily (age 7) tends to be a bit more cautious, especially around heights. She climbed a few feet off the mats, then climbed back down again. I thought the ropes might give her more confidence, but she didn't appear to trust the auto-belays any more than I do. My attempts to give her pointers just left her scowling at me, so I left her to figure it out herself… which is also what she does best. She tried several different routes, often doing the same route over and over again, but going slightly higher each time she climbed it before climbing or jumping down. I enjoyed watching her confidence grow as she kept on trying.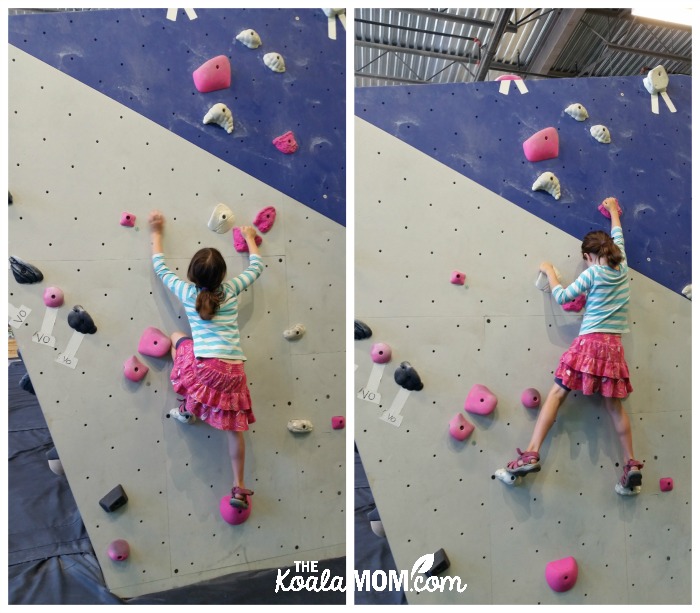 Jade (age 4) was eager to do anything her sisters were doing. She was soon frustrated by the fact that her smaller size made most of the routes impossible for her to climb. Height and reach can make a big difference when rock climbing, and Jade was just a bit too small. She was only able to climb a few of the walls, where the holds were big and close together. She also tried the harness and rope, but even the easiest 5.6 route was too hard.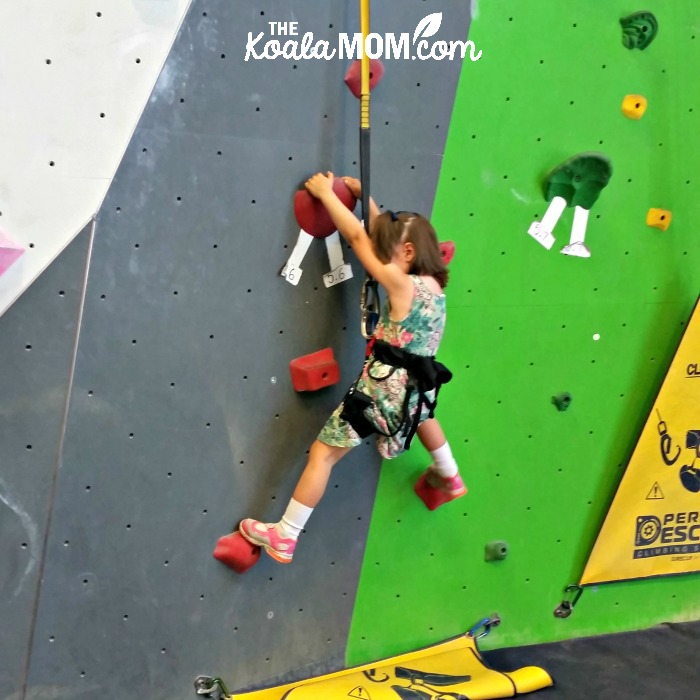 And yes, I tried climbing a few walls myself, when I wasn't trying to help the girls find an easy wall or reach the next hold. The smell of chalk in the air, the gritty feel of the holds under my hands, the mental challenge of choosing the next hold — it all felt good. Bouldering is a great family activity because the routes are quick and easy to climb. I haven't gone climbing with the girls before because while I can belay them, they aren't big enough to belay me — but if we're bouldering, then I don't have to worry about belaying.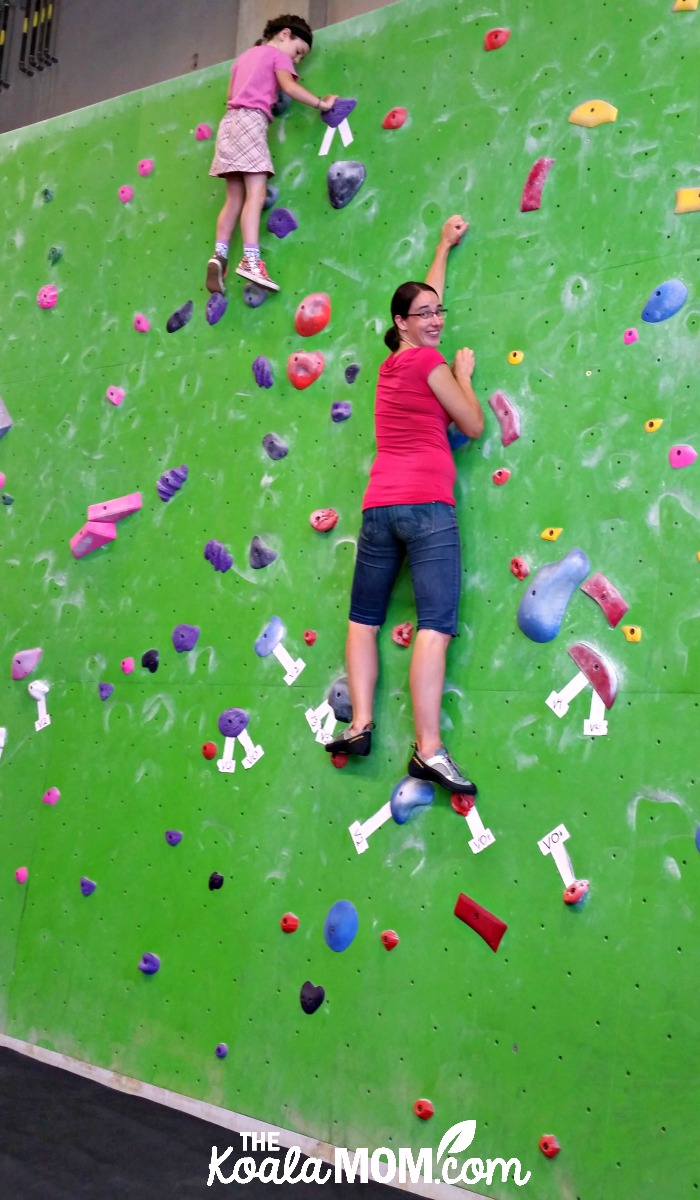 If you're heading bouldering with the kids, you'll want to take:
a water bottle
good running shoes or rock climbing shoes
comfy workout clothes that aren't too tight or loose, but give you room to move
hair tie for long hair
For more about bouldering or to plan your visit to Project Climbing Cloverdale, drop by the website. They have a kids' climbing group for children over nine. You can also sign up for an intro to bouldering course and get a free week of bouldering with it. Download and sign the waiver ahead of time to make check-in at Project Climbing Cloverdale easier.
Looking for more family fun in Surrey, Delta and White Rock? Check out KidApprovedBC or follow them on Facebook, Twitter and Instagram. You can also explore the #KidApprovedBC hashtag to see what kid–friendly parks, sporting venues, activities, festivals, restaurants and shopping other families are talking about.