Last weekend, we had the chance to visit the Honeybee Centre in central Surrey for the grand opening of Fry's Corner Beestro. My husband and I love honey and the girls love any sort of special event, so we were all excited to be heading out there.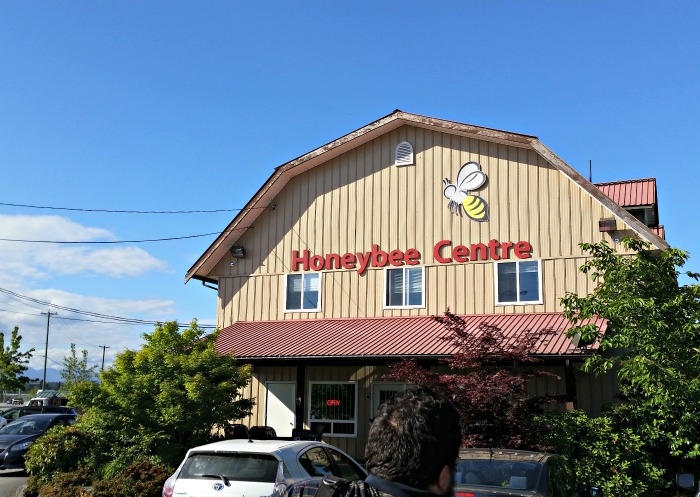 The Honeybee Centre was easy to find on the corner of Fraser Highway and Pacific Highway. Located in a big yellow building with a bee on the front, it is the only business on the corner. It was easy to picture bees buzzing happily through the nearby fields.
We were welcomed to the Honeybee Centre and offered iced tea. Then we headed around for a bee keeping demonstration. We got to stand inside, looking out big glass windows, while the bee keeper slowly opened the bee hives to show us the honey and the queen bee. He talked about why bee keepers use smoke and the behaviors of the different types of bees. The kids laughed when the bees landed on his bald head and enjoyed close-up views of the honeycombs when he brought them over to us.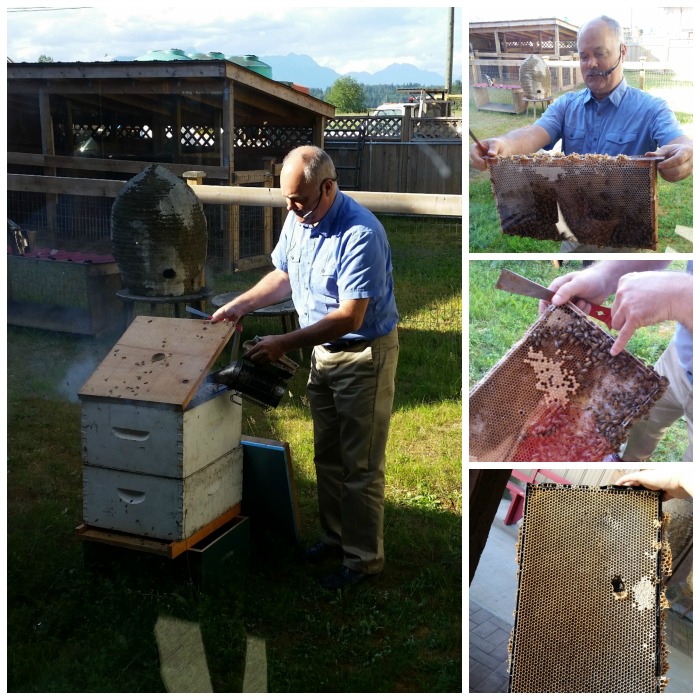 We got to taste fresh honey straight from the bee hive (sweet and light). Then it was dinner time! While the Beestro started serving up fresh, hot panini sandwiches, veggies and dip, and apples, the kids did some crafts. They all made little headbands with pipe cleaner antennae for themselves.
Dinner was delicious!!! The girls were happy to have grilled cheese paninis, but my husband and I enjoyed the BLTA, Brie and Roasted Chicken, and Grilled Vegetable paninis. Plus there was yogurt with granola (and honey, of course), spinach salad with strawberries and brie, veggies with dip, and apple slices with dip.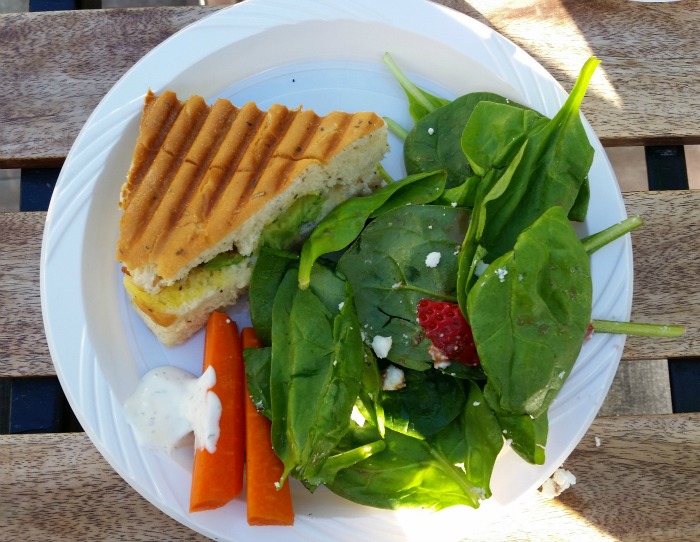 The Honeybee Centre had also invited Dilly the Clown to join us. Jade wasn't quite sure about his monkey puppet, but she was happy to get in line for one of his balloon animals. He made flowers or bee headbands for the kids and for the rest of the night we all jumped at every "bang" of a balloon popping (and the kid went running back to Dilly for a new balloon).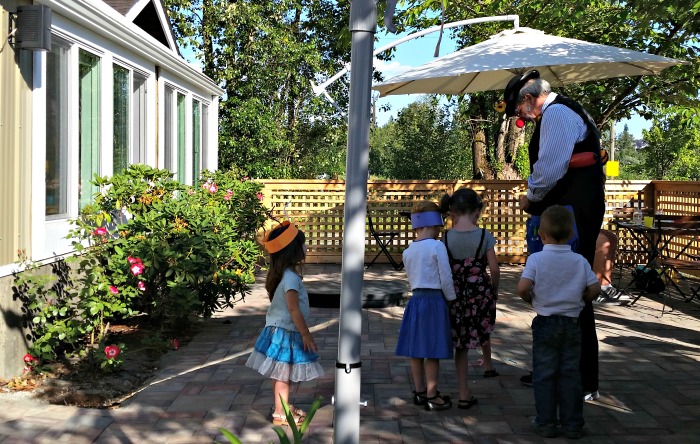 After dinner, the Honeybee Centre mascot showed up for pictures. Jade was a bit cautious at first, but finally agreed to high-five the bee and get her picture taken with me and the girls and the bee. The mascot actually doesn't have a name yet; there will be a contest at the upcoming Honeybee Festival in July to pick her name! (Isn't she cute?)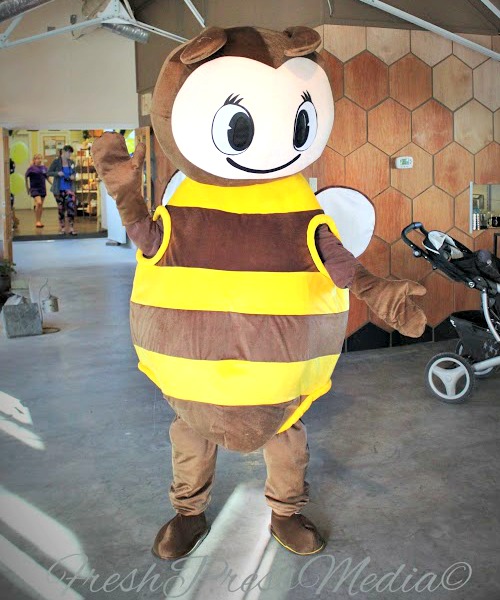 Before we left, my husband took the opportunity to do a bit of shopping. He grabbed a jar of buckwheat honey for himself and a jar of fireweed honey for his mom. I would have loved to have more time to browse the store too, but we got there a bit late because of traffic and had to run right away to meet a friend of mine. So we'll just have to go back again!
If you're in Surrey, make sure you stop at the Honeybee Centre to grab some honey, honey goodies, or even just a panini and coffee! The Honeybee Centre also offers birthday parties, school field trips, tours and more. They are open year-round and have presentations every weekend. They also offer beekeeping courses and seminars and other services. For more information, check out their website or follow them on Facebook.
Now you can enter to win a gift basket loaded with honey and other goodies from the Honeybee Centre! Just use the Rafflecopter form below (but please note you must be able to pick up your prize in Surrey!).
Must be the age of majority to enter giveaway. Local pick up of prize available at the Honey Bee Centre in Surrey BC ONLY. Entries must be completed in full or risk disqualification. No purchase necessary. This giveaway is not affiliated with Facebook, Twitter or any other Social Media platform and is being run by Fresh Press Media Group on behalf of the Honey Bee Centre. Winners are drawn at random. Winners will be notified via email and have 48 hours to respond to claim their prize. If no response is received within 48 hours you will forfeit your prize and a new winner will be drawn.