Luxurious. That was the word that popped into my head the first night I stretched out on my new Douglas mattress.
If you're also considering a new mattress-in-a-box, or wonder how Douglas and Nectar's mattresses compare, read on for my full experience and final thoughts.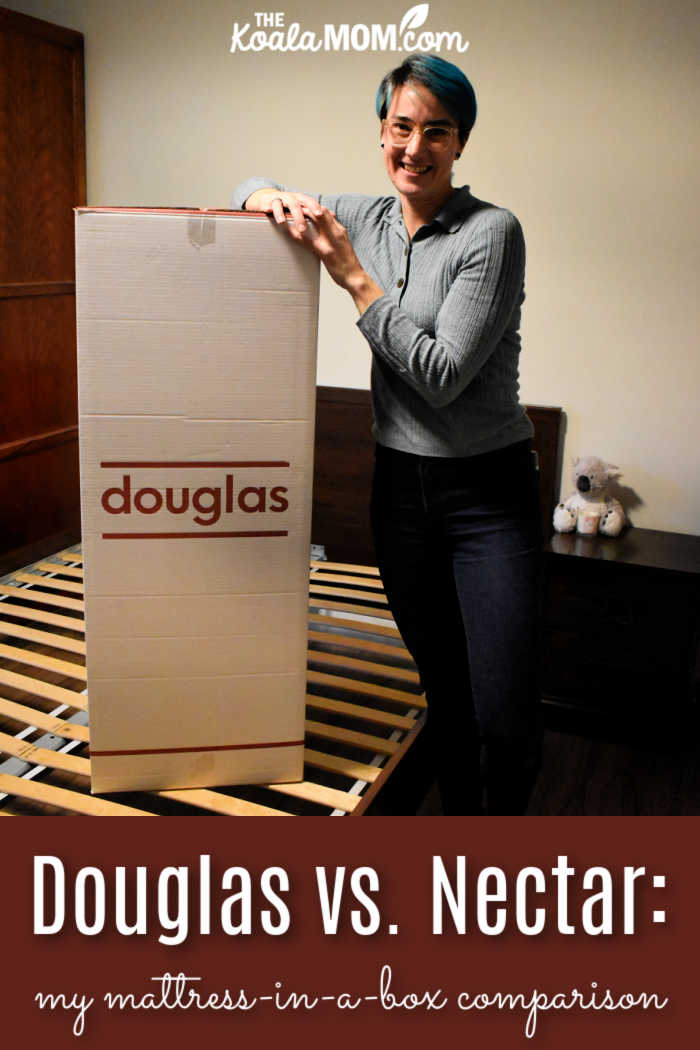 Disclosure: I received two mattresses and compensation for this post; all opinions expressed remain my own.
Why I Needed a New Mattress
I have wanted a new mattress for several years now. I purchased my current mattress back in 2010 when we moved to Victoria.
It was a very cheap foam mattress that had developed ridges and hollows where we slept. I wasn't sleeping well on it, and often woke up with a sore back, but I wasn't really sure where to get a new mattress.
I've seen numerous mattress ads, and there are so many options. What if I made the wrong choice? Could a mattress ordered online really be good? Would I be stuck with a terrible mattress for the next decade?
Douglas vs. Nectar
Douglas was one of the mattress-in-a-box companies I kept considering and going back to. Douglas is a Canadian company that makes all their mattresses to order in Canada, which was a win for me. I also heard good things about it from others and knew it came with a sleep trial.
During my research, another mattress-in-a-box brand stood out. Nectar is an American mattress company that makes their mattresses in the USA and now ships to Canada. Their mattresses also came with a sleep trial, much like Douglas, so I knew if I wasn't happy, I could return the mattress.
So when I had the opportunity to test the Douglas mattress I have been eyeing, I jumped at it.
The Douglas Original mattress is a medium-firm cooling memory foam mattress. It offers balanced support and pressure-point relief for all sleeping positions (because I like to change my sleeping positions frequently at night). The cooling gel foam and moisture-wicking cover work together to help optimize sleep by keeping you cool and dry at night.
Similar to Douglas, Nectar is also a premium memory foam mattress designed to work for all sleep positions. It also has cooling features to help stay cool at night. It had an extra two inches of height on the Douglas Original mattress, but otherwise the descriptions sounded quite similar.
Both mattresses offered sleep trials, warranties, and the promise of a good night's sleep. How would these two mattresses really compare? It's hard to judge a mattress-in-a-box by the website, but I was going to compare both at home.
Ordering the Mattresses
Ordering each mattress-in-a-box was as easy as ordering a new book or kitchen gadget online. I simply dropped by the website, clicked "add to cart," filled out my shipping and payment information, and sat back to await the arrival of a better night's sleep!
I ordered a Douglas Original queen mattress for myself and a Nectar twin mattress for my teenager. (A good night's sleep is important for both a busy mom and a growing teen!) Both mattresses arrived on my doorstep within hours of each other on the same day, and the comparisons began!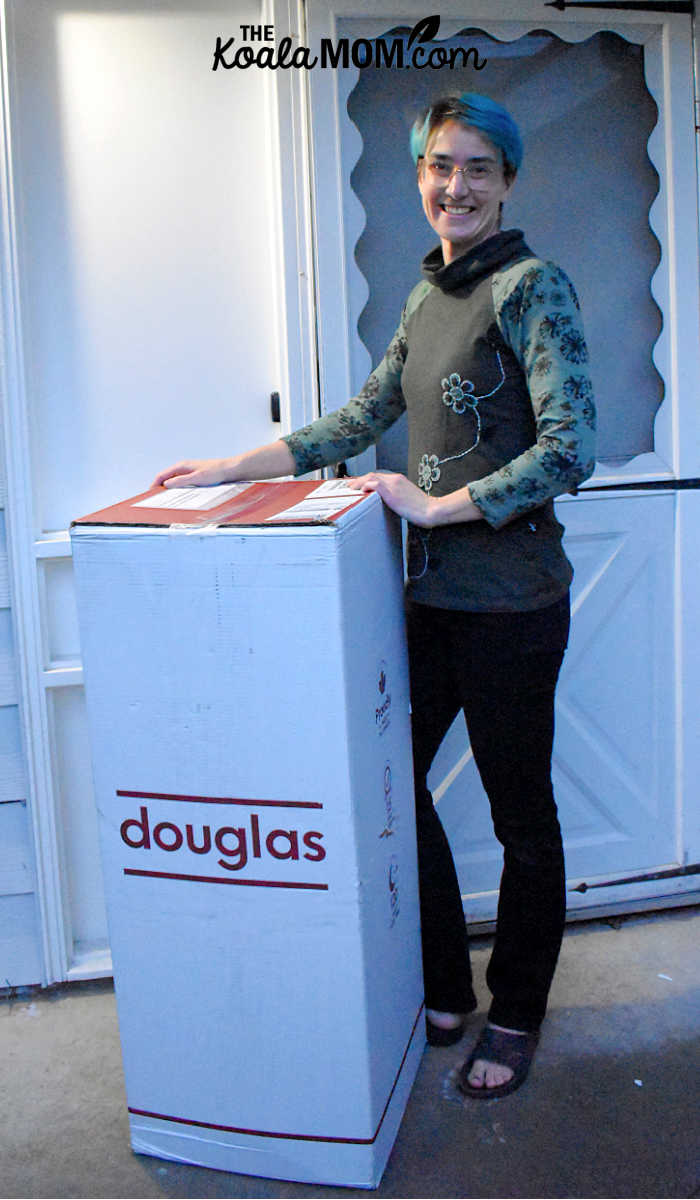 I was very surprised that the Douglas queen mattress box was nearly the same size as the Nectar twin mattress box. The Douglas box was much heavier, due to the difference in mattress size. I was able to bring in the Nectar box by myself, but I had to ask my teenager to help me lift the Douglas box over the step into my home.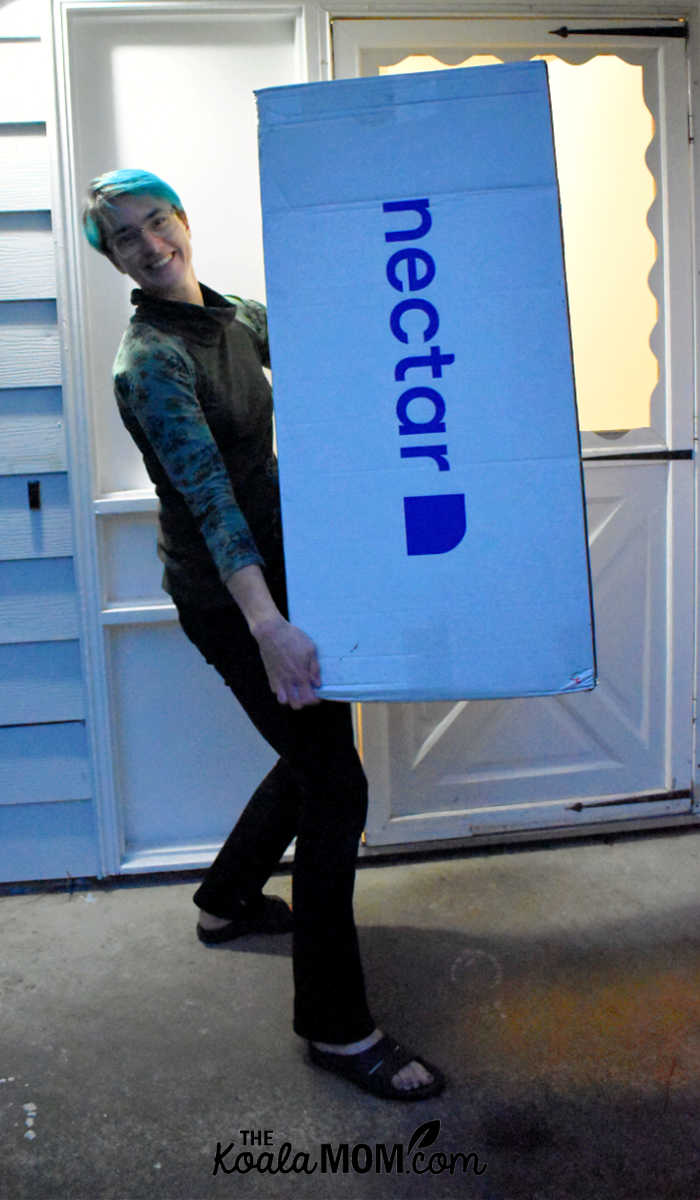 Once inside, I pushed the boxes gently down the laminate flooring in my hallway to the bedrooms. Bringing in the mattress boxes was easier than hauling the old queen mattress out! Once we'd wrestled the old mattresses out the door, we were ready to start setting up our new mattresses.
Unboxing a Mattress-in-a-Box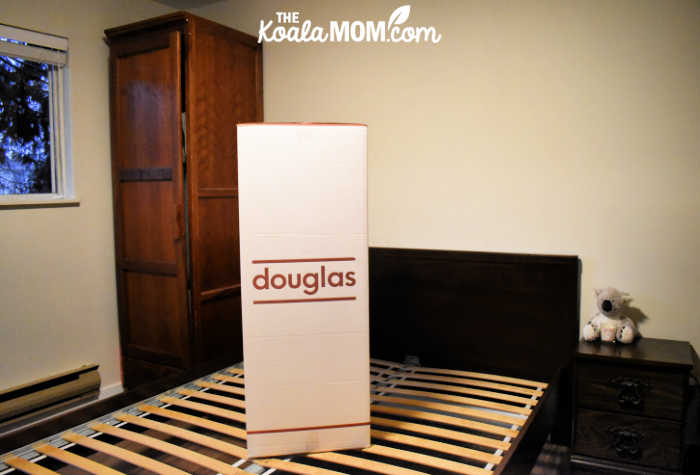 I opened the Douglas mattress box to find my queen mattress inside, rolled up and tightly packed in plastic. I was amazed at how small a huge mattress could be compressed to ship so easily to my home! I tipped the box over to slide the mattress out onto my bed frame.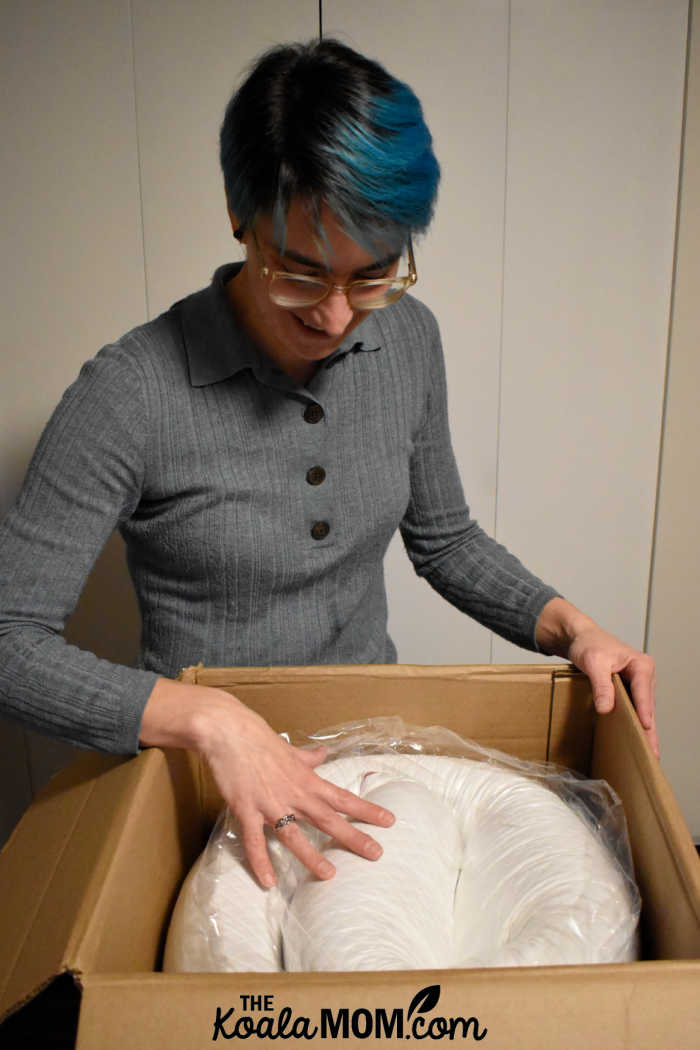 After unwrapping the outer layers of plastic, it spread out across my bed, still just a fraction of the size of a mattress. Once I cut open the plastic sealing it, the foam began to suck in air and expand. It was expanding faster than I could pull the plastic away from it! Air whistled into the foam, and the mattress popped into place on my bed, ready to go.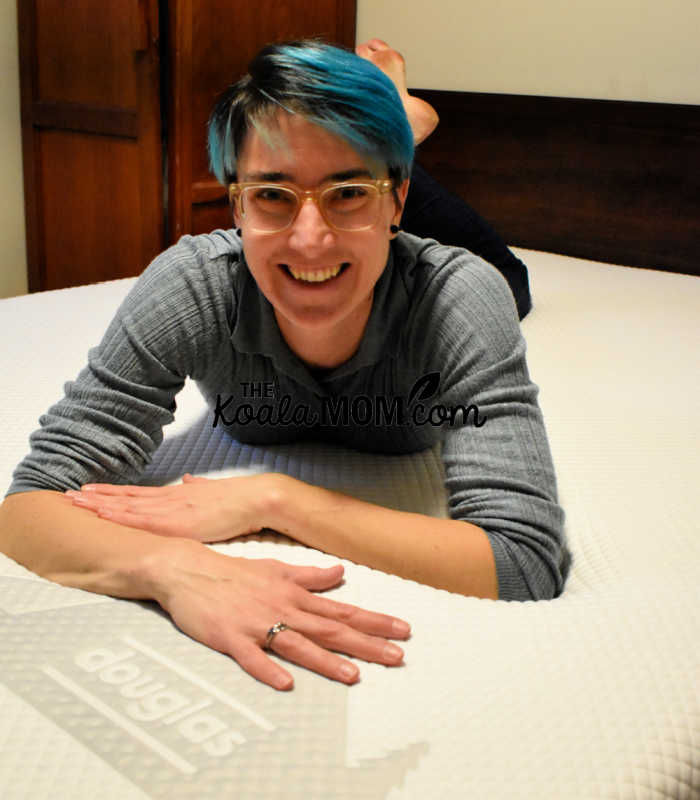 I was immediately impressed with how thick the mattress was. The Douglas Original mattress is 10″ deep, much thicker than any mattress I've ever owned. It features a soft mattress cover that can be zipped off for cleaning. Underneath the cover are three layers of foam. The top layer is soft yet supportive and had all my kids flopping onto the bed and gasping in astonishment. They wanted to sleep in my bed.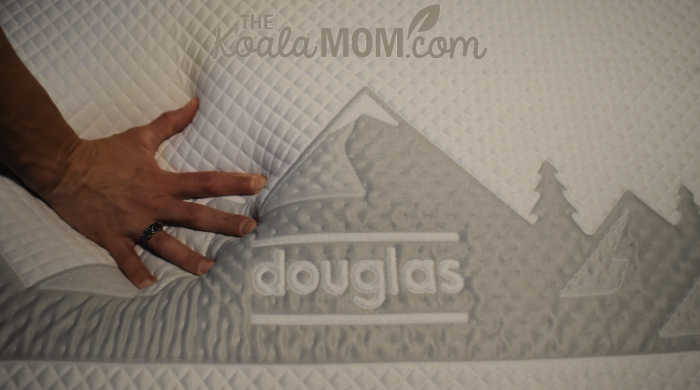 We unpacked the Nectar twin mattress next. It was rolled and packed just as tightly as the Douglas. Slightly more prepared for how fast it would expand, I still underestimated it and managed to bump a shelf over my daughter's bed. We had to reinstall the shelf once we got the mattress onto her bed. The Nectar mattress was even thicker at 12″ deep, which was three times as thick as my daughter's previous mattress.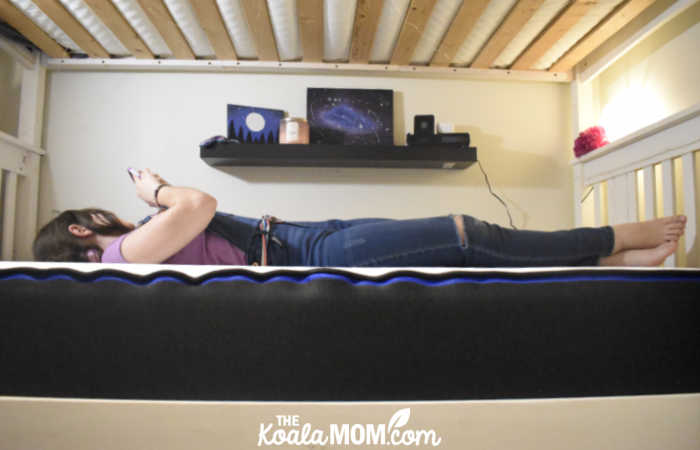 Now that we had the mattresses unboxed and set up—how would we sleep?
Sleeping on My Douglas Mattress
As I said, I was very excited to start sleeping on my new Douglas Original mattress. The first thing I noticed when I lay down was how comfortably soft, but supportive it was. At the end of a long day of chasing my kids, I was exhausted, and this mattress invited me just to sink into it and relax. The whole mattress was soft and comfortable, whether I slept on my front or my side or my back.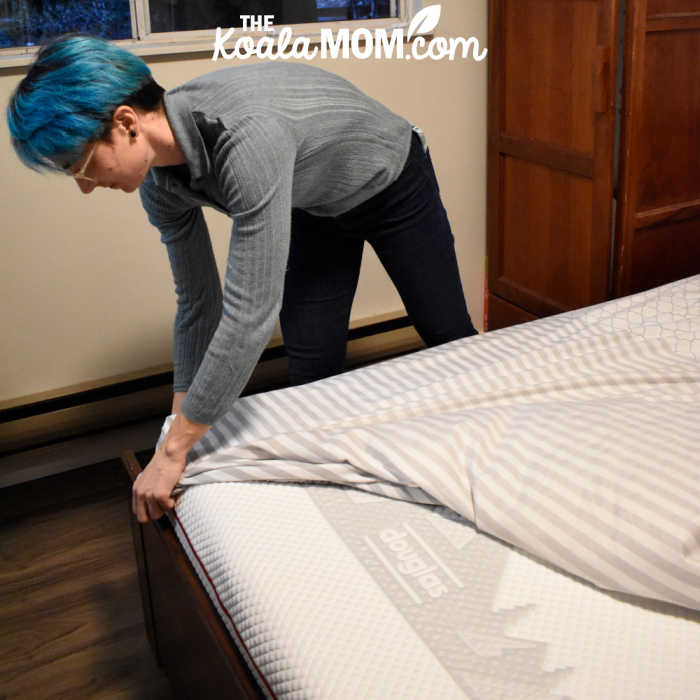 I found I woke up frequently on the first night as if my body couldn't decide whether I was in a hotel or my bedroom. Each time I rolled over, I again marvelled at how comfortable this mattress was and, best of all, loved how there were no hollows or ridges to avoid. Within a couple of nights, I settled into the best sleep I'd had in years.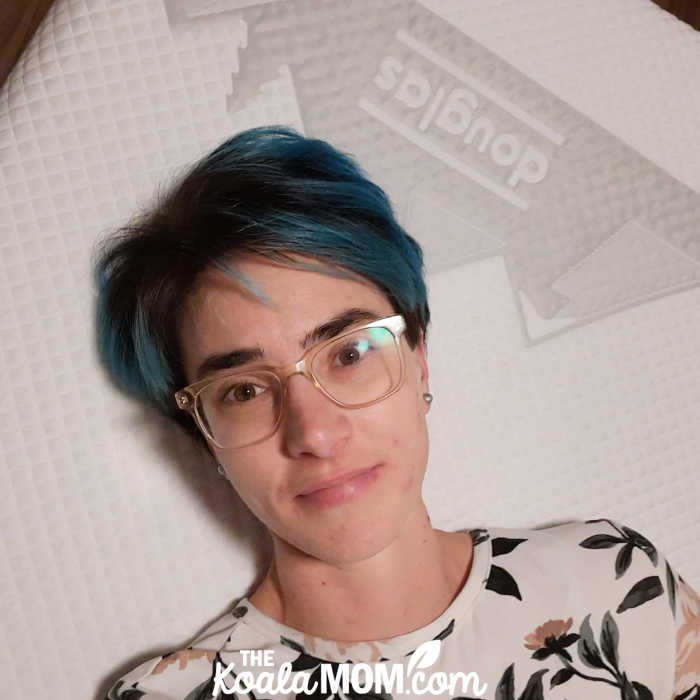 I also noticed that my Douglas mattress had very little motion transfer. Frequently at night, one of my kids has a bad dream and joins me in bed. On my old mattress, their tossing and turning would wake me, even if they weren't sleeping right next to me. Now, I barely notice my child rolling over in bed next to me. As a result, I still sleep better, even when a child crawls into bed with me.
And thanks to a child crawling into bed with me, I've also tested out the washability of the mattress. My youngest hasn't had a night-time accident in a while, but thanks to a big drink before bed and then oversleeping in the morning, he accidentally peed the bed. My bed, of course, not his.
I stripped off the sheets, unzipped the top of the mattress cover, and put them all in the wash. Then I did my best to towel the pee from the foam and sprayed it with mattress cleaner. Once the mattress cover and foam were dry, it was super easy to zip it back together again.
On top of having a machine-washable cover, Douglas does provide a free mattress protector with each mattress purchase (and I've used mattress protectors for many years in the past), but this was a really rare occurrence, so I'm less concerned.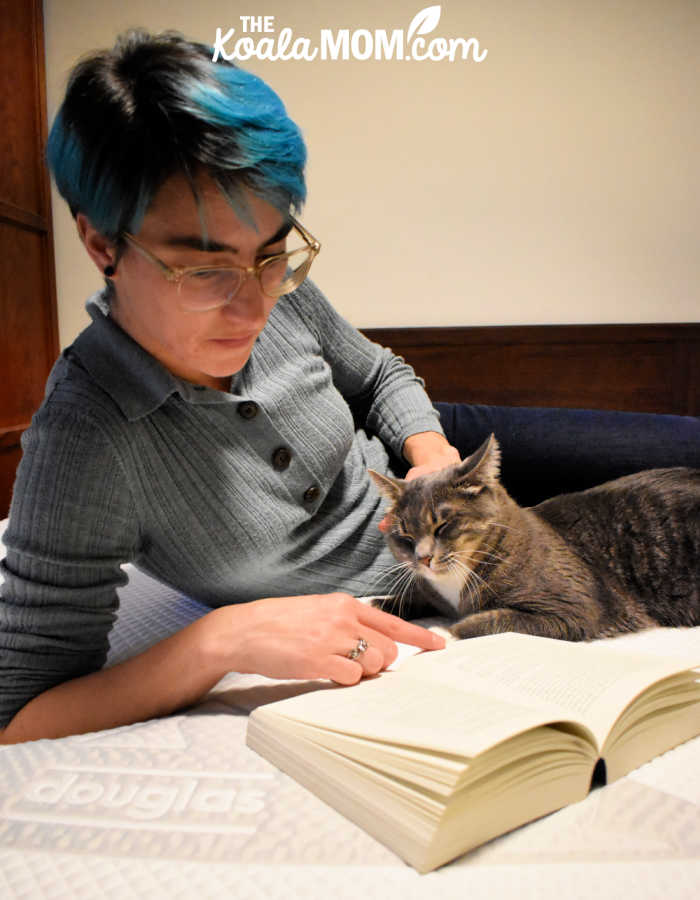 Trying out the Nectar Mattress
My teen was equally happy with her new Nectar mattress at first. When she went away for a retreat, I took the opportunity to sleep in her bed and test out her mattress-in-a-box. I was curious to see if the Nectar mattress offered something that my new Douglas mattress didn't.
I first noticed was that it less comfortable than my new mattress. While it was 2″ thicker, the foam felt much firmer. It just didn't have the same comfortable invitation to sleep that my Douglas mattress did.
The Nectar mattress didn't offer the same level of comfort and support, despite feeling like a firmer mattress. The mattress also doesn't come with a machine washable cover like the Douglas (although this isn't a huge deal breaker if you're using a mattress protector).
Although I slept okay for the nights I was in her room, I was eager to move back to my Douglas mattress. The Douglas mattress was the perfect blend of soft and firm. It was cushioning to my whole body and supported where needed.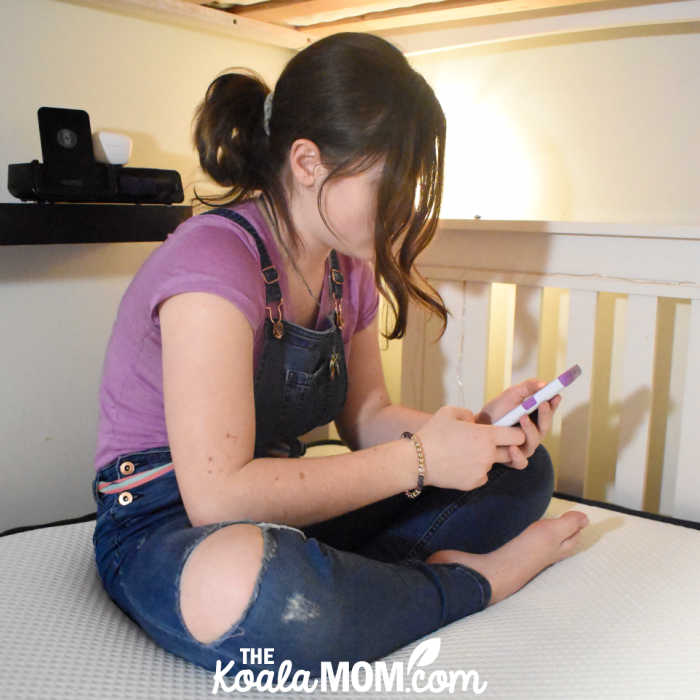 After a few weeks of sleeping on her mattress, my daughter commented that she no longer slept on her side as much. Her new mattress was nearly three times as thick as her old mattress, but somehow it was more firm and so less comfortable for sleeping curled on one side.
Making Memories with a Mattress
Because we have a small home, we spend a lot of time hanging out on our beds. My kids all frequently curl up in bed to read a book. My teens sit on their beds to do their homework on their laptops or talk to their friends. We pile onto my bed for tickle fights and story time.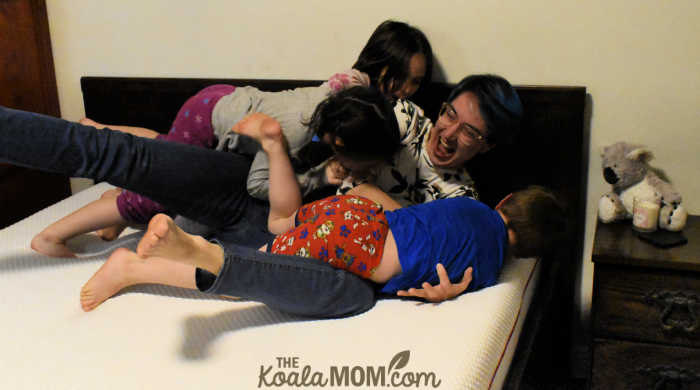 My tween climbs up into her top bunk to get away from her siblings and draw on her tablet. And at night, after my younger kids have gone to bed, my teens and I often end up sitting on my bed, chatting about the day.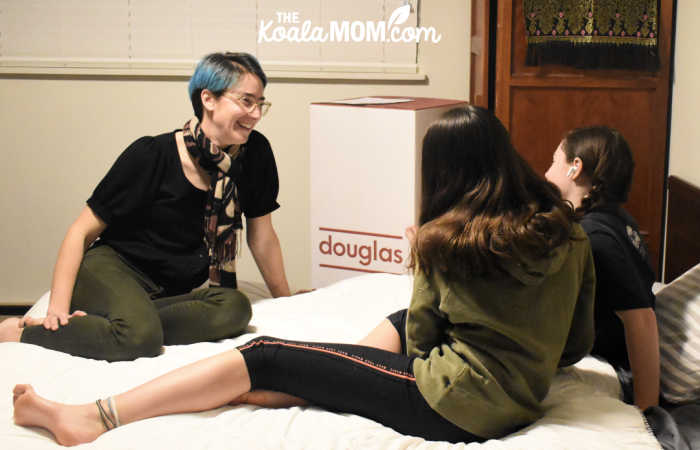 Overall, I'm more than thrilled with my new mattress-in-a-box. The Nectar mattress was okay, but it wasn't anything like the Douglas.
Douglas made it a simple choice to replace my old, worn-out foam mattress with a new, much-better foam mattress. I'm enjoying a better night's sleep on the best mattress I've ever had, and I look forward to bedtime every night.
If you're looking for a new mattress for your room, I highly recommend checking out Douglas.