Being a mom is no reason to put your life on hold. The dream of attending college is still possible, even after starting a family. By returning to school, you're achieving your own educational and career goals and inspiring your children to believe in the power of education, dream bigger, and reach higher.
For a mom to return to school while raising a family may impose some challenges, especially if you're considering a very competitive program, such as entry into NYU Long Island. You may need a unique support system to balance family, academics, and work. Keeping these priorities in check can be challenging.
However, earning a college degree can help you advance your career and find more meaning in your work, which is valuable for you and your family. So here are some tips for moms returning to college, including what they need to know about returning to school and some resources to help them along the way.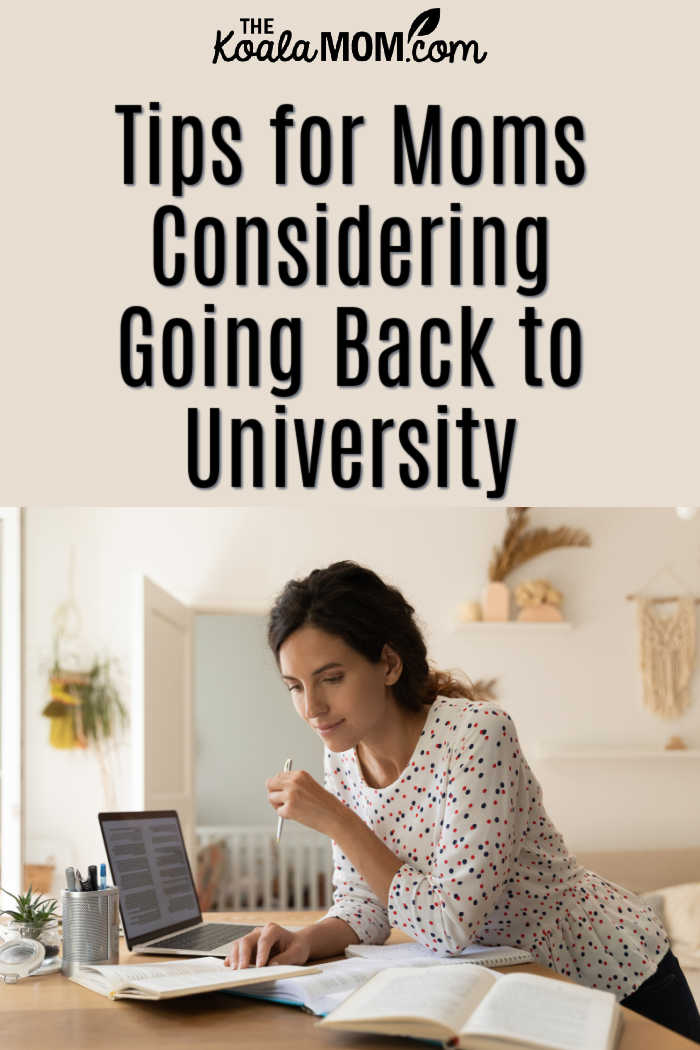 Set Realistic Goals
As with everything, realistic goal setting is essential. It's the first step to starting the education process and staying on track.
You can start by writing down your short-term and long-term goals. These allow you to make the most of your time and resources while also keeping you inspired. For example, your long-term goal is to attain a degree. Break this down into annual goals, such as completing so many courses or credits per year, and then break that down into semester goals, and so on.
You can discuss these goals with someone who will encourage you to keep moving forward in spite of obstacles. Your university may have academic advisors who can help you plan your coursework and reach your graduation requirements. Your partner can also provide some input on how you can balance work and life. You may also want to talk to other people you trust, such as your parents or close friends, who can help encourage you to reach your goals and also provide practical support along the way.
For example, my mom went back to university when my younger brother was finishing high school and starting university. She worked part-time and did part-time courses, completing her second degree over four years. My younger brother finally learned to cook during that time, and often made supper when he got home from classes so they could eat when she got home from work.
Arrange Childcare
Going back to school means you'll have to leave your kids in the care of others. Depending on your program or coursework, you may be able to do evening or weekend courses while your partner watches the children. Perhaps one of your parents can take the kids once a week while you're in class. Or you may need full-time childcare such as a daycare or dayhome.
Having good quality childcare in place before you start school will give you peace of mind. It's also a good idea to start their childcare schedule before you start classes, so you have time to help them transition into the new schedule.
With childcare support, it will be easier for you to go to school, do assignments, and attend school activities. In essence, it will help you organize your tasks and focus on your priorities. And don't forget to plan some childcare for study time as well as your class time.
When I started my second degree, I had a toddler and an infant. For the first three years, I was able to juggle childcare with my ex-husband (who was also in school), an occasional babysitter, and other moms who lived near us. For my final year of university, my oldest started full-day Kindergarten, my second went to daycare, and we shared care for my youngest. It wasn't always perfect, as I often ended up studying while watching my girls play on the playground or colour beside me, but it worked.
Set a Schedule
Setting a schedule lets you stay organized and on track with whatever you need to do. You can establish a routine for doing chores and caring for your kids. You also need to set time for your classes and homework so they're separate from your personal time. Being very organized about your time will help you balance motherhood and graduate studies or other coursework.
It may be helpful to have your schedule in the kitchen or main area of the home, so that your partner and kids know when and where Mom is. You may even want to put your deadlines on the schedule or calendar, so that your partner knows you'll be busier (and more stressed) when a paper is due. If family members are also helping with childcare, they should have a copy of your class and study schedule too.
Check Online Courses
Thanks to technology, you can attend classes without physically going to school. Today, there are a lot of online courses you can take, which will only occasionally require you to attend in-person classes.
Online learning platforms are a great opportunity for moms as it's more accessible and offers the same learning as a regular school. You can eliminate travel time from your schedule, as you simply have to turn on your computer to meet your class. If you have younger children who nap regularly, you may even be able to attend classes during naptime.
Check if the course you like and the school you want to attend offer online classes so you can still be physically present with your family at home.
Make the Most of Your Free Time
Make the most of your time off by relaxing and spending time with your family. You can also use some self-care techniques to reduce your stress. When I was doing my second degree, we lived in university family housing and enjoyed the support of our neighbours and the family student association.
Use holidays and school breaks to do something enjoyable and memorable with your friends and family. It can be a great pause or breather from doing so many activities that may lead to exhaustion. We enjoyed hiking or visiting beaches together, camping in the summer, and even managed to pull off a cruise vacation during one February Reading Week break.
Maintain a Healthy Lifestyle
Your schoolwork will cause stress. Expect it and plan ways (ahead of time) to deal with that stress. Having childcare in place, as well as a support network and a good schedule, are great starts. Include self-care (and date nights) in your schedule to prevent burn out.
Family life and school are essential, but maintaining a healthy lifestyle is equally important for your physical and mental well-being. Even with a busy schedule, incorporate basic exercise into your routine, like walking to school or taking the stairs.
A healthy diet is also important for you (and your whole family), so avoid turning to take-out when life gets hectic. Try to plan ahead by making freezer meals early in the semester (when your schedule is less busy) so you can pull them out when exams and papers hit (and you don't have time to cook). Discuss menu planning with your partner or order meal kits ahead of time.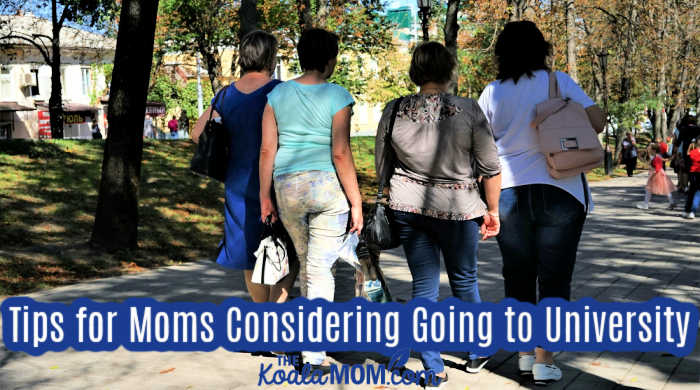 The decision to go back to school is tough, but doing it can be more challenging. There are many things to consider when going back to school as a mom. But nothing is impossible to achieve if you're hardworking. If you'd love to go back to school, follow the advice in this article, and you'll be well on your way.