Cooking is an essential skill for all tweens to learn, especially as they hurtle towards adulthood. Involving them with the meals you cook has far-reaching benefits for their development, so it's often best to get started as soon as possible.
While I would generally recommend that children younger than 10 focus on simpler cooking tasks such as baking or helping with general food prep like mixing sauces or cutting vegetables, you can start to introduce more complicated and challenging cooking techniques once they hit their tween years.
I have found that meal kits are the perfect place to start your tweens on this journey, giving them advice and a variety of recipes to learn from. Many of the major meal kit services even offer "simple" or "kid-friendly" recipes that are simpler to cook when you're just getting started. In fact, 77% of meal kit users say the primary benefit is that meal kits make their weekly cooking easier (source: Food Box Mate).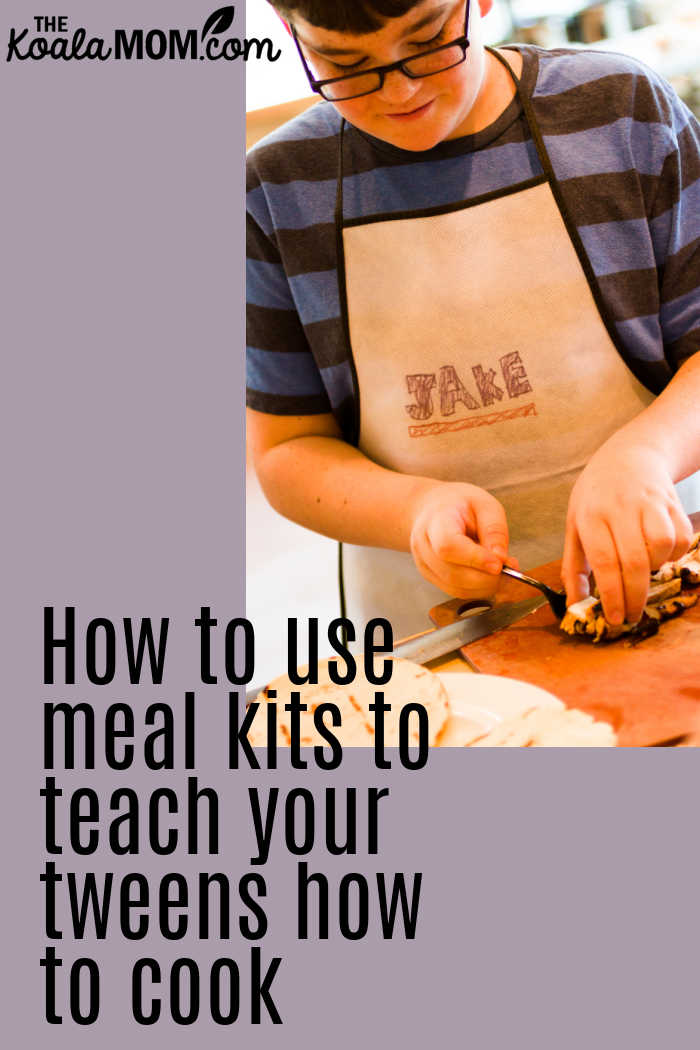 Everything suggested in this article is based on my experience; however, be conscious that all children are at different stages of their development so please take into account your own unique circumstances. Some children may be more confident and adventuresome in the kitchen and others may need more guidance and help.
Learning to follow a recipe
With most meal kits, you receive a detailed recipe card with images explaining each individual step. This is a huge advantage that meal kits have over other recipe sources, as it makes the recipes much easier to follow for complete kitchen beginners.
In fact, you'll find the instructions are designed to cater for complete novices in the kitchen, which mean they're thorough and detailed.
Meal kits make it easy to follow the cooking process in a simple, step-by-step fashion which helps build your tweens ability to follow instructions. Learning this skill at an early age will help them expand into more complex recipes in the future, many of which only provide limited instructions.
Developing their cooking techniques
Let's be honest, we could all do with a little more help in the kitchen. That's why it's a win-win to get your tweens involved in the cooking process. As they develop more skills, you'll find your kitchen workload can be shared and the entire experience is a great form of family bonding.
Techniques such as chopping, roasting, boiling, and frying require a level of dexterity that kids start to build competence in during their tween years. This makes it the perfect time to start introducing these skills in a safe environment.
In my experience, it's best to bring each technique in slowly and one at a time. The order will depend entirely on each individual tween, and each technique should be carefully introduced in a safe environment. You should always explain the risks to your tween and take appropriate safety precautions.
Meal kits mean you have the recipe and ingredients pre-defined in a single place and can focus more of your time on helping your tween develop their kitchen skills.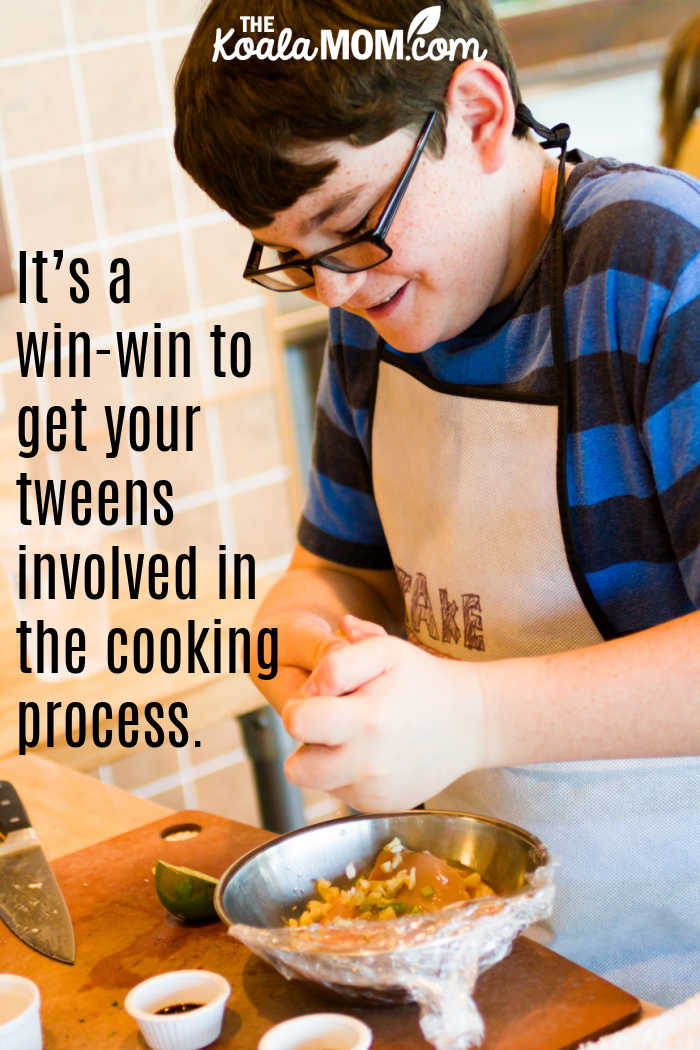 Exploring new ingredients
One of my biggest challenges has always been the repertoire of recipes that I feel comfortable cooking. I'm sure many of you reading this feel the same way, often resorting to the same easy meals each week.
In their tween years, your kids will find their taste buds developing and it's the perfect time to introduce new foods to their diet. Meal kits allow you to do this with their help.
Each week, you're given a set of recipes to choose from. With some meal kits, this is up to 50 different choices. These are usually highly variable and introduce interesting new ingredients.
Allowing your tween to select the recipes with you each week gets them excited about their upcoming meals and helps make sure they're open to the new ingredients. Approaching meal kits in this way can help even the pickiest eaters explore new ingredients.
Manage portion sizes
One of the challenges every parent will come across with meal kits is portion sizing. Meal kits generally only deliver full adult portions, which means you can be left with excess food.
Each tween has a different appetite, with some comfortably eating full adult portions whilst others are happier with a half portion. This will impact how you shop for meal kits, as you may find yourself with leftovers for each meal.
However, this isn't always a bad thing. Meal kit dinners can be perfect to reheat for a quick and easy lunch the next day, especially if you're careful to select dinners that easily reheat.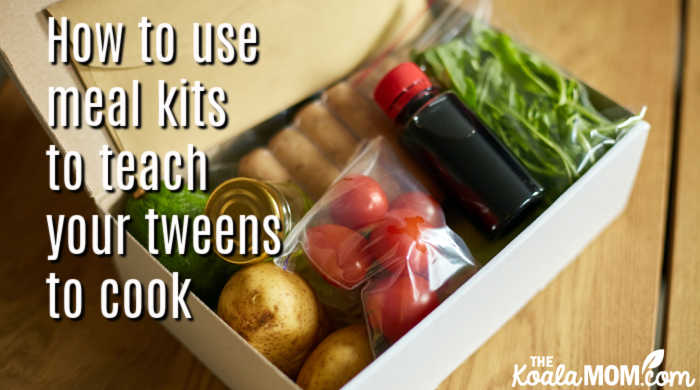 Overall, meal kits are such a fantastic way to teach your tweens how to cook. They're versatile, exciting, and provide plenty of variety for you to cook with. We do recommend checking out some meal kit reviews just to make sure the individual service is right for you and your tweens.
Photo credit: Depositphotos.