This week for show and tell, Sunshine took a souvenir from Mexico to show her friends at Kindergarten. I'm always surprised by how often she and Lily talk about Mexico, because our vacation there was two years ago. If we see a big boat, they talk about the cruise ship we took. Or they remember playing on the beaches in Cabo San Lucas or riding a taxi through the narrow, bumpy streets of Puerto Vallarta.
How did two students with two children afford a cruise vacation in Mexico?
The answer is online. It's easy to find deals and packages on Mexico holidays by searching the Internet. Before we travelled two years ago, my husband spent about a month watching various websites for the best deal on a vacation.  We had a slim window of time in which to travel—Reading Week at the university—and Aeroplan points to cover our flights.  We also chose to fly before Lily turned two, so we only had to pay for three flights.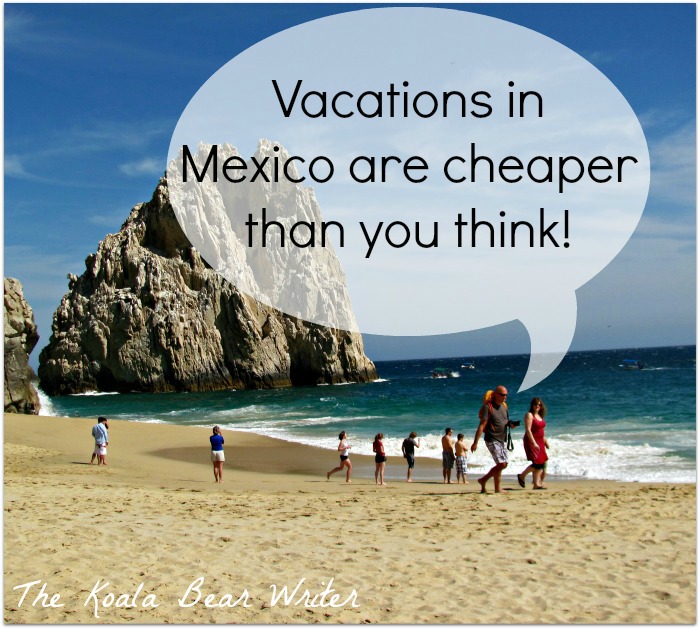 Once we were in Mexico, it was easy to keep our expenses low. Mexicans like bartering. This was difficult for both my husband and I; we like getting deals, but we don't like haggling to get that deal. However, we did haggle with a fellow who offered us a boat ride from Cabo San Lucas out to Lover's Beach. The "set price" on that ride was about five times the price we actually paid. We spent the afternoon exploring the beach, admiring the rock formations, and playing in the sand, then returned to the place where our friendly local had dropped us off to get a ride with him back into Cabo.
In Puerto Vallarta, we again saved money by walking for ten or fifteen minutes away from where most of the taxis waited to pick up tourists. We caught a taxi closer to the centre of town and paid him a lower rate than the other taxi drivers were charging—although we probably could have bargained with him more.
When we told him we wanted to go to the Zoo, he offered to show us the local points of interest along the way and told us more about the city. On the way back, he dropped us off at the Cathedral and we walked from there down to the waterfront and then most of the way back to the ship before catching another taxi.
We also prioritized what we wanted to do during our vacation in Mexico. It's easy to look at all the exciting places to see and things to do and rack up some huge expenses. We had three days to spend in Mexico, two children (ages four and almost two) and a small budget. Before we left, we spent a lot of time online, browsing where we could go and what we could see—and what were the best options for children. We compared rates with different companies and read reviews by other travellers.  So when we got to Mexico, we already had an idea about what we wanted to do and what that would cost.
Of course, it's not possible to see or do everything in three days. So we keep dreaming about going back again to do all the other things that looked like so much fun… maybe once the girls are older… or maybe with some grandparents along to help watch them!