When we planned to head back to Alberta for Christmas this year, I knew what I wanted to do on the way home: skate on Lake Louise. I've seen pictures on Instagram of others skating on various mountain lakes, with miles of bare ice behind them and majestic mountains around them. I packed our skates in the rooftop carrier on my Jeep and looked up details about skating on Lake Louise.
After picking my kids up from their grandparents' farm on New Year's Eve, we headed for Lake Louise.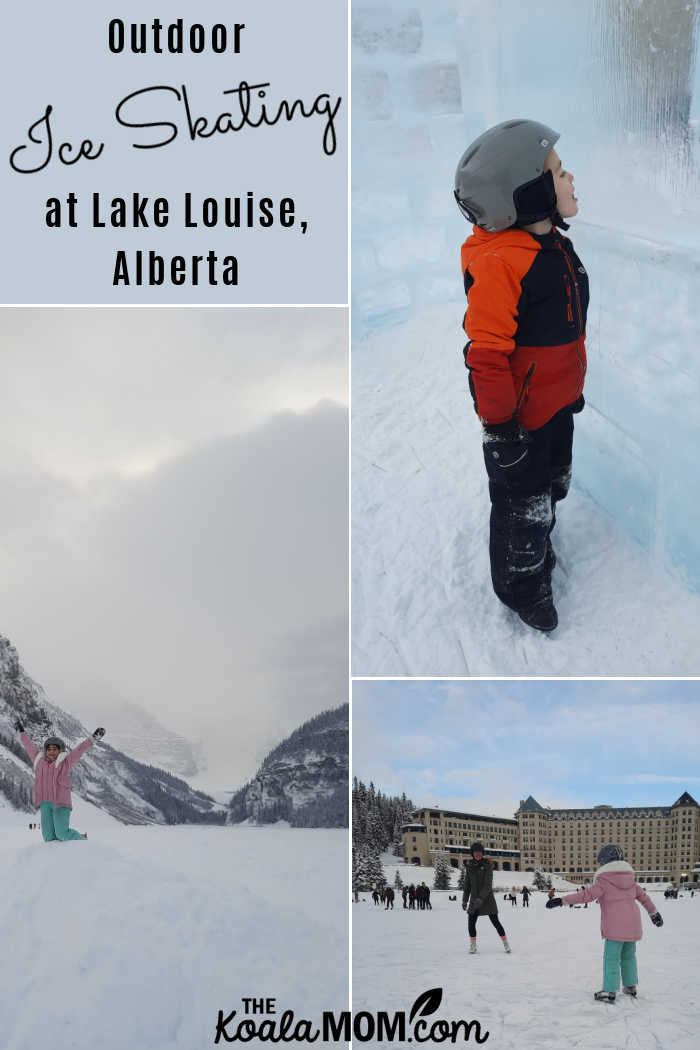 This post contains affiliate links; as an Amazon associate, I earn from qualifying purchases.
Before You Go: What to Know
Lake Louise is located two hours west of Calgary, just off the Trans Canada Highway. This gorgeous mountain lake is located within Banff National Park, so you'll need a park pass for any stops here. You can either purchase your park pass at the park gate just outside Canmore or at Lake Louise. We found a little park pass metre (similar to a parking metre) at the Lake Louise parking lot where I purchased a day pass for about $20.
Ice skating at Lake Louise is open between January, February, and March. Of course, this may change depending on the weather, as the ice has to freeze thick enough to be safe to skate on. You'll want to check details online before planning your visit.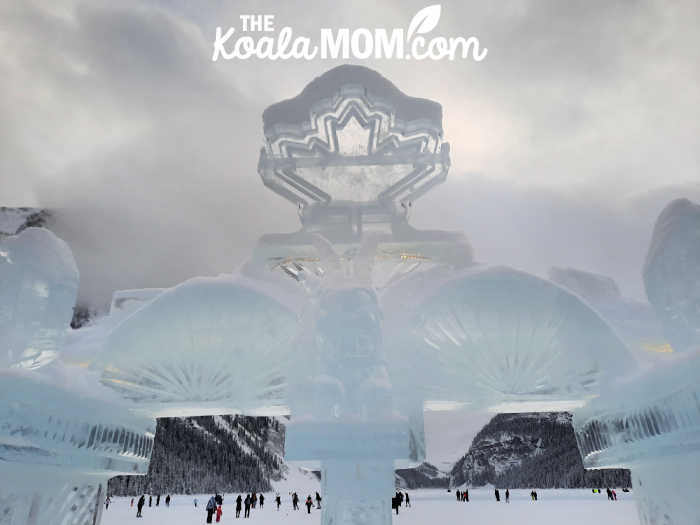 While there is parking very close to the lake, it gets extremely busy on the weekends. I highly recommend planning your visit during a weekday or trying to go early in the morning (before 10 am) or later in the afternoon (after 3 pm) to avoid parking delay and disappointment.
Because I had to arrange our travel plans with my ex-husband, we had a very narrow window in which to drive home. We arrived at Lake Louise around 2:30 on Saturday afternoon—not ideal. A flashing sign at the highway turnoff warned us that the parking lot was already full. I began to pray as we drove down the narrow road, following signs to the lake. We were bumper-to-bumper with a row of other cars all hoping to skate there.
In the parking lot, parking attendants waved cars through the parking lot. Just as we pulled up to the attendant, she held up her hand to stop us and then opened the gate and waved us in. I said a fervent "thank you Jesus!" as we backed into a parking spot. Then I had to dig out all our skates, ski helmets and the kids' winter gear (which I had packed in a duffel bag), and we got ready to go skating.
There are washrooms near the parking lot, and we stopped there (just in case). There's also a water bottle refill station there. From the washrooms and parking lot, it was a short walk down a wide trail to the lake itself. We joined the crowds heading that direction.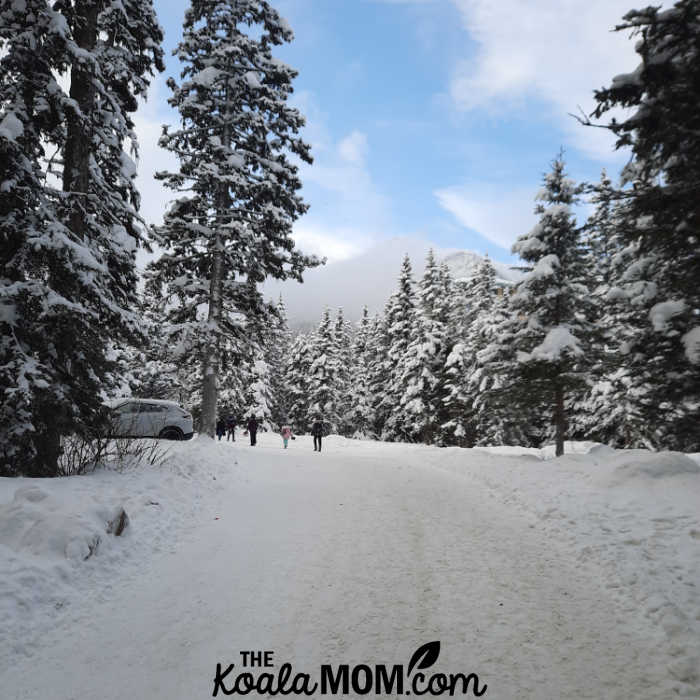 Skating on Lake Louise
The Fairmont Chateau Lake Louise is located right next to the lake and clears the ice for skating. Their team also builds an incredible ice castle at the edge of the lake. It's a beautiful location for a winter vacation and I wished we had more time to spend there.
When we arrived, we found many people hiking out across the lake while others headed to the two cleared rinks—one for informal hockey and one for skating. We sat down at the edge of the ice to change from our boots to our skates. Joey had fun clambering up the piles of snow at the edge of the rink, until I called him down to get his skates on. We left our winter boots in a neat pile and set out to explore the ice castle and rink.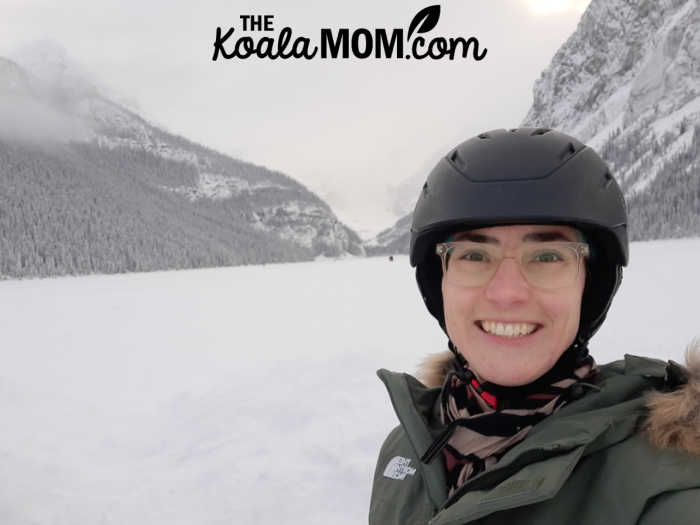 I was honestly disappointed by both rinks. In my research about skating on Lake Louise, I'd read that the ice was cleared daily of snow. When we arrived, each "rink" had at least an inch of snow on it, stirred up by those trying to skate. While the snow was fluffy and easy to skate through, it masked the cracks and irregularities that occur in natural, outdoor ice.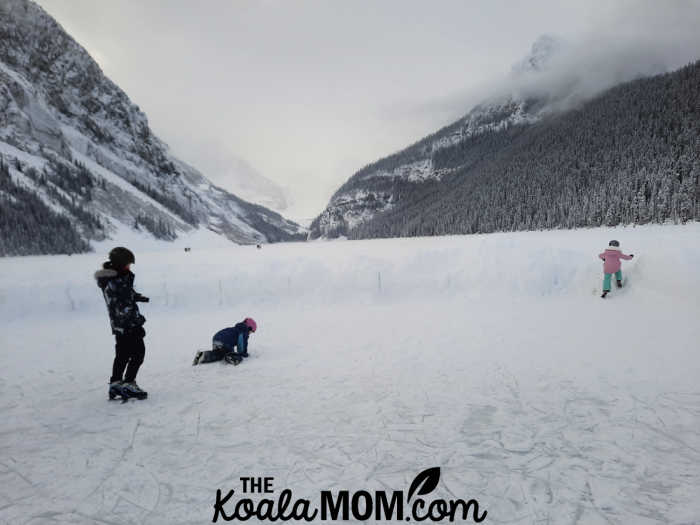 My kids thought it was hilarious to sweep the snow off the ice and stare down at the bubbles and cracks in the blackness. Joey spent quite a bit of time just laying on the ice, wiping it smooth with his mittens. Their experience on ice so far has been limited to local rinks, while I grew up skating on outdoor ice in Alberta, so I was amused by their awe over the bubbles in the frozen lake.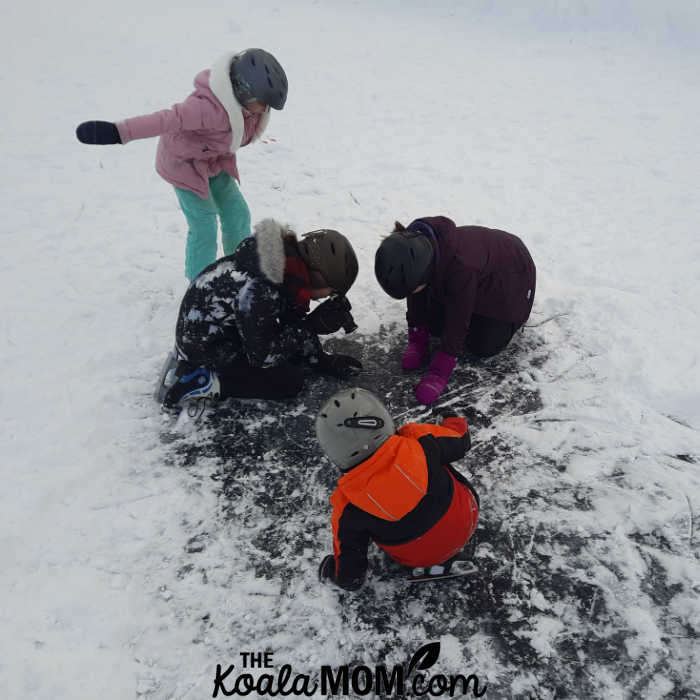 We were there on a somewhat cloudy day, so we could only see the lower half of the mountains around the lake. We could barely see the Victoria Glacier at the far end of the lake. The Fairmont Chateau Lake Louise overlooked the ice near us. We watched a few horse-drawn-sleigh tours pass us and the kids begged to do that. Maybe next year!
Most of my kids are still a bit wobbly on skates, although we've been regularly skating with friends this year. They all have good-quality figure skates (plenty of ankle support is helpful) and are starting to learn how to glide. Although the ice was fairly busy at Lake Lake, there was still a lot of wide open spaces where the kids could skate and I noticed that many other skaters also seemed to be wobbly or uncertain. It was definitely a family-friendly place to skate, which I was very happy about.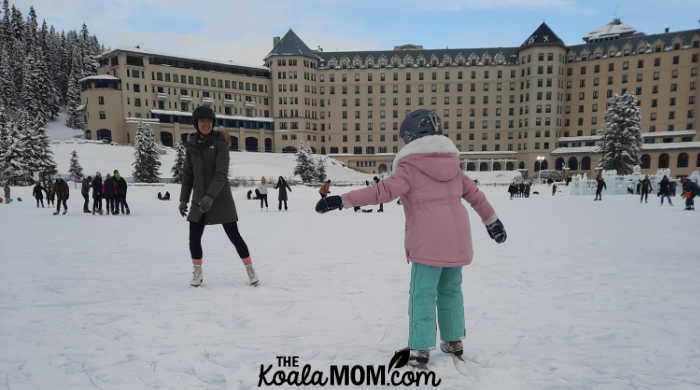 The kids had fun skating around the ice castle and checking out its intricate designs. There were a couple "turrets" where they could be surrounded on three sides by ice, as well as several doors to pop in and out. Of course a few of my kids began singing various Frozen songs as they stuck their heads through windows or posed in open doorways.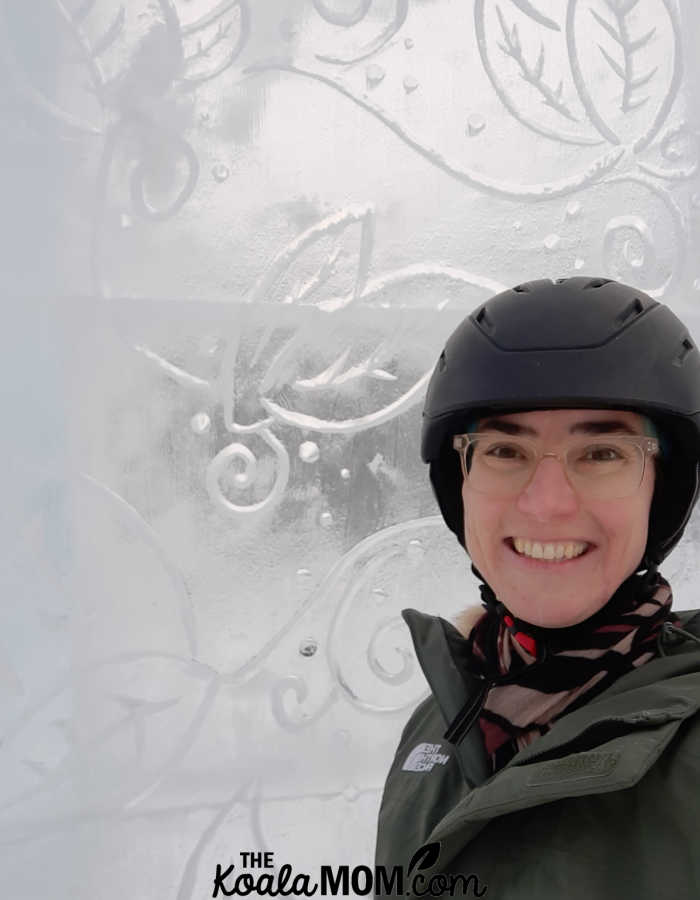 We skated for about an hour before some of the kids began to get tired. Two of them wanted to hike out across the lake, with the other tiny figures we could see way out in the middle. I'd also been looking at how far people were hiking and wishing we had time to do that too. However, we had a hotel booked in Salmon Arm so I knew we had to hit the highway.
If we stop at Lake Louise again, I'd bring:
I saw a few other families at the lake with a large wagon, packed with snacks, folding chairs, and other gear to keep the kids happy while skating. While we were packed somewhat light because we were on the road, I'd definitely recommend doing that if you can.
I'd also try to give ourselves a few more hours to skate, climb on snow piles, and enjoy the ice castle. Although Lake Louise was conveniently located on our way from Calgary back to Vancouver, trying to fit it into our drive did make our stop shorter than we all wanted. (Another option would have been to book our hotel closer to Lake Louise and have a longer drive on our second day.)
Overall, this was a super fun way to take a break and be active on our Christmas road trip. It's definitely something we'd like to do again. If you're heading through Banff National Park in the winter, I recommend a stop at Lake Louise, even if you only hike on the ice to look around.
Have you gone ice skating on Lake Louise? What was your experience and what tips would you share?