Choosing the right curriculum for your child is a hard job for homeschool moms. We've tried quite a few different curriculum options over the past five years of homeschooling. Recently, we've turned to online math programs. If you're also looking into online math programs for your child, I've compiled a huge list of options, along with my thoughts about each. I hope this helps you decide which online math program is best for your child!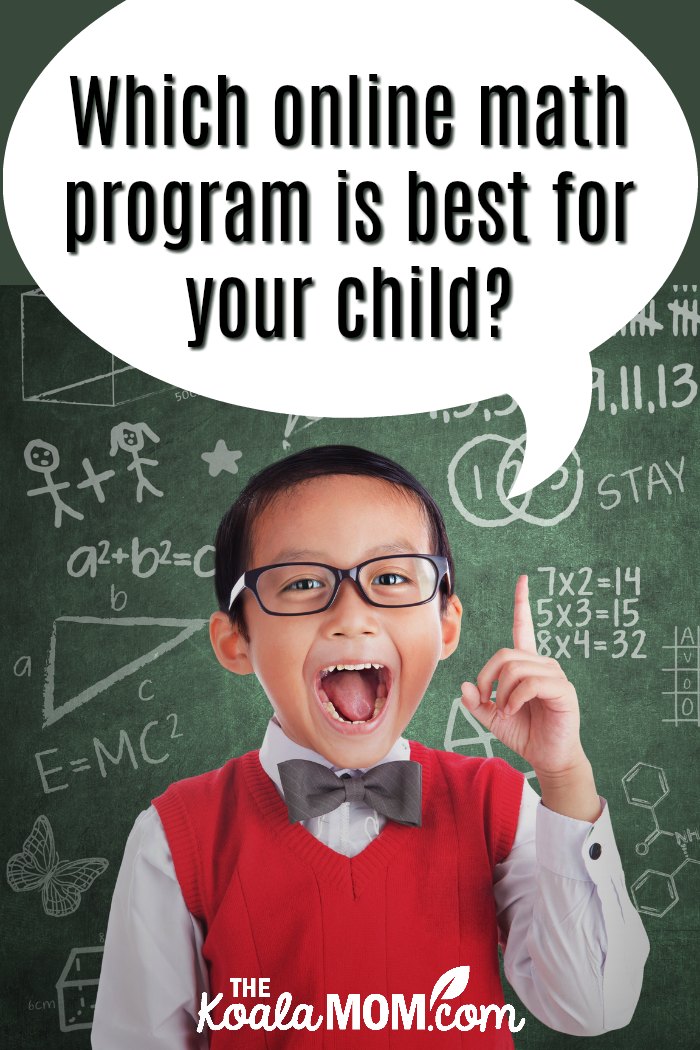 Questions to Ask Before Choosing an Online Math Program
Is your child easily bored or easily distracted?
Does your child work better with structure and guided learning or with more freedom and independence?
Are you looking for a core math curriculum or a supplemental / tutoring program?
What sort of reports do you want to see as a parent?
What is your budget for math?
What grade level is your child working at?
Does your child learn best by reading, watching, or listening?
Will you be using the math program on a tablet / smartphone or desktop computer?
All of these online math programs have free trials available. I highly recommend signing up for the free trial and testing out the program with your child before purchasing any subscriptions. You should also look for placement or diagnostic tests and have your child do at least two to find the right level to place them in.
To find out more about each of the programs below, click the link or logo to read my full review. I also recommend exploring the program's website to learn more about their approach to math and teaching.
Online Math Programs
Teaching Textbooks

Highlights: Teaching Textbooks 3.0 has a simple interface and structured lessons, with quizzes every ten lessons. Each lesson includes video tutorials and interactive practice questions. There's also a PDF textbook available.
We realized that independent learners needed a product that contains the maximum amount of teaching, so a Teaching Textbook™, with 120-160 hours of teacher instruction, is both a teacher and a textbook combined into one. And the teaching isn't just abstract lectures either. There are down-to-earth, audiovisual step-by-step explanations for every single one of the almost 3,500 problems in the book. Using a Teaching Textbook™ is like having a friendly tutor available at the push of a button, but for only a fraction of the cost!
Grades: 3 – 7, algebra, geometry, and pre-calculus
Reporting: Login to parent portal to access student grades, pause subscription, or turn off hints and second chances.
Cost: $43.08 to $67.08 per year OR course. There's also a large family rate of $199.08 for 4-8 students.
Core curriculum: Yes
More: Teaching Textbooks is also available as a CD-ROM and textbook, if you have poor internet connection.
My thoughts: Sunshine is currently working through her second course with Teaching Textbooks. This has been our preferred math program for its structure and distraction-free interface.
---
CTCMath

Highlights: CTCMath includes video tutorials and interactive practice questions or printable worksheets; all lessons are under 10 minutes long. Student can choose topics and work at their own pace.
Some teachers can take upwards of 15 minutes teaching even a simple concept. It's so boring it could send a whole army to sleep. Far better, and this is the method I prefer, is to teach the concept in about 4 minutes, and get the kids to practice it for the next 11 minutes. Same 15 minutes. But this time around, the kids have actually learned something. And have a much greater chance of recalling it later on. ~ Pat Murray, CTCMath instructor
Grades: K – 12
Reporting: Parent receive weekly email about child's progress.
Cost: $148.50 per year for a family membership with unlimited access to all grade levels.
Core curriculum: Yes
My thoughts: CTCMath gives great value for your money if you are homeschooling multiple kids or if your child is working at different levels in different areas. Independent kids may enjoy choosing their own topics each day, but parents may need to provide guidance to ensure that kids cover everything.
---
Smartick

Highlights: Smartick is a tutorial prgoram that encourages kids to practice math skills everyday. Children earn "ticks" by completing their practice questions and can then use their ticks to purchase accessories for their avatar and online playroom. Includes fun math games.
Grades: ages 4 – 14
Reporting: Parents receive weekly email about child's progress.
Cost: $50 per child per month. Multi-child discounts available.
Core curriculum: No
My thoughts: Smartick is a fun way to encourage your kids to keep learning math over the summer. Looking for a way to make screen time educational? Get a Smartick subscription. We haven't used this program for about a year but my girls still talk about it.
---
Math Seeds

Highlights: Math Seeds comes from the creators of Reading Eggs and is an excellent way to introduce kids to math. With fun characters, songs, games and activities, children enjoy learning math concepts.
Mathseeds is a comprehensive online mathematics program. It offers a huge range of carefully structured lessons and activities that build mathematical skills over a broad range of number, shape and measurement topics. The program is packed full of enjoyable child-focused activities that makes learning a rewarding and meaningful experience.
Grades: ages 3 – 9
Reporting: Parents receive weekly email about child's progress.
Cost: $49.95 per year for unlimited access to Math Seeds and Reading Eggs.
Core curriculum: Yes
More: Math Seeds also has an accompanying workbook available.
My thoughts: We are huge fans of all the Reading Eggs products. Jade (age 6) has been doing Math Seeds this year and loves it; she jumps at the chance to do math and often spends extra time exploring the Math Seeds songs and games.
---
Starfall

Highlights: Starfall is a preschool app that includes phonics, stories, games, math and more.
The program emphasizes exploration, play, and positive reinforcement—encouraging children to become confident and intrinsically motivated. Starfall is an educational alternative to other entertainment choices for children. As a child, Stephen had difficulty learning to read due to dyslexia. He wanted to create a website with untimed, multi-sensory interactive games that allow children to see, hear, and touch as they learn.
Grades: preschool to Grade 3
Reporting: none.
Cost: $35 per year per home. App is free to download; membership unlocks extra games and activities.
Core curriculum: No
My thoughts: This could be used as a core curriculum for preschoolers (who can explore and have fun), but I would recommend it as a supplement for Grades 1 on. Jade and Joey love playing Starfall; Jade (age 3) has learned her alphabet thanks to this app, and Joey (18 months) can find his favourite songs to watch in the app.
---
Matific Galaxy

Highlights: Matific Galaxy is a math-based computer game set among planets and aliens. Kids complete challenges to earn "pixels" and accessories for their online avatars. Games are fun and encourage kids to keep playing to earn achievement awards for trying again, playing longer, logging in multiple times a day, and more.
Matific is an award winning online math program, which is aligned to your child's school curriculum. It's fun, interactive and educational math activities will give your child the boost they need to excel in school. Matific episodes lay the foundations for a deep understanding of math concepts and insights, allowing your child to build their math confidence at their own pace.
Grades: K – 6
Reporting: login to parent portal to see child's progress.
Cost: $25 per year for single grade, $50 per year for unlimited access
Core curriculum: No
My thoughts: Matific is another great option for supplementing your core math curriculum. If your child needs a bit of extra math practice, or struggles with math, Matific Galaxy can help. Lily (grade 4) loves playing Matific and has completed half of the episodes in just a few weeks.
---
Study.com

Highlights: Study.com is an all-in-one website that offers thousands of courses on nearly every school subject available. Search by subject, grade level, or goal to find the best courses for your child.
Build the best homeschool curriculum for your family with Study.com. Our online curriculum is skillfully crafted by the best teachers to help you meet your child's education goals. Complete with video lessons, auto-graded assessments, and on-demand help from expert instructors, our self-paced courses create the perfect custom learning path.
Grades: 3 – 8, algebra, geometry, and pre-calculus
Reporting: unknown.
Cost: $59.99 per month with a 45% annual discount for homeschoolers. 30-day money-back guarantee.
Core curriculum: Yes
My thoughts: I've looked at Study.com for future ideas, as a way to help my children complete high school and start earning college credits or prepare for university. Study.com does offer classes for students as young as Grade 3. If you're wondering how to teach higher-level subjects that you aren't very good at (like math!), then the instructors and support at Study.com could be a huge help.
---
Big River Academy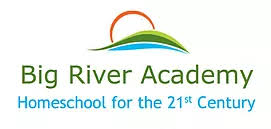 Highlights: Big River Academy offers live, online classes where kids meet once a week online in class and complete assignments during the week outside class. Children get used to attending class, reporting to a teacher, and can make friends in a safe online environment as well.
We have quality live classes for both middle and high school children. Your child will hear our voices, see our faces, and we will know them. Our students are a part of a learning community which meets in a live classroom weekly with separate office hours.
Grades: algebra 1 (Grade 9)
Reporting: speak to the course teacher.
Cost: $200 per semester.
Core curriculum: Yes
My thoughts: Big River Academy currently only offers one math class. However, your child has the chance to connect with a real teacher and ask questions in class, interacting with others. This interaction may help facilitate more learning than simply watching a video online with a faceless instructor.
---
A+ Interactive Math

Highlights: A+ Interactive Math provides comprehensive math programs for homeschoolers as well as students in traditional schools. Their online interactive learning platform provides everything students need to excel in math, shore up any math gaps, get back on grade level, or whiz ahead by working at their own pace.
Grades: Grades 1 through 8, Pre-Algebra and Algebra
Reporting: program tracks student progress and provides easy to read reports.
Cost: $149 per year per family (up to 10 students)
Core curriculum: Yes
My thoughts: A+ TutorSoft is a multi-sensory curriculum that incorporates audio, visual and text. It engages children and makes learning math fun instead of boring or daunting.
Have you used online math programs with your child? Which would you recommend, or what tips would you offer for choosing the best program for your child?