Math wasn't my favourite school subject when I was a homeschooler, and it's not my daughters' favourite subject either. When we had the chance to review a new math program lately, I jumped at it and it's been a huge success! Here's why we love the Teaching Textbooks 3.0 homeschool math curriculum.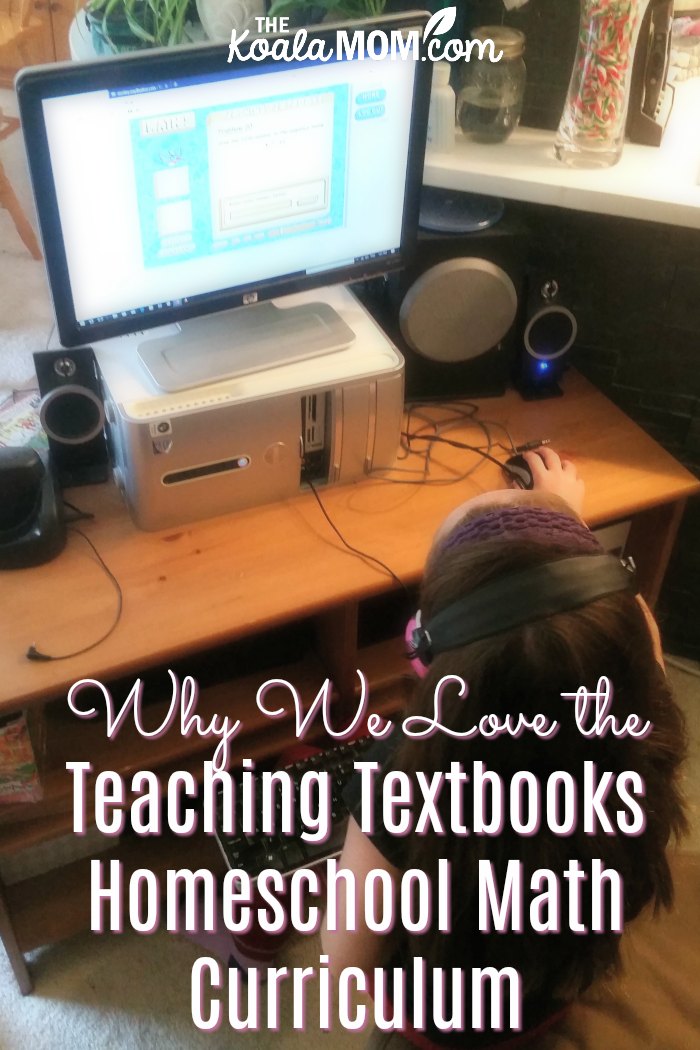 I received two 1-year subscriptions and compensation for this post; all opinions expressed are my own.
Getting Started with Teaching Textbooks 3.0
Teaching Textbooks 3.0 is an online subscription-based math curriculum. The girls simply login to their account each day and do their lesson. All teaching materials are on the website, including an e-book to supplement student learning.
Before Sunshine and Lily started using Teaching Textbooks, we did the placement tests. I printed the Grade 5 test for Sunshine and the Grade 4 test for Lily, then scored it using the answer key. Each of them did well on their tests.
While they may not like math, they haven't had difficulties with it. They continue to find math easy with Teaching Textbooks 3.0. I'm tempted to give them the placement tests for the next grade level and see if they should be working at a higher level, as Jamie's kids are.

Advantages of an Online Math Curriculum
As a homeschool mom with five kids,  Teaching Textbooks 3.0 has made my life a whole pile easier. When it was just Sunshine and Lily in school, it was easy to  do a math lesson with them each day. Now that Jade has also started doing math, and I'm trying to keep a toddler and a baby busy at the same time… well, getting all the lessons done (plus everything else on my to-do list!) was creating huge stress for me.
While I want to enjoy doing school with my kids, it was time to admit something wasn't working. Math was creating a huge stress for me, between the time it took to do the lessons and mark the work, and the girls' protests against doing it.
Changing to Teaching Textbooks 3.0 has made a huge difference for us. I'm not spending as much time helping them with math, so we have more time to do other things together. They no longer complain about math or argue with me about doing it, so that's another win in my books.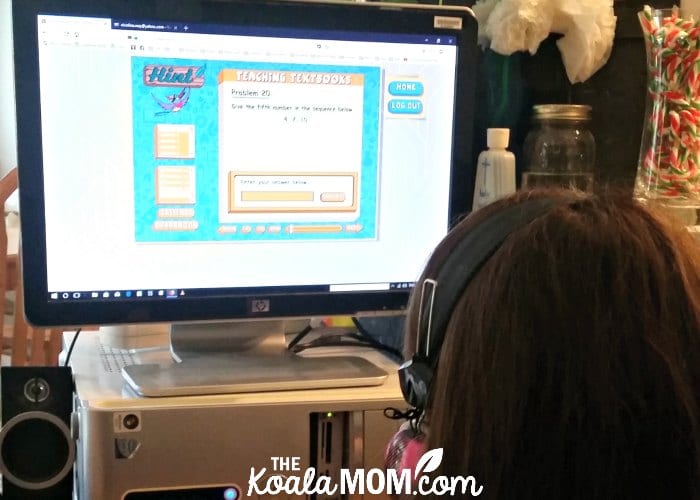 Teaching Textbooks has a big, friendly hint button if the student is having troubles. This has eliminated a lot of "I DON'T KNOW HOW TO DO IT!!!" tantrums. (Somehow it's easier to hit "HINT" than to ask Mommy for help with a problem.) As a parent, you can turn this option off for your student (if, perhaps, they are relying on it too much instead of trying the problem first).
After each problem is completed, Teaching Textbooks shows the right answer. I love this instant feedback on the problem, as I feel it helps the girls learn better than reviewing wrong answers later in the day. Students get two chances to answer a question correctly before Teaching Textbooks shows them the right answer. You can also turn off this option if you want.
Each problem has a note about which lesson it was originally covered in. If a student is having troubles with that problem, or really can't figure out the answer, they could hop back to the lesson (in the left navigation bar) to redo it. Teaching Textbooks uses a spiral teaching technique, so children are constantly reviewing materials they've covered before while learning new materials.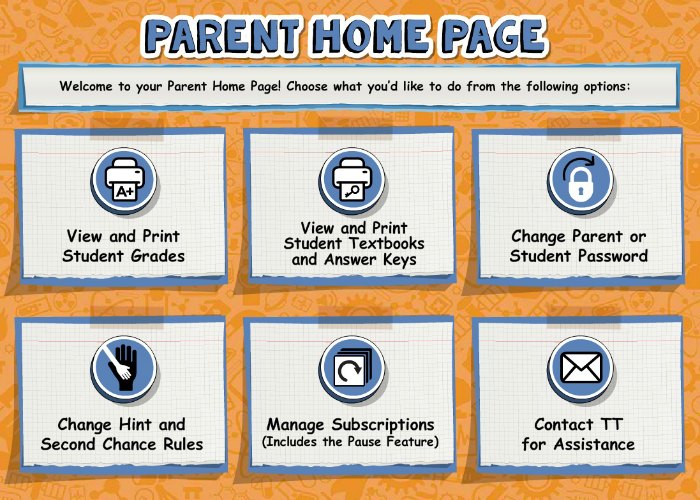 Teaching Textbooks 3.0 has helped eliminate some struggles between me and Sunshine (going into Grade 5). She really likes using the computer to do her schoolwork, rather than copying out math problems by hand into a notebook. (We had a lot of struggles about me telling her to show her work and to write neatly; now that she's typing it into the computer, she doesn't have to worry about her handwriting or writing it all out!).
More about Teaching Textbooks 3.0
Another thing I liked about Teaching Textbooks is that it's really easy to navigate. We've used quite a few online programs this year. While the Teaching Textbooks website may look a bit dated or simple, I appreciate that. I can quickly find the information I need. In the Parent Home Page (above), it's easy to view the girls' grades, print the e-books or answer keys for them, change passwords (because yes we forget passwords on a regular basis), etc.
In the Student Dashboard, the girls can see their own grades and change their "Buddy" (Sunshine has the hummingbird below) and wallpaper. That's all they can change, which keeps them from playing around too much (instead of doing math).
They can also pick their lesson for the day. Teaching Textbooks 3.0 doesn't indicate which lesson they've completed (until they click on it). If your child is finding math super easy, you could have them work ahead.
I noticed that Sunshine was getting 100% on all her practice questions, so I realized she wasn't being pushed enough. I suggested that she do the tests, which she whizzed through. When she hit some questions that she didn't know, she went back to complete the lessons.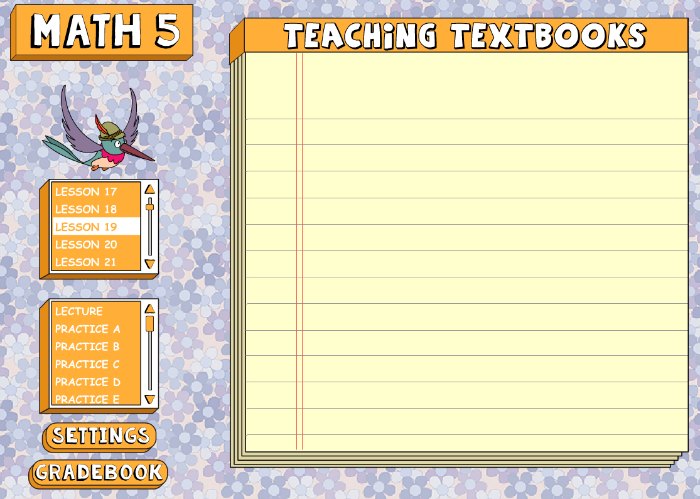 Lily (going into Grade 4 this year) says Teaching Textbooks is "a cool, fun way for kids to learn math."
Choosing a New Math Curriculum for Your Child
When I asked in my homeschool Facebook groups for suggestions about how to make math more interesting for the girls, several other moms recommended Teaching Textbooks. I was still thinking about what to do for math next year, and reading math curriculum reviews, when Teaching Textbooks reached out to me about a review.
I had Sunshine try a few lessons before we agreed to sign up for the year. She liked it and agreed to try it. I didn't plan to keep doing school through the summer, but that's what we've done! Both Sunshine and Lily have been happily doing a Teaching Textbooks lesson every day for the past month.
If you want to try out Teaching Textbooks 3.0 with your child, it's easy! Just sign up for their free trial and let your student do a few lessons.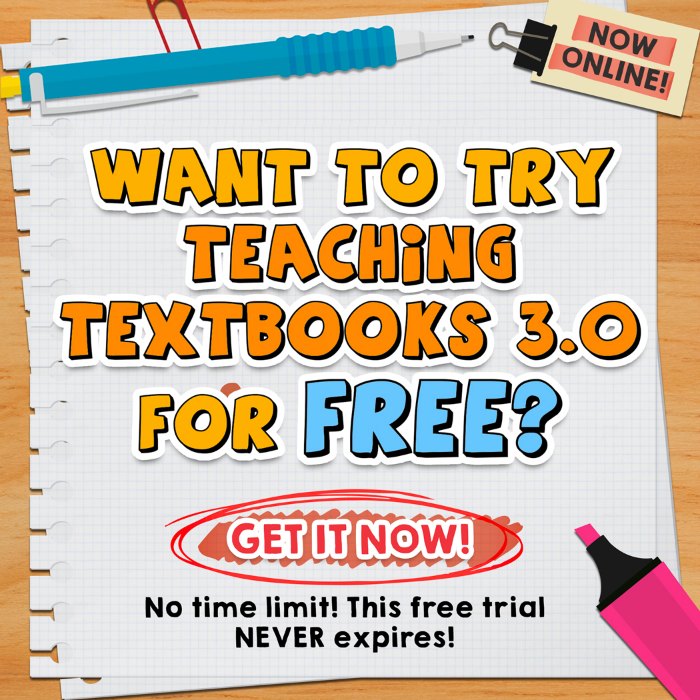 Teaching Textbooks 3.0 covers Math 3 – 7 and then Pre-Algebra, Algebra 1 and 2, Geometry, and Pre-Calculus. The online portal works on PC and Mac as well as tablets or phones (if you're doing school on the go).
One of my concerns about subscription-based curriculum is the price. Paying once for a textbook that all the girls can use is cheaper than paying for a subscription for each of them. So I was really happy to see that Teaching Textbooks understands big homeschooling families. They have a large-family plan if you're homeschooling multiple students (as I will be in a couple years when Jade can start Math 3!).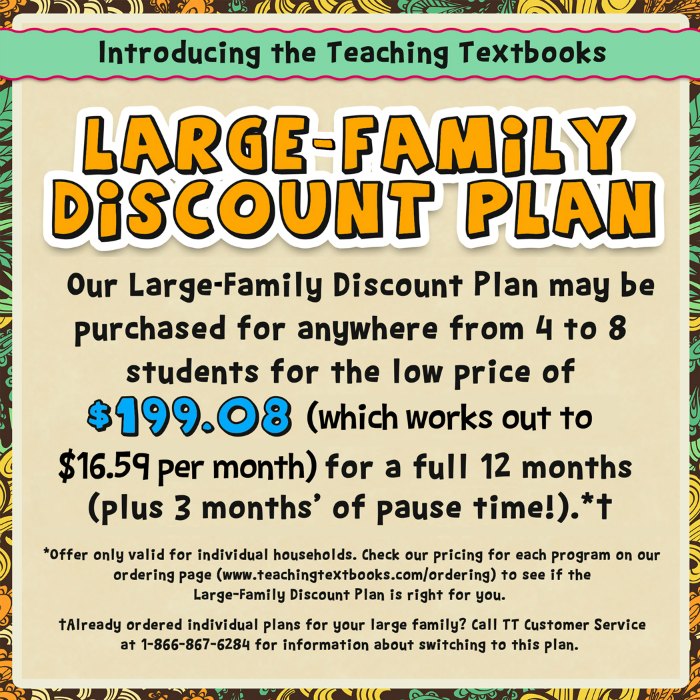 Teaching Textbooks 2.0
If you prefer physical materials (or haven't got a good internet connection), Teaching Textbooks 2.0 is still available. You can order the textbooks and CDs as a set or individually for your student to use. (Just click the grade level you want and scroll down to the bottom to order.)
Quite a few of the Teaching Textbooks reviews I read were about students using the textbooks and CDs, and still loving the curriculum. You can decide which method of learning—computer or book—would fit your child best and still access the same great, kid-friendly curriculum either way.
Check out my big list of online math programs to see which is best for your child!
If you've tried Teaching Textbooks 3.0, let me know what you think about it!