Math is a skill required in many areas of life. Unfortunately, it's also a rather dull subject to learn, especially in upper elementary. I remember struggling with math as a child and my daughters, unfortunately, have taken after me instead of Daddy in this area. We've tried several different math programs to try to engage the girls and reduce math frustration. Sunshine is now using CTCMath, an online homeschool math curriculum I've heard great things about.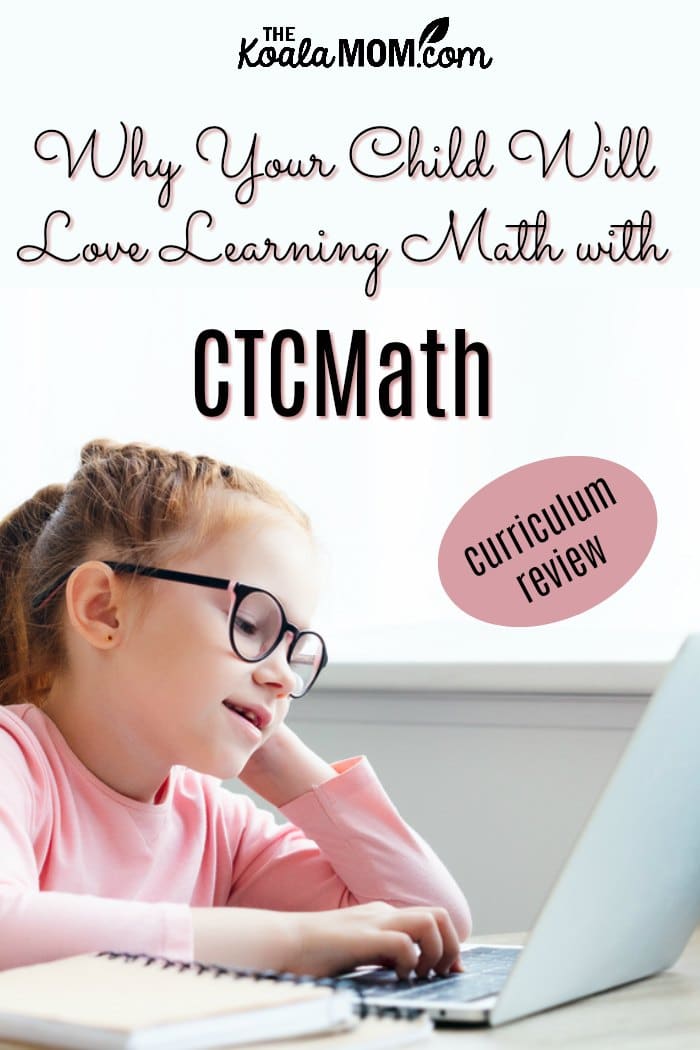 We received a complimentary 12-month family membership for this review. I was compensated for my time reviewing CTCMath, writing this review, and hosting the giveaway. All opinions expressed are my own.

Up until this year, I've used textbooks and workbooks for the girls' math. This was creating a huge struggle between Sunshine and I. This year, we've switched to using an online homeschool math curriculum for her. She prefers the independence and not having to write out all her math problems.
CTCMath offers a 12-month family membership that gives you access to all grade levels for your child(ren). Sunshine is working through the Grade 5 lessons, but I appreciate the fact that I can move to her more advanced topics in areas she's flying through or have her go back a grade level in areas where she's struggling.
What a CTCMath Lesson Looks Like
CTCMath is very user-friendly and easy to navigate. Sunshine logs into her home screen to view her grade level and lessons: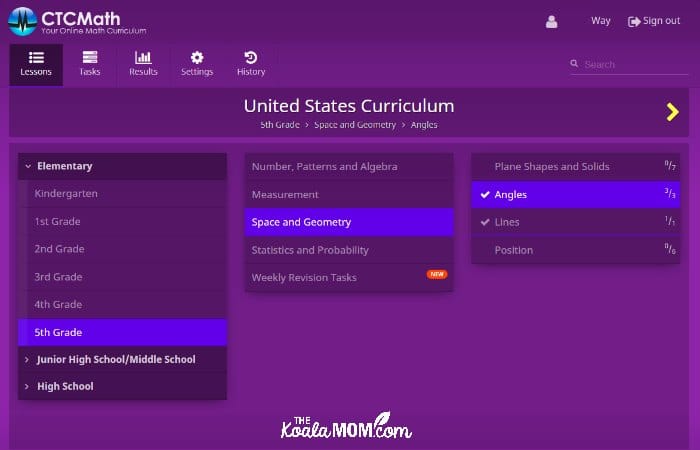 5th grade math is divided into four topics:
Numbers, Patterns and Algebra
Measurement
Space and Geometry
Statistics and Probability
Depending on your child's learning style, you can let her pick and choose which topic she works on or have her work through the topics one at a time. Sunshine started with Space and Geometry. She prefers to finish one topic before moving onto another. For children who are easily bored with math, the ability to choose topics helps them stay interested.
Tutorial Video
After picking her topic, Sunshine watches the tutorial video. This includes on-screen demonstrations of the topic, so students can easily see the math concepts. For some topics, these animations are much more effective than trying to interpret drawings in a textbooks.
Every tutorial is written and voiced by Pat Murray. He's been teaching math since 1989 and has ten kids of his own. Pat presents concepts in the simplest, most logical way possible—and keeps each lesson under ten minutes. His friendly voice, along with graphics and animation, help students remember what they've learned.
"Some teachers can take upwards of 15 minutes teaching even a simple concept. It's so boring it could send a whole army to sleep. Far better, and this is the method I prefer, is to teach the concept in about 4 minutes, and get the kids to practice it for the next 11 minutes. Same 15 minutes. But this time around, the kids have actually learned something. And have a much greater chance of recalling it later on." ~ Pat Murray
Interactive Questions
The lesson is followed by interactive comprehension questions, where students are given immediate feedback. I've found this helpful for Sunshine, as she can see right away whether she understands the concepts (and apply that to the next practice question).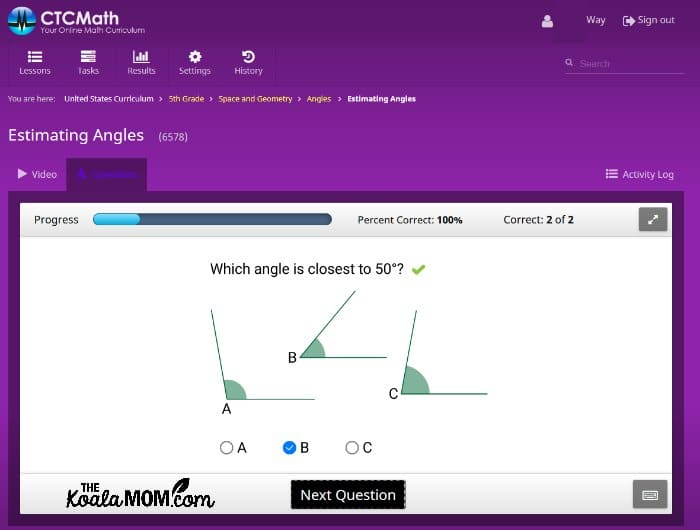 One tutorial and question set takes Sunshine about ten to fifteen minutes to complete. I've heard it recommended that math shouldn't take more than about twenty minutes per day (though I spent an hour a day on math as a child!). Spending a lot of time on math, or on math problems, reinforces the idea that math is hard and frustrating. CTCMath offers clear, concise lessons on each topic and just enough questions for students to practice what they learned.
Learning Summaries
Once Sunshine has completed her questions, she gets a results page like this: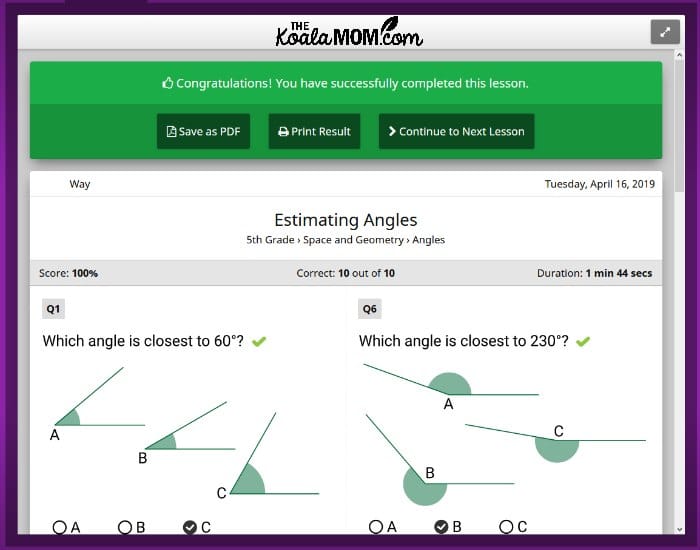 This is a lesson she did really well on (angles are kinda fun). You can see it took her just under two minutes to complete ten questions. If she's gotten questions wrong, it's easy to review them here. Sometimes I go over this part of the lesson with her, and discuss the wrong answers together. For one question, she'd simply answered too quickly, without looking at it carefully.
Redo and Review
One thing Sunshine likes about this homeschool math curriculum is that she can rewatch the videos and redo the questions at an time. If she gets less than 100%, she likes to go back over the practice to try to do better. Here's the lessons on Angles, with her results: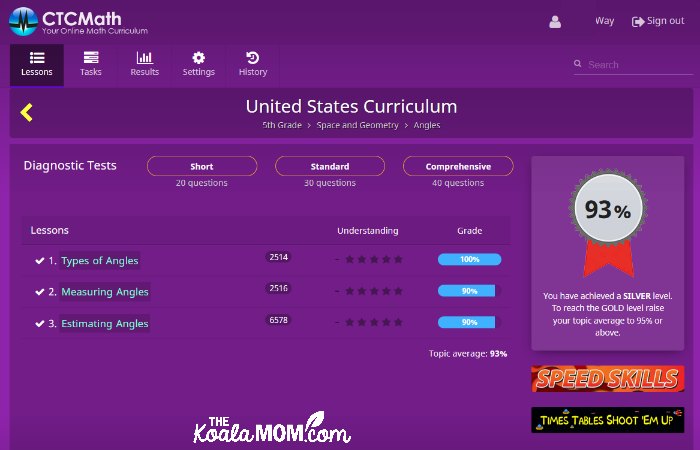 You can also assign Weekly Revision Tasks to your students. This is like an overall review session. Because Sunshine tends to focus on one topic at a time, I like having the review sessions to get her working on other topics or make sure she's not forgetting things she's learned.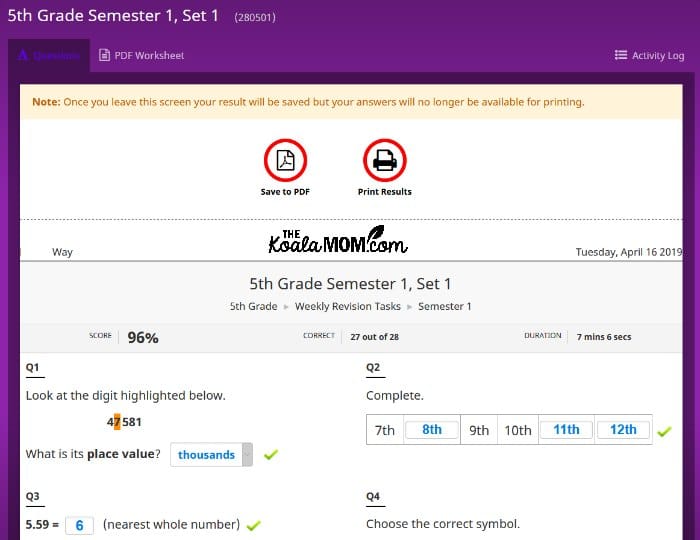 Marking and Reports
Lesson Results and Weekly Revision Sessions can also be printed as PDFs or saved. These make it easy to show a homeschool teacher for reporting or record-keeping purposes.
As the parent, I get an emailed weekly report about Sunshine's lessons. Weekly reports show how many times she logged in, how many lessons she completed, etc. I also get an email if she's completed a topic and earned a certificate. For example, here's Sunshine's first certificate:
Congratulations Sunshine! You have received a new Silver Certificate for successful completion of the topic Chance from the 5th Grade course. Please find your certificate attached.
Getting Started with This Homeschool Math Curriculum
If you think your child may enjoy CTCMath, you can sign up for a free trial. This is a great way to check out the website and lessons and see what your child thinks of an online homeschool math curriculum.
CTCMath offers a diagnostic test for students. You can choose how many questions the test has (10 to 30). Once your child is done, you'll have a better idea where to place them in the online curriculum or what they need to work on. I always start a new math curriculum by doing the diagnostic or placement test.
What We Like about CTCMath
Easy-to-use online math curriculum
Instant feedback on math problems
Clear, concise video math lessons on each topic
Flexibility in which grade level and math topics child can study
Diagnostic tests to start child
Weekly revision tests to check knowledge
Progress tracking for record-keeping or reporting to homeschool teacher
Students can repeat any lesson or video to improve scores and knowledge
Video lessons make learning more accessible for audio/visual learners
Other Thoughts on CTCMath
Students have great flexibility to choose their topics in CTCMath, but this also means the program is less structured. There were times when Sunshine logged in and didn't seem to know where to start. You may need to spend more time planning math and telling them what to work on each day. Or, if your child is a self-motivated learner, he may enjoy diving into the topics at his own discretion.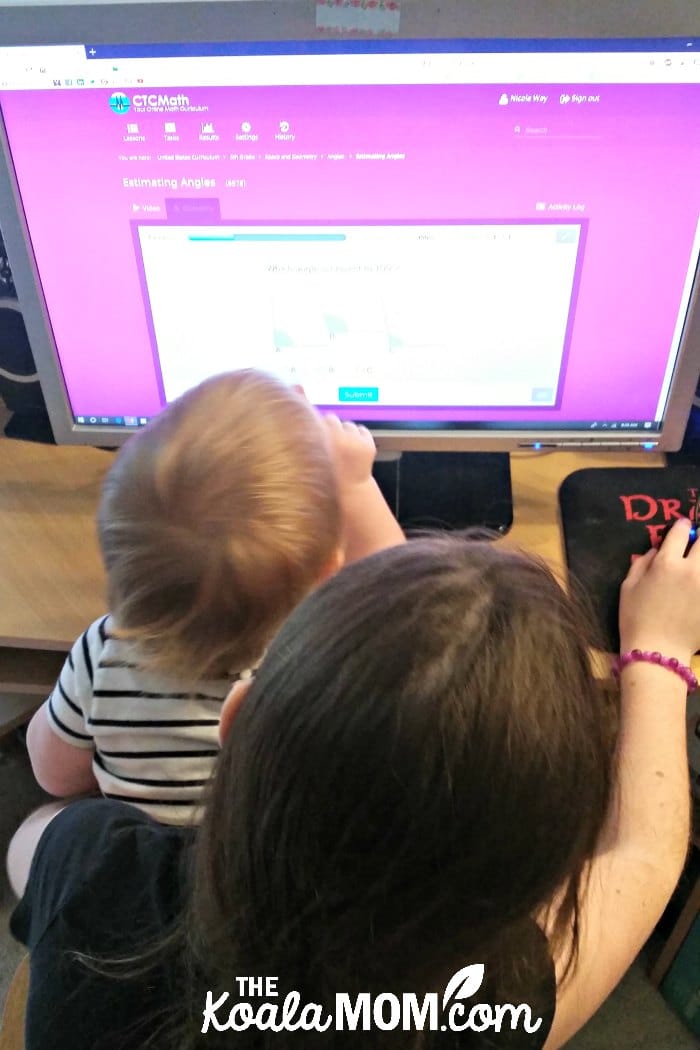 More about CTCMath
CTCMath is a great value for homeschoolers, who get 60% off the regular price. Purchase any 12-month family membership and receive a bonus 6 months for FREE! You'll get unlimited access to all lessons across all grade levels. Students can work at their own pace, as fast as they want or as slow as they need to.
Follow CTCMath on Facebook, Twitter, Pinterest, YouTube, and Instagram for more testimonials, inspiration, and math humour.
"It's both very rewarding and a challenge having a large family and certainly gives me an insight into some of the difficulties parents encounter with raising and educating their kids. I would never claim to be an outstanding parent—I'll let my kids be the judge of that (once they reach about 30 years of age and hopefully have some kids of their own). However I am happy to recognise and acknowledge that I have been given a genuine gift to help as many kids learn math as I possibly can." ~ Pat Murray
If math is your child's least favourite subject, an online math curriculum like CTCMath can help make it more interesting. Children who struggle with reading may appreciate the video lessons, where concepts are spoken and demonstrated on screen. Instant feedback helps students see what they misunderstood and correct it immediately. Sign up for a free trial today!
Check out my big list of online math programs to see which is best for your child!
What homeschool math curriculum do you use? Have you tried CTCMath?