One of the biggest concerns among homeschool parents is how to help their children get into university. While many universities now accept homeschoolers, parents worry homeschooling may limit their child's future education. As a homeschool graduate with no high school diploma and two university degrees, I know it's possible to succeed as a post-secondary student. One way you can help your homeschool student prepare for college is by using resources such as Study.com.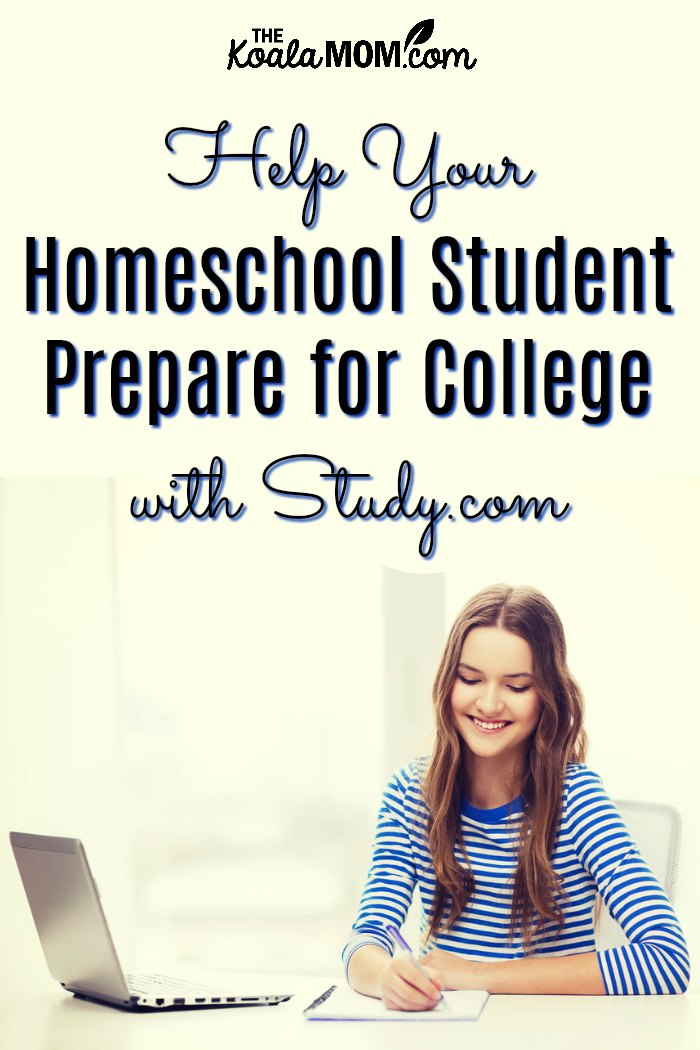 Study.com is an education company dedicated to making education accessible. Students can access online courses to improve grades, prepare for university entrance exams, and earn college credit.
I received compensation for this post; all opinions expressed are my own.
Study.com provides evidence of college readiness
Homeschool students often receive a better education than their public school peers. However, they may not have proof of their advanced schoolwork. Study.com can provide your student with outside evidence of their college readiness. Your child will be able to provide test scores and paperwork from a third-party source, rather than just mom's word about schoolwork.
I don't have a provincial high school diploma or dogwood. What got me into my first undergraduate degree was my transcript of marks. I studied at home and then challenged five high school diploma exams—Chemistry, Biology, Math, English, and Social Studies. I aced the English exam, thanks to my avid reading abilities and strong writing skills. However, I struggled on the other exams. There seemed to be a big gap between my studies and the test questions. Having a resource like Study.com would have been a big help.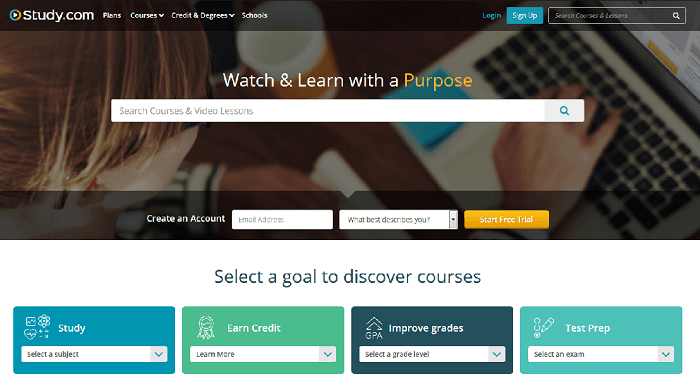 Jessica from Life as Mom shares how online classes, standardized tests, and college-prep coursework helped her homeschoolers prepare for college. All these can be found in one place on Study.com. While many homeschoolers shy away from standardized testing, it can be helpful in the upper grades. Jessica says, "I've signed my kids up for standardized testing every few years. This gives us documentation of their progress as well as a guide for where we need to fill in the gaps. Additionally, regular testing has acquainted them with an institutional test setting that is quite different from taking a test at home."
Study.com helps homeschool students complete CLEP courses
Study.com also offers College Level Entrance Program courses and exams. This caught my attention immediately, because both my dad and my husband have talked about homeschooling to get ahead. Education takes a long time. Being able to do high school and university at the same time could jump-start your child into a career or other opportunities. CLEP is a great way to do this, as students can get real college credit for over 30 courses in a fraction of the time.
CLEP could also help your homeschool student prepare for college by giving them advanced standing. For example, I was accepted at the University of Victoria as a second-year student thanks to my B.A. in English. The writing program at UVic is very small and very competitive. Hundreds of students take the required first-year writing course, but only a few dozen are accepted into the second-year workshops.
Because of my advanced standing, I was able to register for the workshops ahead of other students. This let me complete my degree (part-time) in four years. Others who did Writing 100 with me weren't able to get into the second-year workshops and had to wait a year, thus spending five years on their degrees. One student in my cohort had done previous courses at another university. Like me, he had advanced standing and was able to register ahead of other students.
Study.com helps students lower post-secondary costs
Let's face it: post-secondary education is expensive. My husband and I completed our first degrees without debt, but we're still paying off the student loans from our last degrees. We've already started RESPs for our daughters, but we also expect them to pay for some of their education themselves. Taking CLEP or DSST exams to get advanced standing at a university would save them money on their post-secondary education.
The university-level classes on Study.com could also help students decide what they want to do. I saw a lot of first-year students, in both my degrees, who weren't sure what they wanted to study. They were at university because it was expected of them, but they were taking a variety of courses just to see what interested them. Often, their indecision resulted in wasted time and higher post-secondary costs. If your child isn't sure what he or she wants to do at university, staying at home and doing online courses may be a good way to explore for a lower cost.

Help your homeschool student prepare for college
Study.com can help your homeschool student prepare for college through CLEP courses, study guides, pratice tests, and other resources. They offer a higher score guarantee and the ability to learn on the go. Their CLEP and DSST courses feature video lessons, study guides, flashcards, and practice tests. Because many post-secondary institutions rely on standardized testing during the admissions process, learning how to do tests well and having lots of test experience can help your child get into their program of choice.
Study.com also has thousands of articles to help you make college and career decisions. Students can use their website to compare admission requirements, costs, programs and more at various US institutions. You can also look at the career guide to see what job options are in high demand in your area (or where you want to live).
Start a free trial at Study.com to access all the courses and resources today!
Note for Canadian homeschoolers: CLEP exams are offered in the States and may not be accepted by Canadian institutions. However, the university-level courses and test prep offered by Study.com can still provide your student with valuable experience.