We love being active together as a family. Vancouver offers plenty of recreational activities for families to have fun together. However, some of the activities can come with a big price tag, either for equipment or admission fees. If you're looking for ways to stay active together this summer, here's a list of free or low-cost recreational activities around greater Vancouver.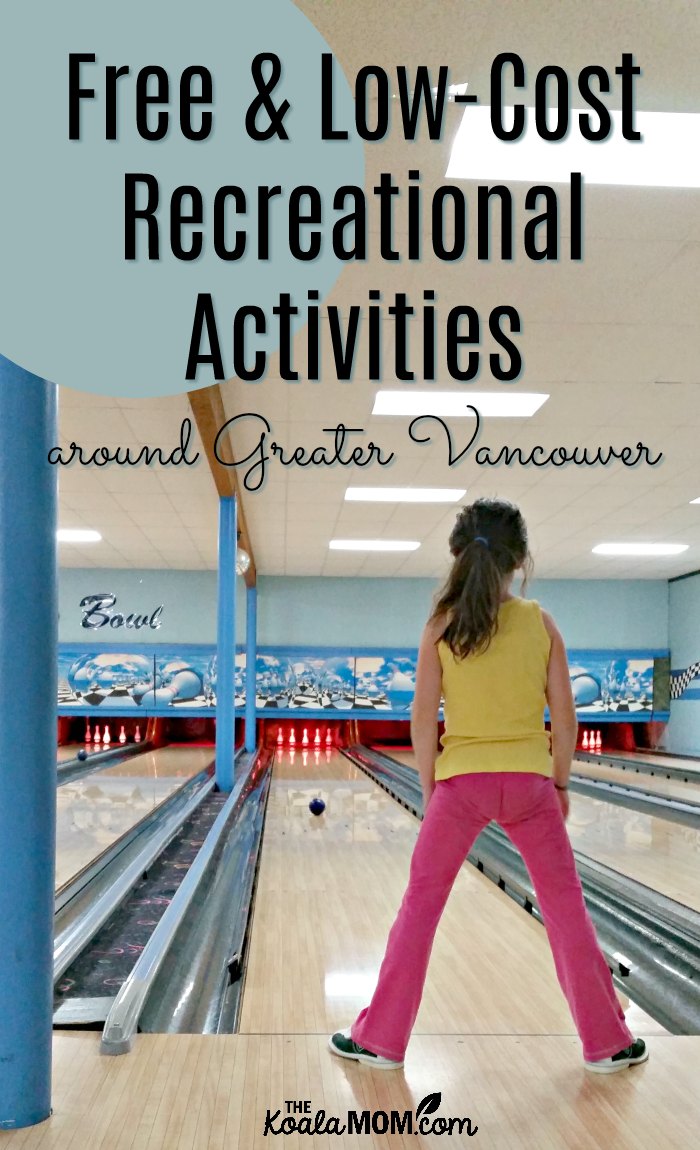 Loonie / Toonie Swims
Swimming is one of our favourite low-cost recreational activities around Vancouver. For a family of seven, however, swimming admission can add up quickly. We've gotten to know our local pools and often drive a bit further to save some money on the swim price.
C.G. Brown Pool in Burnaby has a dollar swim on Friday nights from 6:30 until 8 pm. You're given a wrist band with a specific colour and life guards will kick you out at 8 pm when the swim ends, so make sure you show up at 6:30 to make the most of the swim. Parent child ratio here is 3:1 but the showers get busy at the end of the swim.
Hyde Creek Pool in Port Coquitlam doesn't have a dollar swim, but their family rate is $12. They don't discriminate the size of your family (the seven of us still get in for $12). It's the best deal for a pool that we've found in greater Vancouver, so if we can't make the above swim times, then we'll head to Hyde Creek. (The family deal isn't listed on their website—we first hear about it from friends.)
Outdoor Pools
Hume Park Pool and Moody Park Pool in New Westminster are free on weekends. Hume Park is a little, old pool but it's located conveniently close to a playground, splash park and tennis courts (for more fun before or after swimming!). Moody Park Pool is larger, with a fancy new change room and lane swimming options. New Westminster pools also have a 2:1 child to parent ratio.
Rocky Point Pool and Westhill Pool in Port Moody have a toonie swim every night from 6 to 8 pm. There is a 2:1 parent child ratio enforced here as well. The Rocky Point Pool is deep for toddlers (Jade was able to just barely stand up this summer at age 5) so two adults and some floaties are recommended. The Westhill Pool has a great toddler pool next to the big pool. Both of these pools have outdoor showers so we usually just rinse quickly after swimming.
Tennis
Tennis courts are located close to many parks and recreation centres throughout greater Vancouver. The courts themselves are free to use. You can pick up tennis rackets and balls for a few dollars at thrift stores or secondhand sporting stores.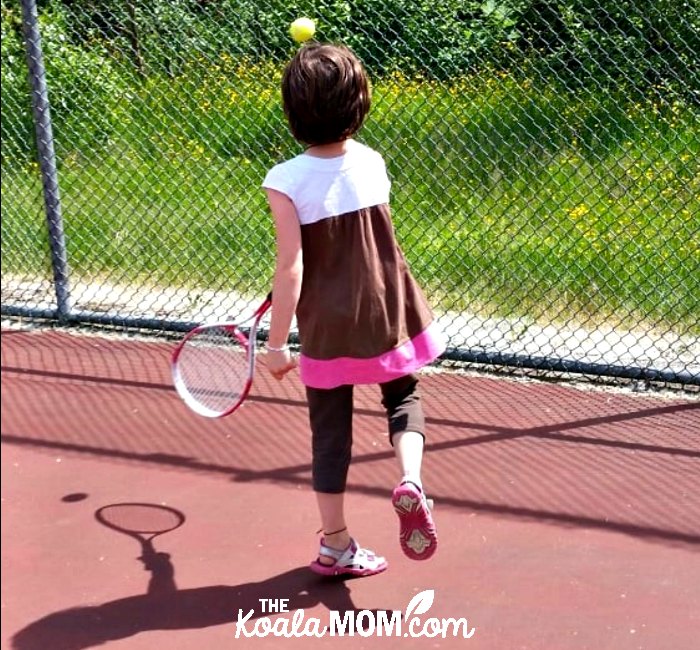 Hiking
One of our favourite free recreational activities around Vancouver is going for a hike. There's a wealth of family-friendly hikes around the lower mainland, accessible for a variety of ages and abilities. You can find hikes that are stroller-accessible, or that offer great destinations such as beaches and viewpoints. Pack snacks or a picnic to keep the kids going. Inviting friends along also makes for a great hike!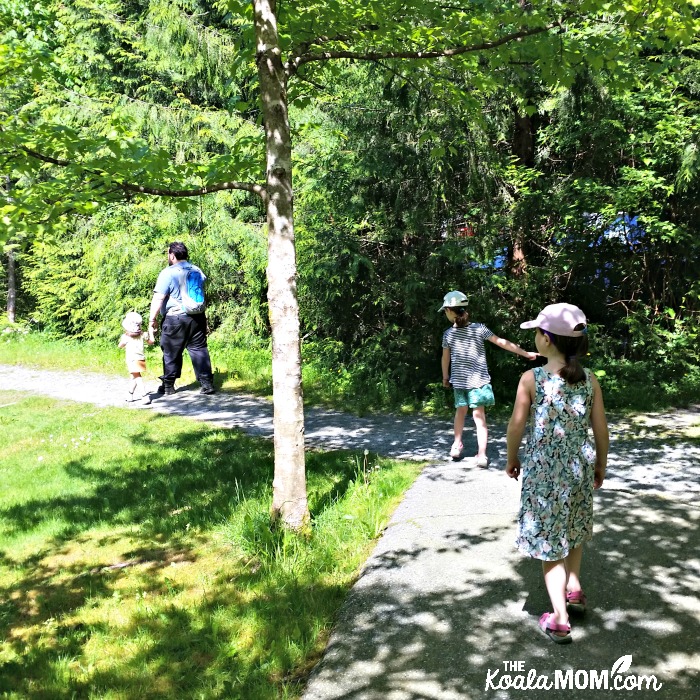 Disc Golf
Disc golf is on our list of things to try this year. All you need is a few frisbees and you can play at several parks around Vancouver. You may want to put your names on your frisbees before starting the course, in case they get lost. If kids are having troubles throwing frisbees, form teams or play for the most points instead of the fewest.
You can find disc golf courses at:
Mundy Park in Coquitlam
Robert Burnaby Park in Burnaby
Eastview Park in North Vancouver
Queen Elizabeth Park in Vancouver
Jericho Hill Community Centre in Vancouver
Bowling
Register at KidsBowlFree.com to get your child two free games of bowling each day, all summer long. Bowling shoes and parents' games aren't included in this price. We've taken the kids and just let them bowl while we coach and cheer. Lanes are on a first-come, first served basis and may not be available on weekends.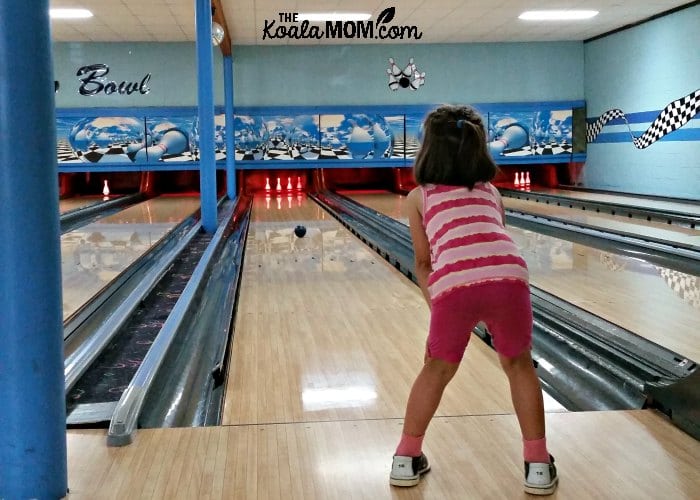 Bowling lanes around Greater Vancouver that participate:
Galaxy Bowl in Abbotsford
Zone Bowling in Coquitlam (new lanes with videos and upbeat music)
Lucky 9 Lanes in Richmond
Grandview Lanes in Vancouver (limited parking)
Port Coquitlam Bowl in Port Coquitlam (small family-run lane)
Dell Lanes and Scottsdale Lanes in Surrey
Biking
We are looking forward to doing more biking this year, now that Joey is old enough to wear a helmet and ride in a bike seat. We've found most of our bikes secondhand or even for free (watch your local used website!) and gotten helmets on sale. (Bike accessories also make great birthday presents!) Plus, biking is a great way to reduce what we spend on transportation (as gas prices rise this summer!).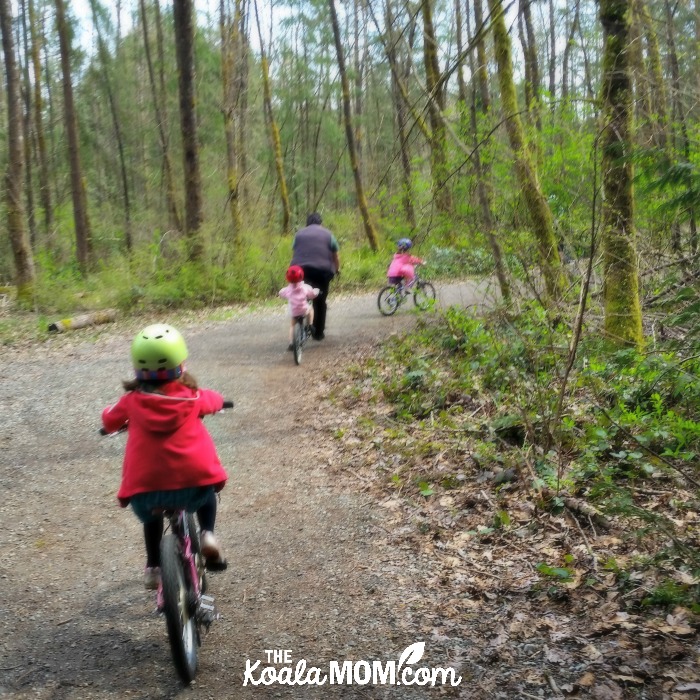 Some of our favourite places around Vancouver to bike include:
Stanley Park Seawall (this can be very busy during summers and weekends)
Shoreline Trail in Port Moody (parking at Rocky Point Park gets very busy, so try to park at the Port Moody Recreation Centre or Newport Village instead)
Colony Farm Regional Park in Coquitlam (flat, gravel trails)
Traboulay PoCo Trail in Coquitlam / Port Coquitlam (start at Town Centre Park in Coquitlam or Lions Park in PoCo and ride along the river)
If your family enjoys mountain biking, there's plenty of options around Vancouver for more adventuresome rides. Burnaby Mountain, Grouse Mountain, and Mt. Seymour all offer a wealth of trails for every ability level.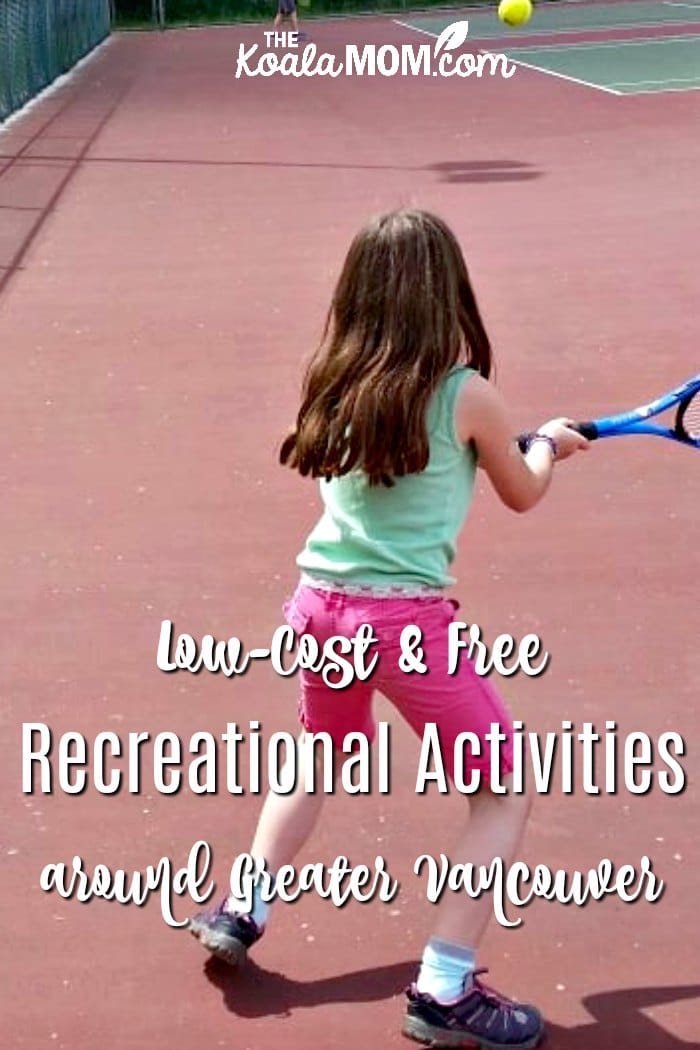 More Low-cost Recreational Activities around Vancouver
Groupon
You can find deals on Groupon for kids sports. I'd recommend setting your budget before looking at Groupon. When you purchase a Groupon for a specific activity, plan when you'll do it. While Groupon honours the value that you spend on it, the promotional value expires so you won't get the same deal if you forget about it or get too busy to use it.
Kidsworld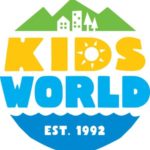 Kidsworld offers passes to a variety of Vancouver attractions for one low price. The pass is for kids ages 4-12 and allows that child to attend an event or visit an attraction for free, along with one accompany adult.
Kidsworld 44 offers one event event per week from September to June.  Kidsworld Summer offers one event per day for July and August.
Local Recreation Centre Guides
Check your local rec centre guides for more low-cost activities around greater Canvouer. Many of the rec centres and cities offer special seasonal activities at reduced rates. Some cities offer an affordable summer pass that gives you access to a variety of activities over the summer for one fee. Look for ads on the city website or at the rec centres.
Vancouver Leisure Access Pass
Vancouver's Leisure Access Pass allows low-income families the financial freedom of having kids participate in out-of-school activities. Qualifying families receive a subsidy, loaded onto a OneCard for discounted access to all Vancouver Park Board pools, rinks, and participating community and fitness centres. (This is available to families who actually live in Vancouver proper, not the surrounding cities that make up greater Vancouver.)
Looking for more ways to keep the kids busy this summer? Check out these FREE learning programs.
What low-cost or free recreational activities around Greater Vancouver would you add to this list?