Mountain bikes make cycling more adventurous for children who like exploring the great outdoors. They allow your active child to hit rougher terrains and cover longer cycling trails. They are designed for steeper and more complicated routes than BMX bikes. Yet amidst all the fun, you shouldn't forget the fundamentals of mountain bike safety tips for kids.
Teaching your child some preventive protocols and the importance of being vigilant reduces risks during their off-road adventures.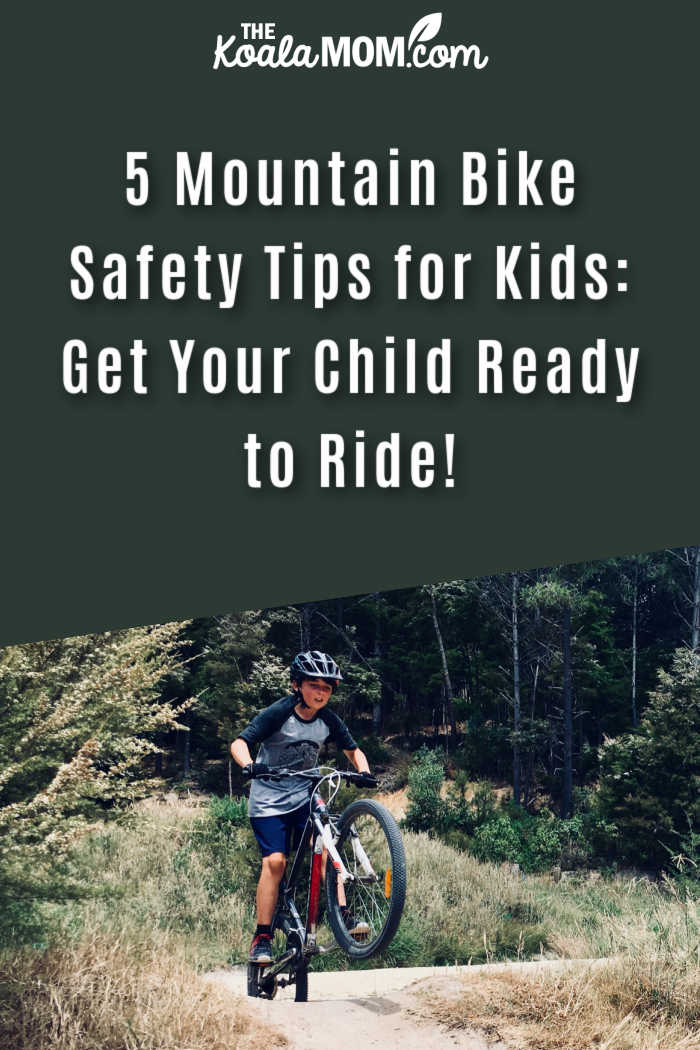 Here's what they need to know:
5 Mountain Bike Safety Tips for Kids
Vuly Play has rounded up the best safety practices for young mountain bike riders. Use our five special rules to ensure that the transition from a regular kid's bike to a more grown-up ride goes smoothly.
Let's begin.
Rule No. 1:  Pick the Perfect Mountain Bike
Nothing is more disappointing for a child than receiving the wrong bike.  If the bike is too small or big, it can make pedaling difficult for your kid. It also increases the risk of sustaining some serious biking injuries. That's because your child might find it challenging to maneuver the bike.
Since mountain biking involves tricky trails, avoid buying a bike that the child will "grow into." Instead, purchase an age-appropriate ride that fits. One way to find the right size is to check if your child's toes touch the ground while seated and if legs extend when your child pedals.
In addition to this, you can refer to a bike size chart for surety.
Rule No. 2:  Practice. Practice. Practice.
Is your child bike ready?
Always ensure that your child has mastered the skill of riding a regular kid's bike before they go on a mountain trail. Age doesn't matter here, as even toddlers can handle a fun-sized mountain bike with the right gear. It all depends on how much experience and practice they have on the bike.
Here are the things your child should know:
Riding in a straight line without toppling over or swerving the bike.
How the brakes work and when to stop the bike
Keeping the bike steady and balanced when they look back to check the road.
Controlling speed when they ride downhill
How to steer clear of obstacles if they come across fallen branches, big rocks, or other objects during the mountain bike ride
In short, they must have a good grip and control over their ride before they take on challenging tracks. Scheduling a few practice sessions (or bike lessons!) can facilitate a smoother switch.
Pedalheads offers bike courses for kids from training wheels to trail rides. Invest in a few lessons to give your child the skills and confidence they need to ride their mountain bike safely and easily.
Rule No. 3: Invest in Sturdy Bike Safety Gear
Exploring the great outdoors often means navigating winding pathways, obstacles, and muddy terrains. Wearing the right safety gear is one of the most important mountain bike safety tips for kids as it minimizes the risk of bike accidents on these unpaved routes.
What every child needs on a mountain trail:
A sturdy and comfortable mountain bike helmet with a visor and extra padding to protect the head from unexpected falls
Biking gloves for a good grip and control over the bike
Safety goggles for protection against sun glare and to maintain visibility during windy or hazy weather
Elbow and knee guards to keep the joints padded and well-protected in case of fall injuries
Add reflectors to the mountain bike for higher visibility during the evening and nighttime rides
Full body armour for younger children to maximize protection
Besides this, you can scroll through mountain bike riding accessories to check if there's anything else your child might need (or want) for the ride.
What's more?
Remember to pack some trail-friendly snacks (i.e. fruits, granola bars, biscuits, sandwiches) and a small water bottle for longer mountain biking trips. It will help your child regain energy when they feel tired. It's especially important for young children who aren't used to long bike rides.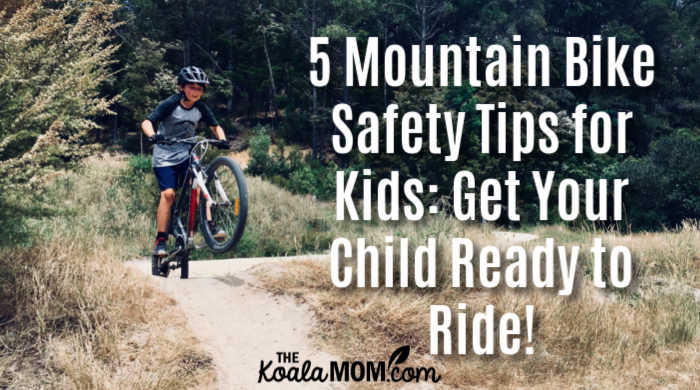 Rule No. 4: Check the Mountain Bike Before Going on a Trail
Always check your biking equipment when you plan a mountain trail trip.  Ask your child to do the same even if they plan to ride the bike just around the neighbourhood.
Assess the bike by testing:
Air pressure on the tires
If the brakes are working properly
Handlebars turn the wheels when the bike needs to be steered
The drivetrain is in a good condition
You should also include a mountain bike repair kit in the biking pack. That way, you (or your child) can handle quick repairs on the spot in case of emergencies. Get your kids to help inflate tires and do other repairs so they learn how to do this if you aren't riding with them.
Rule No. 5: Dress Correctly
Appropriate dressing can be as important as the gear. You need your child to stand out during the off-road trip. Bright-coloured clothes and helmets allow you to watch them even if they have ridden ahead of you. That gives your child the independence to ride the mountain bike in a secure environment.
These outfits also make your child easy to spot by other riders. As a result, other riders can ensure that their bikes come to a halt when they notice a child riding right in front of them. Smart clothing can effectively limit the risks of collisions this way.
Other dress-related mountain bike safety tips for kids include:
Ensure your child wears fitted clothes so that they don't get caught in the wheels or drive train
Avoid sandals, cleats, and flip flops because they don't provide sufficient grip on the pedals
Set aside mountain biking and trekking footwear by choosing shoes with a firmer grip
Make sure their accessories (like shoelaces, backstraps, and drawstrings from pouches) are tied as they can also get stuck in the bike
Besides this, you can add reflectors on the helmet or make your child wear safety vests for extra precaution.
Ready to Go on a Family Mountain Biking Adventure?
In the end, mountain bike safety tips for kids are a good way to reduce preventable risks you might experience on the trail. Make sure you have a first aid kit handy to manage emergencies if they occur. You can also make mountain biking a family outing instead of solo trips during the first few runs. This way, you get to spend quality time with your child while supervising their biking activity.
Have fun!
Ready to get started? Check out these 8 beginner-friendly places to mountain bike near Vancouver!
Have you taken your kids mountain biking? What tips would you share for having fun and staying safe on the trails?
Photo by Darcy Lawrey from Pexels.