During the first summer we were married, my hubby and I biked to work and back together.  It was a 20-minute bike ride or a 20-minute bus ride, and the bike ride was definitely much nicer. Lately, we've also been biking with the girls more often. Getting out on bikes with small kids can be tricky, so here are my tips for biking with children under 5.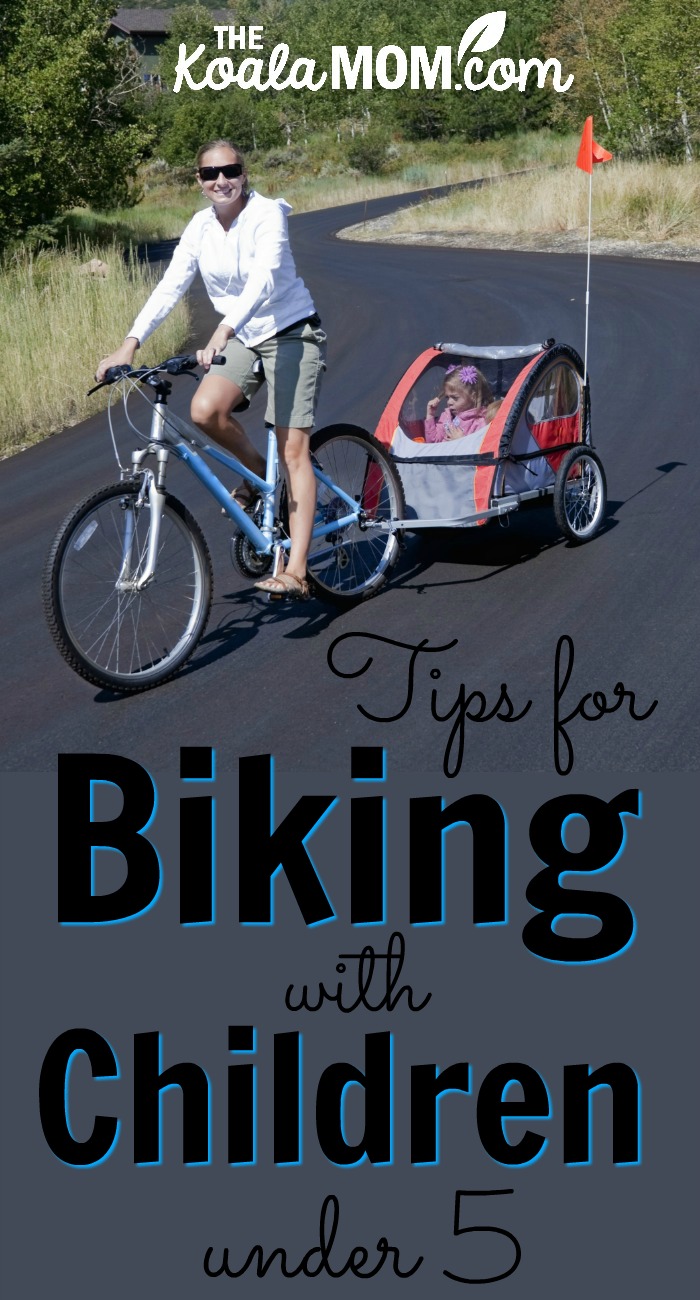 This post contains affiliate links; as an Amazon Associate, I earn from qualifying purchases.
Three Ideas for Biking with Children under 5
Bike Trailer
Just before Lily was born, my aunt bought us a Chariot bike trailer.  She knew my love of biking and did all the research into the trailer, assuring us this was the best.  We both liked the fact it was made in Calgary.  It folds down into a somewhat small size (though it was still impossible to get into our Jeep TJ and barely fit into our Dodge Durango).
We have the double Chariot, which both Sunshine and Lily ride in together. They are skinny girls and find it a bit squishy this summer.  They're used to riding in it, though, so with a few snacks or toys to keep them busy, they are usually happy.  My neighbour tried borrowing it and found her kids wouldn't sit together, so habit does help.
The Chariot bike trailer is super easy to attach to the bike.  We got two hitches so we could easily attach the trailer to either my hubby's bike or mine, depending on who's going out for a ride. We can also take turns biking with children in tow, because the trailer plus two girls weighs about 100 pounds right now.
There are a lot of accessories available for the Chariot. We have the infant sling, which is recommended for babies ages 6 months and older. We also have a jogging stroller wheel for it. When we're not using it as a bike trailer, we can convert it to a double stroller. I like the big basket behind the trailer for stashing those extra things you need to take along—jackets, snacks, diapers, etc.
Baby Bike Seat
Lots of people who are moving out around here leave stuff behind that they don't want to take with them or to a thrift store.  We've scored some pretty great gear, including a kids' bike seat.  I gave it a quick wash and my husband installed it on the back of my bike. Now in the evening, I often go out for a ride with one of the girls behind me.
One night, my husband watched Jade while I took Lily in the seat behind me and Sunshine rode her own bike. When the girls were younger, I could have one in the trailer and one in the bike seat. It created more space for each of them (and less fighting while biking with children). The bike seat gives a better view for the child, but offers less support than the trailer.
If you have one child over 1, the bike seat is a bit easier than the trailer as it's less weight and smaller. However, it does affect the balance of the bike. I've put my 3-year-old in the bike seat, but probably wouldn't put a 4-year-old up there. Follow the recommendations of your bike seat for the age and weight of the child who rides in it.
Trail-a-Bike
Last summer, my husband saw a kids' bike hitched behind the parent's bike.  He spent quite a bit of time researching this online before finding a trail-a-bike for sale secondhand.  Sunshine (age 5) loves it.  She gets to ride behind Mommy or Daddy on a big bike. She can go a bit faster than her own bike, but she doesn't have to worry about balancing or stopping.
I think this helped her learn to ride her own bike this summer.  It also helped with the weight in the Chariot; Sunshine and my husband could ride together while Lily went in the trailer with me.  Lily (age 3) still isn't quite tall enough to reach the pedals on the trail-a-bike, even at the seat's lowest point.  Since then, I've seen lots of other kids out for a ride with Mom or Dad.
Unfortunately, the trail-a-bike and baby bike seat both attach to the bike in similar places, so they can't be used together.
Safety First: Bike Helmets
Of course, all children riding bikes should have proper helmets. Even infants riding in a bike trailer should be wearing helmets. Kids might not like this, but make it a simple rule. No helmet, no bike. As you keep doing it, they will get used to it. You may have to shop around to find small helmets for the younger kids.
Biking with Babies

The biggest problem with all of this bike gear is that none of it is suitable for young babies. The Chariot is the best method for riding with infants, but is recommended only for infants over 1 year. I have used it, when riding slowly on trails behind my older girls, with a baby who was 8 months old (sitting up and crawling already).
Do you go biking with children under 5? What tips would you share?