Over the past several years, we've spent quite a bit of time shopping for new vehicles. From our Durango to our minivans, we've put a lot of thought into the vehicle we drive. Our needs have changed as our family has grown, and I find myself constantly noticing other vehicles on the road. Here are some tips for choosing the perfect family car.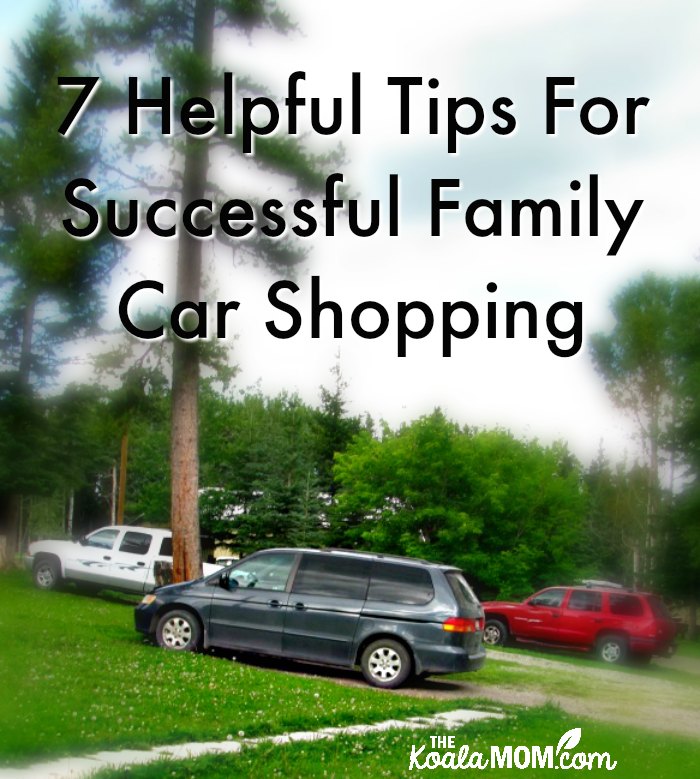 Buying a good family vehicle is not the same as buying a car for yourself. When shopping for your own car as a single person, you could look at what excites you—a funky colour, speed and power, or features like a sun roof or great sound system. However, buying a family car is a little bit different. You will need to look at a few things to ensure that you get the best deal for your family.
1. Do a little research before going family car shopping
Even before you go out for shopping for that car, do some research about the vehicle you have in mind. A lot of research can be done online, through car review sites and manufacturer information. This will give you some background information and help you know the right questions to ask your dealer before deciding which car best suits your family.
For example, we decided we wanted an 8-passenger AWD or 4×4 vehicle. My husband spent hours researching what vehicles fit these requirements. He narrowed our options down two vans (a GMC Astro or a Toyota Sienna) and a few SUVs (including the Dodge Durango we ended up buying). He used websites to look up cargo space, seating capacity, overall vehicle size, and more before we even went to visit any dealerships.
2. Set Your Budget
How much money do you have to spend on a new car? It can be easy to get starry-eyed and excited when looking at new vehicles. Before you get too far into buying a new vehicle, take an honest look at your finances and what you can afford to spend on a new vehicle. Use that number to help you in your research. What vehicle fits your budget?
If you have a totaled vehicle that your insurance company has written off or paid out on, you may already have a good idea how much money you have to spend on a new vehicle. On the other hand, if you are replacing a vehicle simply because it is getting old or is too small or too big for your family, then you can use it as a trade-in (or sell it privately) to help you afford your new vehicle.
Lastly, if you are looking for a second car for your family, you could consider taking out a title loan against your existing vehicle. This company specializes in title loans in North Dakota and explains that laws differ state to state, so you should always look for a reputable loan company in your area.
3. Give the dealership(s) a call
After you are done the research, it is time to give the dealership(s) a call and find out whether the vehicle is in stock. There is nothing as disappointing as going to buy a car and finding out it's not there. To avoid this frustration, call ahead and make a plan for which dealerships you can visit.
You can also ask them if it is possible to get a test drive, and whether there are discounts or offers they have when buying a vehicle. This will assist you in getting the best deal. Selecting the best dealer to buy from is key. For example, some dealerships have sales at various times of the year, offer 0% financing, accept your old vehicle as a trade-in, or offer other incentives.
Once you have put all that in order and you are now ready to go shopping, you can consider going with your kids. This will make them feel part of the process and may help in selecting the best child-friendly car. You can also see how easy it is for the kids to get in and out of the vehicle and buckle themselves in. If you have kids in car seats still, you'll want to make sure their car seats fit into your new vehicle.
4. What to do at the dealership
Once you get to the dealership, check out the car in person. Make sure you get a salesperson to explain and answer any questions you may have before making the final decision. Compare what you are being told with the research you did before. Now you can start looking at the specifics and the interior of the vehicle. Are there rips and tears in the seats? Do the brakes feel good? Can you see any leaks underneath the vehicle? Is there rust on the outside? Does the stereo system work? How about the air conditioning and fans? Test all the lights.
5. Look at comfort while traveling
You want your family to be comfortable while sitting in the car. For them to enjoy that road trip or even just running errands around town, comfort should be at the top of the list. Consider what your family see as comfort and then evaluate whether that car has exactly that. You can ask your family to get in and check out the features, comfort and adjustments in the car.
A few things to ask yourself as you shop:
Are the back seats big enough to fit your children's car seats?
Are the safety belts easy to put on?
Are there handy places for your everyday clutter?
Is there legroom and headroom?
Is there enough room for the whole family's luggage?
Is the trunk easy to access, to put things in and out?
6. Consider ease of access for the kids
Well, you definitely do not want to buy a family car that the little ones find it difficult to get in and out. You want a car that makes it easy to drop them off, whether in school or at home, and also easy to get in when you are picking them up.
A few things to ask yourself as you shop:
Can your little ones get in and out easily?
Can they open and close the door for themselves?
7. Don't forget safety
You cannot afford to not check the safety features for your kids either when getting inside the car, getting out or when they are inside. You should check for built-in safety features like antilock braking system (ABS), airbags, and electronic stability control (ESC) as well as seat belt pre-tensioners.
A few things to ask yourself as you shop:
Does the car have child lock features?
Can the kids put off the child lock once you put it on?
Are the seat belt buttons easy to snap in and release for the kids?
What is the safety rating of the car?
7. Making the deal
After a careful evaluation and test drive, you can decide on which car you will buy. Consider what you can afford and make sure you stay within your budget. Remember to ask the dealership for any offers or deals (and compare that with other dealerships). Now you are ready to pay for the car, drive home with your family and enjoy the good choice you just made.