Over the past six years, as we've driven back and forth between BC and Alberta, I've tried many different things to keep the girls busy on the road. Being confined to a car seat isn't much fun for children. Yet I've found that often, it's the simplest things that keep them busiest the longest. Here are my five favourite ways to keep children busy on road trips.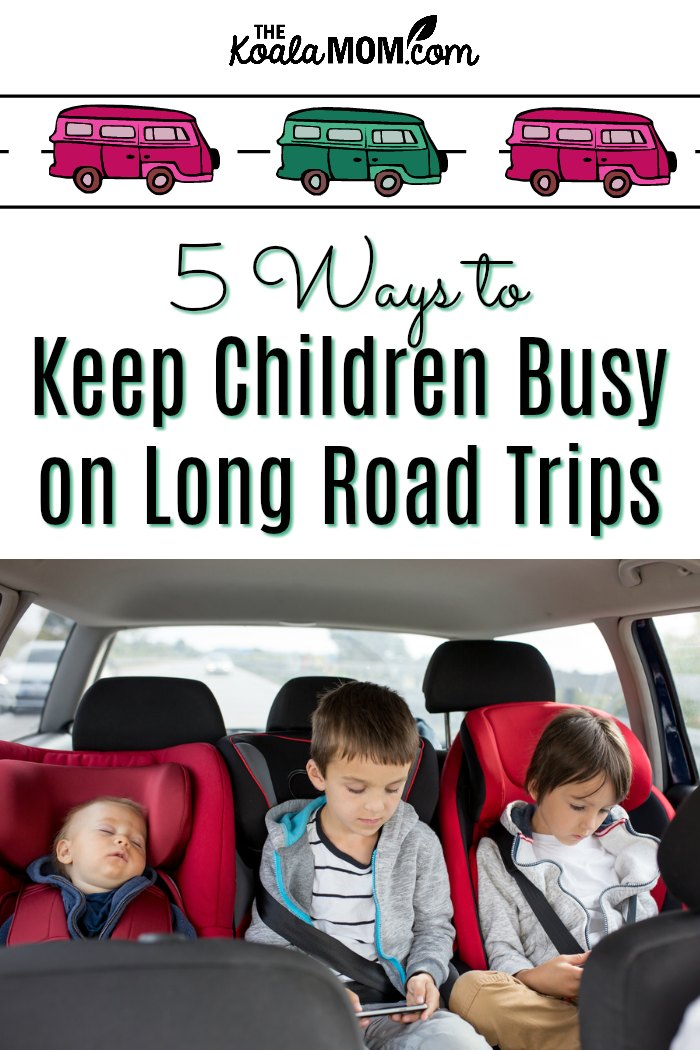 This post contains affiliate links; as an Amazon Associate, I earn from qualifying purchases.
#1: Audiobooks and Music Engage the Whole Family
Audiobooks are the number one thing that has kept us all sane for hours on end in the cars. Our girls love stories and music so we almost always have something in the CD player as we drive. Long road trips are the perfect time to pull out longer stories (or series).
When our girls were younger, I found music worked better to keep them entertained. CDs with actions songs were great. I'd also pack some shakers so Sunshine or Lily could try to play along with the CD.
Now that they are older, we tend to pick audiobooks instead of music. We started with simple stories, like Curious George, and moved on to to Narnia. The girls also love stories that combine narrative and music. I like the fact that we're all listening together, so we can talk about the story we've heard.
You can find books on tape and CD at your local library (if you trust yourself to take them on a trip and bring them back again!).
Some of our latest favourite audiobooks include:
Check out my CD reviews for more ideas for both adults and children.
#2: Snacks Keep Children Busy on Road Trips
Eating takes a lot of time. Eating also makes it hard to argue or complain because your mouth is full. And the promise of special snacks can help prevent tantrums or other fights. I start stocking up on snacks about a month before we leave, watching for sales at the grocery store. I do try to look for healthy snacks, while also getting food that will survive long hours in a hot vehicle.
Some of our favourite snacks include:
baby carrots
grapes, oranges and bananas
granola bars or trail mix
applesauce or fruit puree pouches
fruit-flavoured gummies (read labels—some are healthier than others)
I usually stash all the snacks (and the audiobooks) in a plastic bin or cooler bag beside the driver's seat. This way, I can easily toss snacks back to the girls or change CDs as needed. Include a ziploc bag or grocery bag for garbage (wrappers, peels) and try to empty it each time you stop.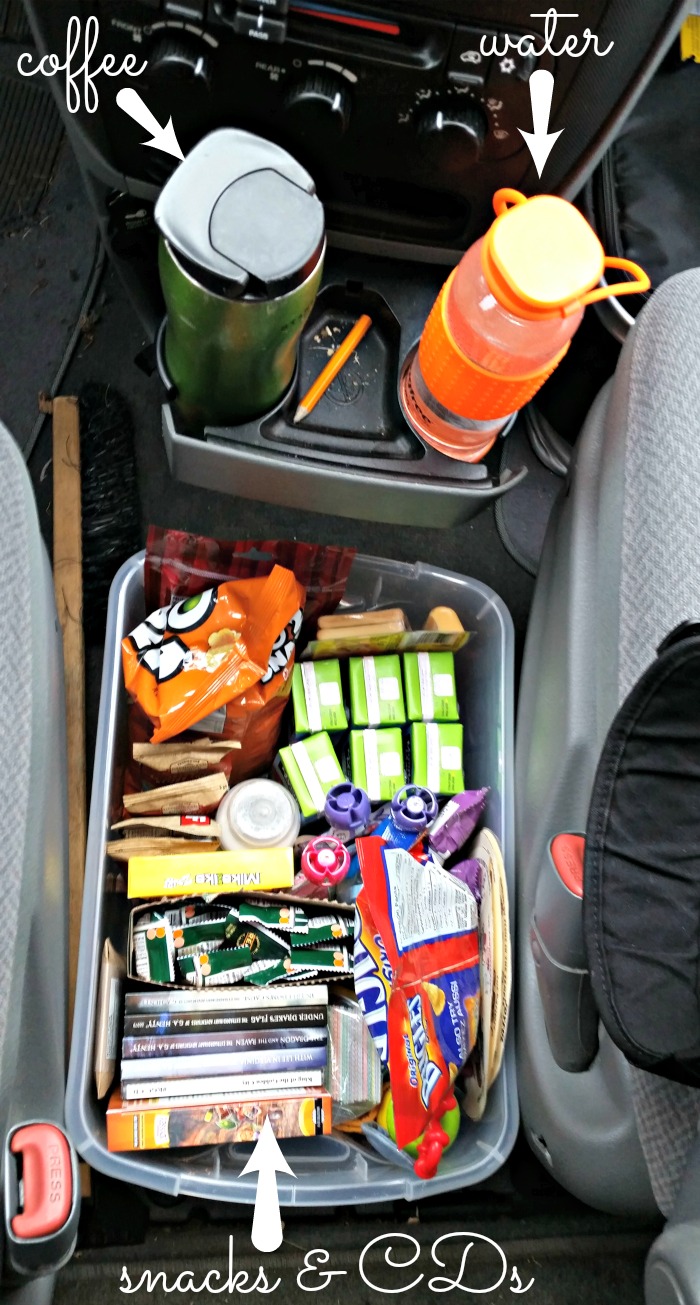 #3: Leapsters (or Other Handheld Games) Entertain for Hours
One of the few times we let our girls play handheld electronic games is while we're driving. We have a motley collection of LeapFrog Leapster 2 Learning Game Systems found at thrift stores, and games to go with them. These require that I also pack a hefty supply of AA batteries to keep the Leapsters going, but they are worth the quiet in the van.
Jade (age 3) can colour on her Leapster. On our last road trip at Christmas, her sisters were teaching her some of the easier games, such as puzzles or matching. Sunshine and Lily like cartridge games based on their favourite movies and also play educational games that involve math or spelling. These keep children busy on road trips for hours and allow some quiet between audiobooks (or when one sibling is sleeping).
UPDATED: We now have a Leapfrog RockIt Twist, which is very similar to the Leapsters but has some great new features. It's rechargeable with a standard USB cable (just like your phone), so when the battery dies, you can just plug it in with any car converter. The 8 different buttons keep kids engaged with different ways to play. And you can add new games to the RockIt Twist, but they're easy to install via the Internet and a computer, and don't require you to keep track of extra game cartridges.
#4: AquaDoodles and Water Wow Allow Mess-Free Colouring
We've had bad experiences with trying to pack crayons, markers and colouring books for our girls. Crayons melt when left in hot vehicles, and markers stain car seats and clothes. A simple solution has been water-based colouring.
We have a set of Aquadoodles that have made quite a few road trips with us. Melissa & Doug On the Go Water Wow! Activity Books have also been popular. I do suggest buying a couple extra water pens, as nothing is more frustrating than a toddler having a melt down because they've dropped a pen where you can't reach it.
For younger kids, these are super easy to colour. The best part is that they are reusable, because the water dries and the kids can colour them again and again. Refill pens when you stop or keep a water bottle handy.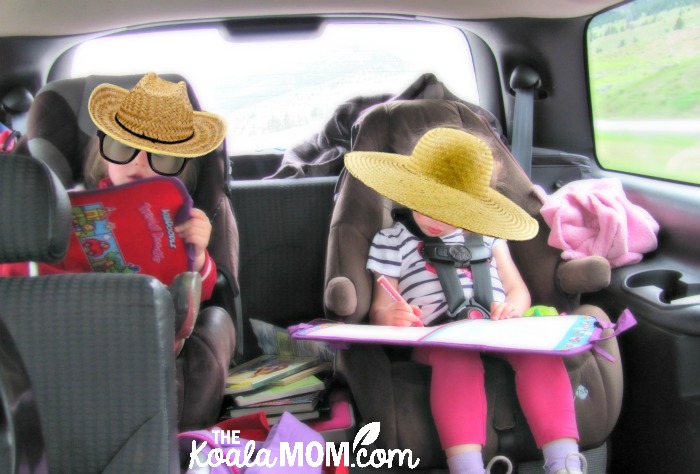 #5: Travel Notebooks Inspire Creativity and Memories
A simple notebook and pen can actually keep children busy on road trips for quite a while! If your child likes doodling or writing, this is a great idea. You can include prompts and stickers or simply give your child the notebook and let their creativity soar. The notebook then turns into a fun memory of your road trip.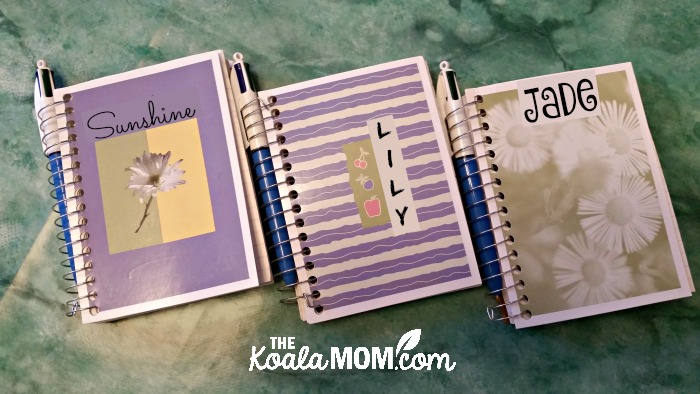 Sunshine and Lily (who can read and write on their own) have also had a lot of fun with a couple road trip activity books. My aunt got them 100 Things to Do on a Car Journey for Christmas one year. They passed it back and forth, quizzing each other and doing the mazes, pencil games, and problems in the book.
Because they liked that book so much, I grabbed them All You Need Is a Pencil: The Stuck in a Car, Plane, or Train Activity Book: Games, Doodling, Puzzles, and More!. I keep both books in the back of the van and the girls do them even when we're just driving to music lessons and other activities.
What are your favourite ways to keep children busy on road trips?