Saint Charles Garnier was born into a wealthy family in Paris, France, on May 25, 1605. He was martyred in New France when he was only 44. During his priesthood, he often expressed a great desire for more time to spend in prayer and at Mass.
As moms, most of us are busy with day-to-day tasks as Fr. Garnier would have been. Like him, we can still strive to find a few quiet moments for prayer and Bible reading.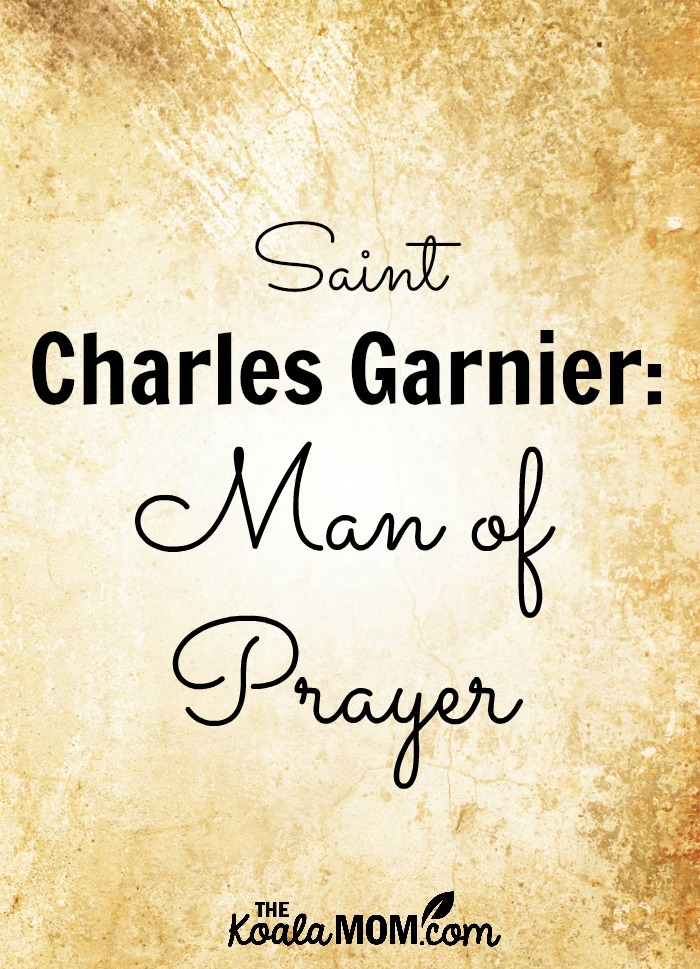 Charles entered the Jesuit order at the age of 19, studying at Clermont before teaching for three years. When he was ordained in 1635, he was chosen for the missions in New France. However, his father hadn't fully supported his choice to become a Jesuit. Garnier thus delayed his departure until the following year, when he finally gained his father's approval and sailed with Father Isaac Jogues. Even as an adult, he demonstrated the importance of honouring and being obedient to one's parents.
The Voyage to New France
The fleet of eight vessels that Fr. Garnier and his companions sailed on reached Quebec on July 2. In a letter to his father after his arrival, Fr. Garnier wrote,
"The voyage is not without its crosses. And this is particularly so for a member of a religious order because he has no privacy away from the noise and the crowd in order to pray. I don't mention here those other inconveniences and sea sickness which takes the heart out of one."
Charles Garnier in Huronia
1636 was a difficult year in Huronia as influenza devastated many villages. Just two years earlier, a smallpox epidemic had swept through New France.  Having never seen these illnesses before, the Huron blamed the missionaries.  Many priests feared for their lives.
Fr. Garnier had some training as a surgeon. In a letter home, he says, "This is the type of work I do in this country. I don't operate, but tend a multitude of small wounds and burns." He worked at learning the Huron language and mentions visiting and instructing the sick.  The missionaries baptized any who seemed in danger of dying, thus losing most of their flock as soon as it was formed.
Fr. Garnier speaks often of struggling to find time to refresh himself spiritually:
"The principal obstacle is the difficulty in which we find ourselves of praying and getting a little rest away from the noise. There is also the deprivation of Mass, which we either cannot say at all, or only very seldom."
The Huron, not understanding the Mass, likely viewed it with suspicion, as they did the Crucifix and other strange objects the missionaries brought with them.
The Mission of the Apostles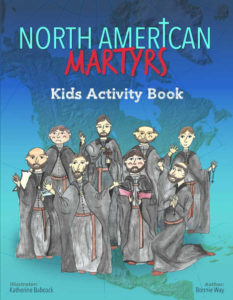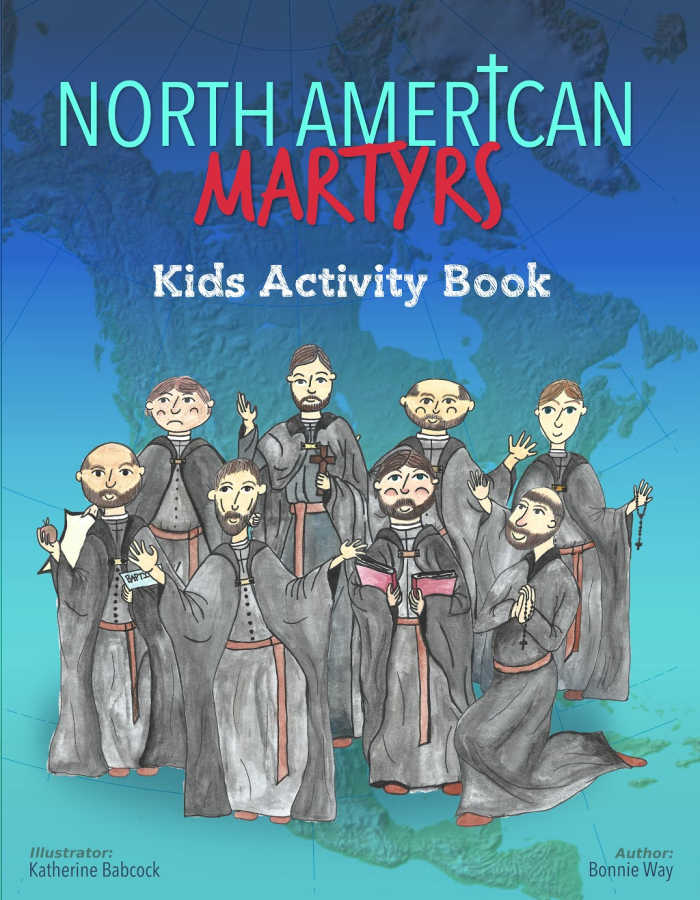 In 1640, the Jesuit Relations records that Fr. Garnier and Fr. Isaac Jogues were selected to begin a mission to the "Tobacco Nation," so named for the abundance of tobacco plants grown there.  The priests named this the Mission of the Apostles and gave the nine villages saints' names.
In 1647, Fr. Garnier left St. Joseph to serve at a new mission among the Petun.  Fr. Jogues and Fr. Garnier had traveled among the Petun in 1639 and now the Petun requested the missionaries to come.  Of their work there, Fr. Garnier told his brother, "We were received very ill there the 1st year; in the second, we have been regarded in a tolerably favourable manner; thank God, we find some who listen to us.
The following summer, Fr. Anthony Daniel, who had replaced Fr. Garnier at St. Joseph, was martyred when the Iroquois attacked and destroyed the village.  Fr. Garnier spoke wistfully of being denied martyrdom; he and the other Jesuits saw it as a "crown" bestowed by God.
Saint Charles Garnier is Martyred
In 1649, the Iroquois were again on the warpath.  Hearing that St. Jean was about to be attacked, the men went out to meet their enemy.  The Iroquois then attacked the undefended village on December 7.  They burned St. Jean, killed the old men and children, and took many prisoners.
When the attack began, Fr. Garnier was instructing his flock.  He told them, "Pray to God, and flee by whatever way you may be able to escape" (The Jesuit Martyrs of North America).  Several asked him to flee with them, but he refused.  While he was giving absolution to Christians and baptism to non-Christians, he was shot by a musket.
Left dying, Fr. Garnier prayed and then attempted to reach a dying man near him.  An Iroquois struck him twice with a hatchet, killing him—but sparing him the torture other missionaries endured.
Saint Charles Garnier Today
Saint Charles Garnier was canonized in 1930, along with seven other Jesuits who were martyred in New France. They are known as the Canadian Martyrs or North American Martyrs. Their feast day is celebrated in Canada on September 26 and in the rest of the world on October 19.
St. Charles Garnier, pray that I may desire daily quiet time in prayer and Scripture reading as earnestly as you did. Help me to make my spiritual quiet times a priority in my busy life and to honour my parents as you did. Amen.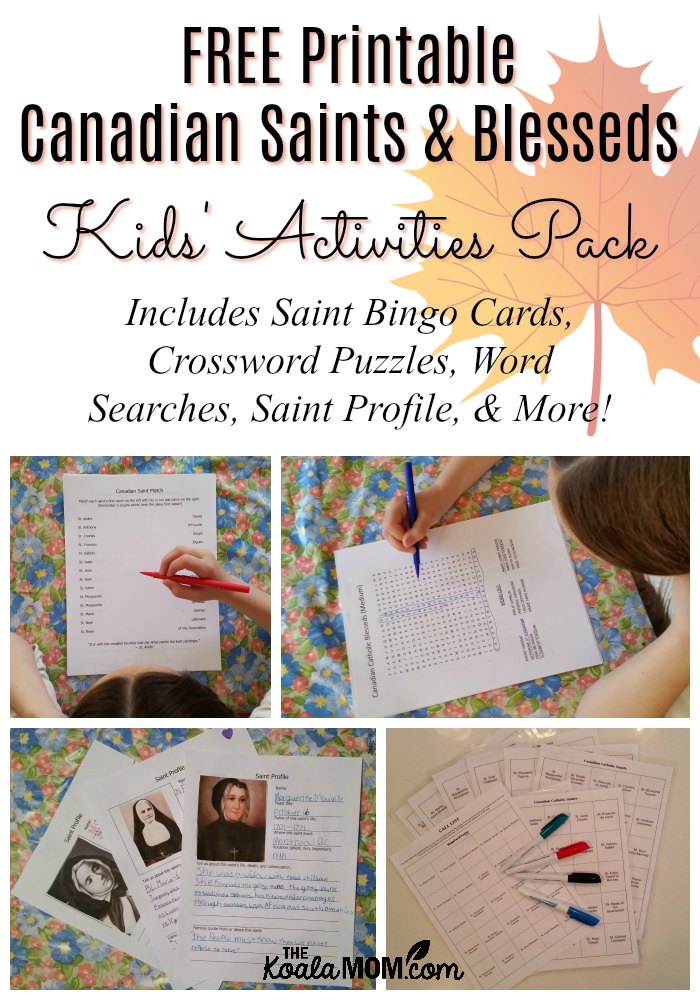 Subscribe to my weekly email newsletter to download your FREE printable Canadian Saints & Blesseds Kids Activities Pack, which includes 8 Bingo cards with 30 Canadian saints' and blesseds' names, crossword puzzles and word searches, saint matching and sorting games, and a saint profile sheet. These activities are intended for kids about Grades 2+ (or children who can read and write). This Kids Activities Pack would be great for catechism classes, homeschool lessons, or a Canadian All Saints Day party.