The Catholic Church recognizes fourteen Canadian saints.  These include the Canadian Martyrs (or North American Martyrs) as well as four women, a bishop and a religious brother. Here is a brief description of who each of these Canadian Catholic saints were.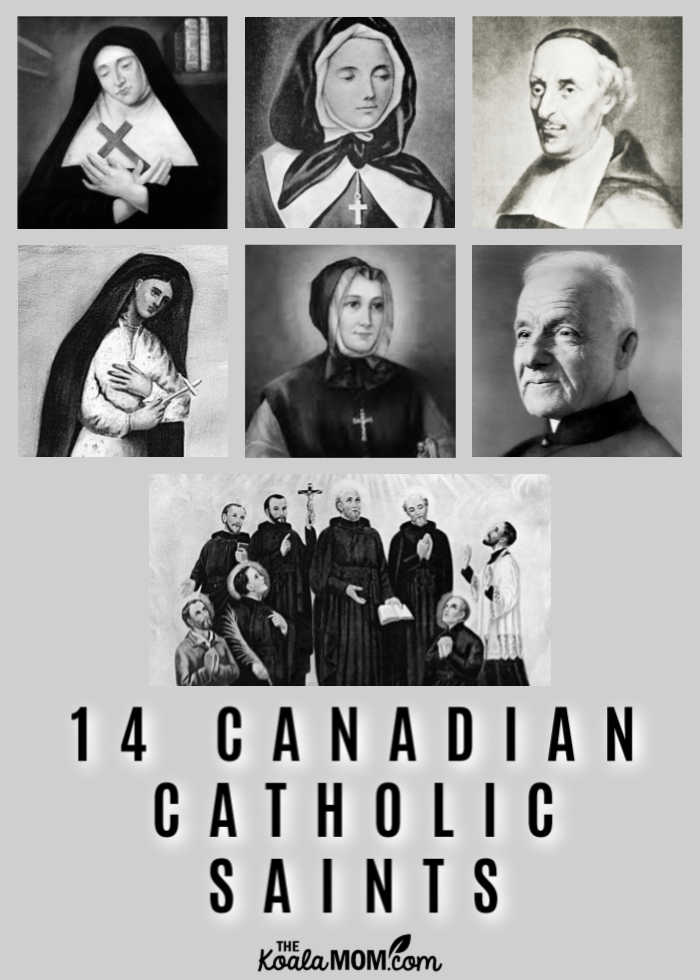 This post contains affiliate links; as an Amazon Associate, I earn from qualifying purchases.
The Canadian Martyrs
The Canadian Martyrs were Jesuit missionaries who worked with the Hurons in New France in the early 1600s. They were killed during wars between the Iroquois and the Huron. All were canonized in 1930 and their feast is celebrated in Canada on September 26. They're also known as the North American Martyrs, and their feast day is celebrated in the U.S. on October 18th.
Check out my kids' saint book about the North American Martyrs, now available on Amazon!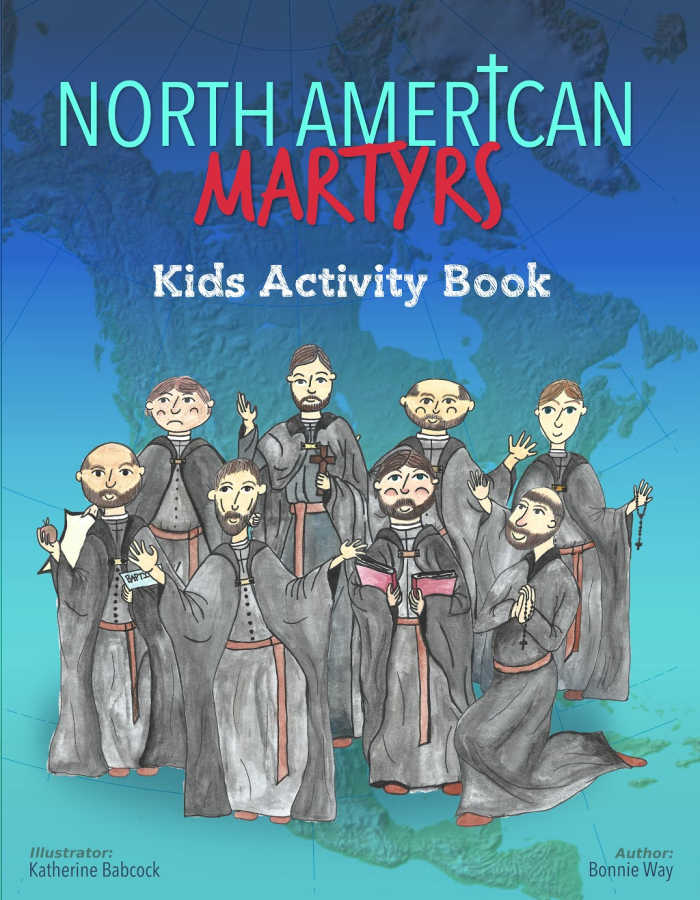 Holy Canadian Women
St. Marie of the Incarnation
Saint Marie de l'Incarnation was born in France in 1599. She married when she was 17, but her husband died two years later, leaving her with an infant son. Marie retreated to a secluded life and joined the Ursulines in 1633. Six years later, she joined several other nuns in a journey to Quebec, where she was both businesswoman, mystic, and teacher.
She died in 1672 and her feast day is April 30.
St. Marguerite Bourgoeoys
Saint Marguerite Bourgeoys was born in 1620 in France and died in 1700.  She started the first school in present-day Montreal and founded an order of religious women, the Congregation of Notre-Dame.  She was able to convince the bishop that her Congregation should remain an active teaching order—a unique idea then—rather than being joined to a cloistered order of Ursulines.
St. Marguerite Bourgeoys was canonized in 1982 (the first female Canadian Catholic saint) and her feast is January 12.
Teaching is the work most suited to draw down the graces of God if it is done with purity of intention, without distinction between the poor and the rich, between relatives and friends and strangers, between the pretty and the ugly, the gentle and the grumblers, looking upon them all as drops of Our Lord's blood. ~ St. Marguerite Bourgeoys, quoted in Sisterhood of Saints: Daily Guidance and Inspiration
St. Kateri Tekakwitha
Saint Kateri Tekakwitha is also known as the Lily of the Mohawks and is the first Native American to be canonized a saint. She was born in 1656 in New York State, but her parents both died in a smallpox epidemic when she was four. She was raised by her aunt and uncle but always remembered her mother's faith and joined the Catholic Church as a teenager.
She was persecuted by her tribe and eventually left her village to join a Catholic community in Canada. She died there at age 24 and was canonized in 2012. Her feast day is July 14.
St. Marguerite d'Youville
Saint Marguerite d'Youville was born in 1701 at Varennes, Quebec, and died in 1771.  She was married for eight years before becoming a widow in 1730 and had three children.  She founded an order of religious women, the Sisters of Charity, commonly known as the Grey Nuns.  With the Grey Nuns, she established hospitals in Montreal and across Canada.
She was canonized in 1990 and her feast is October 16.
When we are having struggles of our own, it's tempting to focus on resolving our problems rather than continuing to reach out to those most in need of our assistance. The example Marguerite set prompted Pope John XXIII to call her the "Mother of Universal Charity" when she was beatified. ~ Melanie Rigney, Sisterhood of Saints: Daily Guidance and Inspiration
Other Canadian Saints
St. Andre Bessette
Saint André (Alfred Bessette) was born in 1845 in St-Gregoire-d'Iberville, Quebec, and died in 1937.  He was orphaned when he was twelve years old and worked for a while in textile mills in the United States.  He joined the Congregation of Holy Cross in 1870 and founded St. Joseph's Oratory in Montreal. He was canonized in 2010 and his feast is January 6.
St. Francois de Laval
Saint Francois de Laval was the first bishop of New France. He was born in 1623 in France and entered the local Jesuit college at the age of eight. He spent the next decade studying theology and became a priest in 1647.
He was appointed bishop of New France when he was 36 and is admired for his pastoral work among the Aboriginal Peoples and the settlers of New France. He also tried to defend Native People from being exploited by merchants and governors through the sale of alcohol.
He was canonized in 2014 and his feast day is May 6.
Check out my kids' saint book about these six Canadian saints, now available on Amazon!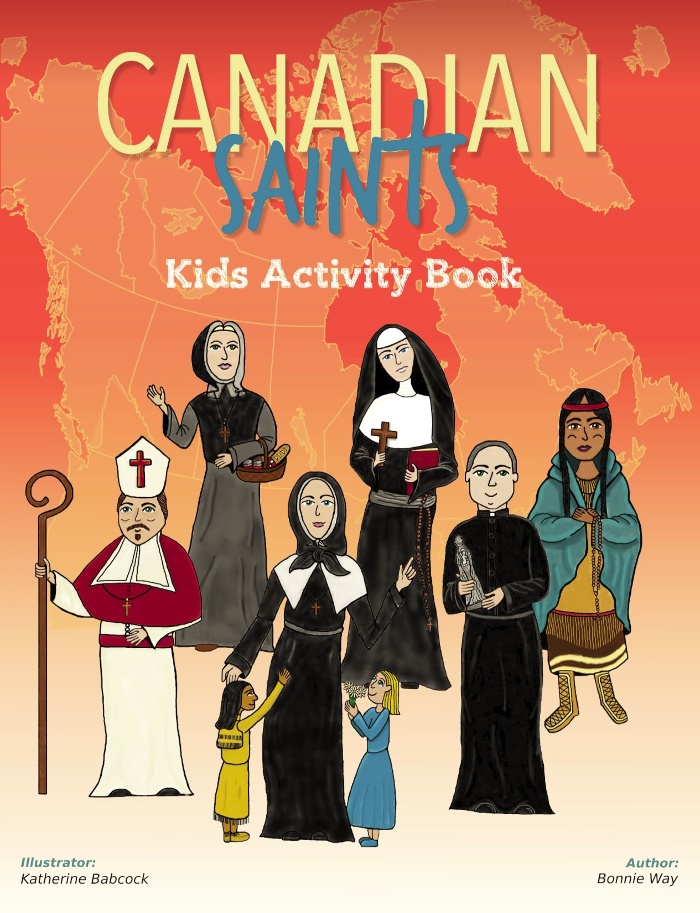 There are also 12 Canadian blesseds whose faith and prayers have impacted Canada.
These Canadian Catholic saints "have, in some particular way, shaped the life of the Church in Canada. Some gave their lives to ensure that the Good News be heard throughout North America. Others, out of steadfast faith and profound love, dedicated their lives to the service of their brothers and sisters, whom very often were among the most underprivileged." ~ The Canadian Conference of Catholic Bishops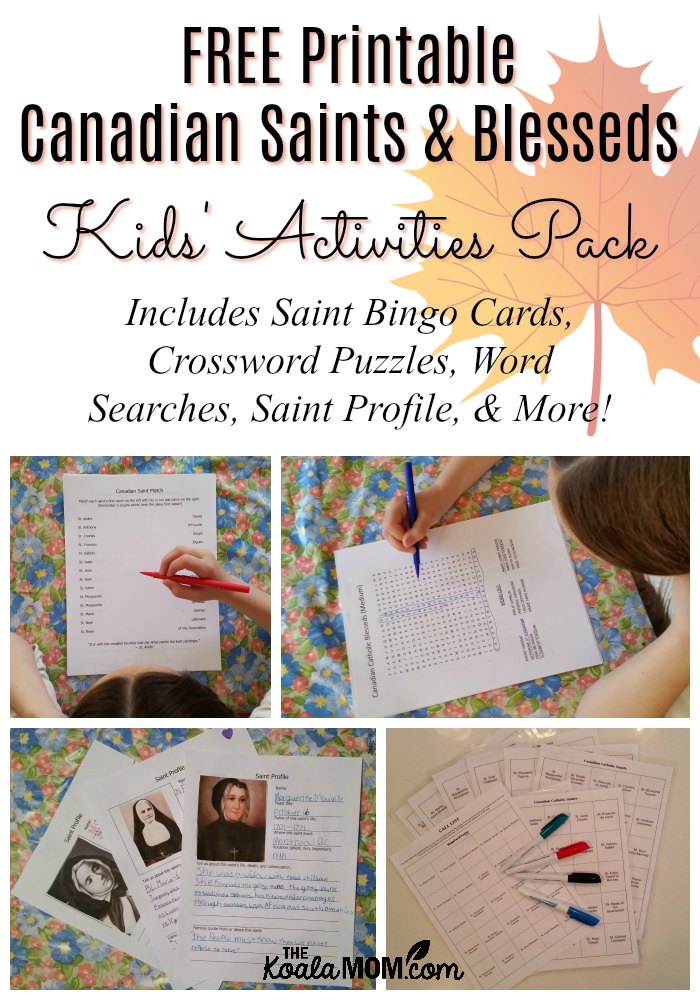 Subscribe to my weekly email newsletter to download your FREE printable Canadian Catholic Saints & Blesseds Kids Activities Pack, which includes 8 Bingo cards with 30 Canadian saints' and blesseds' names, crossword puzzles and word searches, saint matching and sorting games, and a saint profile sheet. These activities are intended for kids about Grades 2+ (or children who can read and write). This Kids Activities Pack would be great for catechism classes, homeschool lessons, or a Canadian All Saints Day party.
Looking for more great Canadian saint books and products? Browse my Amazon store!