I imagine St Antoine Daniel as a tall, gaunt figure, dressed in the black robes of a Jesuit priest, with a big smile spreading across his face as he steps from a Huron canoe. That's how he is described by one of his fellow priests as he returns to Quebec from the Jesuit missions in Huronia. As one of the North American Martyrs, St. Anthony Daniel spent sixteen years serving as a missionary in eastern Canada and the US in the 1600s.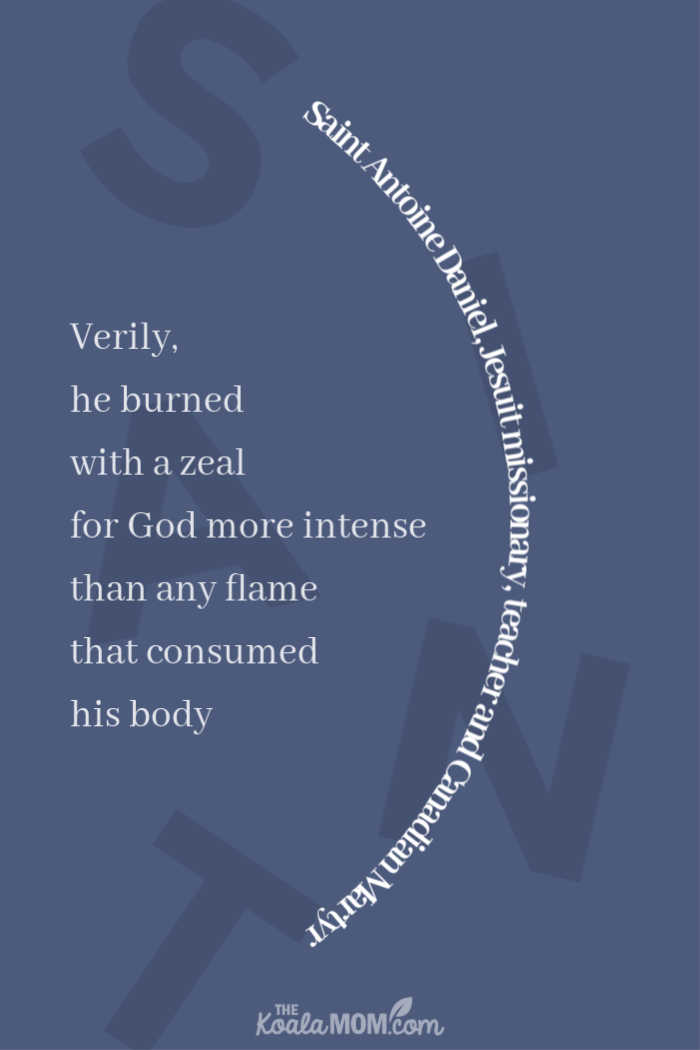 Father Antoine Daniel possessed an unusual talent for making friends quickly and for handling children. ~ John A. O'Brien
This post contains affiliate links; as an Amazon associate, I earn from qualifying purchases.
St Anthony Daniel's Childhood
Saint Anthony Daniel was born in Dieppe, France, in 1601. His father was a merchant and Antoine grew up with three brothers. He joined the Jesuit order at age twenty, after completing three years of university—two in philosophy and one in law. From 1623 – 1632, he taught in  Jesuit colleges in France.
While teaching, Father Daniel had the chance to catechize and baptize a Huron student. In 1626, the Jesuits in New France wrote to those in France:
A little Huron is going to see you; he longs to see France. He is very fond of us and manifests a strong desire to be instructed.
The missionaries meant for Amantacha to be a model student to the Hurons, showing them that an education was useful and the French were friendly. His presence in France may have done more to inspire missionaries than to encourage friendship with the Hurons. Leon Pouliot's biography notes that "the presence of the young Huron at Rouen did not escape Daniel's notice, and it may be that it played some part in his missionary vocation."
However, it wasn't a good time to become a missionary. In 1629, England seized France's lands in North America and forced the Jesuits to return home. St. Jean de Brebeuf, who had spent two years among the Hurons, took his  sabbatical at Rouen. He surely shared his stories of New France with Father Daniel, further encouraging the priest's desire to go.
Father Daniel would have also gotten news of New France from another source: his brother. Charles Daniel was captain of one of the French vessels sent to relieve Quebec. A thick fog pushed his ship off course, and he arrived in Cape Breton instead. There, he demolished an English fort and established his own, then sailed for France with his prisoners. The French flag flew over his fort for the three years that England held Quebec.
Arrival in New France
In 1632, England returned Quebec to France. Captain Charles Daniel sailed once again for Cape Breton with his brother and another priest. The two priests spent a year  working among the First Nations people there. Then they were called to Quebec. Father Daniel spent another year there, learning Huron. He made swift progress with the language.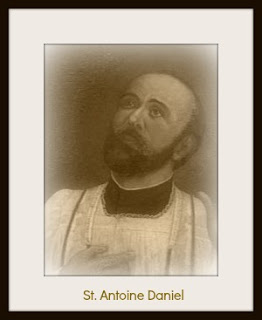 In July of 1634, the Hurons and three missionaries headed for the Jesuit missions in Huronia. The distances traveled by the Jesuit missionaries in New France, and the difficulties of those travels, are mind-boggling. Biographer John A. O'Brien describes the "burning sun, dreary silences, exhausting portages, miserable food, swarms of mosquites, endless padding" that beset Father Daniel on his maiden voyage.
As if that wasn't bad enough, the Hurons dumped him on an island halfway to their journey and continued without him. Father Daniel's missionary vocation may have ended there, if a traveling Bear chief hadn't picked him up and taken him to his village. Finally, along with the other Jesuits, Father Daniel began his missionary work.
Jesuit Missions in New France
He "visited the sick in their cabins, brought little delicacies to them, and instructed as many as he could in the fundamentals of the faith" (O'Brien). He also became a favourite with the children. He taught them to sing the Our Father, the Hail Mary, and the Ten Commandments, which he had made into Huron rhymes.
The children formed a choir, adding beauty and solemnity to the chapel services. That encouraged their parents to attend the Mass. The children didn't limit their singing to Mass (any more than my own children do!). It's easy to imagine young voices belting out the Our Father by the river or lisping the Hail Mary around a cooking fire. Slowly, the children's singing taught the adults "truths that they refused to hear from the missionaries" (O'Brien).
During this time, Father Daniel was also reunited with Amantacha. A group of wounded Hurons arrived in the village one day, after being attacked by Iroquois. A number had been taken prisoner but among those who escaped was Father Daniel's first Huron pupil. However, Father Daniel soon learned that Amantacha had reverted in his faith after his return to New France.
Amantacha's near escape from death caused him to attribute his safety to God's protection. He soon brought his whole family into the Faith and became a fervent lay apostle.
The Huron Boys' School
Seeing Father Daniel's success with the children at the missions, the Jesuits decided to start a boys' school in Quebec. They appointed Father Daniel as the first teacher. He convinced a dozen families to send their sons to the school because it would cement their friendship with the French and help them to become better traders. However, when the time to depart came, the Huron mothers were loathe to give up their sons. All but three abandoned Father Daniel and returned home.
After a long, difficult journey, Father Antoine and his pupils arrived at Three Rivers in August. They were all lodged in the priests' Quebec residence. The school was named Our Lady of the Angels and dedicated to the Blessed Virgin. Father Daniel needed her intercession, for his pupils were anything but angels. Slowly, with patience and good nature, he managed to teach them reading and writing, prayer, religious doctrine, carpentry, woodcarving, drawing, oratory, and how to serve Mass.
However, before success could be celebrated, disaster struck. Two students became seriously ill and then died. Father Daniel nursed them day and night, forgetting sleep and food for himself. After their deaths, he collapses with influenza himself. The Jesuits worried what the Hurons would think of their sons dying while at school, but the plague was decimating Huronia too.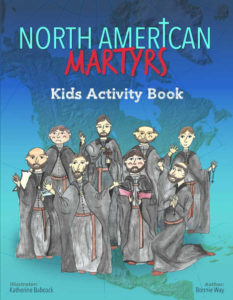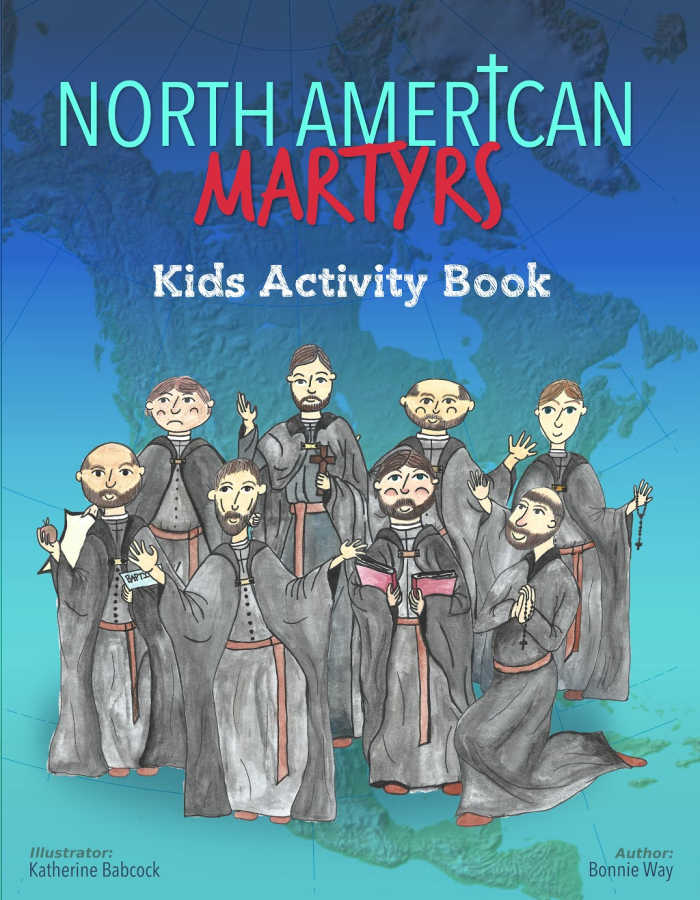 When Father Daniel recovered, he was left with two students, Armand and Joseph. A few more students came the next summer, but soon departed again. Armand and Joseph made great progress and were fervent in their faith. This encouraged Father Daniel, as he believed his efforts for them would be rewarded when they spread the Gospel among their own people.
That time came sooner than expected. The plague spreading among the Hurons had caused distrust and fear of the priests. Father Daniel, Armand and Joseph were sent to Huronia to show that the French meant no harm. On the way, Armand nearly drowned when his canoe capsized. Then Father Daniel was separated from his pupils. Finally, utterly exhausted and half-starving, he arrived at the village. His students had succeeded at their missions; the Hurons' anger against the Jesuits and French had abated.
St Antoine Daniel's Final Years
With his boys' school dispersed, Father Daniel returned to the mission work. This remained difficult work. The Hurons (and the priests who lived with them) faced constant threat from the Iroquois. The Hurons were also deeply suspicious of the priests and their religious items, which the Hurons regarded as magic. Time and again, they turned against the priests, kicking them out and attacking them. Again and again, the priests reasoned with them.
Armand became the lay apostle that Father Daniel had expected. He distinguished himself for bravery in many of the battles between the Hurons and the Iroquois. He was also a leader in the sodality of the servants of Mary. They recited the rosary at daybreak and sang litanies or hymns to the Blessed Virgin the evening. He also witnessed a miracle, when a fierce storm that threatened to capsize his canoe was calmed after his prayers.
In 1641, several missions were combined into a central mission called Ste. Marie. Father Daniel spent the next seven years here. This mission became an exemplary Christian colony, where Sunday was a great festival day. A chapel was built in 1646 with a bell and beautiful Huron decorations. Baptisms were frequent and Father Daniel worked harder than ever. He spent long hours in prayer, staying up late in the night for his devotions, and sent cheerful reports to France of his work.
On July 4th, 1648, Father Daniel was finishing Mass when the Iroquois attacked. He had just returned from his annual retreat with the other priests, who had begged him to stay a day or two longer with them. Insisting that his people needed him, he returned to Ste. Marie to hear confessions and celebrate Mass.
As the warriors grabbed their weapons and the women and children ran for the woods, Father Daniel baptized the sick and aged who couldn't flee. For a time, the palisade walls kept the Iroquois out, but it soon became clear that the walls wouldn't hold forever. The Hurons retreated to the chapel, as that seemed a good place to die. Father Antoine joined them, telling them to escape. Then, as the Iroquois broke through the palisades, he walked to meet them and forbade them to enter.
The Iroquois were so surprised by this that they halted their attack for a few minutes. Those minutes perhaps gave some of the people a chance to escape. Then the Iroquois showered Father Antoine with arrows and threw his body into the flames that consumed his chapel.
Verily, he burned with a zeal for God more intense than any flame that consumed his body. ~ Father Paul Ragueneau
St Anthony Daniel's Legacy
St Antoine Daniel was canonized in 1930 by Pope Pius XI. He was the second Jesuit martyr in New France. His superior, Father Raqueneau, wrote that Antoine was "a truly remarkable man, humble, obedient, united with God, of never failing patience and indomitable courage in adversity."
Today, there are several Catholic churches, a YMCA and a Catholic school in Ontario named for St Antoine Daniel.  His feast day, along with seven other Canadian martyrs, is September 26. They are also known as the North American Martyrs and their feast day is celebrated in the US on October 19.
Gentle, patient, sociable with old and young, Father Daniel has been known best for his persevering efforts to train the Huron youth in the Christian faith, that they might plant it among their people. ~ O'Brien
More about St Antoine Daniel
Cibou by Susan Young di Biagi is historical fiction set among the Mi'Kmaq Indians of Cape Breton, and tells part of the story of Saint Anthony Daniel. In the novel, Antoine and Charles arrive in Cape Breton at the same time. Most of Cibou happens during Antoine's year in Cape Breton. Mouse, a Mi'Kmaq girl, falls in love with each of the brothers and must adapt to the way her world is changing with the arrival of the newcomers.
Saints of the American Wilderness by John O'Brien is an excellent, comprehensive autobiography of the North American Martyrs. He waves the stories of each of the missionaries together, with quotes from their writing.
North American Martyrs Kids Activity Book is my book about St Antoine Daniel and his companions, including Amantacha and Armand. This 135-page book features a short biography of each martyr as well as crossword puzzles, mazes, word searches, discussion questions, writing and drawing prompts, and more.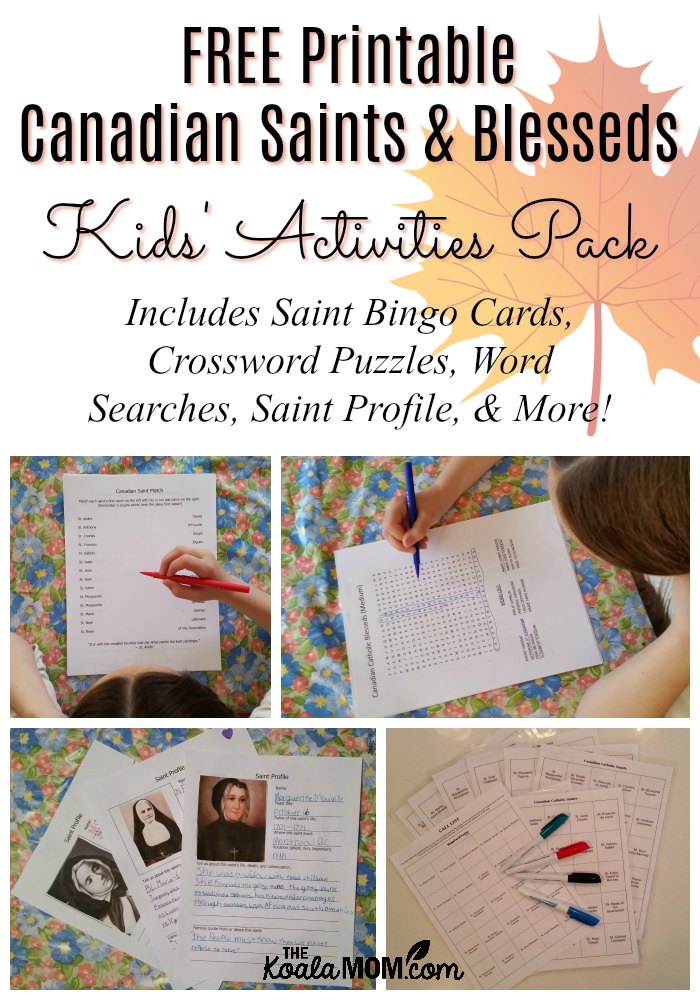 Subscribe to my weekly email newsletter to download your FREE printable Canadian Saints & Blesseds Kids Activities Pack, which includes 8 Bingo cards with 30 Canadian saints' and blesseds' names, crossword puzzles and word searches, saint matching and sorting games, and a saint profile sheet. These activities are intended for kids about Grades 2+ (or children who can read and write). This Kids Activities Pack would be great for catechism classes, homeschool lessons, or a Canadian All Saints Day party.