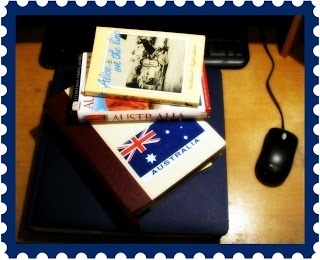 Last week I was struggling to write a lyric essay for my workshop on Friday. I had an idea (a story about my time in Alice Springs, Australia) and some research (a book I picked up while I was there about a girl who grew up in the Telegraph Station), but the essay wasn't coming together.
I wrote a draft and scrapped it. Wrote another draft and considered scrapping it too, but I was out of time. I finally printed it, then spent all night mentally rewriting it. Here are three tips for writing personal essays that came to me as I thought about what my draft lacked.
Refresh Your Memory
My trip to Australia happened seven years ago, so my memory is getting foggy about some things. Other things still evoke a strong picture in my mind or strong feelings. To work on this essay, I pulled out my scrapbook and journal from the trip, as well as the guidebook I'd taken with me. As I flipped through the guidebook, I saw places marked with stars—places that stirred no memories. Had I marked them because I wanted to go there or because I had gone there?
As I read through my journal, I found other differences between my memories and actual events. For example, I thought I flew from Sydney to Alice Springs. According to my journal, I flew via Adelaide, and actually got off the plane and back on again. I don't remember that at all.
Other things I do remember aren't written down or are mentioned by a brief note that doesn't encompass everything that happened. Thus my journal was a useful tool for names and chronology, but little else. However, personal essays are so much more than just memories.
Build Tension
My memories of my trip are, of course, interesting to me and perhaps to the small group of family and friends whom I emailed or called while I was there. If I'm going to write about them, however, I need to find a way to make the stories accessible to a wider audience—to include the universal theme necessary for a personal essay.
As I look back upon my memories, I know those three months were a significant time in my life. A coming of age time. A lonely time. A time of deepening faith. Yet putting all of that into words, or showing it in my essay rather than just telling the reader about it, is a struggle.
Writing is one way to explore that time, to sift through my memories and what that trip meant to me. Yet that's just the first draft—the spilling of the story onto the page. After that come the revisions, the diving deeper into the story, adding dramatic tension, the reason for telling this story.
Details, Details, Details
This seems to be a weak point for me in both my fiction and my nonfiction. It's easy to write detailed descriptions when I'm right in the moment. It's much harder to write detailed descriptions about things that happened seven years ago or to write, say, a short story about a girl in a park when I'm sitting at my desk. (I've thought about taking my Netbook out to a park and working on that story to capture the setting, but it hasn't happened yet.)
I know how much I appreciate great details in the stories and novels I read, but I find it hard to write that myself (unlike the poets in my class, who seem to turn out descriptive phrases as easily as I'd make a chocolate brownie). Yet readers want to see, smell, hear, taste, and touch the things that I see, smell, hear, taste and touch in my stories, so I need to describe those things, to bring them alive.
Have you noticed trends in your writing that you need to work on?  Can you identify what it is that you really like about your favourite author or book?