Summertime is the perfect time to enjoy a delicious outdoor feast with family and friends. Not only is the weather just right for grilling out, but there are also plenty of fresh fruits and vegetables in season that make perfect side dishes.
If you're looking for some ideas on how to prepare a summer feast in your garden, you've come to the right place. This article will provide six tips for getting your outdoor kitchen ready for some serious cooking. So fire up the grill and get started!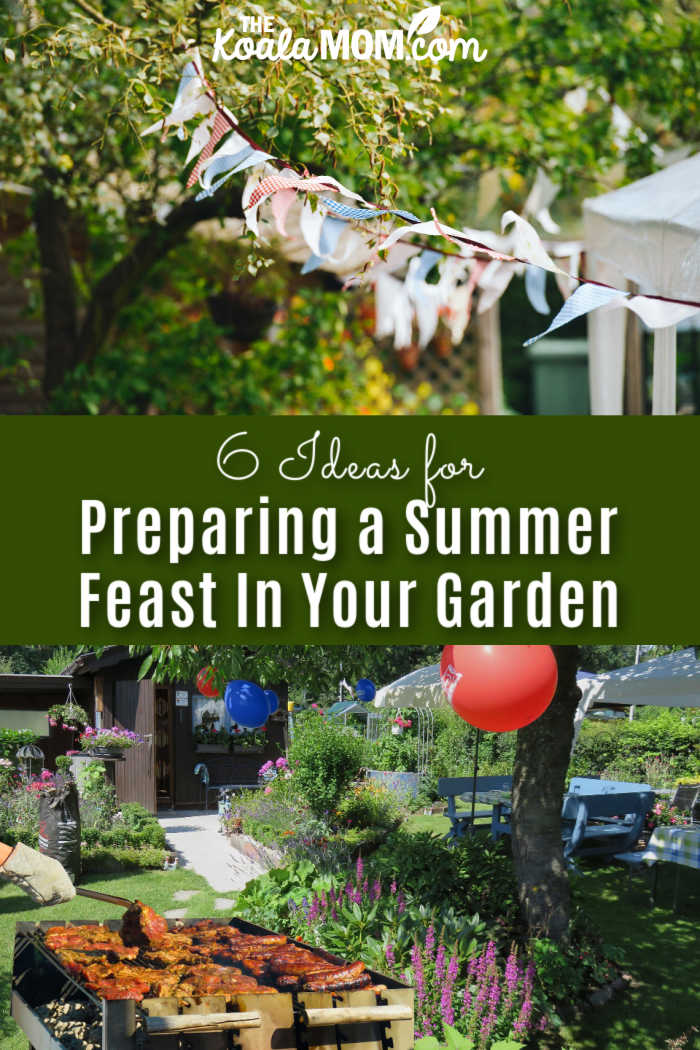 Planning the Menu
Decide what you'll be serving and make sure you have all of the necessary ingredients on hand. If you're grilling, choose recipes that are easy to cook on the grill and don't require too many steps. Hot dogs or smokies, hamburgers, kebabs / skewers and chicken breasts are all great options.
For side dishes, think about what's in season and choose accordingly. Corn on the cob, watermelon, and grilled vegetables are all perfect for a summer feast. And don't forget dessert! A classic ice cream sundae or some fresh berries with whipped cream are always a hit.
Additionally, consider the dietary restrictions of your guests when planning the menu. Make sure there are both vegetarian and meat-based options available, as well as gluten-free and dairy-free options if needed. By doing this, everyone will be able to enjoy the feast without having to worry about what they can or can't eat. We have quite a few friends with food sensitivities so I always ask about that when sending an invitation, and then plan the menu accordingly.
The Prep Area
Once you've decided on the menu, it's time to start prepping the food. If you're grilling, make sure the grill is clean and the coals are hot. If you're cooking indoors, set up a prep area with all of the necessary ingredients and utensils. This will make it easier to cook everything in one area and avoid any cross-contamination.
Even better is to indulge in making an outdoor kitchen area. This kitchen project will make your feasts much easier since you will not have to go back and forth from indoors to outdoors. Plus, it will add more value to your home. During the hot summer months, you can spend more time outside in the yard instead of cooking in a hot kitchen.
If you're short on time, there are plenty of shortcuts you can take when prepping the food. Choose recipes that don't require a lot of prep work and use pre-cut vegetables or precooked meats whenever possible. When possible, I involve the kids in prepping—they can chop veggies, make juice, or mix sauces for me. By doing a little bit of prep work ahead of time, you'll be able to spend more time enjoying the feast with your guests.
Setting the Scene
Choose a spot that's comfortable and has enough space for everyone to sit. If you have an outdoor seating area, that's the perfect spot for your feast. If not, a picnic table or even a blanket on the ground will work just fine. Maybe provide lawn chairs for the adults and let the kids sit wherever they like around the yard.
Make sure the area is well-lit so you can see what you're eating. Candles are a great way to add ambiance and keep the bugs away. And don't forget the music! A summer feast just isn't complete without some good tunes playing in the background.
Serving the Food
Now that everything is prepped and ready to go, it's time to start serving the food. If you're grilling, cook the food right before you're ready to eat. This will ensure that everything is hot and fresh.
If you're cooking indoors, keep the food warm in the oven or on the stove until it's time to eat. When it's time to serve, put everything out on the table or buffet-style so that guests can help themselves.
And don't forget the drinks! Make sure to have plenty of water, iced tea, and lemonade on hand to quench everyone's thirst. If you're serving alcohol, be sure to have a variety of options available, as well as non-alcoholic beverages for those who are abstaining.
Entertainment
No summer feast is complete without some good entertainment. Whether it's a game of cornhole or simply sitting around chatting, make sure there's something for everyone to do. You can even set up a movie projector and watch a classic summer flick under the stars.
And if there are kids around, be sure to have some fun activities planned for them too. Water balloons, face painting, sidewalk chalk, and scavenger hunts are all great ways to keep them entertained.
Cleaning Up
Once everyone has had their fill, it's time to start cleaning up. If you're using disposable plates and utensils, simply throw them away. If you're using real plates and silverware, be sure to have a designated area for dirty dishes.
And don't forget to clean the grill! Whether you're using gas or charcoal, it's important to clean the grill after each use. This will help prevent rust and keep it in good condition for next time.
With these six tips, you'll be able to enjoy a delicious summer feast in no time. By following them, you'll be sure to impress your guests and have a great time yourself without stress or worry.
So go ahead and fire up that grill, break out the picnic blanket, and enjoy a summer feast in your backyard.