Everyone loves hot dogs, whether from pushcarts or homemade. Hot dogs are usually portrayed in one variation—the good old hot dog with mustard. However, hot dogs are made in different ways depending on the state or the country. If you like to experience new types of hot dogs, here is a list of tasty hot dog styles that you must try. All these styles can be made with pork, beef, chicken, or vegetarian wieners.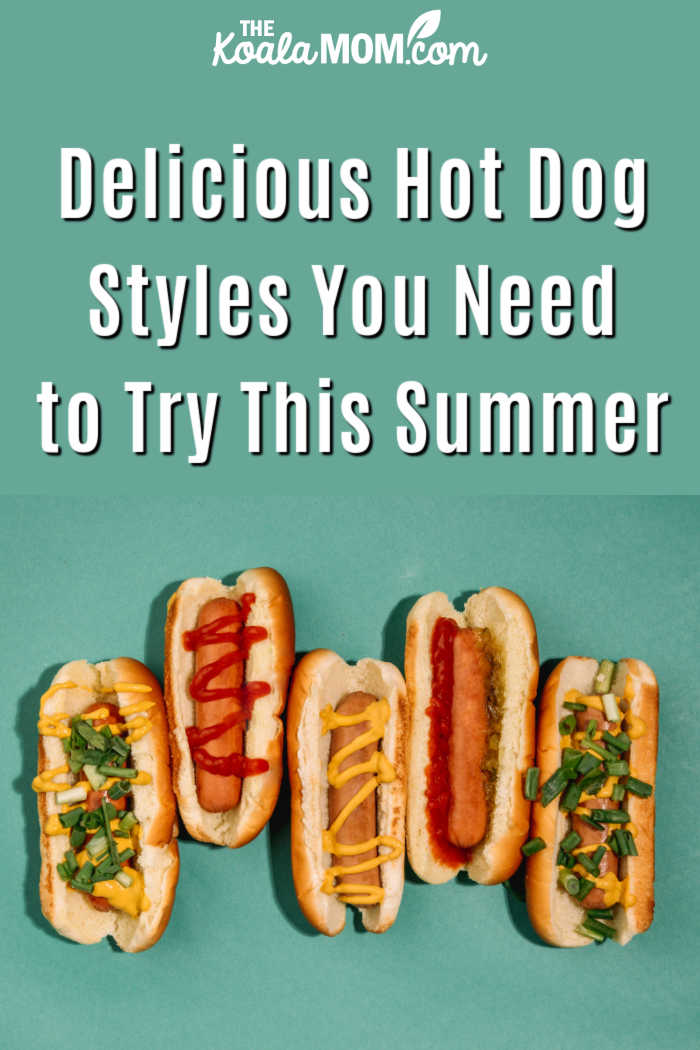 Tex Mex
This hot dog sandwich looks and tastes heavenly. To make a Tex Mex hot dog, you will need corn salsa, Monterey Jack cheese, grilled jalapenos, and lime-cilantro mayo. The jalapenos will give it a spicy taste while the lime-cilantro mayo will cool it down.
Bacon Mac 'N Cheese Hot Dog
If you like to try something new, you have to taste hot dogs made with bacon and macaroni and cheese. Lay slices of bacon and macaroni and cheese on the bun, then put the hot dog over it. Garnish the sandwich with crumbled blue cheese and top it off with creamy coleslaw. The delicious mix of flavors will make this your favorite hot dog for years to come.
Corn Dog
There is a reason why a corn dog is loved by everyone. If you haven't tried it before and you love the sweet taste of corn, this should be the first hot dog style to try. The wiener is covered with cornmeal batter then deep-fried. Adults and kids love this recipe, especially when covered with melted cheddar or Swiss cheese.
Chicago Dog
As the name suggests, you will find this style of hot dog in Chicago. The hot dog and the poppy seed bun are like any other style, but the toppings are what make this sandwich unique. You will find yellow mustard, neon green relish, pickle spears, tomato slices, chopped onions, sport peppers, and celery salt all on the top of the hot dog. If you visit Chicago, don't forget to try their famous hot dog recipe.
Italian Hot Dog
Although it is called Italian, it actually originated in New Jersey. It is one of the easy recipes as you start by deep-frying your hot dogs and then putting them in Italian rolls or pizza bread. For its distinct flavor, add potatoes, onions, and bell peppers.
Bagel Dog
Instead of being in a hot dog bun, this style wraps the hot dog in bagel-style bread. There are no toppings in this recipe, as it's made by steaming and covering the wiener with bagel dough and then sprinkling sesame or poppy seeds over it. Grill it and you will get yourself a tasty bagel dog.
New York Hot Dog
The famous hot dog from New York is available on every pushcart found on the streets. It is perfect for snacking on the go, and while visiting the city. A new York hot dog is a kosher beef hot dog in a white bun with mustard, sauerkraut, and onions cooked in tomato sauce. You will find a few differences between one pushcart and another, but you can try them all!
Bratwurst
If you like to taste new cuisines, you should try the bratwurst from German cuisine. It is beef, veal, or pork, and the only difference between it and the traditional hot dog is that it is fresher. The toppings differ from one cook to another but the most common toppings are ketchup, mustard, onion, sauerkraut, and bell peppers. It can be eaten alone or in a white bun.
Mexican Hot Dog
This style comes from Mexico and it is full of flavors and heat. The hot dog can be served in one piece or in small slices mixed with avocado, bacon, jalapenos, bell peppers, tomatoes, and onions. This style can be found anywhere as it is popular worldwide.
Pizza Dawg
The best of two worlds; pizza and hot dogs. You need pizza sauce, sliced green olives, mushrooms, onion, peppers, and mozzarella cheese. You put the sauce first on the hot dog and add the olives, onions, mushrooms, and sweet peppers. Flood it with mozzarella cheese on the top and bake it to melt the cheese all over the sandwich and create Pizza Dawg.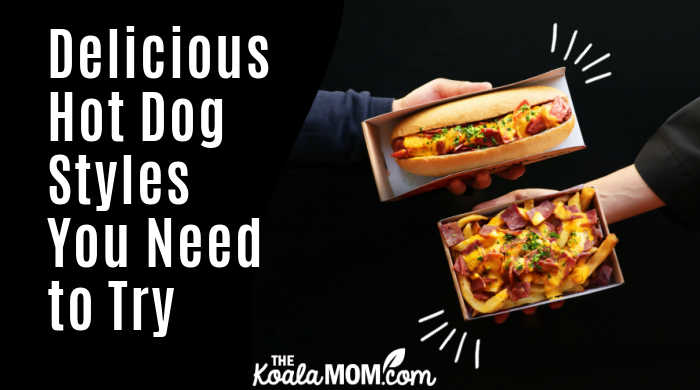 Hot dogs can be done in endless ways, you can even create your own recipe with some experimenting. Each state and country serve hot dogs in a different way, so make sure to try them wherever you go as you will find a new type in every place. Hot dogs are usually eaten as a snack, but you can make a whole meal out of them with some creativity.
Which of these delicious hot dog styles do you want to try first—or which is already your favourite?