What can you do to make the deck a safe place for your kids? A deck enhances your home's aesthetic value. Yet it can also act as a potential hazard if you have young children. Young kids will not see the deck as an accessory. They see it as an additional play structure added to their backyard. Depending on your local building codes, there are extra measures you may need to incorporate if you have young kids. Let's examine ways to turn your deck into a kid-friendly deck.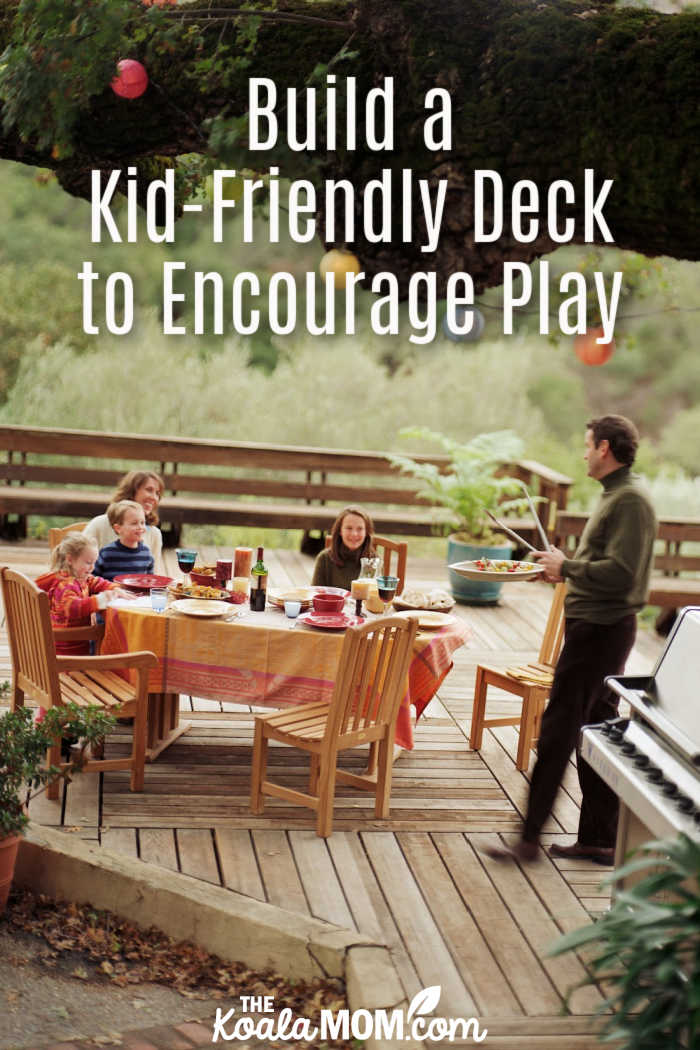 Railing Guards
Structures higher than 3 feet should have rails. Adding rails on your decks not only adds curb appeal to your home but makes it safe for kids. Even if the deck is less than 2.5 feet off the ground, adding railing helps keep kids and pets safe. It would be great to schedule an appointment with a skilled deck builder to help you settle on rails that increase the visual attractiveness of your deck while making the deck a place where kids can play.
Ensure you don't create wide gaps. The gaps should not be more than 4 inches wide to prevent kids from squeezing through the rails. Avoid horizontal bars on the rail. If the rails have horizontal bars, your young ones may use the bars to climb over the rails. Add gates and latches if the deck has stairs. Keep any furniture that may make it easier for your child to climb over the rails away from the railings.
Enough Lighting
A kid-friendly deck should have enough lighting to reduce the risk of injury as the kids play on the deck and make it a fun, cozy place to be even after dark. Use unique lighting fixtures to illuminate the deck. Besides, as much as you'd want to keep your kids safe, the space should also be warm and relaxing. Use lighting to set up a warm and refreshing ambiance on your deck. Add LED strips to make the stairs and railings visible once the sunsets. You can also add floor light on the boards to make it safe, warm, and inviting. Work with your deck builder to hatch out an attractive yet safe space for the kids.
Minimize Trips, Slip and Falls
Add anti-slip features on your deck to minimize trips, slips, and falls as kids play on the deck. You can add anti-slip or grip strips on the deck, anti-slip guards on the stairs, or non-slip coating on the deck boards and stairs. An anti-slip tape can also reduce fall and slip on wooden decks.
Ensure the Space is Safe to Walk on Bare-Footed
A build-up of grime, mold, or algae makes the deck slippery. You need to clean the deck regularly to keep it grime-free. Maintain a debris-free deck to prevent trips and falls. Repair any loose or pooped-up nails, damaged deck boards, and splints. Occasionally sand, seal, and apply an anti-slip coat to keep it safe and splinter-free. You can go ahead and install deck material that doesn't splinter easily. It should also absorb and dissipate heat in a better way.
Turn it Into an Entertainment Space
Make the space warm and inviting. Make it a refreshing place to hang out as a family, enjoy a summer feast with friends, hold conversations, and make memories. Encourage kids to play on the deck by placing games and fun spots on the deck. Think of adding outdoor games, an art station, or a chalk wall to give kids a space to let their creativity shine.
You can also add a secure fire pit. Before installing a grill or fire shaft on the deck, ensure it's done according to the building codes. Indulge your deck builder and let them guide you through the process. Install the fire pit in a spot where kids can't easily access it. The pit should be more than far from the walls. When using the pit, don't leave it unsupervised.
Summary
A kid-friendly deck is an amusing way to bring your family together and encourage your kids to get out and enjoy the fresh air. Make it functional and appealing yet safe for your young ones. Work with a skilled deck builder to set up a visually appealing and safe deck for your family.