One of the fun (and not-so-fun) parts of being pregnant is needing an entirely new wardrobe to fit your growing baby bump. While I was often able to make some stretching tops and low-rise jeans work during my pregnancies, it is also fun to shop for maternity clothing that is designed to grow with your bump and beyond. Many companies now offer stylish, comfortable maternity wear for moms. Here's a round-up of some favourite shops that I've tried out myself or heard great things about from my mom friends.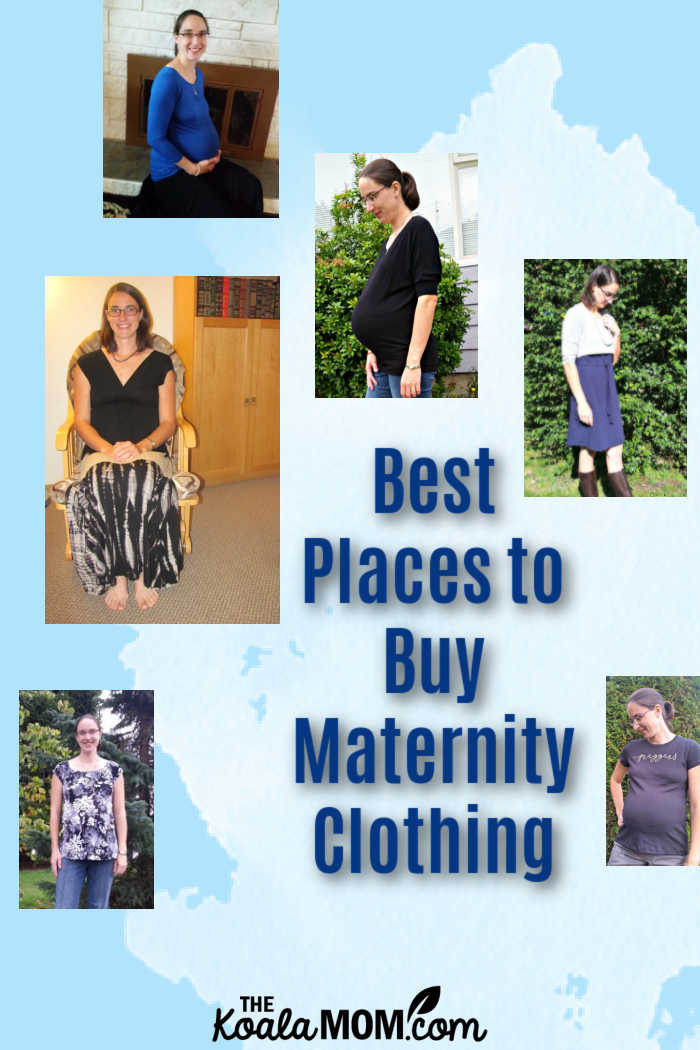 Grace Maternity
Grace Maternity is an online Canadian store that offers affordable maternity clothing. Their pieces are perfectly designed to mix and match for both casual and formal occasions. They offer a wide range of online pregnancy clothes that you'll probably still be wearing long after your baby arrives. Grace Maternity recommends that first-time pregnant mamas buy a few good, classic pieces in neutral colours that can be dressed up or down and combine well with different colours.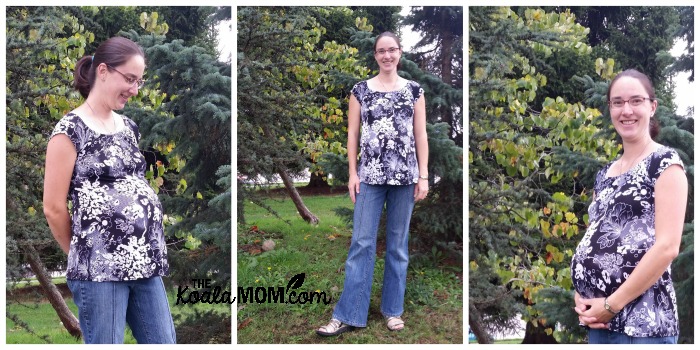 No matter what, allow yourself to be comfortable. Remind yourself that you are growing a human being inside of your body. Don't force yourself to embrace fashion trends you don't like just for the sake of fitting in. Stay true to your own personal sense of style. Even if you don't know where to start, the Internet is a great place to discover new maternity styles. Browse styles of maternity clothes online. Even better, you can make your purchases without even leaving your house! ~ Grace Maternity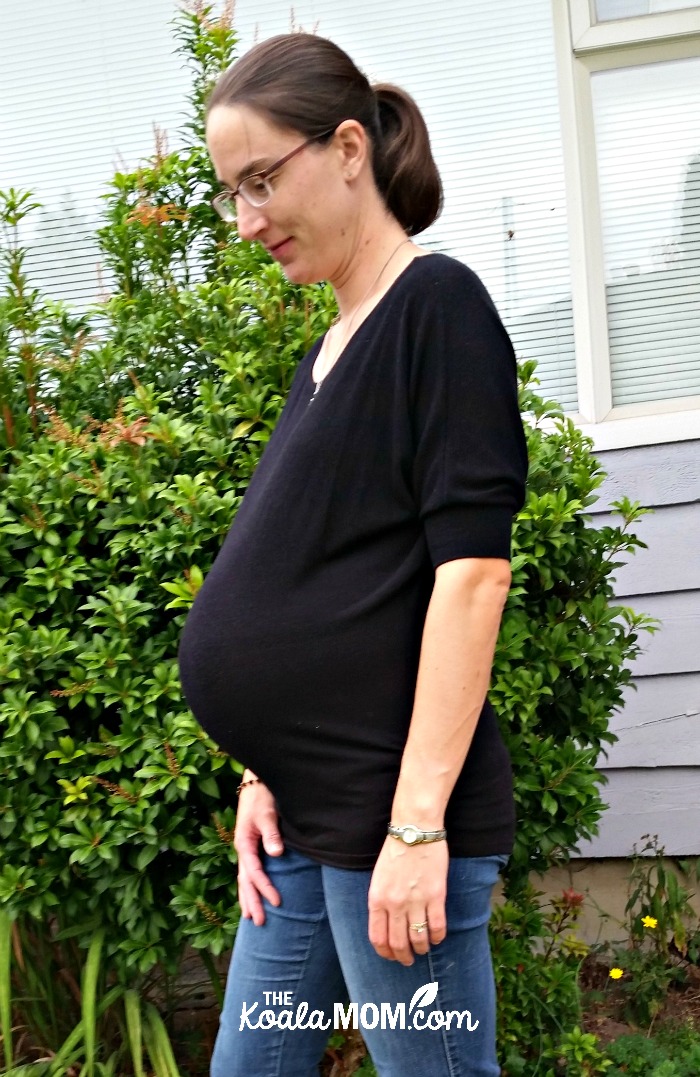 Some of my favourite maternity outfits for my last two pregnancies were from Grace Maternity. In fact, I'm still wearing that black top above, and my youngest just turned four!!! It's comfy and drapey now and covered my bulge well back then.
Seraphine
One of my friends told me she wore the same three Seraphine dresses over and over during her pregnancy, and she bought them because the Duchess wore them. When you find something that fits well and is comfy, sometimes the best option is to just keep it simple and wear that!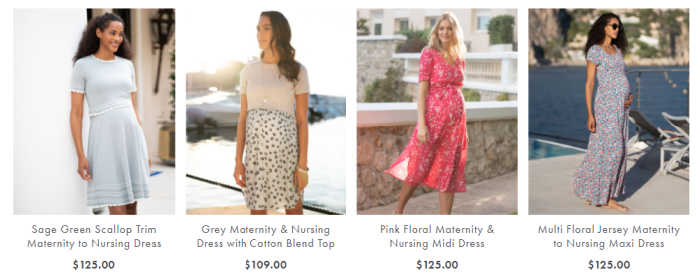 Looking for some tips on figuring out your personal style and how to shop for a new wardrobe without breaking the bank? Check out Worthy of Wearing by Nicole M. Caruso, an awesome book full of fashion advice for ladies in any stage of life. Nicole points out that each of us needs to find our own style, a style suitable to our profession, our stage of life, our body type, and other factors. She talks about giving ourselves grace during pregnancy and postpartum, instead of trying to squash our changing bodies into what we wore before or what's fashionable right now.
Everly Grey
EverlyGrey Maternity offers both online shopping and in-store shopping. (Check the Store Finder for a retailer near you—in Canada, I noticed that their fashions are available in a Vancouver location as well as a store I know in Edmonton). EverlyGrey has tops and bottoms, dresses, jackets and sweaters for the pregnant and nursing mom.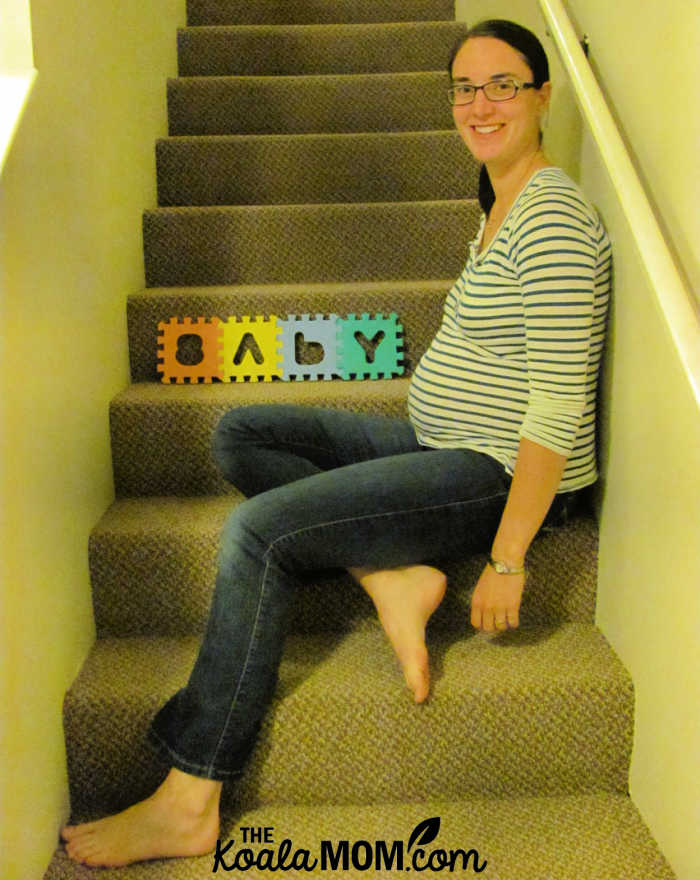 I discovered EverlyGrey during my third pregnancy, when I wasn't bound by a dress code for work and could wear whatever I wanted! (It was very exciting.)
Peauty
Peauty offers maternity dresses and shapewear for pregnant and postpartum moms. They have good quality clothing that helps moms still feel beautiful, even with their changing bodies. Just because you have a growing bump doesn't mean you need to forsake style and comfort in your clothing! You can get free shipping in the US and they have quite a few dresses under $50.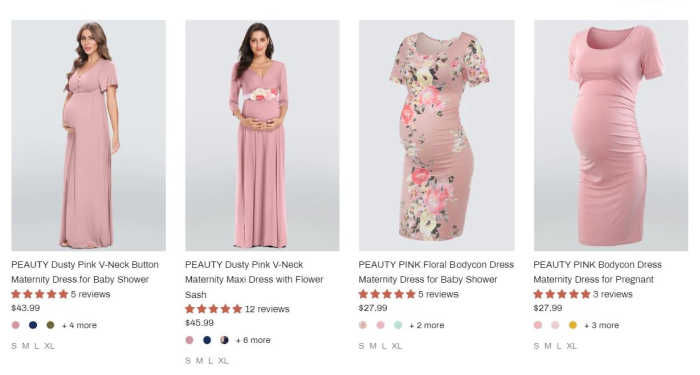 Peauty also has maternity leggings and belly bands for more casual wear. A belly band could help you wear your low-rise, non-maternity jeans while pregnant, by helping to cover the gap between your shirt and your jeans and hold your jeans in place.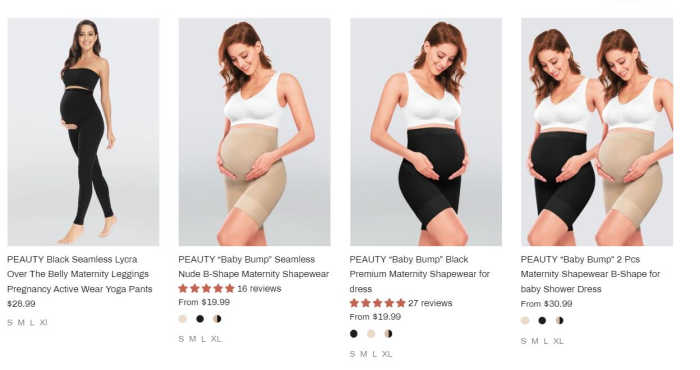 PinkBlush Maternity
PinkBlush Maternity offers moms stylish options for all nine months and beyond. They have maternity dresses, maternity jeans, bump-friendly tops, and more for every occasion you'll face as a pregnant or nursing mama. They even have options for petite, tall, and plus-size moms. Many of their pieces are designed to be worn before, during and after pregnancy—they are cute outfits that offer space for your bump but look great even when you aren't pregnant.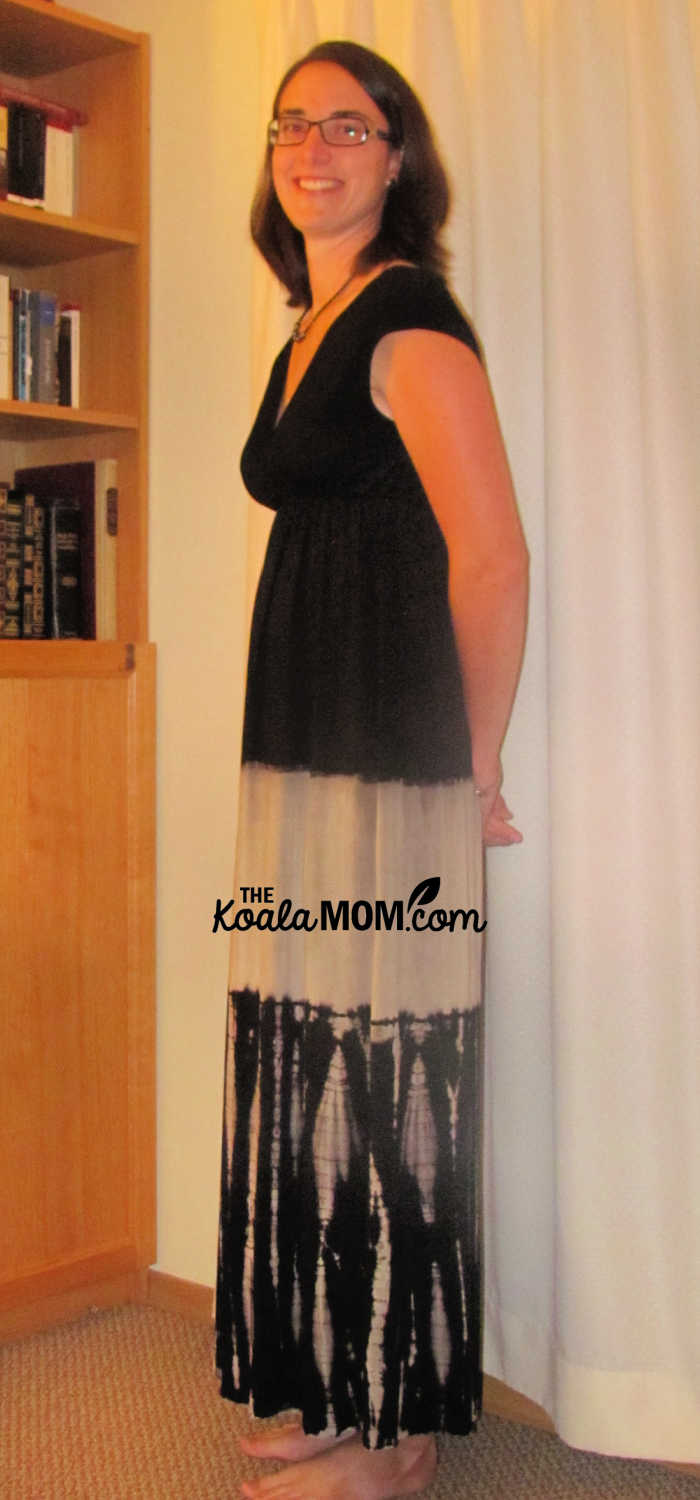 I wore a maternity / nursing dress from PinkBlush after my third daughter was born. It was one of my favourite outfits, as it was comfy and somewhat dressy and yet still easy to nurse baby.
Roolee
Roolee brags that their maternity clothing is designed by mothers, for mothers. Browsing their website, I saw a ton of pretty dresses that I'd be happy to wear, pregnant or not! From flirty floral dresses to classic black maxis, Roolee has something for every style.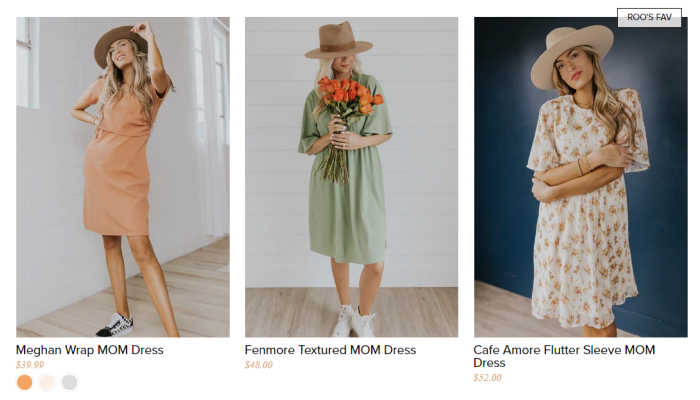 Zoey's Attic
If you're looking for funny, casual T-shirts to announce your pregnancy or have fun with your bump, check out Zoey's Attic Personalized Gifts. Some of their tops fit best in the early months of pregnancy (as you can see below, where my bump is starting to stretch my shirt), but a cute tee is a good way to enjoy your pregnancy. You can browse all their humorous shirts to find something that fits you, or even customize shirts with names, dates, and more.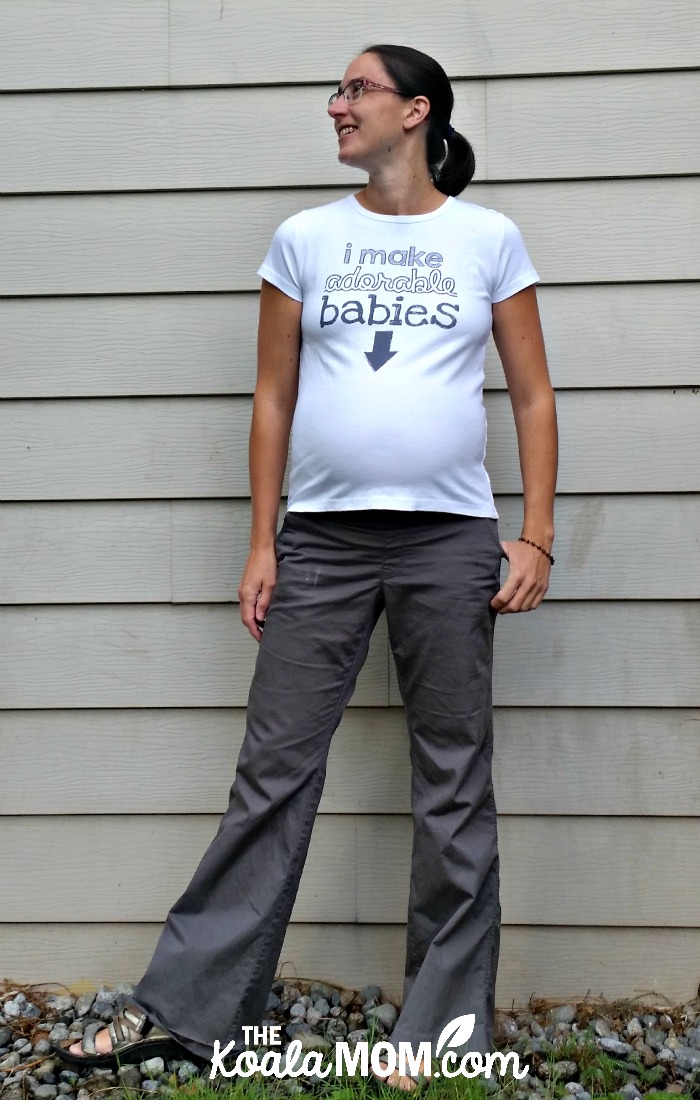 Pssst… now that you've got a super cute maternity wardrobe, why not plan a maternity photo shoot? These nine months will be over before you know it and I honestly regret not having more photos of me and my bump. You'd think in five pregnancies I'd have lots of preggo pictures, but most of the pictures I took of myself were the ones I've shared here, when I was doing a maternity clothing review!
Momzelle
I first discovered Momzelle when a friend in my mom's group was passing along some nursing tops she no longer needed. The tops fit so well and were so comfy that I checked out the brand and went searching for more. Momzelle offers a great selection of nursing and maternity clothing. Many of their tops are also designed to be worn both during your pregnancy and afterwards while nursing.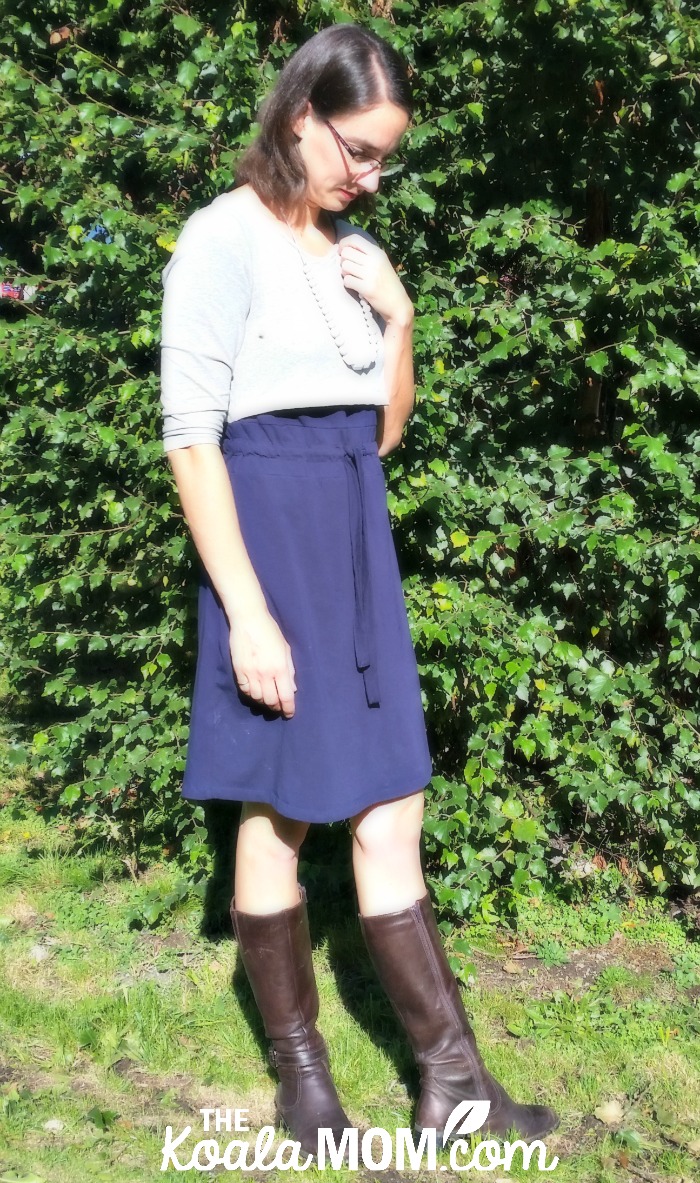 I've mostly worn Momzelle's nursing dresses and tops, but I liked them so much that I rather reluctantly passed them on long after I'd finished nursing my youngest baby. Their clothing is durable and comfortable as well as stylish and classy.
Where are your favourite places to shop for maternity clothes?
---
Is this your first pregnancy or your third? After having my fifth baby, I compiled all my pregnancy notes and research into a book for new moms! Beginner's Guide to Growing Baby: Tips to Help You Through All Four Trimesters includes everything I've learned through five pregnancies, as well as the wisdom and advice of my good friend, Anna Eastland. She's a mom of 8 babies, including one in heaven and one more on the way. If we could have you over for coffee and sit down to chat about bellies and babies, this is what we'd tell you! Between us, we've got you covered for everything you need to know about a natural, healthy pregnancy and your first three months postpartum! Beginner's Guide to Growing Baby is available on Amazon.