Sunshine nursed for 14 months. Lily weaned at 28 months. Jade breastfed until about 22 months. Pearl is almost a year and still nursing. That means I've spent three-quarters of the last almost-9 years breastfeeding a baby. Which also means I've spent that much time planning my outfits around being able to do that. Recently, I ordered some breastfeeding apparel from Momzelle to try out (since nursing seems to be a long-term commitment for me!).

I received this dress for review courtesy of Momzelle; all opinions expressed are my own. This post contains affiliate links; as an Amazon associate, I earn from qualifying purchases.

Nursing Dresses
In the last nine years, I've rarely worn dresses. They've become my really-special-occasion-outfits, for the few months when the baby isn't nursing or when I leave her with a sitter and go out on the town with my hubby. So I was particularly excited about Momzelle's nursing dress. That's right—a dress you can breastfeed in!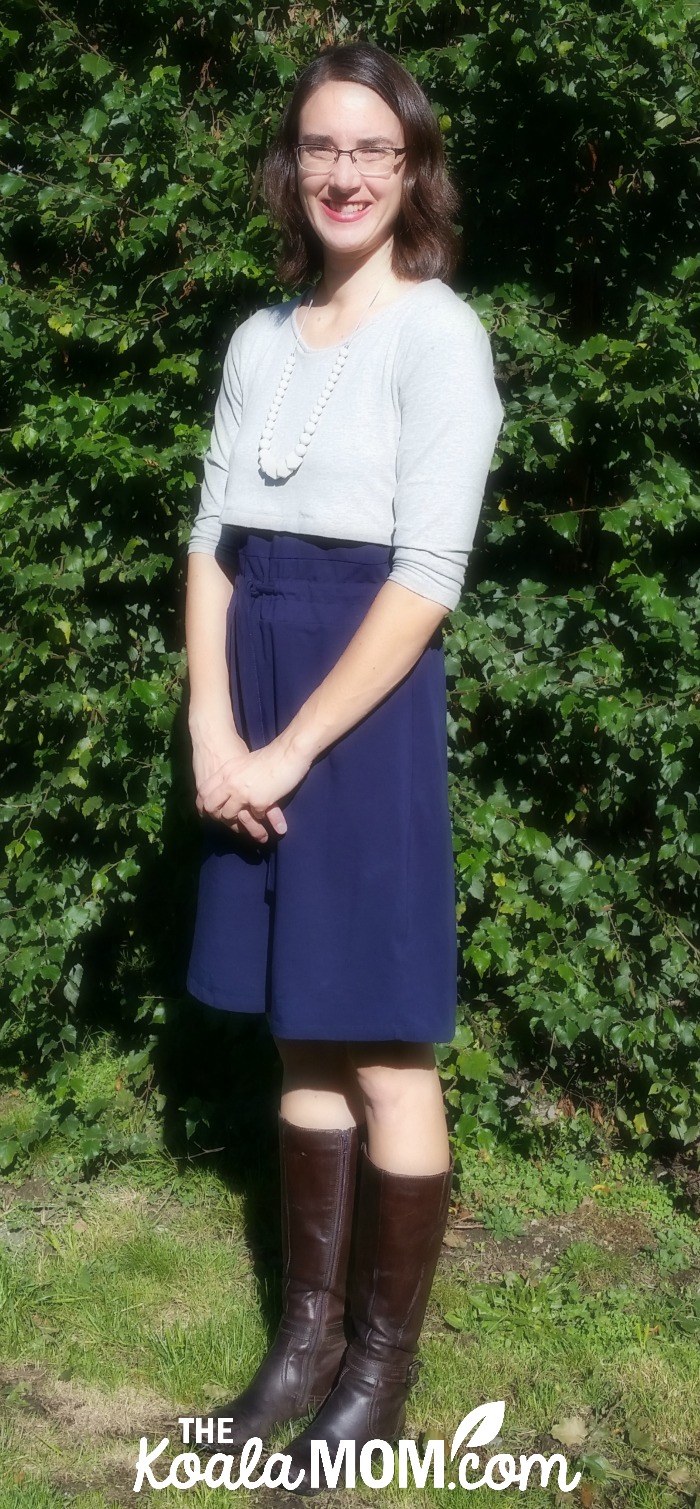 I picked the EMILIE nursing dress in navy blue and grey. The dress is cotton and spandex, so it's comfy and stretchy (easy to slip on over your head). The colour blocking hides the nursing opening while also being trendy. I love the three-quarter length sleeves, though I wasn't a huge fan of the waist tie. I hadn't noticed it in the pictures before ordering the dress and think the dress would look better without it, but I'm probably the only one who notices it.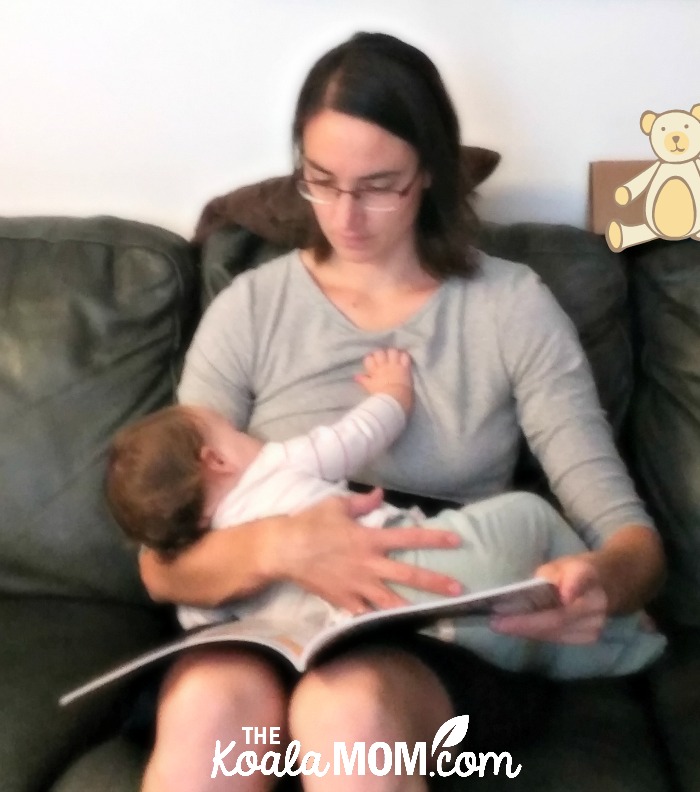 The dress is great for discretely nursing in. I can pull it up like any shirt-and-skirt I've worn and feed Pearl easily. I haven't used a nursing cover since Lily was a baby, so I like being able to nurse without uncovering too much. This dress is perfect for that.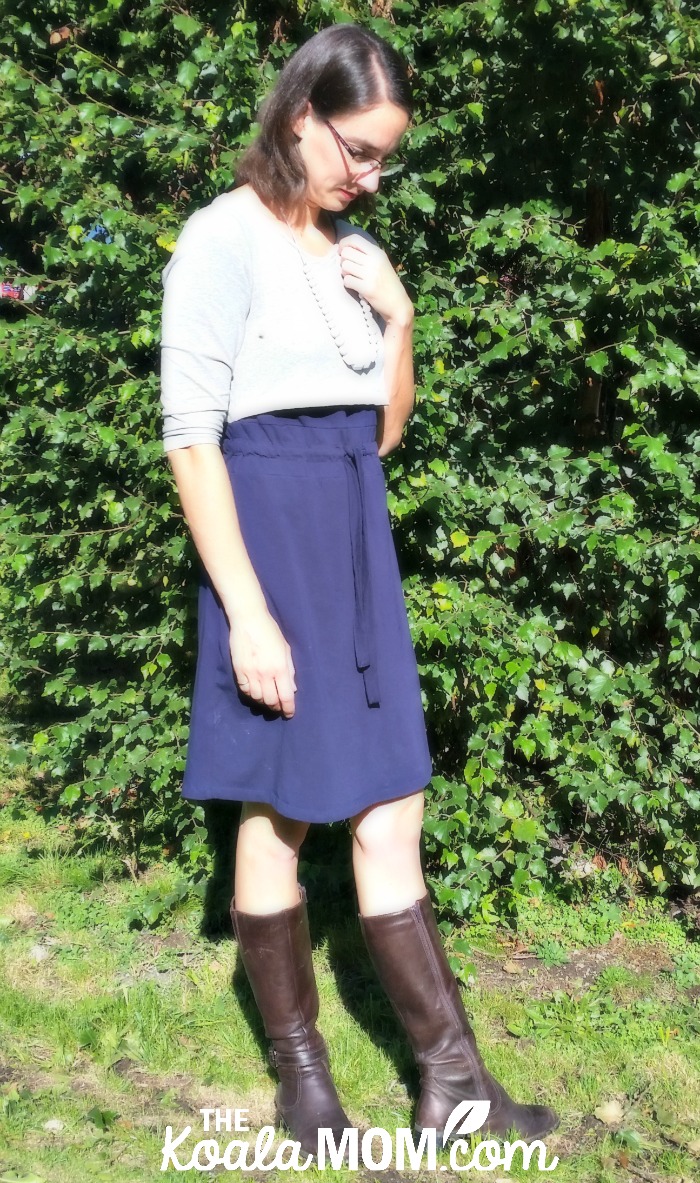 Nothing says summer more than a light, sleeveless dress. It's comfy and cool, and it's possible even if you're breastfeeding, thanks to Momzelle's awesome selection of nursing apparel. For years, I've been jealous of my friends with their cotton sundresses. No more! Like the Emilie, the Madison is a super comfy, super practical nursing dress.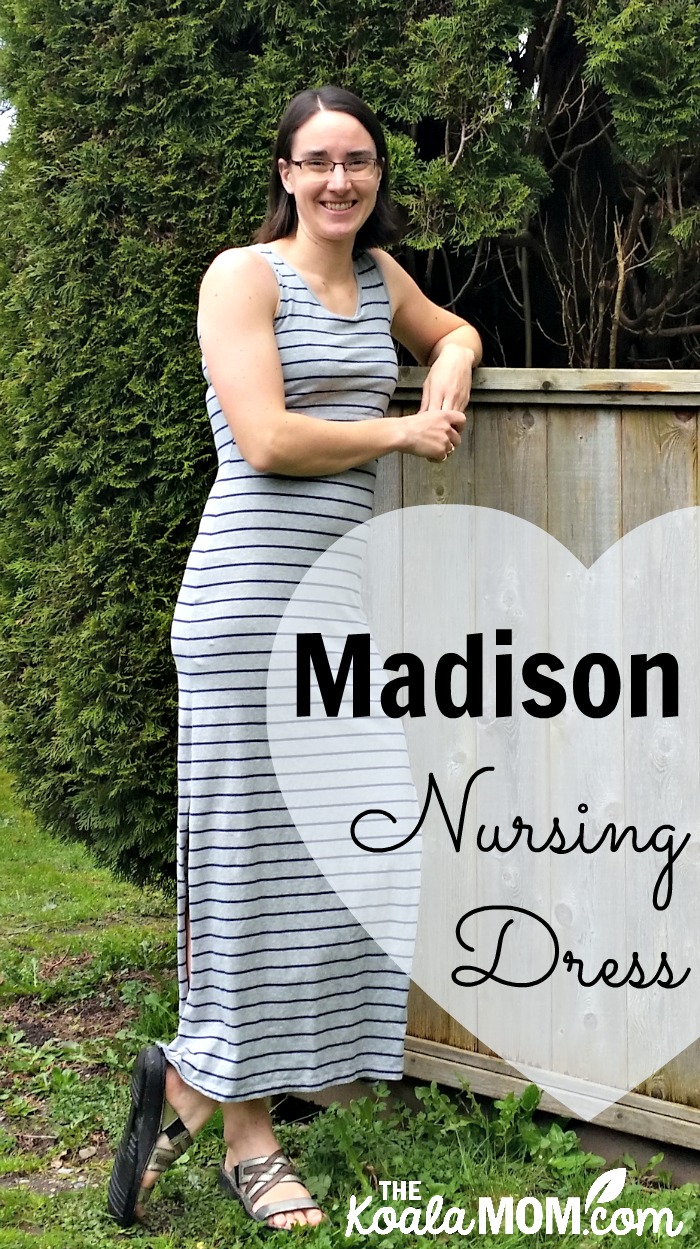 This dress comes in two colours and features a scoop neck, no sleeves, and ankle-length skirt with knee-high side slits. The horizontal stripes help hide the nursing opening across the front of the dress. The fabric is lightweight stretch, so it slides on easily and hangs nicely.
Whether we're hanging at the beach or the park this summer, the Madison nursing dress will be perfect. I can keep up with the girls while also being able to nurse Pearl if she needs a snack. She's starting to wean, but nothing helps a toddler's bad moods, or little bumps and scrapes, like a bit of snuggly time with Mommy.
For the cooler spring weather we've been having here in Vancouver, I paired the dress with a navy blue hoodie. The two-colour pattern on the dress makes it easy to pair with a wrap or sweater. The length makes it great for spring or summer. I've worn it both with my sandals and with my boots.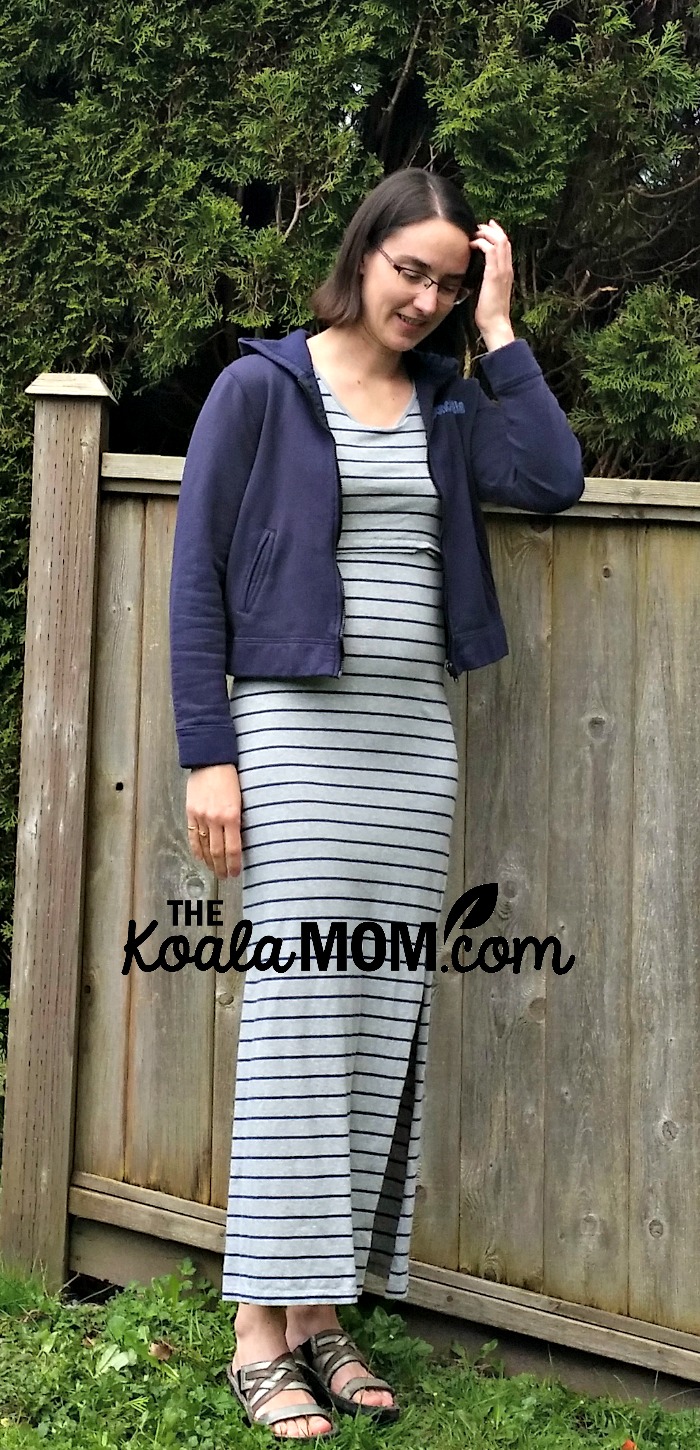 The Madison nursing dress is available in sizes XS to XXL. It is designed to flatter your postpartum figure, with its simple style and comfy stretch. (Or your post-post-partum figure, as I'm still trying to get rid of some extra tummy flab after having Pearl…) The universal openings ensure a discreet and comfy breastfeeding experience.
Momzelle offers free shipping on orders over $60. You can now shop via their website, Amazon
, or various in-store retailers. Momzelle is your go-to fashion store for everything from maternity to nursing wear. I've found their clothes fit great and wear well, and I've heard rave reviews of their products from friends of mine as well.
More Breastfeeding Apparel
As much fun as it is to wear a dress, my go-to outfit is jeans and a shirt. It was much harder to pick a nursing top from the Momzelle website. There are so many cute tops, from tanks to hoodies, from casual to more dressy. I finally picked the ALICE breastfeeding shirt for its cowl neck.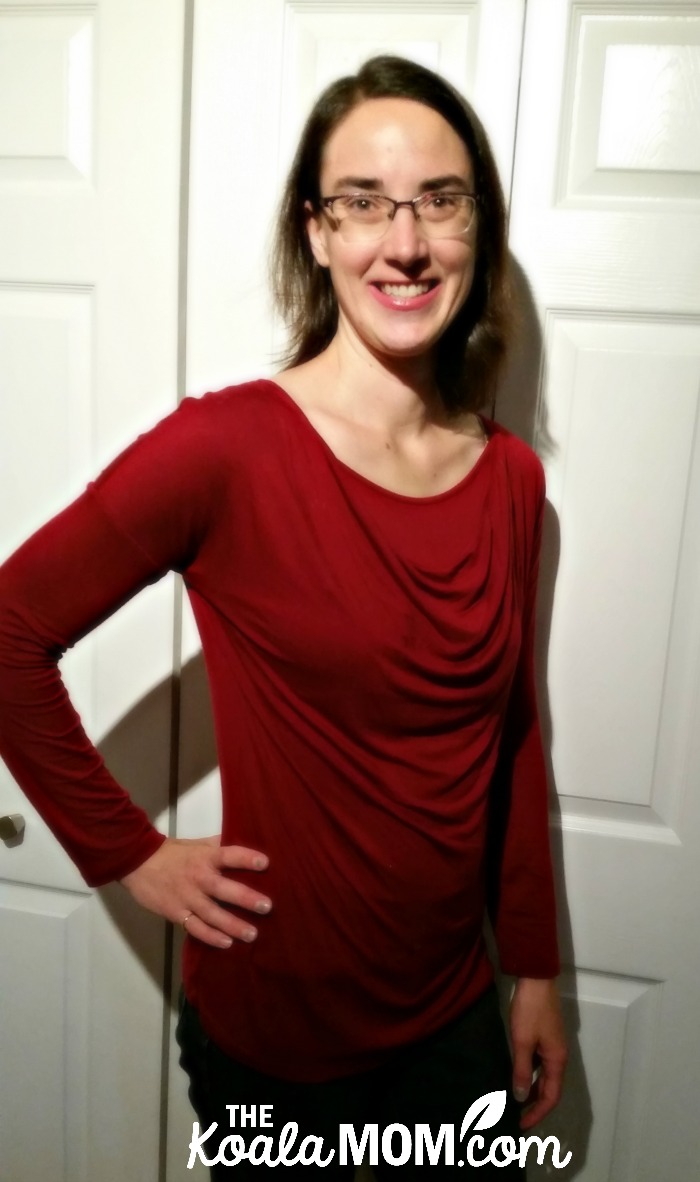 This top is rayon and spandex and super soft. I love the way it drapes, although I usually wear a slightly tighter top. The cowl neck disguises the nursing opening, leaving mom still covered when pulling down her top to nurse. The long sleeves are nice for the cooler weather we're heading into.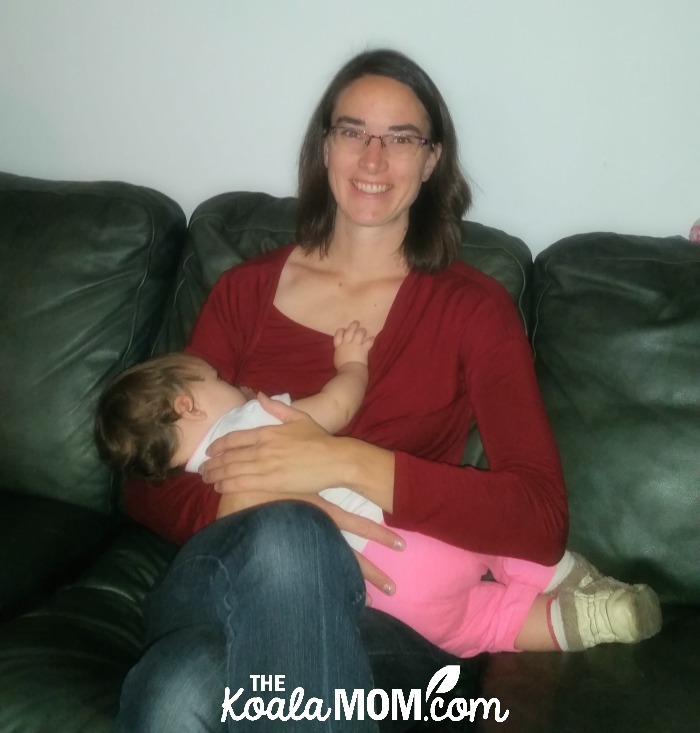 If you're looking for breastfeeding apparel, whether you're starting out this journey or in it for the long-haul like me, I highly recommend checking out Momzelle. I'd heard good things about their nursing clothes before visiting the website themselves and I was super impressed. They have tons of cute dresses and tops. Their clothing fits well and is easy to nurse in.