Last week, I ran into someone who asked when I was due and was greatly surprised when I said, "In another month." She didn't think I looked 8 months pregnant, though I certainly feel very pregnant! My back has been aching, sleep is uncomfortable, and I've been more tired again lately. Thanks to Grace Maternity Clothes, though, I have some stylish tops to wear with this bump!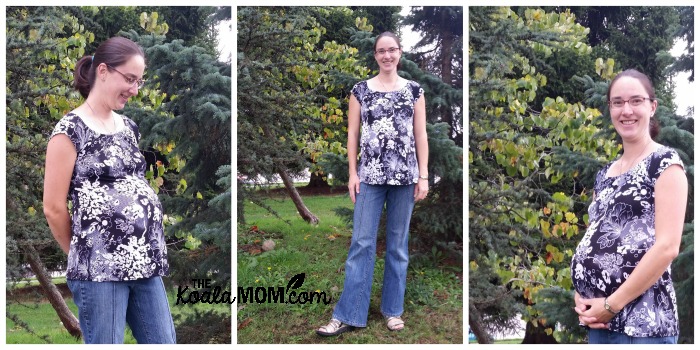 This black-and-white flower top is cute and comfy. It has little cap sleeves and a squarish neckline lined with elastic. There's a tie for the back so you can make it as loose or as tight as you want. It also has plenty of length for covering my 8-month pregnant belly. And I like the fact that I can dress it up with a nice black skirt or dress it down with my maternity jeans.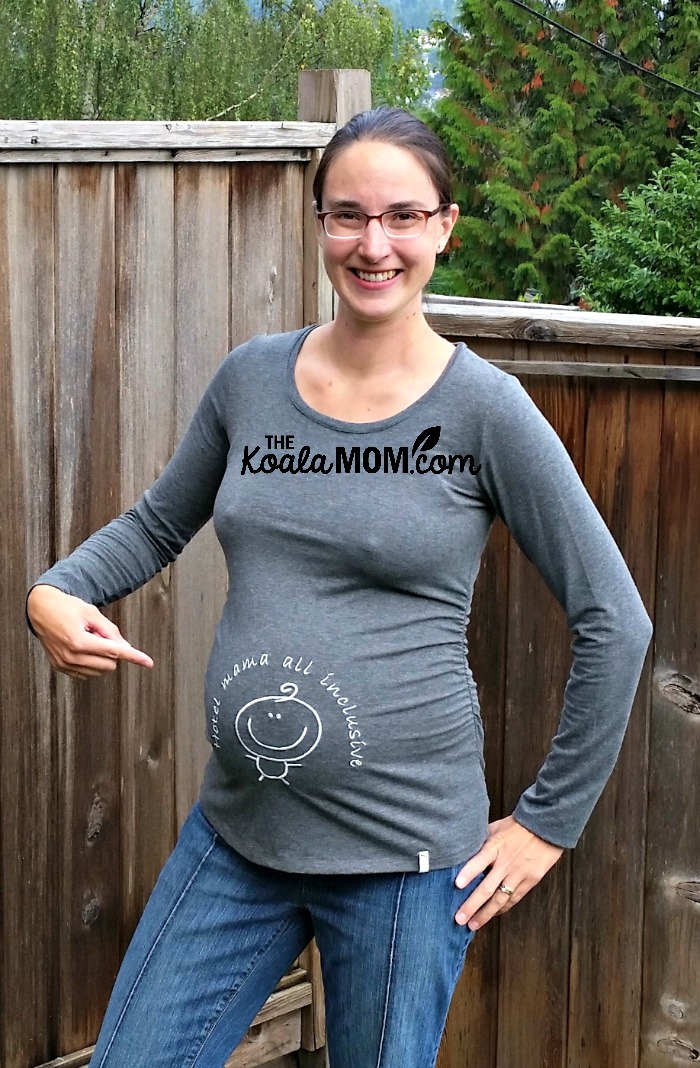 This long-sleeve grey top is a lot of fun; the girls love the little baby embroidered on it and the words "Hotel Mama all inclusive" make me smile. Baby's got it good! The fabric is super soft and lightweight, so even though it's long-sleeve, I don't find it too hot. It's also nice and long, with gathers along the side seems. My only complaint is that I sometimes find the embroidery on the tummy irritates my skin, so I should find a tank top to wear underneath it.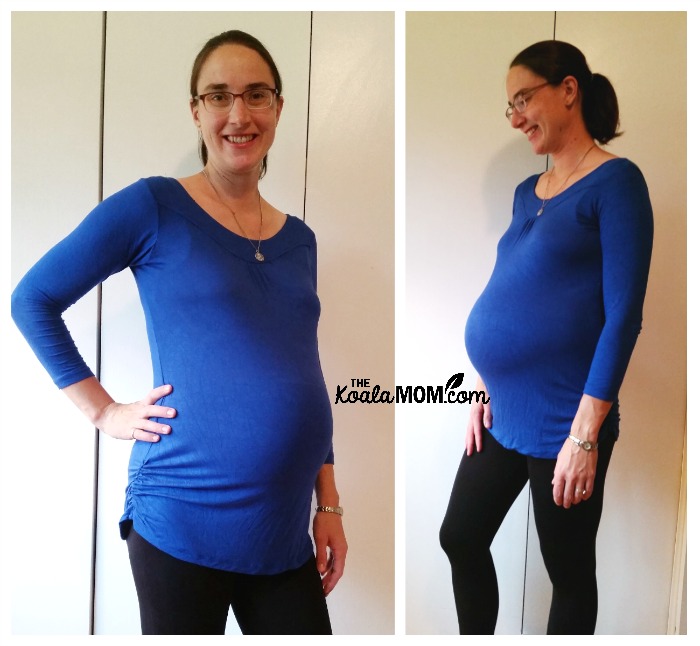 I love the colour of this royal blue top. It has a scoop neck, three-quarter length sleeves and slight gathers along the side. Like the other tops, the fabric is very soft and drapes nicely over a pregnant shape. Both the colour and the style make it feel a bit dressier.
I'm wearing this top with a pair of black maternity leggings. You may have noticed that my go-to pants for pregnancy are my two pairs of maternity jeans. While I was browsing Grace Maternity Clothes, I decided I should try a pair of leggings for those occasions when jeans don't cut it. These leggings are long enough even for my height and come up over my belly. They'll be nice to wear with a skirt or my maternity dresses as the weather turns cooler, or with a longer maternity tunic.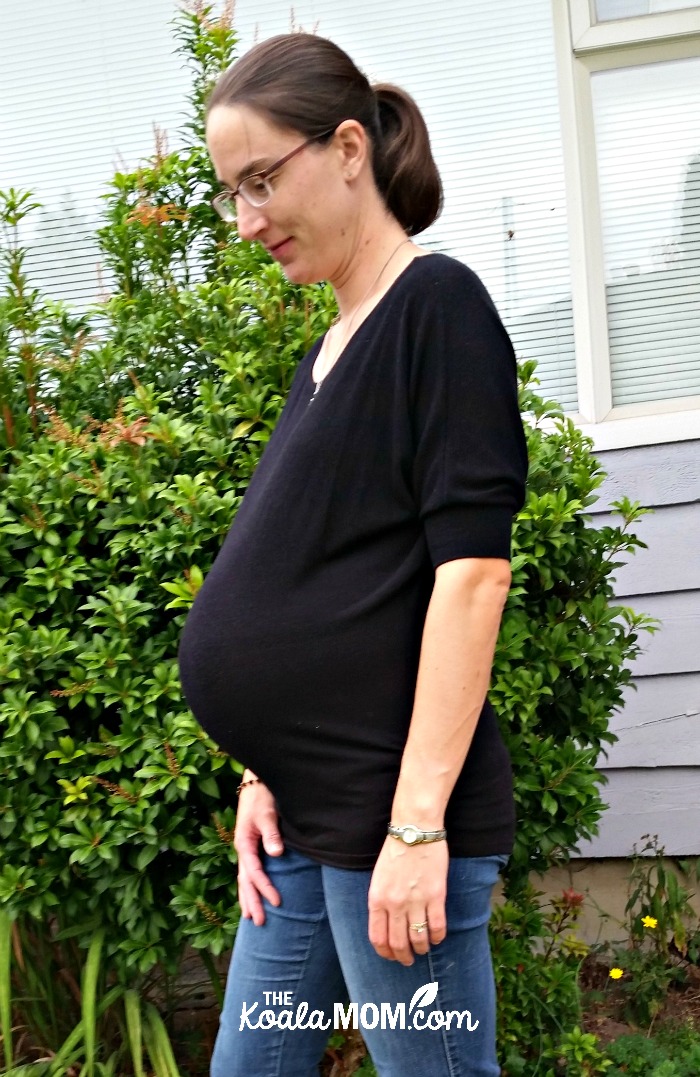 This black top is a lightweight knit with a scoop neck, slightly baggy fit, and a cuff on the Dolman sleeve. I love the way it drapes over my pregnant tummy and still gathers around my waist.
Grace Maternity Clothes offers a wide selection of stylish tops, bottoms, night wear, dresses and skirts for pregnant mamas. They have really reasonable Canadian prices and many items are currently on sale. They offer a hassle-free return policy if anything you order doesn't fit. If you're expecting, drop by the website and take a look around!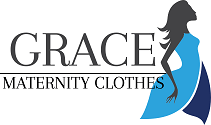 I received these items for review courtesy of Grace Maternity Clothes; all opinions expressed are my own.
---
Is this your first pregnancy or your third? After having my fifth baby, I compiled all my pregnancy notes and research into a book for new moms! Beginner's Guide to Growing Baby: Tips to Help You Through All Four Trimesters includes everything I've learned through five pregnancies, as well as the wisdom and advice of my good friend, Anna Eastland. She's a mom of 8 babies, including one in heaven and one more on the way. If we could have you over for coffee and sit down to chat about bellies and babies, this is what we'd tell you! Between us, we've got you covered for everything you need to know about a natural, healthy pregnancy and your first three months postpartum! Beginner's Guide to Growing Baby is available on Amazon.