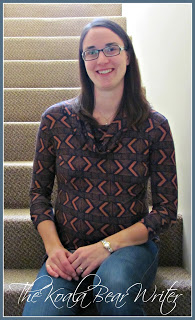 Finding a maternity wardrobe for this pregnancy has been easy, in one way, because I'm a stay-at-home mom.  I don't have specific wardrobe requirements for my job (other than comfortable!).  There's also the perk of having this baby in the spring, just like my first two, so I'm pregnant through the same season again.
When I pulled out my maternity box, I was pleasantly surprised by how many clothes I had there… and at the same time how little.  There's a few things I bought for the office that I just wouldn't wear now.  A few pants I bought for Starbucks that I haven't even put on (I hate those belly bands—give me low-rise jeans, please).  So once again, I find myself with a limited wardrobe as my belly expands.
Enter EverlyGrey Maternity.  They offer both online shopping and in-store shopping. (Check the Store Finder for a retailer near you—in Canada, I noticed that their fashions are available in a Vancouver location as well as a store I'm know in Edmonton).  EverlyGrey has tops and bottoms, dresses, jackets and sweaters for the pregnant and nursing mom.  If there's a new mama on your Christmas list this year, EverlyGrey also offers gift certificates.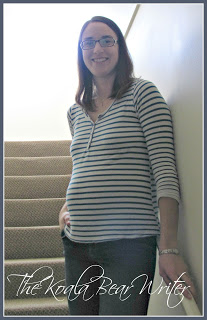 As I've mentioned, I have several maternity pants that I like; my problem has been finding tops that go with my pants.  EverlyGrey kindly sent me two new maternity tops for review.
My first pick was the Jaden Long Sleeve Henley (right), for a slightly more casual, relaxed look.  It's available with black, plum or teal stripes—I picked teal, of course.  I should have remembered that I usually have problems with buying long sleeve shirts; it's hard to find sleeves that are long enough for my arms.
When I first tried the shirt on, the sleeves only went halfway to my wrists.  I thought about sending it back, but then I simply pushed the cuffs up to just below my elbow.  It was super comfortable and kept the sleeves out of my way.  Plus I like three-quarter length sleeves, so it worked perfectly.  This shirt is super comfy, although it's not quite as long as my other maternity shirts so it almost doesn't reach the tops of my maternity pants now that my belly is getting bigger.
I also wanted a shirt that would be slightly more dressy, though still comfortable.  I picked the Kelsey Printed Tunic (pictured above), which has a cowl neckline (I'll admit—I'm a big fan of cowl necklines) and little buttons along the cuff.  It's available in two print styles: geo or tribal (which I picked).
This shirt is so comfy.  The fabric is super soft and I love the way it drapes over my tummy.  It's nice and long, so I don't have to worry about which pants I'm wearing it with.  In the picture, the sleeves look a little longer than the Jaden shirt, but I had the same issue; they weren't long enough for me.  I solved the problem by pushing the cuffs up to my elbow again.  Perfect!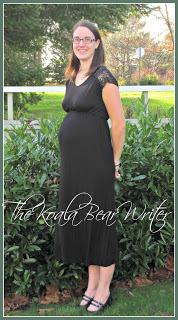 As I browsed EverlyGrey's website, I thought it might be fun to have a maternity dress.  I bought one dress with I was pregnant with Lily, for a friend's wedding, but it's a summer dress style.  Otherwise, I have nothing to dress up in when I'm pregnant.
EverlyGrey had a great selection of dresses for either casual or formal occasions.  Since I didn't have a specific occasion in mind, I picked the classic black dress—the Abbey Maxi Dress (left).  Now, in the picture on the website, it goes to the model's toes.  On me, it goes to mid-calf.  It's also super soft material that drapes comfortably.  I really like the lace along the shoulders and the scoop neckline, which is perfect for showing off a nice necklace.
So if you are looking for a new maternity wardrobe, check out EverlyGrey.  You can also find them on Facebook or sign up for their mailing list.
---
Is this your first pregnancy or your third? After having my fifth baby, I compiled all my pregnancy notes and research into a book for new moms! Beginner's Guide to Growing Baby: Tips to Help You Through All Four Trimesters includes everything I've learned through five pregnancies, as well as the wisdom and advice of my good friend, Anna Eastland. She's a mom of 8 babies, including one in heaven and one more on the way. If we could have you over for coffee and sit down to chat about bellies and babies, this is what we'd tell you! Between us, we've got you covered for everything you need to know about a natural, healthy pregnancy and your first three months postpartum! Beginner's Guide to Growing Baby is available on Amazon.