The only problem with discovering a favourite brand-new series of books is that you have to wait for the author to write the next book before you can read it. This was our experience with the Harwood Mysteries when we read Shadow in the Dark last year. The story of Xan and his friends at Harwood Abbey drew us in and left us wanting more. Antony Barone Kolenc has now delivered more with the second book in the series, The Haunted Cathedral.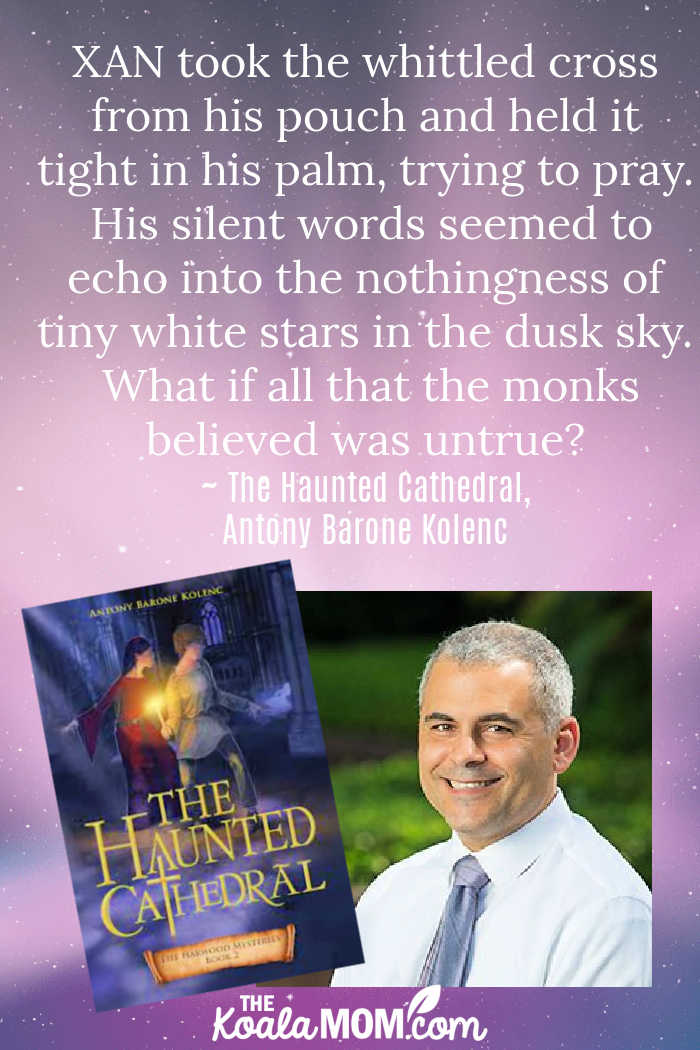 I received this book for review courtesy of the publisher; all opinions expressed are my own. This post contains affiliate links; as an Amazon associate, I earn from qualifying purchases.
The Haunted Cathedral plot summary
As the story opens, Xan is still trying to figure out his place in the abbey. His best friend Lucy is leaving to join her father on his travels through England. The robber Carlo who murdered Xan's parents remains in prison at the abbey as Xan struggles to forgive him. And then the village reeve shows up to say that Xan is still a serf who must pay his head tax to buy his freedom.
The abbot decides to solve two problems by sending Carlo, Xan and Brother Andrew to Lincoln. Xan is on a quest to find his Uncle William, a merchant who may be able to pay his head tax or give him a home. Carlo is being sent to the courts in Lincoln, in the hopes that they will dispense better justice to Carlo than his henchmen received. And Brother Andrew has to keep an eye on everyone, including the two guards sent along to keep them safe—or to wreak vengeance on Carlo.
Xan took the whittled cross from his pouch and held it tight in his palm, trying to pray—pray for the monk's eye; for arriving safely in Lincoln; for Lucy; for finding his uncle and his family. His silent words seemed to echo into the nothingness of tiny white stars in the dusk sky. What if Ox were right? What if all that the monks believed was untrue?
After a journey beset by dangers, Xan and his companions arrive in Lincoln. There, as he searches for his uncle and waits for Carlo's hearing, Xan is reunited with Lucy and makes new friends. He also discovers a new mystery to solve: strange noises and happenings at the Lincoln Cathedral. His new friends say the ghost is a young girl who died last year, but Xan can't understand why a happy, pious girl would be haunting the cathedral. Even as he tries to find the answers, he wonders if the ghost can give him a message from his parents in heaven. Maybe they can help him decide what to do about Uncle William and Carlo.
My Thoughts on The Haunted Cathedral
Once again, Antony Barone Kolenc delivers a page-turning story about life in the Middle Ages. Xan faces big questions about his future, his faith, and his friendships. I appreciated the way that Kolenc weaves faith lessons through the story. Xan dealt with a bully at the abbey in Shadow in the Dark; now, he and Brother Andrew are up against bigger bullies, and Brother Andrew demonstrates the power of turning the other cheek.
The main message in The Haunted Cathedral is forgiveness. The abbot and Brother Andrew urge Xan to forgive Carlo for murdering his parents and burning his village. Xan's anger towards Carlo is completely understandable, and his questions and struggles may resonate with many readers (although hopefully none are being asked to forgive their parents' murderers as Xan is!). The circumstances that throw Xan and Carlo together through The Haunted Cathedral make Xan's struggle to forgive a major plot point without being preachy or pushy.
I also enjoyed the history trivia throughout this novel. As Xan explores Lincoln, his new friends tell him about the cathedral and its history. They speculate about the causes of the ghost and even explore an area outside the city. A significant historical event takes place during the story, which Kolenc explains further in the Author's Historical Note at the end of the novel. Kolenc also includes a glossary for terms that younger readers may not be familiar with.
More about the Author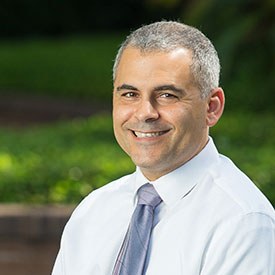 Antony Barone Kolenc retired as a Lieutenant Colonel from the U.S. Air Force Judge Advocate General's Corps after 21 years of military service. He is a law professor who teaches courses on constitutional and military law and has been published in numerous journals and magazines. He speaks at legal, writing, and home education events and writes Catholic YA novels. The Haunted Cathedral is the second novel in the Harwood Mysteries, with the third novel coming in July 2021. He and his wife have raised five children and have three grandchildren.
The idea for these novels sprang from one of my family's cross-country road trips during a change in military assignments. We spoke at length in the car about ideas for an exciting book that would engage today's youth while also grappling with issues of the moral and religious life. From that conversation emerged the concept of Shadow in the Dark. ~ Antony Barone Kolenc
The Haunted Cathedral is available from Loyola Press, Amazon, and your favourite Catholic bookstore.